Golden Knights end five-game homestand against Capitals
December 22, 2017 - 2:57 pm
Updated December 22, 2017 - 10:23 pm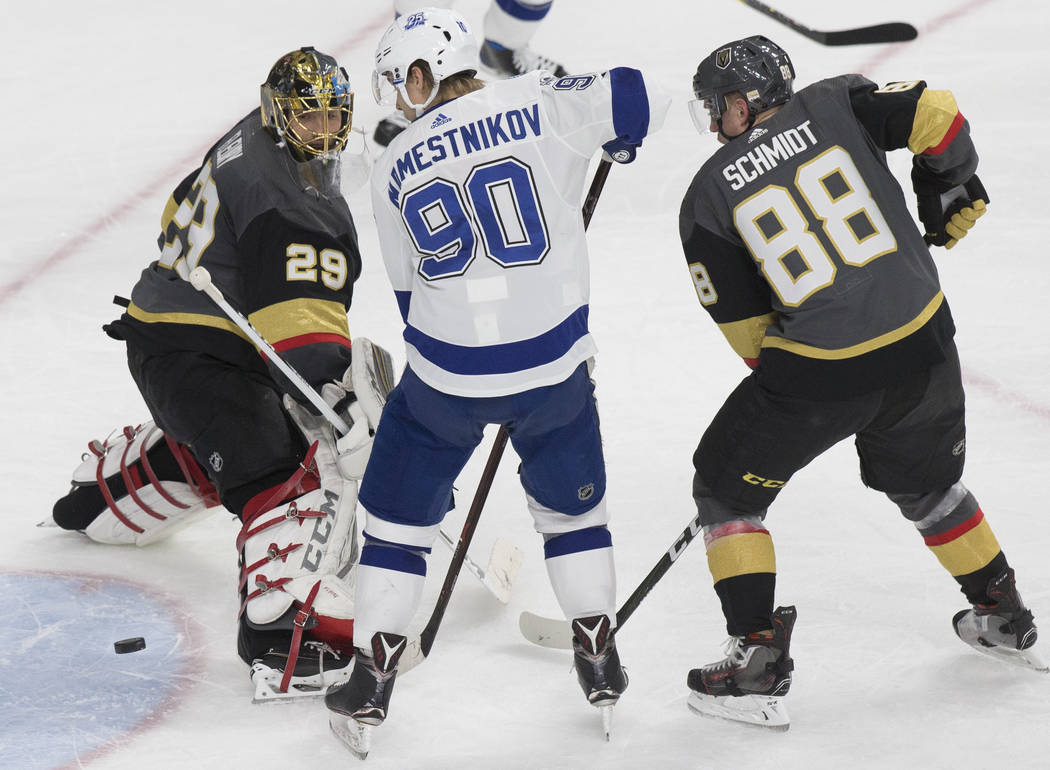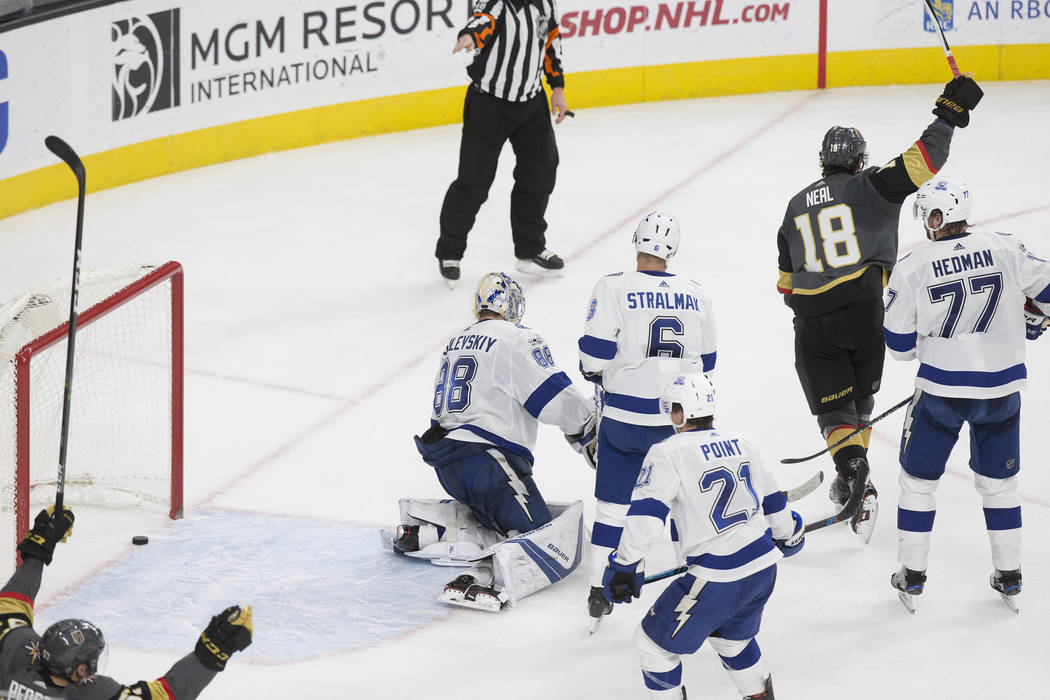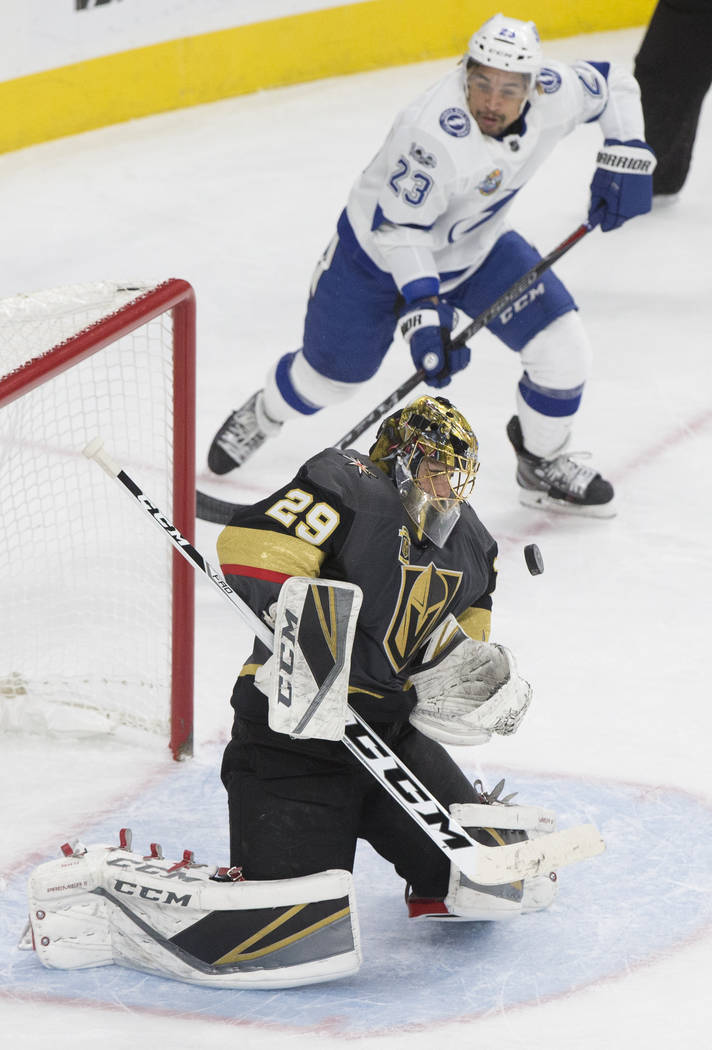 Christmas is 48 hours away. For most, that means time off to be with family and friends.
That includes the Golden Knights, who will get three days off after Saturday's 5 p.m. game against the Washington Capitals at T-Mobile Arena. But with things going so well, they probably would prefer not to have a Christmas break and stay in their routine.
The Knights conclude their five-game homestand riding a hot hand. They're 3-0-1 and have won seven of their past eight overall. They have 46 points, two out of first place in the Pacific Division, with three games in hand over the division-leading Los Angeles Kings.
The Knights face the Kings on Thursday at Staples Center after playing Wednesday at Anaheim, so when they return to work, they are looking at two division games.
But first things first.
"It would be great to go into the break with a win," Knights center Pierre-Edouard Bellemare said after Friday's practice at City National Arena. "Obviously the Capitals are a huge team. They have a lot of offensive weapons and a huge neutral-zone game, and if you play the wrong way, you're going to give them chances and they'll likely capitalize.
"But we've been playing the game the right way lately. And if we're working our forecheck like we're supposed to and we're supporting each other, we should be fine."
The reality is they can't afford to look ahead. The Capitals are in first place in the tough Metropolitan Division and are an embarrassment of riches, starting with Alex Ovechkin, one of the NHL's top goal-scorers. Ovechkin had 23 goals entering Friday's games, tied with Tampa Bay's Nikita Kucherov for the league lead.
"He has one of the best shots in the league," Bellemare said. "He's dangerous from the blue line in. You absolutely have to be close to him, because if you give him even an inch, he's going to take it."
Defenseman Deryk Engelland agreed.
"You've got to stay out of the box because he's gets a lot on the power play," he said. "But you want to try to take his time and space away when it's even strength. If he doesn't have time to get that shot off, you're doing a good job."
But there's more for the Knights to deal with. Center Evgeny Kuznetsov has 36 points and is always a threat. Center Nicklas Backstrom is equally dangerous despite only seven goals and 28 points.
The Capitals also have a talented goaltender in Braden Holtby, who has a .919 save percentage and can win games by himself.
But the Knights faced the same challenge on this homestand with Pittsburgh and Tampa Bay, and won both those games. And the Capitals will be playing back-to-back road games after facing Arizona on Friday.
Don't look for Knights coach Gerard Gallant to change anything.
'We've fallen behind 2-0 a couple of times (against Florida and Tampa Bay) and came back to win," Gallant said. "They're another top team, and so far we've done a good job against the top teams in the league, and this is another challenge for us."
Contact Steve Carp at scarp@reviewjournal.com or 702-387-2913. Follow @stevecarprj on Twitter.
Game day
Who: Capitals vs. Golden Knights
When: 5 p.m. Saturday
Where: T-Mobile Arena
TV: AT&T SportsNet (Cox 313/1313, DirecTV 684, CenturyLink 760/1760, U-verse 757/1757)
Radio: KRLV (98.9 FM, 1340 AM)
Line: Off
Three storylines
1. Merry Christmas. It has been a productive month for the Golden Knights, who are 7-1-1 in December. They would love to go into the Christmas break on an up note and close out the five-game homestand with a win.
2. Containing the Great 8. Everyone knows how good Alex Ovechkin is. The Capitals' high-scoring forward and future Hall of Famer has 23 goals and is the heart of the team. He won't be hard to find, as he probably will be camped out at the left faceoff circle looking to rip one past Marc-Andre Fleury, who is 20-12-2 against the Caps.
3. GMGM vs. the Caps. He says he harbors no grudges, but Knights general manager George McPhee, who spent 17 years in the same position with Washington before being fired after the 2013-14 season, no doubt would love to see his team beat the Capitals. Will Knights players, who got a win for coach Gerard Gallant against his former team Florida on Sunday, do the same for McPhee?
Steve Carp Review-Journal