Golden Knights enter Canada a struggling team
November 3, 2017 - 2:17 pm
Updated November 3, 2017 - 2:20 pm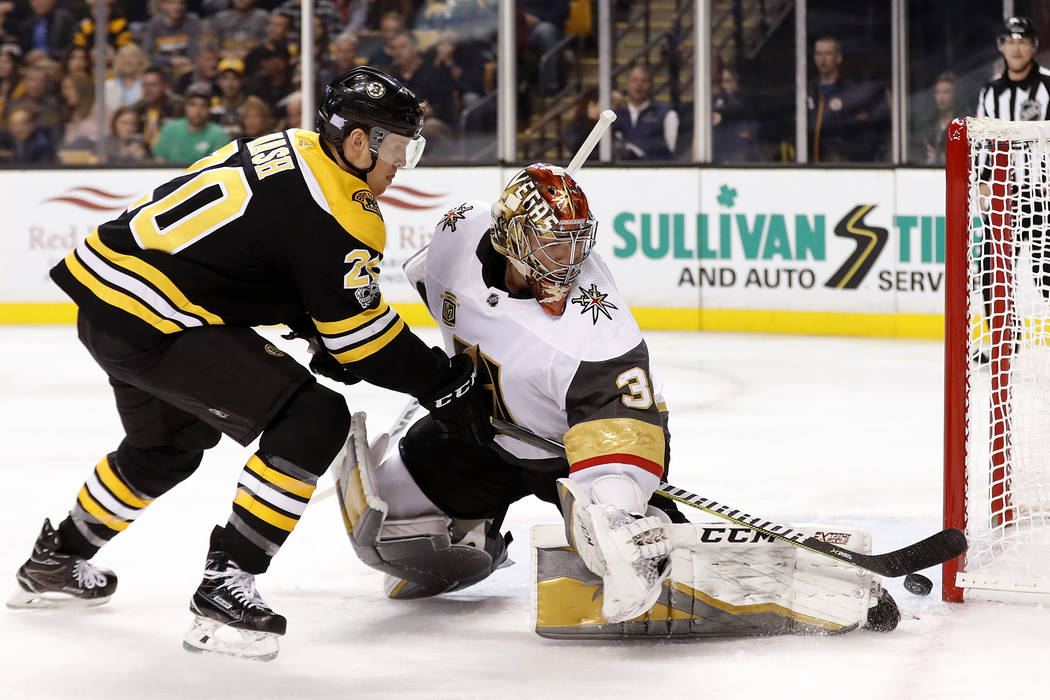 KANATA, Ontario — Maybe a change of countries will change the Golden Knights' struggles on the road.
The team is in Canada for the first time in the regular season, and they entered the country with passports in hand and a three-game losing streak as added ID. (Yes, Customs officials in Canada are also hockey fans.) But despite the recent setbacks that have the 8-1 start a memory, optimism reigns.
Coach Gerard Gallant was pleased with the effort Thursday in a 2-1 loss to Boston. He said if his 8-4 team brings that effort to the rink Saturday against the Ottawa Senators they will be rewarded.
"I thought (Thursday) was a real good game, and if we play like that most games we'll have a chance to win those games," Gallant said Friday after a 35-minute workout at Canadian Tire Centre. "The guys are upbeat, so let's get ready for the next one. You can't dwell on what happened (Thursday) night or the last three games."
There's a big difference between being disappointed and being discouraged. So far, the Knights don't appear to have crossed that line.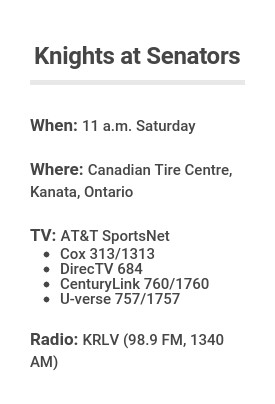 "We're going through a rough patch right now," center Jonathan Marchessault said. "(Thursday) it was a matter of inches. We have a puck lying in the crease and we can't put it in. They get a good bounce and they score. But it was a good effort by us.
"When you're going good, you want it to last as long as possible. When you're low, you want get through it as quickly as possible."
Linemate Reilly Smith said when you're in a grind-it-out kind of game — as was the case Thursday and most likely will be the case Saturday — you've got to finish off what quality chances you get.
"Both teams played pretty stingy," Smith said of Thursday's loss. "It's a matter of executing. When you get your opportunities, you've got to put them in the back of the net."
The Senators can be even stingier than the Bruins. Guy Boucher's team tends to be a team that waits for its opportunities, forces turnovers and gets the opponent back on its heels.
"You've got to be smart when you play Ottawa," Smith said. "They clog up the neutral zone, and you have to move the puck quickly against them."
Gallant added: "They throw that (neutral zone) trap at you and when you turn it over, that's when they're most dangerous."
Marchessault expects a close, low-scoring game with the Senators (6-2-5), who are in second place in the Atlantic Division.
"It's all about us supporting each other on the puck and communicating with each other," Marchessault said. "It's obviously going to be a tight game when you play Ottawa."
Gallant said it's a matter of staying with the philosophy that enabled the Knights to start 8-1.
"It's 20 guys playing for 60 minutes," he said. "That's a big part of it. I liked the way we forechecked (Thursday) and when we forecheck and play hard in the offensive zone, we usually have a good game."
Three storylines to follow:
1. The power play needs a boost. The Knights were 0-for-3 with the man advantage in Boston Thursday. Convert just once and they come away with at least one point. They need to get more pressure on the opposing goaltender and not look to make pretty plays.
2. Karlsson vs. Karlsson. They're not related but the Knights' William Karlsson will likely be trying to get by Ottawa's all-star defenseman Erik Karlsson at some point Saturday. And that should be a good battle between the two Swedish stars. Erik Karlsson, one of the NHL's elite players, had major ankle surgery in the offseason and he's back.
3. Shuffling the deck. Gerard Gallant mixed things up Thursday, moving Cody Eakin off his line and inserting Erik Haula with James Neal and David Perron. Eakin played with Alex Tuch and Oscar Lindberg. More important, Gallant returned Brad Hunt and Brayden McNabb to the blue line and both defensemen played well. That move paid more dividends even though Eakin scored. Gallant said the changes will remain intact Saturday, at least for the start of the game.
More Golden Knights: Follow all of our Golden Knights coverage online at reviewjournal.com/GoldenKnights and @HockeyinVegas on Twitter.
Contact Steve Carp at scarp@reviewjournal.com or 702-387-2913. Follow @stevecarprj on Twitter.