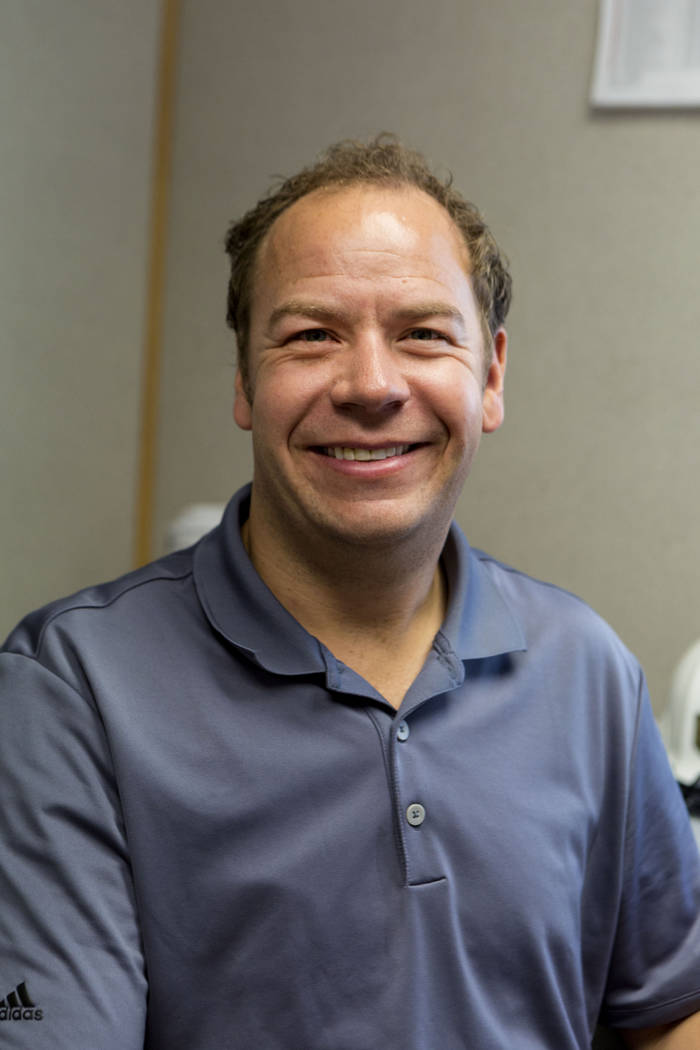 Chris Davidson-Adams should have been the most stressed out person at the Las Vegas Ice Center.
Instead, the Golden Knights' equipment manager was a picture of calm and cool.
Imagine trying to outfit 45 players in hockey gear, some whose sizes you don't know, while having everything in order and looking professional and doing it in less than 48 hours?
That was Davidson-Adams' challenge in having everything ready for the team's development camp, which began Tuesday and runs through Saturday.
"It took a lot of communication, a lot of coordination and a lot of honesty," Davidson-Adams said Wednesday. "This was a hard process because of the short turnaround time. But we had amazing cooperation from our suppliers, and George (general manager McPhee) got us the list of names in time to get everything in order."
Davidson-Adams managed to have ready the black pants, the white gloves and helmets and the practice jerseys, complete with the players' names on the back.
The equipment manager said he was prepared for just about anything, especially the odd sizes.
"You've got Tyler Wong, who's 5 feet 9, and Nic Hague, who's 6-6," Davidson-Adams said. "But we got them the right fit and everyone seemed happy."
Gallant an interested observer
Golden Knights coach Gerard Gallant has largely taken a back seat during camp this week while Chicago Wolves coach Rocky Thompson puts the players through drills.
Gallant spent much of his time watching the forwards during the first two days and said it's too early to tell if anyone is standing out.
"For me, it's about all the kids working hard," Gallant said. "Here it's about skill development, getting better, learning how to eat the right food, learning how to work out in the summertime. That's what we want to get the message across to these kids."
Injury report
Four players listed on the Knights' camp roster will not participate this week, the team announced.
Forward Jake Leschyshyn, a second-round pick, is recovering from a torn ACL suffered in February, and forward Kenny Brooks, a Las Vegas native, is out with an upper body injury.
Also, forward Martin Sundberg and defenseman Matthew Timms did not pass their medical exams Tuesday and were sent home.
Florida connection
Gallant coached Knights forwards Jonathan Marchessault and Reilly Smith in Florida and said he expects them to skate on the top two lines when training camp begins in September.
Marchessault, selected from the Panthers in the expansion draft, had 30 goals and 51 points last season. Smith (15 goals, 37 points) was acquired for a fourth-round pick and had 25 goals in 2015-16 under Gallant.
Neither player is in Las Vegas this week.
"He's a great shooter, he's a good power-play guy. He's going to be a big part of our hockey team," Gallant said of Marchessault. "And Reilly Smith was a player that when I was in Florida, I coached him for two years, I used him in all situations. … He's a good hockey player, he's a good 200-foot player, and I really like the player."
Partial ticket packages
The team announced its 11- and 22-game ticket packages Wednesday. Public sale begins July 14 after those who put down a deposit and have priority select their packages.
The 22-game packages, designated King and Queen, include games with Stanley Cup champion Pittsburgh, Edmonton, Chicago, Boston, Washington, Toronto and Montreal. The Queen package includes the Oct. 10 home opener against Arizona, along with games against Edmonton, Detroit, Chicago and the New York Rangers.
Contact Steve Carp at scarp@reviewjournal.com or 702-387-2913. Follow @stevecarprj on Twitter. Contact David Schoen at dschoen@reviewjournal.com or 702-387-5203. Follow @DavidSchoenLVRJ on Twitter.
Development camp
Thursday: Practices, 9:15 and 11:30 a.m.; joint scrimmage, 4 p.m.
Friday: Joint scrimmage, 10 a.m.
Saturday: Joint scrimmage, 10:15 a.m.
Where: Las Vegas Ice Center, 9295 W. Flamingo Road
Admission: Free