Golden Knights fans jam last pre-playoff practice in Las Vegas
Updated April 10, 2018 - 5:41 pm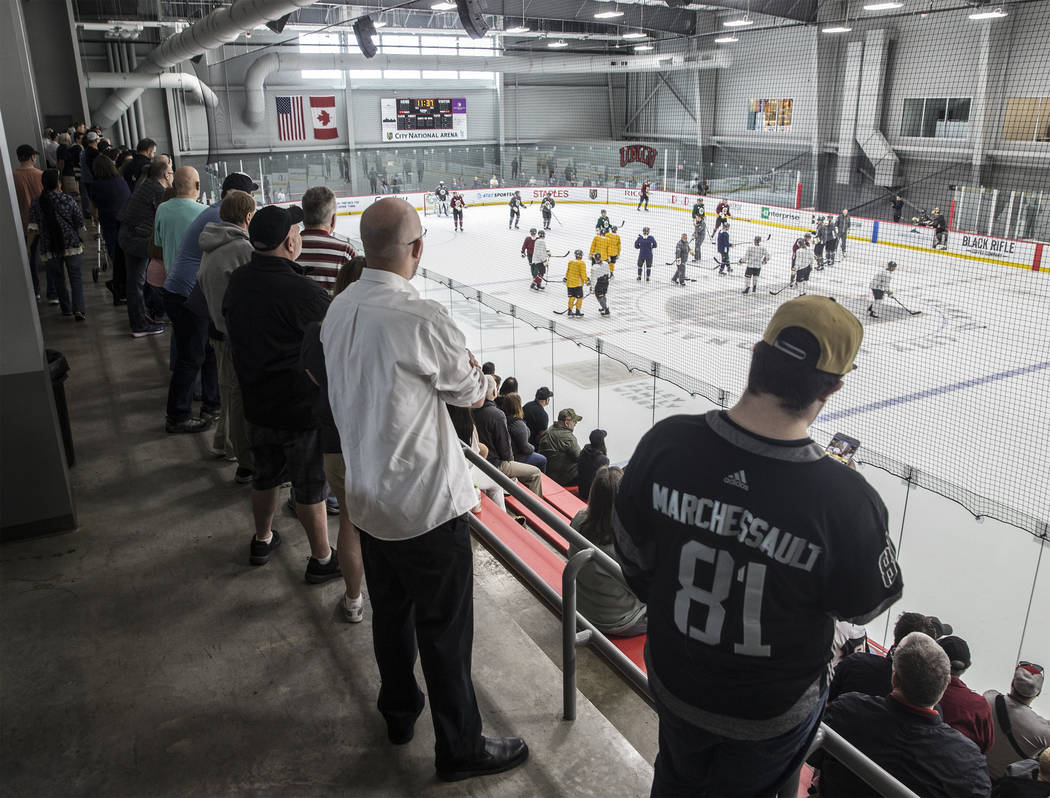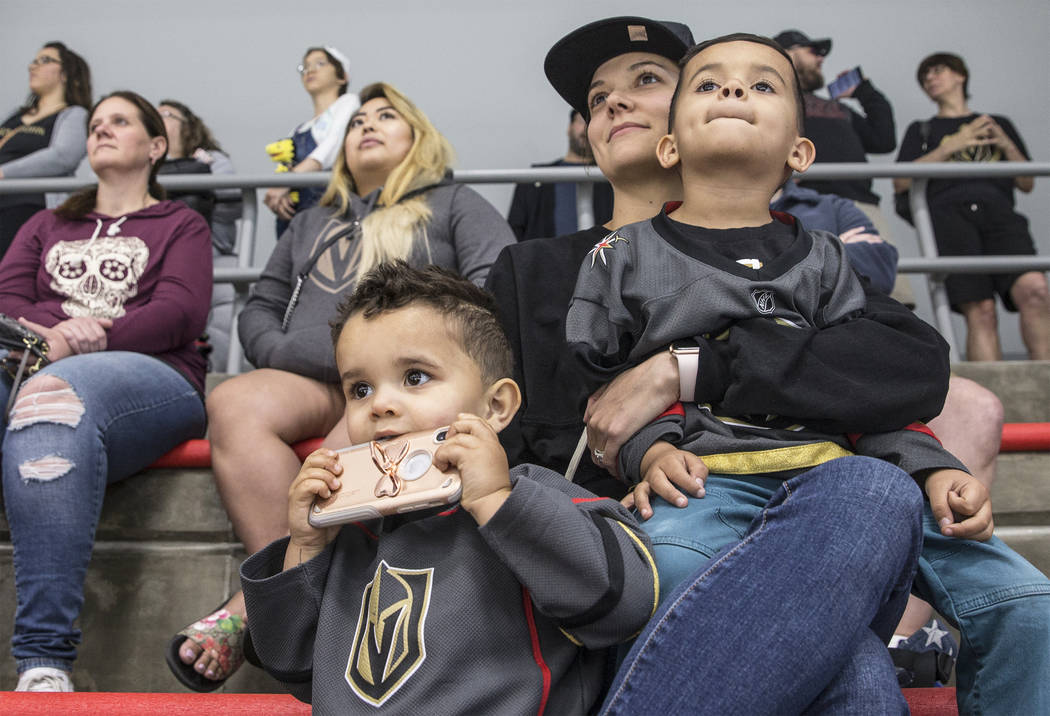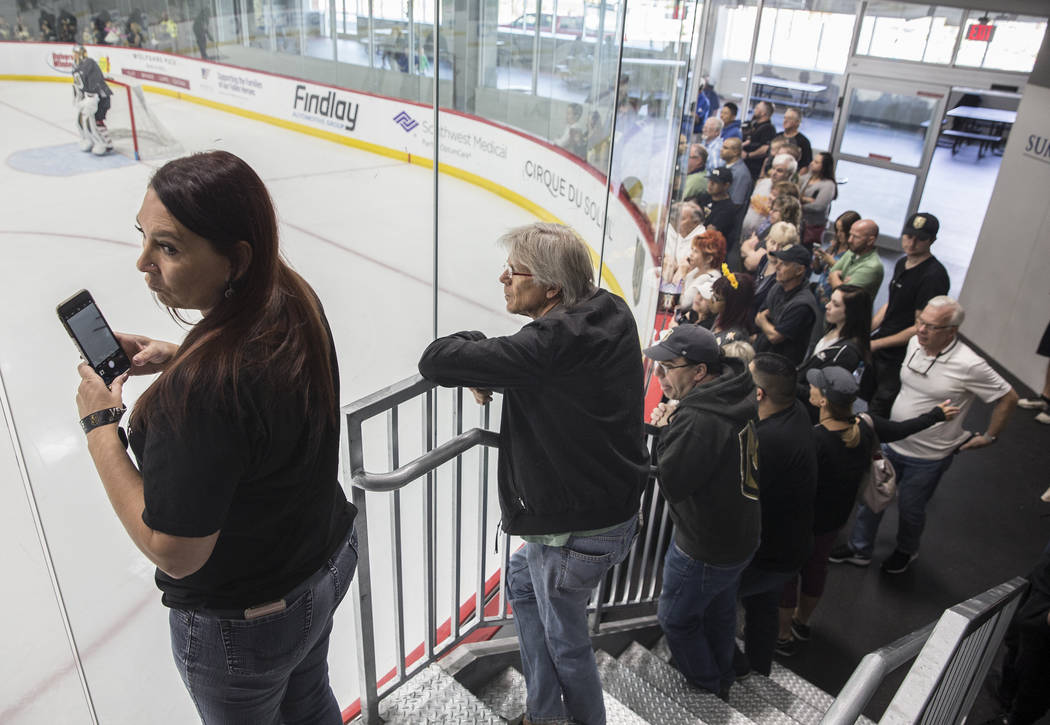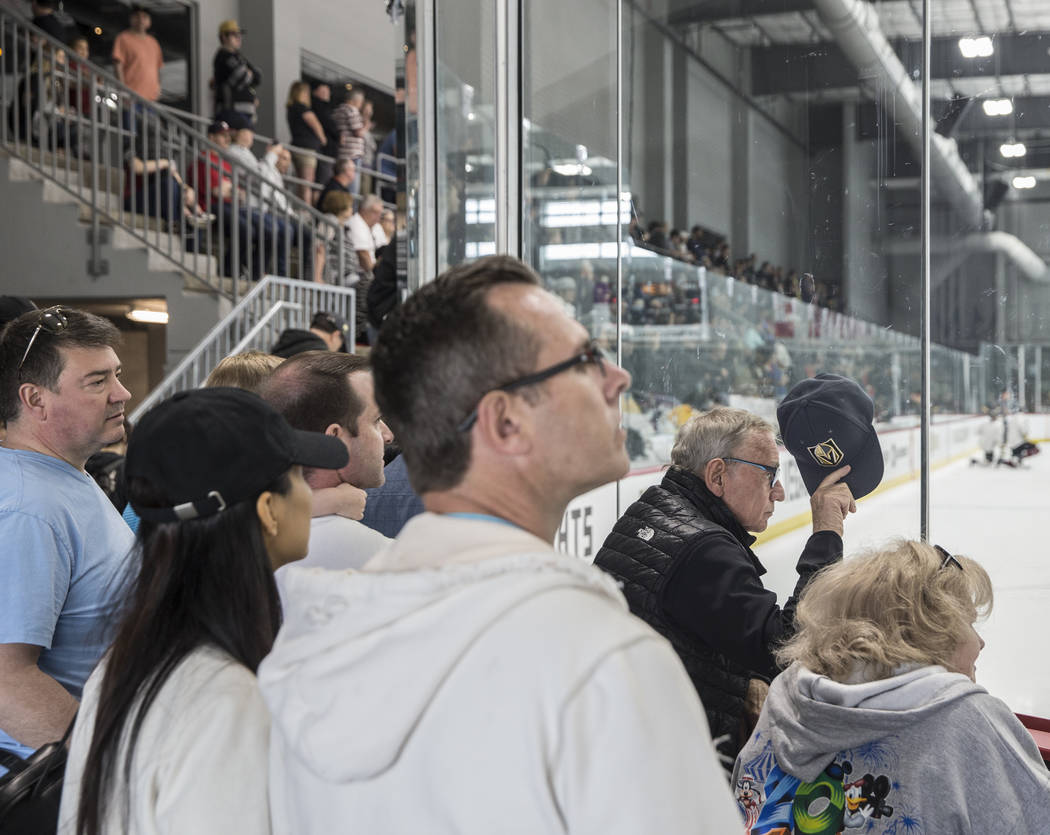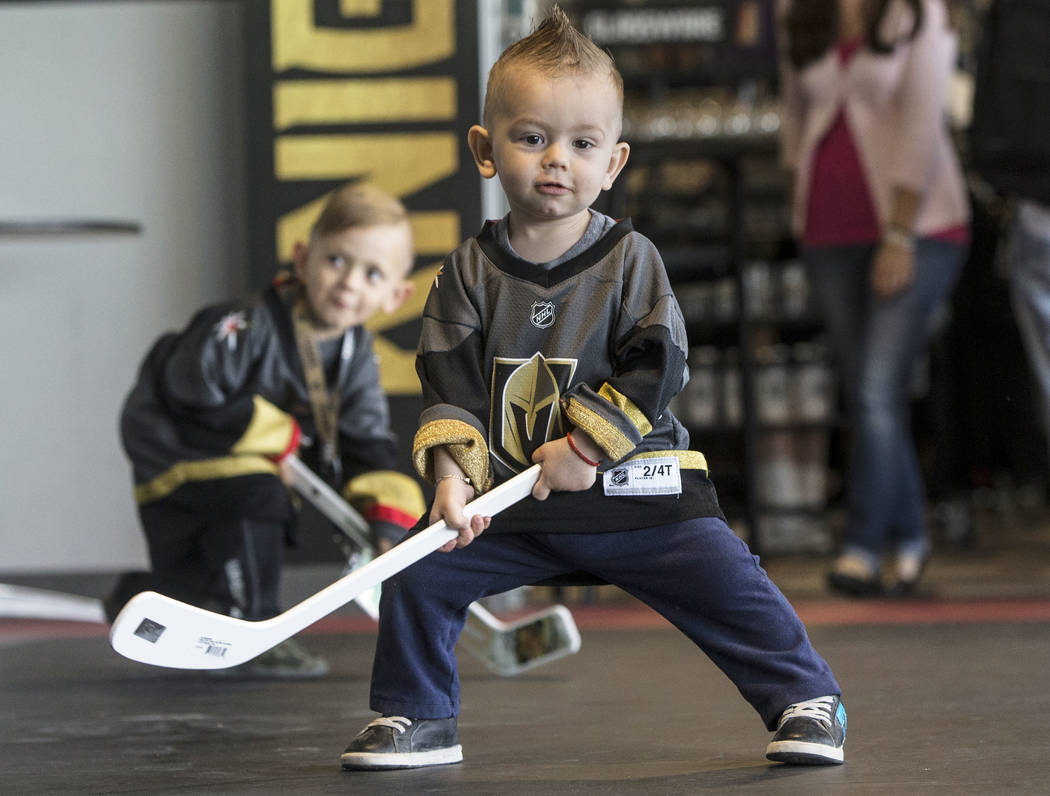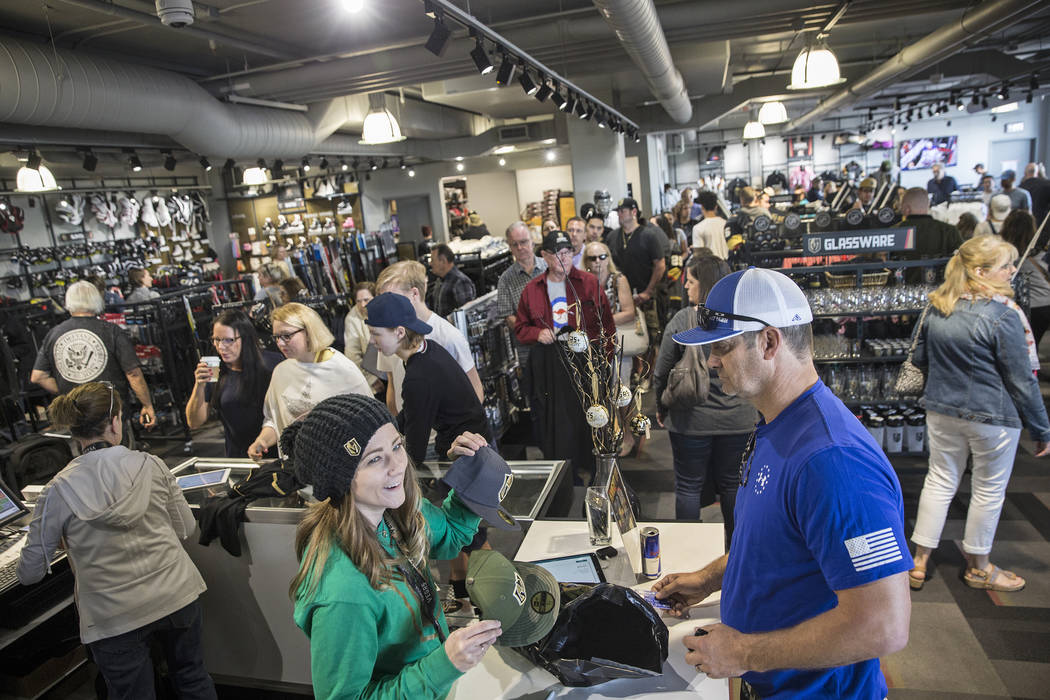 To hardcore sports fans, the term "bandwagon jumper" is an insult.
That's the beauty of the Vegas Golden Knights' improbable run to the playoffs in their very first season. Unless you're a toddler, you can't claim that you've been cheering for VGK your whole life.
We're all bandwagon jumpers, and none of us are.
We've all been here right from the start.
About 700 of the Knights' new fans filled City National Arena on Tuesday to watch the team's final practice before postseason play.
Such turnout isn't unusual for the most successful expansion team in NHL history. Staff members at the team's training facility in Summerlin said they've seen even bigger crowds than that.
Bethany Drysdale said she's attended about 35 practices since November, usually with one or both of her two young sons in tow.
"It borders on obsession, but I'll talk about that with my therapist," she said with a smile.
As Drysdale spoke, her 2-year-old son, Blake, stared out at the rink from behind the glass in the kid's autograph area until he spotted the first player to take the ice. "Hockey man!" Blake announced.
Drysdale said she grew up in the Pittsburgh area playing youth hockey and rooting for the Penguins. She switched her allegiance to the Golden Knights when they picked up longtime Penguins goalie Marc-Andre Fleury in the expansion draft last year.
She said she and her husband are stationed at Nellis Air Force Base. They've only been able to afford tickets to one Golden Knights game so far, so the free practices are a nice substitute.
"We come here to get our hockey fix," Drysdale said.
At 'playoff pitch' all season
Joe Mainardi is a long-time Red Wings fan whose first NHL game was one of the last Detroit ever played at the old Olympia Stadium in 1979.
The retired software engineer now lives in Southern California — "Kings country, L.A. County," he said — but he bought season tickets for the Golden Knights last year in anticipation of an eventual move to Las Vegas.
He's about two months from settling into his new home in the valley, but he's managed to make it to about 20 games at T-Mobile Arena. The Knights are now his team in the Western Conference, while the Wings are his team in the East. He said it's only a problem if they meet in the Stanley Cup Final.
Mainardi said it's clear many local fans are still learning the game, but he is impressed by how loud and enthusiastic the home crowds are.
"It's like they're at playoff pitch," he said. "They're standing up and cheering, even if they're not quite sure why."
One thing VGK fans haven't quite figured out is how to shout down visiting fans with a cohesive chant of their own, Mainardi said. "They're going to have to step it up in the playoffs."
'Playing hooky for hockey'
Before Tuesday's practice in Summerlin, fans shopped for Knights gear in the team store and lined up along the railing above the bleachers to snap pictures and swap stories about what they had to do — and pay — for playoff tickets.
Longtime Las Vegas residents Don and Debbie Aumiller showed up an hour and half before practice in hopes of beating the crowds and grabbing a few more autographs for their daughter's Fleury jersey.
"She's got Eakin, Merrill and Sbisa," Don Aumiller said, pointing at his daughter's back. "Sbisa did it when he had his cast on and stuff. He had mad skills with those first two fingers."
Vanessa Aumiller is an eighth grader at Martin Middle School, but her parents kept her out of school on Tuesday.
"We figure this is playing hooky for hockey," Don Aumiller said. "This is a rare circumstance."
And it was the least the 14-year-old's parents could do, considering they only managed to score two tickets to Wednesday's game and Vanessa isn't getting one of them.
Don Aumiller said maybe they'll get lucky and find two more tickets to another playoff game, possibly in the second round.
If that happens, "They can box over it," he said, smiling at his wife and daughter. "I'm going."
Debbie and Vanessa Aumiller went from not caring much about sports to being devoted hockey fans in a matter of months. Vanessa said she likes the teamwork and the speed. They both said they like the intensity of the game. Don Aumiller said his wife even yells at the refs now.
Even if the Knights had played like an expansion team — losing most of their games as many experts predicted before the season — they would have a strong following in Las Vegas, he said. The team "won a lot of hearts" with the way it paid tribute to those killed during the Route 91 shooting.
"The winning?" Don Aumiller said. "That's just a bonus."
Now the Vegas Golden Knights are host their first playoff game in franchise history.
The puck drops at 7 p.m.
Bandwagon jumpers, come on board.
More Golden Knights: Follow all of our Golden Knights coverage online at reviewjournal.com/GoldenKnights and @HockeyinVegas on Twitter.
Contact Henry Brean at hbrean@reviewjournal.com or 702-383-0350. Follow @RefriedBrean on Twitter.