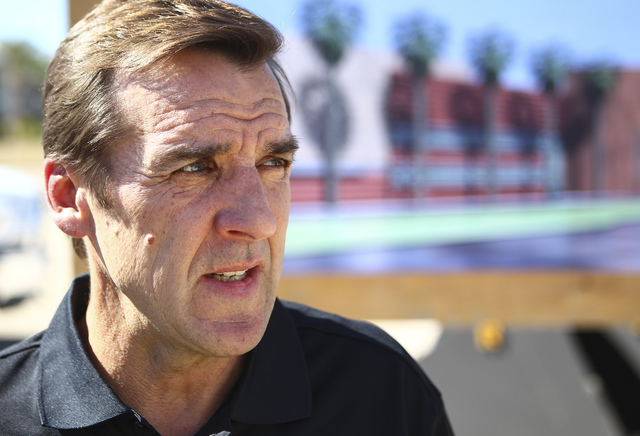 As he sat on the patio at the Golden Knights' Summerlin office talking hockey, George McPhee's phone would go "ping!" every couple of minutes.
He didn't even bother to look at the screen. He pretty much knew who was texting him.
It probably was an NHL team's general manager looking to engage him in conversation that might lead to a deal at some point. Those calls can wait, though they figure to increase as the NHL trade deadline looms Wednesday.
The Knights remain on the outside looking in while owner Bill Foley finalizes his paperwork with the league and makes the final payment on his $500 million expansion fee. But it doesn't preclude McPhee, the team's general manager, from fielding calls and entertaining offers.
He doesn't have players to deal just yet. But he has his full complement of draft picks for 2017 and beyond, and there's nothing to stop him from moving any of those picks.
"We're going to have discussions with teams, and we could come to terms with teams and execute it a week later," McPhee said. "We'll be able to reach some gentlemen's agreements with clubs and announce it a few days later. So I'm not disappointed.
"We can still be involved, but it would have to be a significant deal for us to do something this early. But there's potential with a couple of clubs to do something at the deadline.
"Ideally, we'd wait until we get to the expansion draft to see the whole universe from what's available and what's protected before we made any decisions. But I imagine there will be a couple of deals made beforehand."
McPhee has plenty to do to stay busy. He and his hockey operations staff continue to scout NHL and amateur games, as their big boards for the June 18 to 20 NHL Expansion Draft and June 23 and 24 NHL Entry Draft continue to change almost daily.
"We have a pretty good feel for who's out there, and we know the players," he said. "The most important thing is you have to have a strong (amateur) draft."
McPhee also plans to attend the general manager meetings March 6 to 8 in Boca Raton, Florida. Whether he gets inside the meeting room depends on whether Foley gets the paperwork finalized. Foley said he expects to have it done.
"I talked to Bill (Thursday), and I'm not concerned," McPhee said. "It's not the end of the world if we're not in the room. I've missed 2½ years of those meetings. Missing one more isn't going to hurt.
"That said, it would be nice to be involved and be part of the discussion on how the game is going to be shaped going forward because our team is going to be impacted by what happens."
McPhee said he isn't rushing to hire a coach. Indications are the Knights will wait until after the regular season, see if any other candidates emerge and make their decision. The team has talked to Gerard Gallant and Jack Capuano, and they still could be in play.
McPhee won't discuss any individuals, but said the team is comfortable with where things stand in the process.
"As we've said from the outset, we'll take our time and it would probably go into April to complete," McPhee said of his timetable for hiring a coach.
In the meantime, look for the Knights to keep an eye on the NCAA schedule. As the college season winds down in early March, players who have not been drafted and whose seasons are finished are eligible to sign as free agents. The Knights have a list of players, but McPhee wasn't tipping his hand.
"If we see someone we think can help us, we'll pursue it," he said of what probably would be the first player transaction in team history.
Contact Steve Carp at scarp@reviewjournal.com or 702-387-2913. Follow @stevecarprj on Twitter.