Golden Knights GM George McPhee answers fans' questions
March 21, 2017 - 12:10 pm
Updated March 21, 2017 - 5:07 pm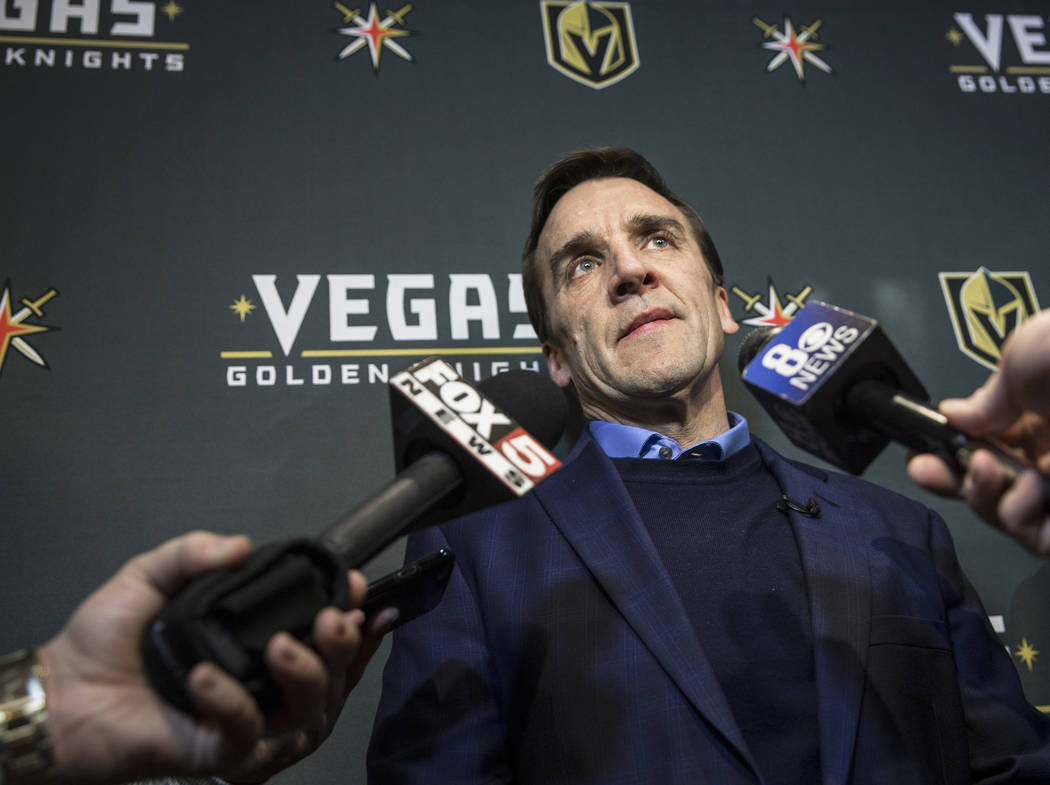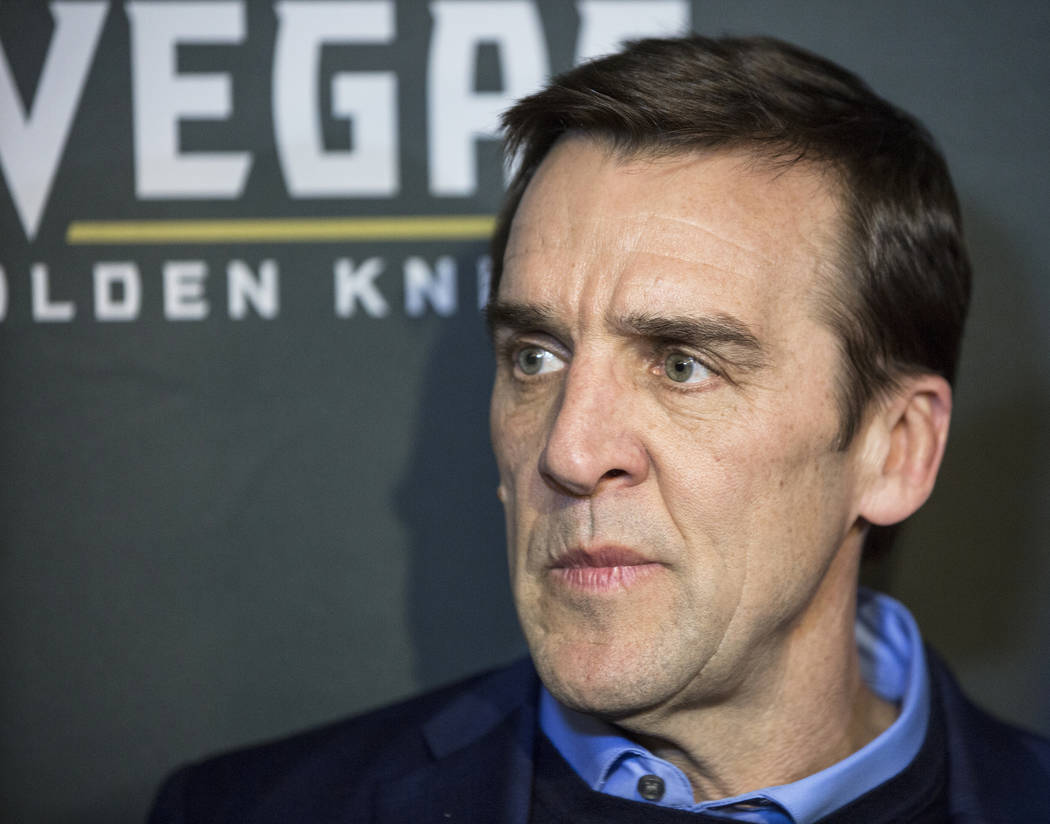 Ever since the NHL officially recognized the Golden Knights as the league's 31st team on March 1, general manager George McPhee has been doing plenty of talking.
At times, he sounds like someone running for office as he spreads the Golden Knights' gospel in his rounds with the media.
McPhee spoke again Monday, this time to season-ticket holders. In a 50-minute question-and-answer podcast, McPhee was asked about his strategy for the NHL Expansion Draft on June 21, how close he is to hiring a coach, what he has learned from the team's mock expansion draft exercises and what are his expectations for the Knights in their inaugural season.
McPhee said the plan is to build a team that will be fast, tough and compete hard every night.
"We're not running a Sunday School here," he said. "This is pro sports, and we're going to be tough enough. You never want your players playing in an environment of fear."
McPhee said the team will be active in free agency when it makes sense and will spend wisely in acquiring its 30 expansion draft picks. The team must spend a minimum of $43.8 million and a maximum of $73 million, the salary cap ceiling.
"Money's not a problem," he said. "Our owner, Bill Foley, is not afraid to spend to get the right player, and it's our job to identify who those players are. We've been spending the last few months scouting and evaluating everyone in the NHL as well as those playing in junior and college hockey. There's a lot of good players there that we'll have a chance to obtain in the amateur draft, so we're continuing to do our homework and we have all our scouts out watching games these next four to six weeks."
McPhee said the team's deal with its American Hockey League affiliate is almost finalized and will be announced next month. The Chicago Wolves are expected to be the Knights' affiliate, but McPhee wouldn't mention them by name.
"We're in a good place with our (AHL) club," he said. "We're going to a market with a good hockey history and a team which has been winning. We'll have full authority over all hockey matters. We'll supply the coaches and many of the players. It's all about development and winning."
McPhee said the plan remains to hire the Knights' coach after the regular season, which ends April 9.
"We decided in August to take our time and pick who we wanted in the spring. That plan hasn't changed," McPhee said. "We want someone who is very current with the game, someone progressive on how the game should be played."
McPhee said the Knights will be busy leading up to the expansion draft. There's the NCAA Frozen Four in Chicago from April 6 to 8, the Under-18 World Championships in Slovakia from April 13 to 21, the IIHF World Championships in Germany from May 5 to 22, the Memorial Cup in Windsor, Ontario, from May 23 to 28 and the NHL Predraft Combine in Buffalo from May 28 to June 3.
"Things are going to be very busy," he said. "But we don't want to miss these opportunities to get another look at players who may be able to help us."
When asked if he needed anything else to build a winning team, he said: "We have everything we need to win. We have a great owner. We have a great arena. We have a great staff. We're going to build a team you're going to be proud of."
YOU ASK, GEORGE ANSWERS
Golden Knights general manager George McPhee spent 50 minutes Monday fielding questions from season-ticket holders. Among the questions he was asked and responded to included:
— JERSEYS: What's the latest update? "That's a unique situation this year because adidas is one of our new partners in the NHL, and they are touching up all of the jerseys around the league. I think there's going to be a bigger unveiling in mid to late June, our jerseys and all of the other clubs' jerseys. I think you'll like the jerseys a lot. We have worked on them for quite some time, and they turned out really, really nice."
— TICKETS: Why let fans from out of town buy tickets to our home games? "We set aside a small amount for individual game purchase, and we're aware some fans will buy tickets. We'd like to take their money and the two points. Hopefully, we get to the point where the building is sold out and it's all local people."
— ANALYTICS: "We're big believers in it. It's remarkable some of the things data can qualify for you, and we'll try to strike that balance of opinion and analytics. The best phrase I've heard about analytics is it's another golf club in the bag, and I think that's pretty accurate. It allows us to ask better questions, and when you ask better questions, you usually get better answers."
Follow all of our Golden Knights coverage online at reviewjournal.com/Golden Knights and @HockeyInVegas on Twitter.
Contact Steve Carp at scarp@reviewjournal.com or 702-387-2913. Follow @stevecarprj on Twitter.