Golden Knights, GM George McPhee keep eyes on prize
Updated May 21, 2018 - 11:36 pm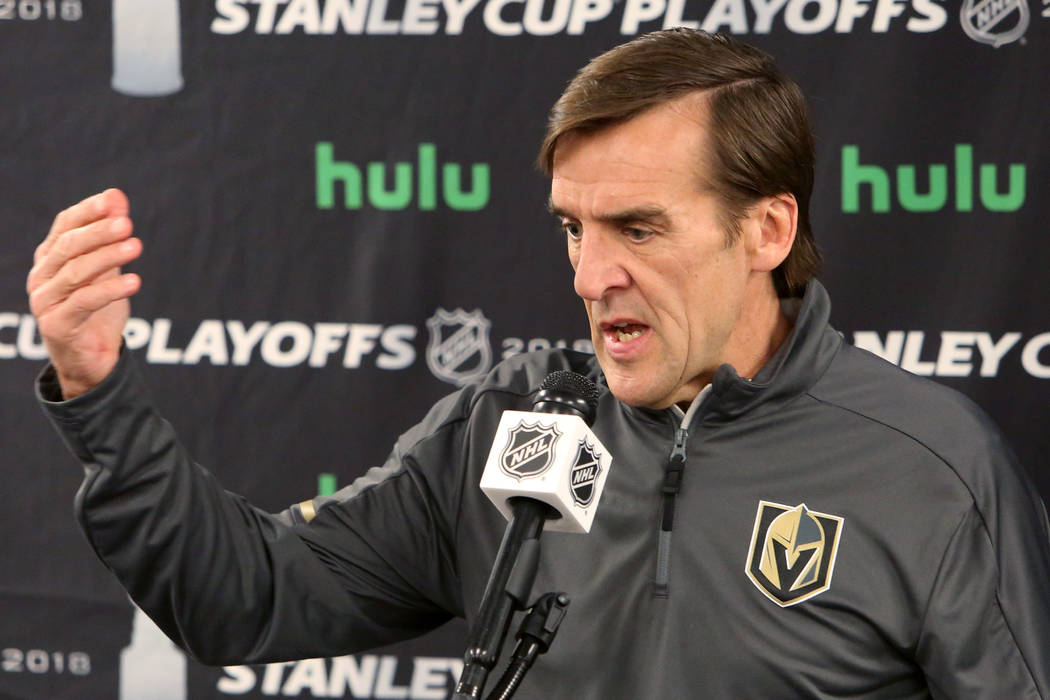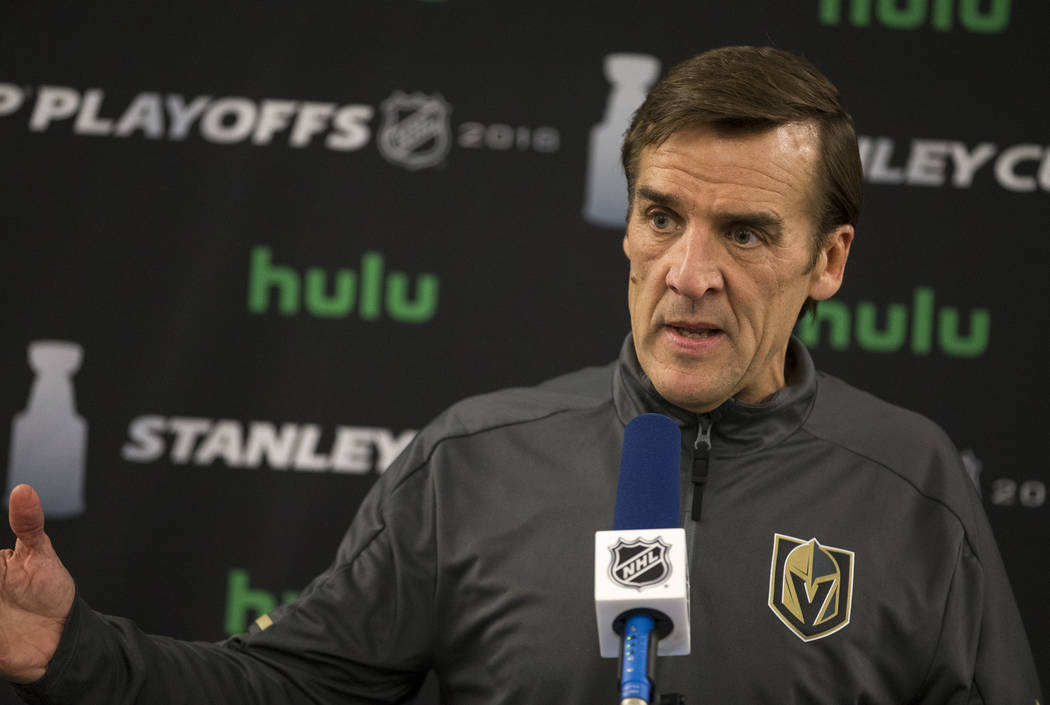 After all the hugs were handed out and the celebration over reaching the Stanley Cup Final died down Sunday, a theme emerged from the Golden Knights' locker room.
They still have business to take care of.
And general manager George McPhee delivered a similar message Monday.
"We have more games to win. It's why we're here," McPhee said during a news conference at City National Arena. "We're not satisfied just getting here. We've all been around the game long enough to know you don't get these opportunities very often. Some of us, it's been 20 years. It doesn't come around very often. So, you've got to try to win it now."
The expansion Knights advanced to the Cup final after topping the Winnipeg Jets in the best-of-seven Western Conference Final on Sunday.
They will face either the Tampa Bay Lightning or the Washington Capitals in the Stanley Cup Final.
NBC announced Monday night that the best-of-seven Stanley Cup Final will start May 28, with games May 30, June 2 and June 4 and, if necessary, June 7, June 10 and June 13. All games start at 5 p.m. PDT.
Sunday's 2-1 victory in Game 5 at Winnipeg was the Knights' fourth straight in the series and made them the third team in NHL history to reach the Cup final in their inaugural season, joining the 1918 Toronto Arenas and 1968 St. Louis Blues.
The Arenas accomplished the feat in the NHL's first season by winning a two-game, total-goals series against the Montreal Canadiens. St. Louis emerged from the all-expansion West Division.
"As a franchise and organization, we have just tried to be a little bit better every game," center Pierre-Edouard Bellemare said. "I don't think any of us realize what we have achieved, but that's a good thing. We are still hungry. No one is satisfied, and that's exactly what you want in a team. We know there are more games to play."
Knights goaltender Marc-Andre Fleury shut down the high-scoring Jets in the conference final, posting a 2.02 goals-against average and a .938 save percentage over the five games.
He was even more impressive in the Knights' four straight wins and is the leading contender for the Conn Smythe Trophy, given to the MVP of the postseason.
Fleury reached the Stanley Cup Final for the third straight season after winning the championship with Pittsburgh the past two seasons. It is his fifth finals appearance overall.
Forward James Neal will play in the finals for the second consecutive season; he did so with Nashville in 2017.
"We have a lot to focus on now, a lot to be excited for moving forward," Neal said Sunday. "But we need to continue getting better. The group is great; we observe everything, we listen, we get better every day, we focus. You know, we're just not satisfied yet. We have a lot more to show."
McPhee was the general manager in Washington when the Capitals reached the Stanley Cup Final in 1998, and he had not been back since.
McPhee arrived at City National Arena on Monday morning and noticed the long line of fans waiting to purchase memorabilia at the team's store.
"The interest in this team is just incredible," he said. "It's been, for all of us, one of the neatest experiences of our lifetime. Maybe the neatest, most unique experience. Las Vegas has been a wonderful place to live and work, and we just hope this fairy tale that we're in here can continue for the next couple weeks because it would be really great to bring a championship to this city and these people."
More Golden Knights: Follow all of our Golden Knights coverage online at reviewjournal.com/GoldenKnights and @HockeyinVegas on Twitter.
Contact David Schoen at dschoen@reviewjournal.com or 702-387-5203. Follow @DavidSchoenLVRJ on Twitter.