Golden Knights' goaltender situation has been bizarre
November 1, 2017 - 2:43 pm
Updated November 1, 2017 - 7:58 pm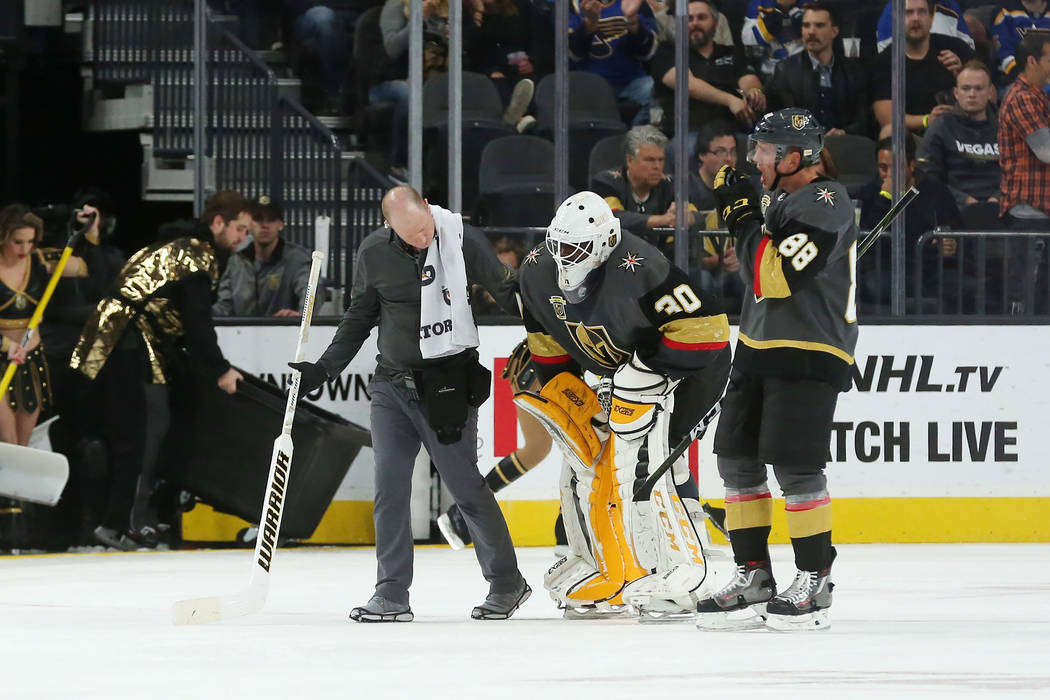 BOSTON — Kelly McCrimmon has seen a lot of hockey. But ask the Golden Knights assistant general manager if he can remember a team starting four different goaltenders in its first 11 games and he shakes his head.
"I can remember a lot of occasions where a team used an emergency backup," he said. "But to start a season this way, I have not seen that before."
Since Marc-Andre Fleury went down with a concussion Oct. 13, the Knights have had a revolving door leading to the goal crease. Malcolm Subban took Fleury's place only to sustain a lower-body injury Oct. 21. Oscar Dansk finished that game, an overtime victory against St. Louis, started the following game Oct. 24 vs. Chicago, shut out Colorado last Friday, then he got hurt Monday in the second period of a 6-3 loss to the New York Islanders.
Maxime Lagace was the next up. He finished against the Islanders, then started in Tuesday's 6-4 loss to the New York Rangers. He is expected to be in net Thursday when the Knights (8-3) continue their six-game road trip in Boston against the Bruins.
Fleury, who has a history of concussions, is on the road trip. However, he has not been cleared to play, and he has not skated with the team since it arrived on the East Coast on Saturday. Coach Gerard Gallant said he doesn't have a guess as to when his No. 1 netminder will be back.
"We all know what concussions are," Gallant said Monday. "He's feeling better and he's working hard, but until the trainer comes and tells me he's real close he's going to be a while. Until he's gets on the ice, we've got to wait and see."
Subban? It is believed he's nursing a right groin pull, though team officials refuse to confirm his injury. He reportedly is at least two weeks away.
Dansk went on injured reserve Tuesday and he has a lower-body injury that could be a pulled hamstring. The Knights will not confirm the nature of his injury.
McCrimmon said he has no theory as to why the Knights have had this run of injured goaltenders.
"There's no common denominator with the three injuries," he said. "They were all different circumstances."
General manager George McPhee has not made a trade, and McCrimmon said the team is likely to wait for the injured goalies to return rather than seek a short-term solution.
"I don't think you'll see us do anything extreme," McCrimmon said. "It's day by day. As much as some people might look forward to some type of significant step that serves to be the final answer to the issue that we're having, it's going to be rehabbing the guys we have out of our lineup and working with the two goaltenders we have in our lineup and let them mind the store. I don't expect we'll deviate from that."
The Knights' goaltender situation has the hockey world scratching its collective head. Even NHL commissioner Gary Bettman is befuddled.
"Is that unbelievable?" Bettman said Tuesday. "If you're asking me if I've seen anything like this before, nothing comes to mind."
Pierre McGuire, NBC's analyst for the NHL, said a lot of goalies have gone down early this year with a variety of injuries. But the Knights' situation is unique.
"This is a tough way to start," he said. "But it's a phenomenal story how they have managed to overcome the injuries to their goaltenders.
"They're a fun, exciting team to watch and I think if I were Gerard Gallant, I would do things exactly the same — next man up and everybody work hard together to help out."
Contact Steve Carp at scarp@reviewjournal.com or 702-387-2913. Follow @stevecarprj on Twitter.