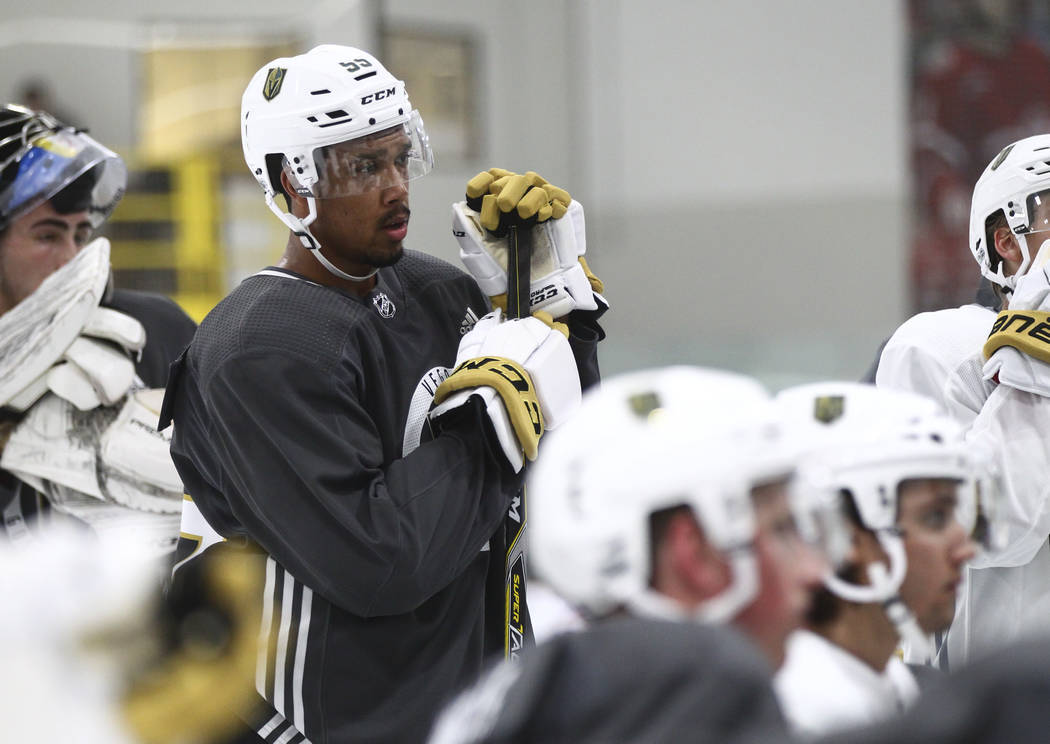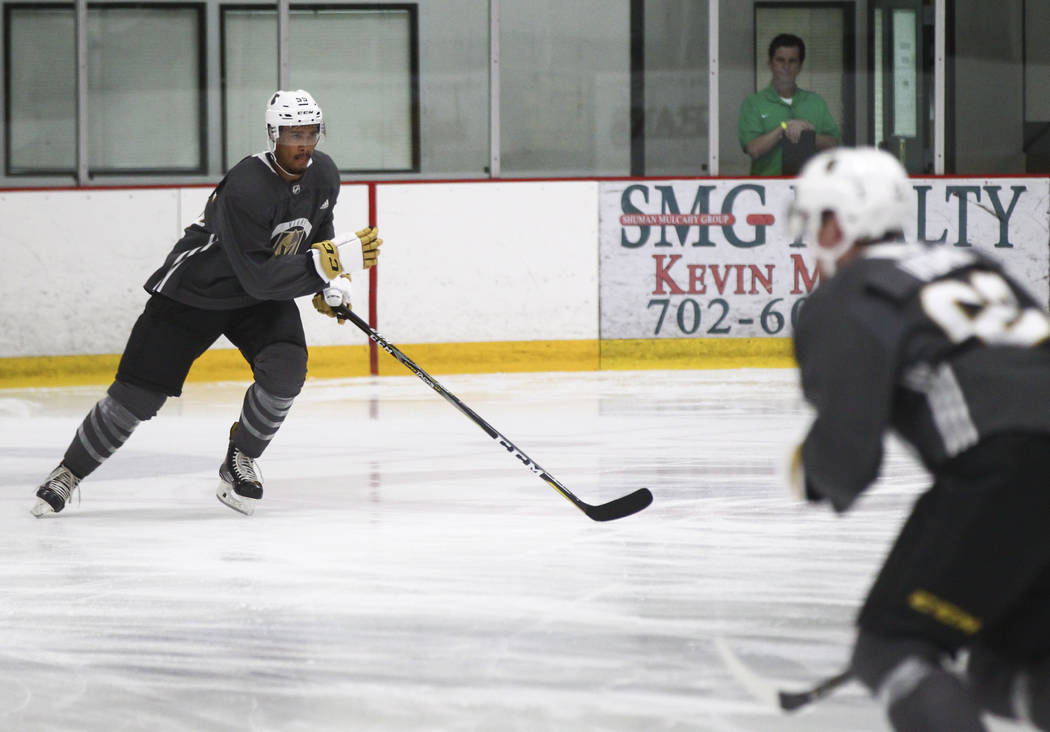 Keegan Kolesar wasn't born when Gerard Gallant was playing in the NHL. But the 20-year-old right wing from Winnipeg has a game that mirrors how the Golden Knights' coach once played.
Kolesar is a rugged 6 feet, 2 inches and weighs 223 pounds. He's not afraid to be physical and he also has a scorer's touch. Last year, he had 26 goals and 60 points for the Seattle Thunderbirds of the Western Hockey League.
But what catches your eye is the 101 penalty minutes. Kolesar will battle, not just for himself, but for his teammates. Just like Gallant did and the way Milan Lucic does for the Edmonton Oilers.
"(Gallant) was jabbing me on the side and telling me that we were pretty similar and play the same kind of game," said Kolesar, who is participating in the Knights' development camp at the Las Vegas Ice Center. "I'll have to go on YouTube and watch him."
A third-round draft pick of the Columbus Blue Jackets in 2015, Kolesar has every intention of playing physical for Gallant. But it's likely he'll start the season in Chicago playing for the Wolves of the American Hockey League. When Knights general manager George McPhee traded for Kolesar last Saturday during the second round of the entry draft, it likely was with the Wolves in mind.
"You want to make the big club," Kolesar said. "You train hard all summer to play in the NHL. I'll put my best foot forward and whatever happens, happens.
"I need to work on my quickness. After watching the season and the Stanley Cup playoffs, everything gets higher and higher as you go on and everything is quicker. Even the drills we do out here at the development camp, the skating, the passing and shooting drills, everything is done quicker."
Tough guy with touch
Wolves coach Rocky Thompson is working the Knights' development camp so he's getting a first-hand look at Kolesar.
"I see a lot of potential in his game," Thompson said. "He's got great size, good skill and he plays with his head up. He has an edge to his game that I like.
"I want him to learn to play with pace consistently, play short shifts but with high energy."
While Kolesar is tough, he has touch when it comes to handling the puck. He knows where the net is as evidenced by the 75 goals he scored for Seattle over the last three seasons.
"I always believed I had the ability, and as I got older and had more scoring opportunities, I started to shoot more," he said. "Once you start to score, it gives you more confidence."
But his tough-guy reputation is never far away. He said there were more than a fair share of fighting majors in his 101 penalty minutes last year.
"I'm sure the majority of those were for fighting," he said. "Either I had to stand up for my teammates or I had to stand up for myself. I try to play an honest game and not be chippy."
He was on the same line with Mathew Barzal and Ryan Gropp, two of the Thunderbirds' highly-skilled players. Part of his responsibility was to see that no one messed with Seattle's big guns. But Barzal had his back, too.
"It's funny, Barzy stood up for me one time," Kolesar said. "We were playing Spokane and I got dusted from behind. The next thing I know, he's asking the guy to fight.
"I can't remember if he fought the guy or not, but the thought was there and I definitely appreciated him doing that."
He'll probably find himself being challenged in training camp and in the preseason. But he's coming back to training camp to compete, regardless of where he winds up starting the season.
"No player wants some young kid taking his job or show them up," he said. "It's a job at this point. I expect everyone's best. But I want everyone to take me seriously and not treat me like a little kid."
More Golden Knights: Follow all of our Golden Knights coverage online at reviewjournal.com/GoldenKnights and @HockeyinVegas on Twitter.
Contact Steve Carp at scarp@reviewjounal.com or 702-387-2913. Follow @stevecarprj on Twitter.
Keegan Kolesar file
Position: Right wing
Hometown: Winnipeg, Manitoba
Age: 20
Height/weight: 6-foot-2, 223 pounds
2016-17 team: Seattle Thunderbirds (Western Hockey League)
2016-17 stats: 26 goals, 34 assists, 60 points, 101 penalty minutes
Fun fact: Kolesar was included in EA Sports NHL '17 as a member of the Thunderbirds.