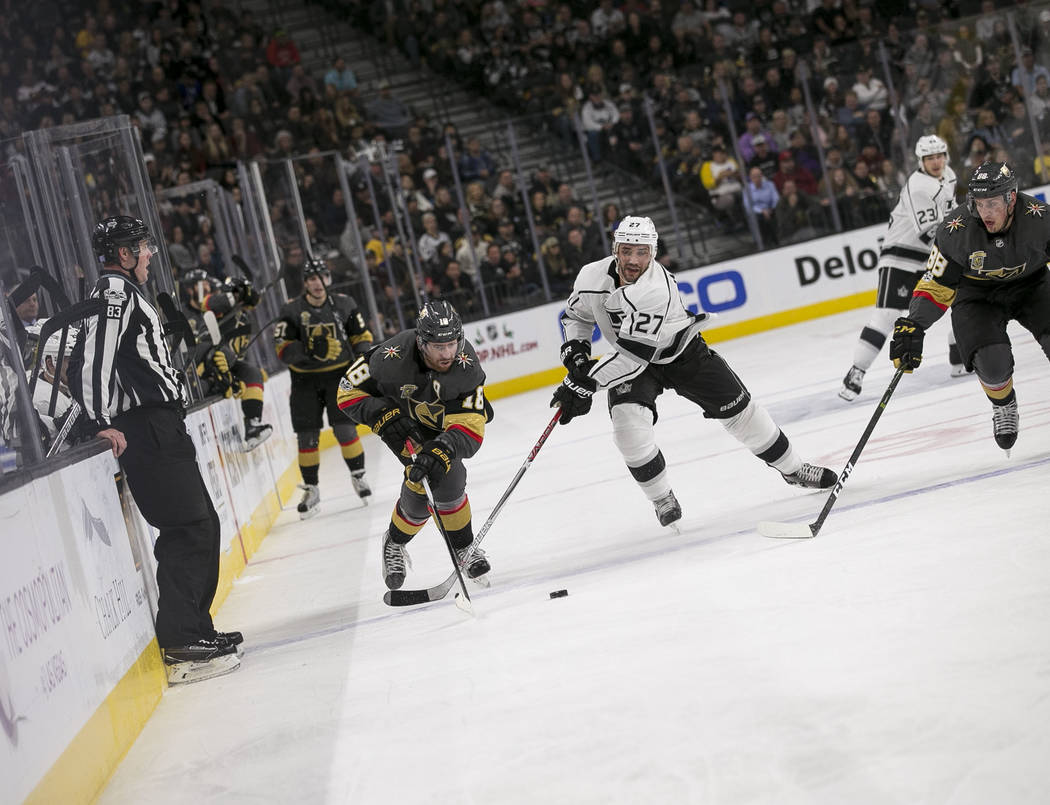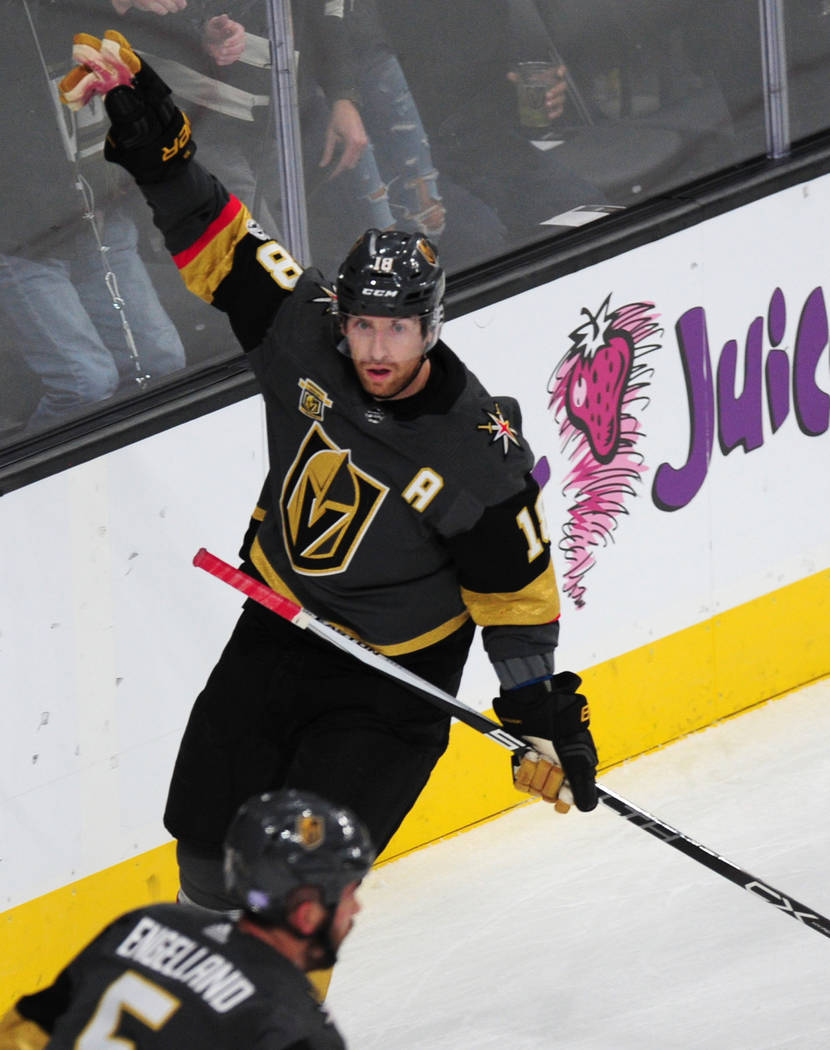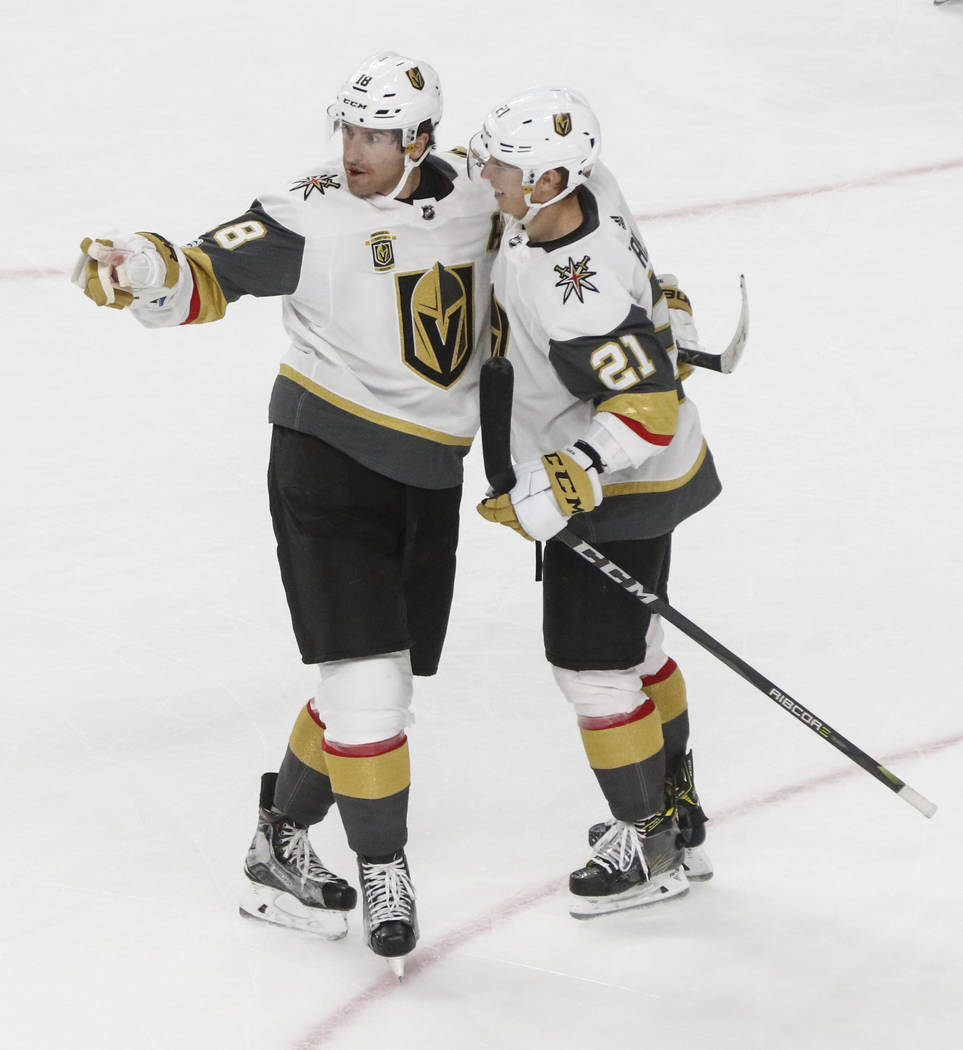 NASHVILLE, Tenn. — The incidents will never be expunged from James Neal's permanent record. Three suspensions in four years, along with three fines from the NHL.
And a reputation as one of the dirtiest players in the league.
"I was getting suspended too much," Neal said this week.
But following a trade to the Nashville Predators in the summer of 2014, Neal spent three seasons learning to curb a bit of the old ultraviolence and repairing his tarnished image.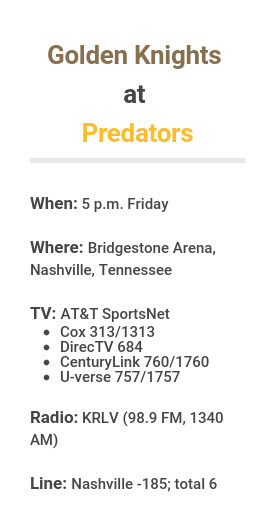 The 30-year-old forward arrives at his former home a fully reformed player when the Golden Knights (17-9-1, 35 points) meet the Predators (18-7-3, 39 points) at 5 p.m. Friday at Bridgestone Arena.
"He was a good player. You can tell just by the way he's off to this year," fourth-year Nashville coach Peter Laviolette said Thursday. "He's an effective player. He puts the puck in the back of the net. He's done it his whole career.
"He was here from the time I got here. He was part of the leadership group, part of the reason why, I believe, we kept taking steps forward and steps in the right direction."
Neal was suspended for two games for boarding as a member of the Dallas Stars during his second season in the league in 2009.
While with the Pittsburgh Penguins, he was slapped with a one-game suspension during the 2012 Eastern Conference quarterfinals for separate hits on Philadelphia's Sean Couturier and Claude Giroux during Game 3.
Neal also was given a five-game suspension in 2013 for kneeing Boston's Brad Marchand in the head.
"You've got to harness it for sure, and when I was younger I don't think I did it right sometimes," said the 6-foot-2-inch, 221-pound Neal. "I would get too wound up in the game, and find myself in bad positions. Hitting guys at the wrong times, doing things at the wrong times, and being late to checks.
"But I think as I've grown as a player, and as I've matured and become older, you learn. You've got to be smart with where you are, especially with how fast the game is now."
Neal was dealt from Pittsburgh to Nashville during the 2014 draft and scored 77 goals in 219 games while helping the Predators reach the Stanley Cup Finals last season.
More significantly, Neal hasn't run afoul of the NHL's Department of Player Safety since a fine for "diving" almost three years ago.
He credits former Predators captain Mike Fisher, who retired in August after 17 seasons in the league, for helping with his maturation.
"He plays the game as hard as anybody but never crosses the line," Neal said. "He's an unbelievable guy, a great player, great role model. He's a guy that I definitely learned to look up to."
Neal was plucked from the Predators in the expansion draft and has 14 penalty minutes to go with 13 goals and 21 points in 27 games. He will be an unrestricted free agent at the end of the season, which for now leaves his long-term future with the Knights unclear.
"I take it day by day and enjoy this," Neal said. "I have a chance to play on an expansion team in Las Vegas. I never thought I'd be driving 20 minutes down the 215, turn onto the Las Vegas Strip, it's pretty special. I'm just taking it all in."
Neal ranks 15th on the Knights in hits (13), but still brings plenty of oomph to the lineup.
On opening night in Dallas, he cleaned out the Stars' Tyler Seguin from the side of the net with a hard hit.
During the Knights' 5-2 win at Vancouver on Nov. 16, Neal won a battle behind the net against 6-5, 220-pound Erik Gudbranson to help set up Erik Haula's go-ahead goal.
Neal fought off Anaheim's 6-6, 219-pound defenseman Jaycob Megna to get at a rebound and score the opener in Tuesday's 4-3 shootout win over the Ducks.
"You want guys playing with an edge, and that's the way he's played all the time," Knights coach Gerard Gallant said. "And that's the way sometimes he gets the room in front of the net and down low. He's a physical player when he plays that type of game, and the bigger the game, the bigger he is."
More Golden Knights: Follow all of our Golden Knights coverage online at reviewjournal.com/GoldenKnights and @HockeyinVegas on Twitter.
Contact David Schoen at dschoen@reviewjournal.com or 702-387-5203. Follow @DavidSchoenLVRJ on Twitter.