Golden Knights' Jonathan Marchessault out to show he's no one-hit wonder
September 20, 2017 - 8:17 pm
Updated September 20, 2017 - 8:34 pm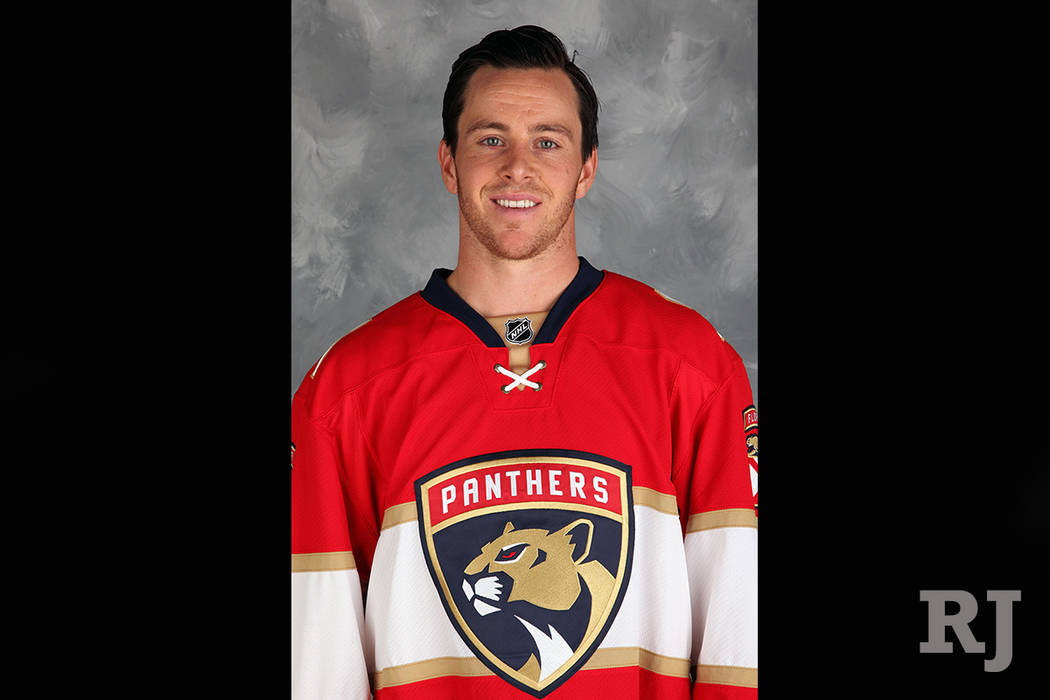 SAN JOSE, Calif. — Jonathan Marchessault heard the criticism throughout his hockey career.
Too small.
Listed at 5 feet 9 inches tall, Marchessault tore up the American Hockey League for four seasons before he earned a chance in the NHL full time last year with Florida.
The diminutive wing enjoyed a breakout season, and now Marchessault is aiming to show he wasn't a one-hit wonder with the Golden Knights.
"I think I proved that I could play," Marchessault said. "Last year was my first full year, and I just was able to show that if I play a full year like this, I can be able to be successful in that league. That's the only thing I'm looking forward to is just show that I can do that."
Marchessault, a native of Cap-Rouge, Quebec, was a high-scoring forward in the Quebec Major Junior Hockey League but went undrafted.
He averaged almost a point per game in the minors over the next four seasons and played 45 games for the Tampa Bay Lightning in 2015-16, scoring seven goals and 18 points.
But Marchessault didn't stick with the Lightning and signed a two-year, one-way contract with the Panthers in 2016.
When Florida's leading scorer, Jonathan Huberdeau, underwent Achilles' tendon surgery during the preseason, then-Panthers coach Gerard Gallant gave Marchessault an opportunity on the top line.
Marchessault responded with a team-high 30 goals and added 21 assists.
"Jonathan took advantage of an opportunity he had in Florida last year," said Gallant, who was reunited with Marchessault on the Golden Knights. "And that's what we want from him again this year, you know. He had a 30-goal season last year — not as a rookie but basically as a rookie.
"He's got confidence, and he's a guy who can put the puck in the net. I look forward to having him, and hopefully he can do the same for us."
Marchessault, 26, will be an unrestricted free agent after the season and was left unprotected by the Panthers despite his production.
Marchessault continues to work on his play in the defensive zone, but he has impressed Knights teammates in training camp with his speed and quick release.
"He's a great player," said Knights forward Reilly Smith, who played last season with Marchessault in Florida. "He's a hard worker, and he's got a great shot. Knowing him, I know he's expecting a lot from himself this year, and it'll be fun having him on the team."
Marchessault scored a power-play goal in the first period of Tuesday's 4-1 preseason victory over Colorado. He isn't expected to be in the lineup Thursday when the Knights (2-0) meet the Sharks at 7:30 p.m. at SAP Center.
Marchessault is listed as a center on the roster but will be featured on the wing for the Knights. He has been working alongside Smith and Russian center Vadim Shipachyov on the first line and No. 1 power-play unit.
"To be successful in the minor leagues and never have your shot to play in the NHL, I think sometimes it's a little disappointing," Marchessault said. "But if you keep going and believe in yourself, good things are going to happen for you. That's what happened with me. I just kept working harder and harder, and things opened up at some point, and now I'm really happy."
Contact David Schoen at dschoen@reviewjournal.com or 702-387-5203. Follow @DavidSchoenLVRJ on Twitter.
NHL preseason
Who: Golden Knights vs. Sharks
When: 7:30 p.m. Thursday
Where: SAP Center, San Jose, California
TV: None
Radio: KRLV (98.9 FM, 1340 AM)