Golden Knights keep tabs on college free agent Jimmy Schuldt
Updated June 27, 2018 - 6:45 pm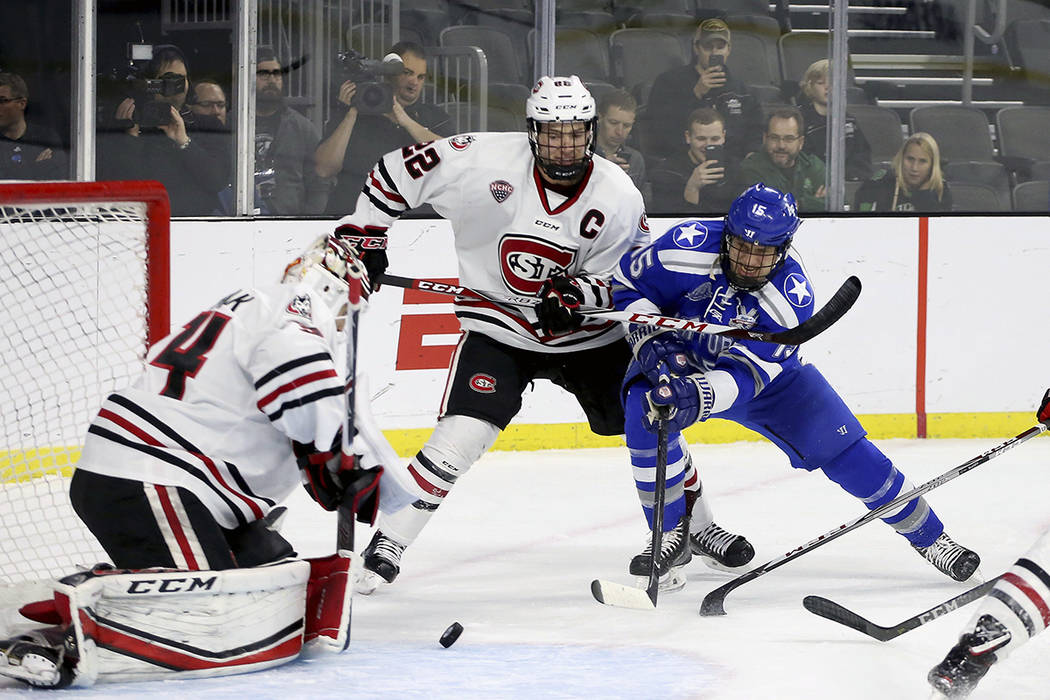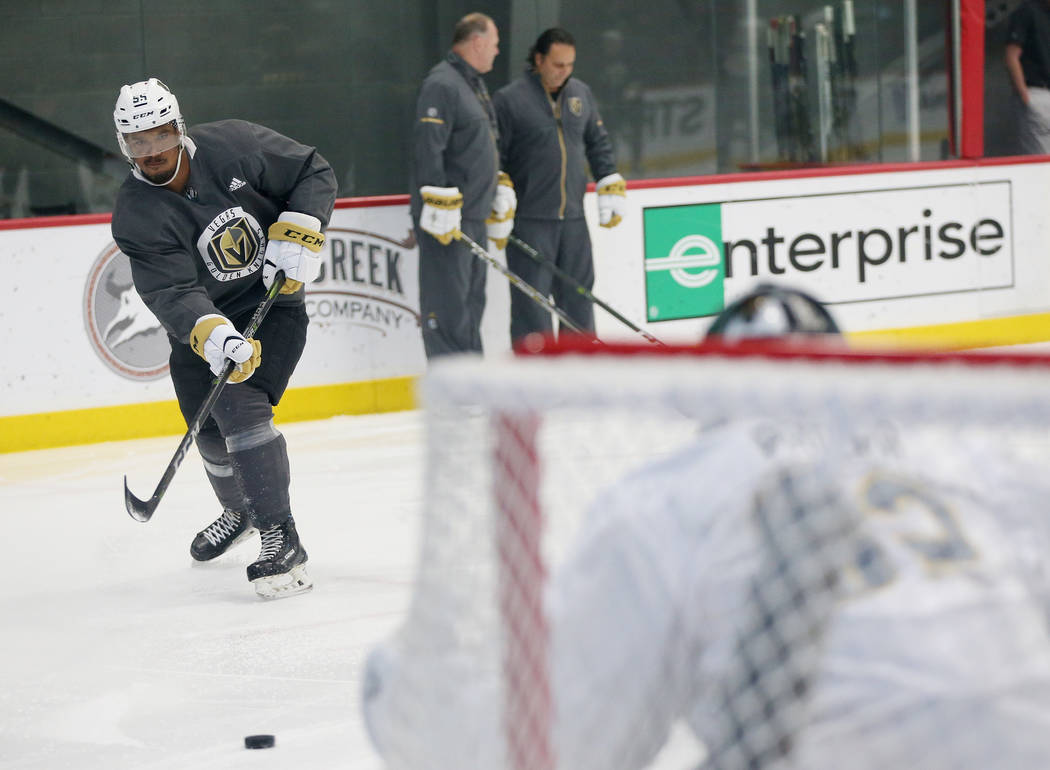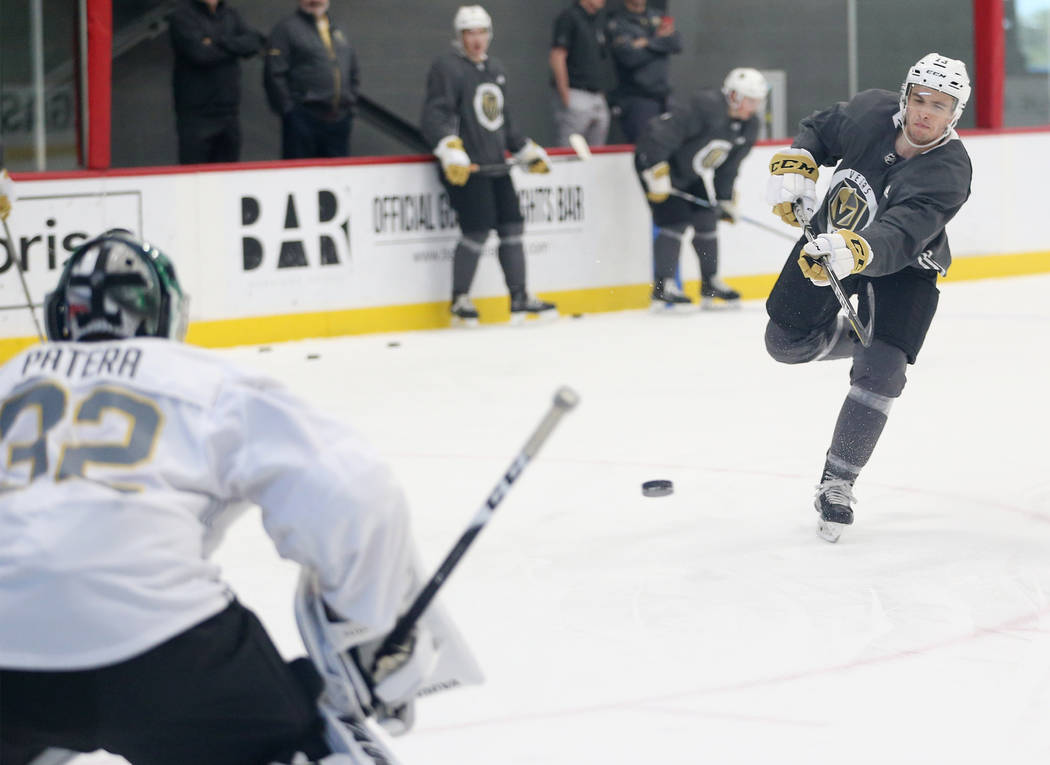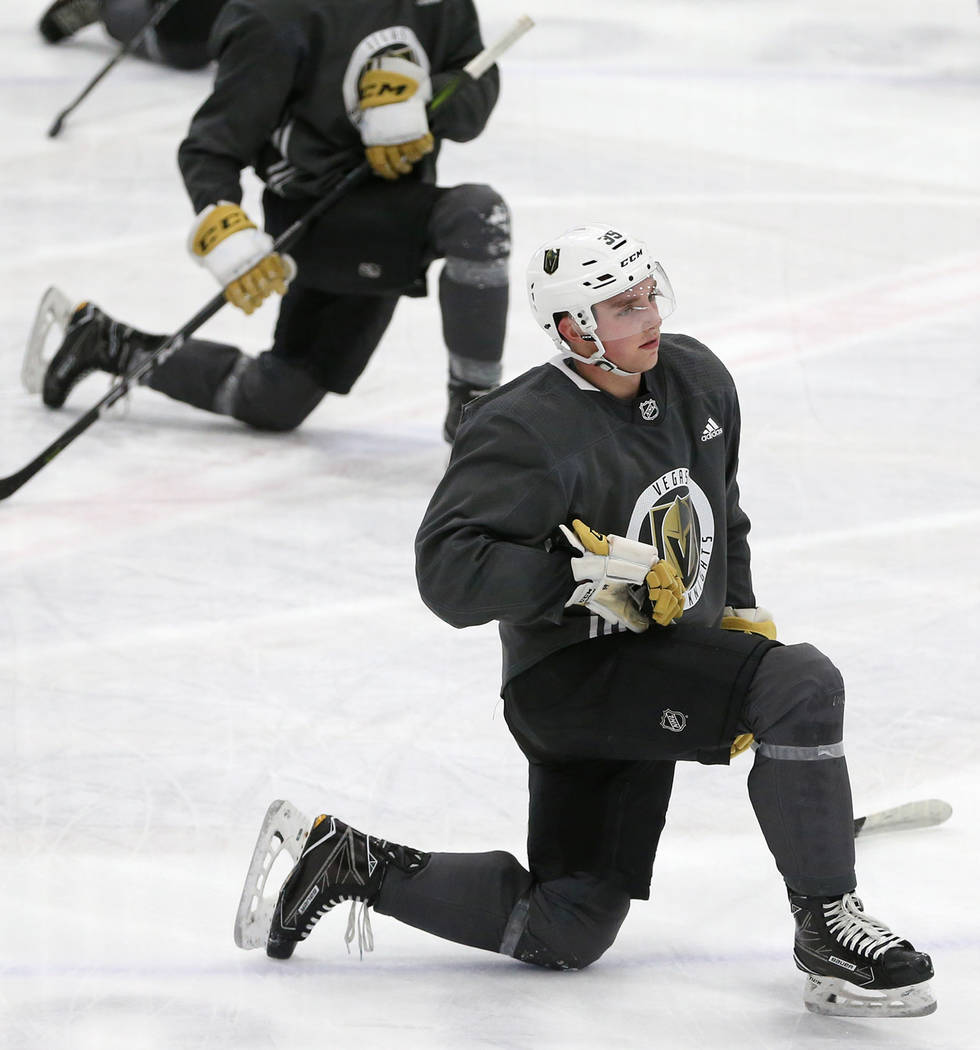 When Jimmy Schuldt announced at the St. Cloud State hockey team's end-of-the-season meeting in late April that he was returning for his senior season, his teammates pounded the table in excitement and cheered wildly.
Executives around the NHL weren't as pleased.
Schuldt, who is participating in the Golden Knights' development camp this week at City National Arena, is one of the nation's most sought-after college free agents.
The 6-foot-1-inch, 205-pound left-shot defenseman is expected to draw interest from multiple clubs, including the Knights, when he turns pro next spring.
"This seemed like a really good opportunity, a really exciting atmosphere," Schuldt said Wednesday. "Obviously a pretty incredible inaugural season for them, and it was just exciting that I was able to come down here and check it out. I've never been out west, so that was another cool thing for me."
Schuldt had 38 points in 40 games for St. Cloud State as a junior and was named one of the 10 finalists for the Hobey Baker Award as college hockey's top player.
He led the Huskies in power-play goals (eight) and assists (28) and was named to the American Hockey Coaches Association/CCM Division I All-America West first team.
Schuldt has never missed a game in college and served as St. Cloud State's captain the past two seasons.
"He's a guy that's been a very touted hockey player for a long time," said defenseman Zach Whitecloud, who played collegiately at Bemidji State and faced Schuldt one time in 2017. "He's got a lot of eyes on him and probably a lot of people that want him. He's an extremely good hockey player, but he's a good person, a good leader and he carries himself well off the ice."
Schuldt helped St. Cloud State to a No. 1 seed in the NCAA tournament last season, but the Huskies were upset in the first round by Air Force.
Schuldt spurned offers from several NHL clubs this spring for another chance at a national championship.
"For me, my heart's always been in St. Cloud," Schuldt said. "If next season doesn't go as I wanted to, then I've given everything to the school and to the hockey program as I can and I'm never going to feel like I made a mistake staying."
Schuldt, 23, was never drafted and is an unrestricted free agent, meaning he can sign with any NHL team.
He spent last summer at Montreal's development camp and previously went to camp with Chicago and the New York Islanders. The New York Rangers and St. Louis were among the clubs pursuing Schuldt in the spring.
"I like meeting people and building relationships, so I think it definitely will help, just to know the people and know the organization, be here personally and get a feel of what it's like," Schuldt said.
"I think for me just the right fit, the right organization and the right culture. When I started at St. Cloud, a lot of the guys at St. Cloud are really similar to myself and I think that's helped me as a player. If the culture is the same throughout the players and there's a lot of character that goes into it, those types of teams are the ones that seem to have success."
Brannstrom to leave Sweden
Defenseman Erik Brannstrom said he will make the jump to North America this season.
Brannstrom, the No. 15 pick in the 2017 draft, played with HV71 in the Swedish Hockey League last season and had two goals and 13 assists in 44 games. He also helped Sweden to the silver medal at the World Junior Championships.
Brannstrom doesn't turn 19 until September and has added almost 10 pounds in the past year.
He signed an entry-level contract last July and is expected to start out with the Knights' American Hockey League affiliate in Chicago.
"Yes, that's my plan. I think it's more similar to the NHL level than maybe the SHL," Brannstrom said. "I had a great time in the SHL. It's great guys, and I learned so much from them. But it's my goal to play here one day, so it was the best thing to do."
Late arrival
Defenseman Bobby Nardella, who missed the first two days of development camp, is expected to arrive Wednesday night in Las Vegas. Nardella will be a senior at Notre Dame in the fall.
Forward Luke Burghardt was not medically cleared and will not participate this week, according to a team spokesperson.
More Golden Knights: Follow all of our Golden Knights coverage online at reviewjournal.com/GoldenKnights and @HockeyinVegas on Twitter.
Contact David Schoen at dschoen@reviewjournal.com or 702-387-5203. Follow @DavidSchoenLVRJ on Twitter.
Development camp schedule
(At City National Arena)
Thursday
*9:15 a.m. — Team White practice
*11:15 a.m. — Team Grey practice
*4 p.m. — Joint scrimmage
Friday
*10 a.m. – Joint scrimmage
Saturday
*10:15 a.m. – Joint scrimmage