Golden Knights lean on James Neal's postseason experience
Updated May 27, 2018 - 8:16 pm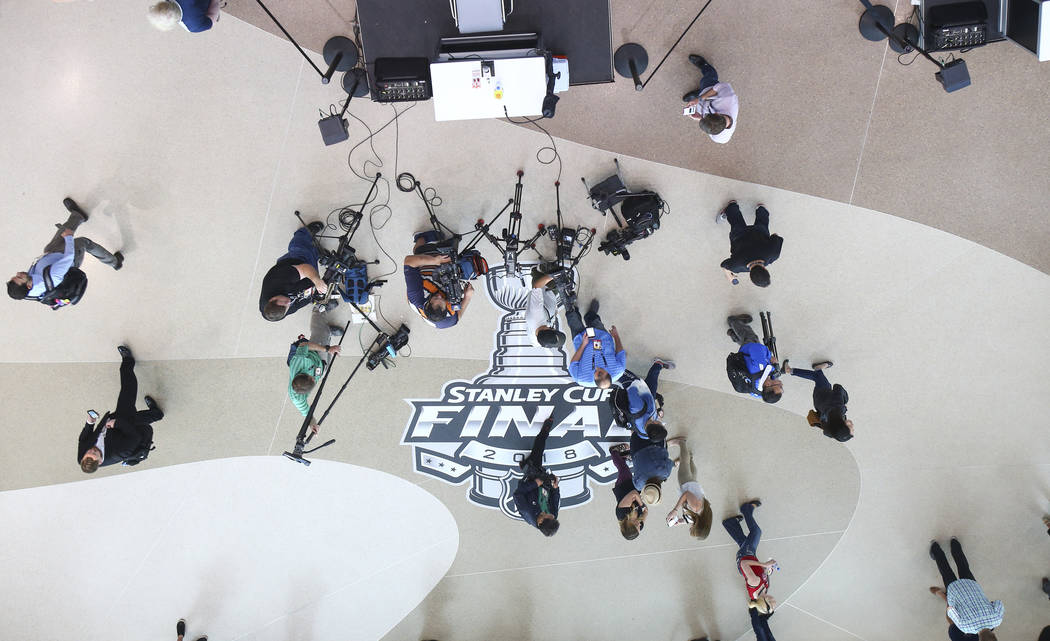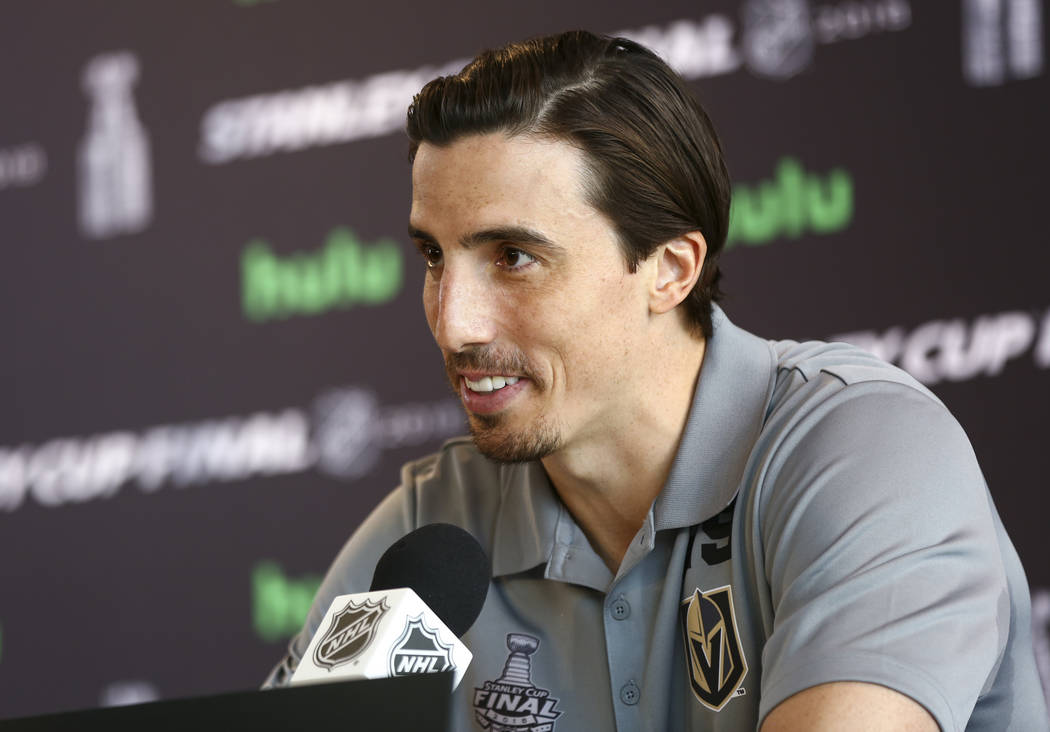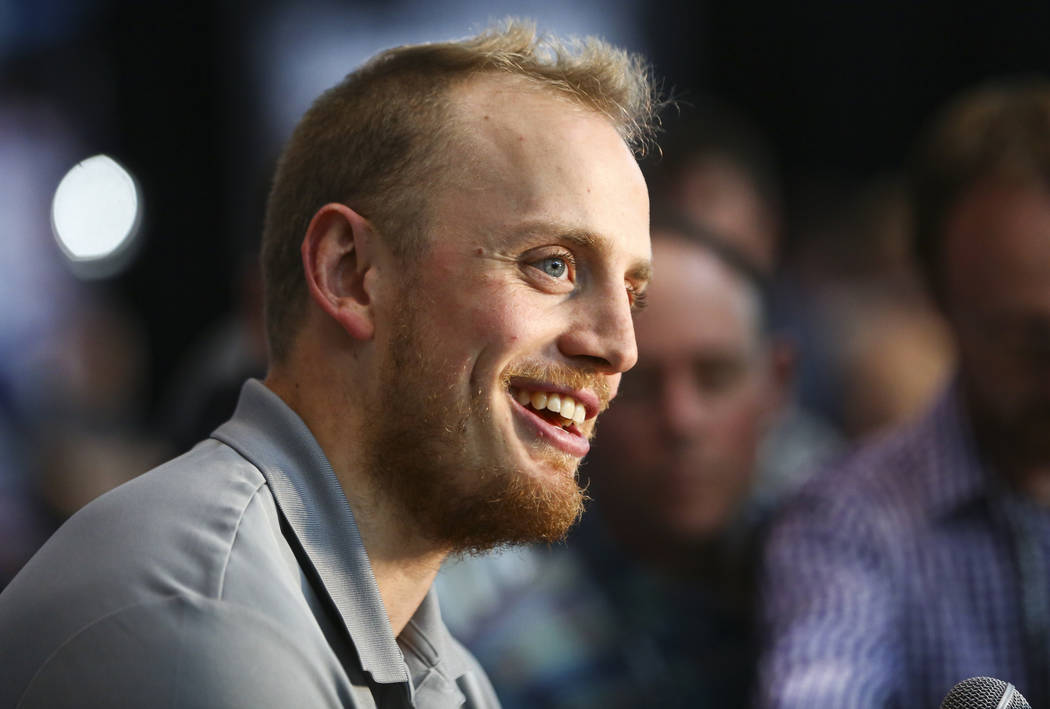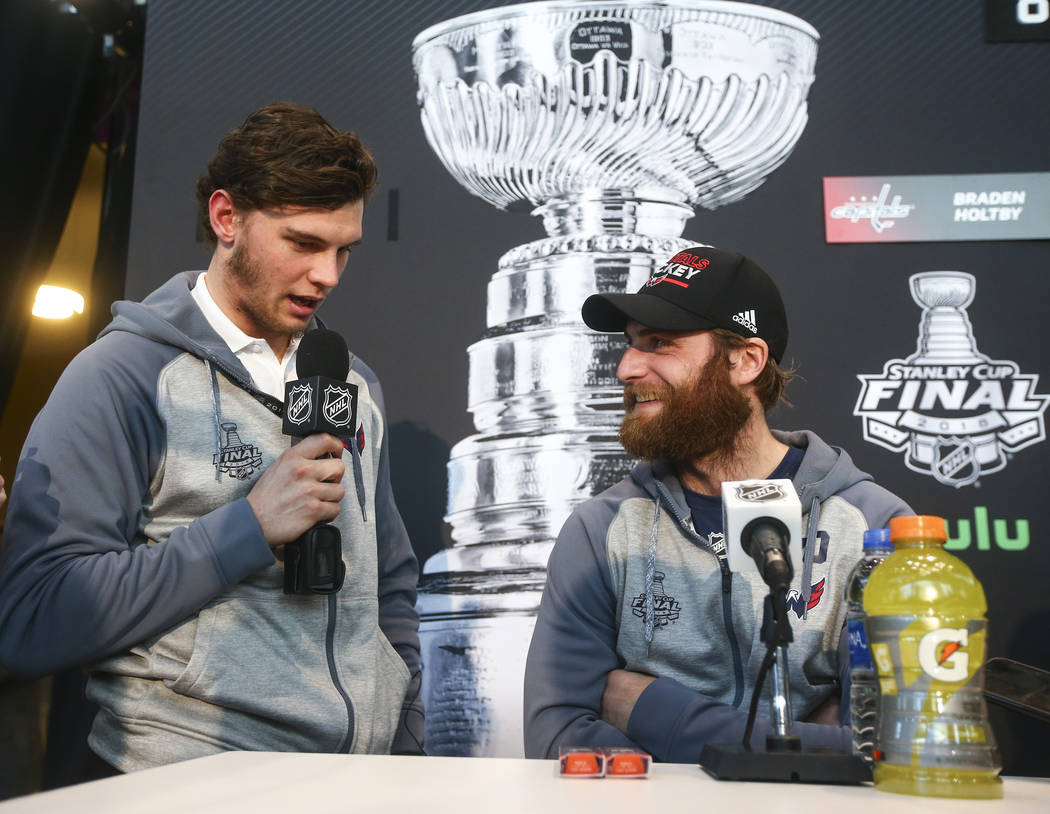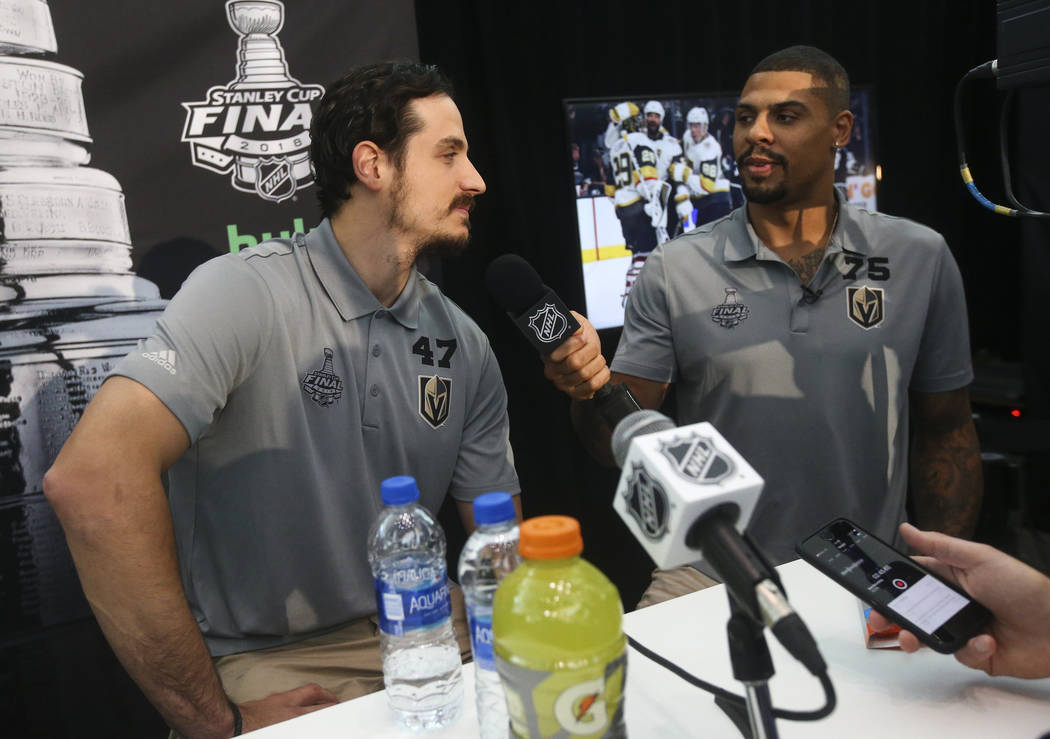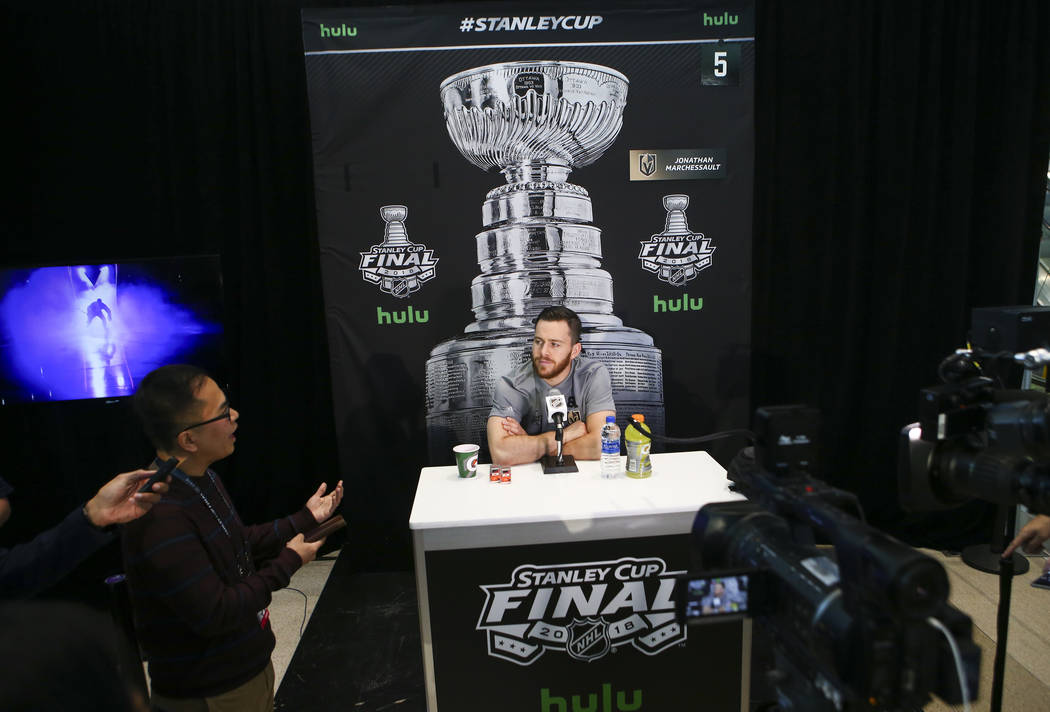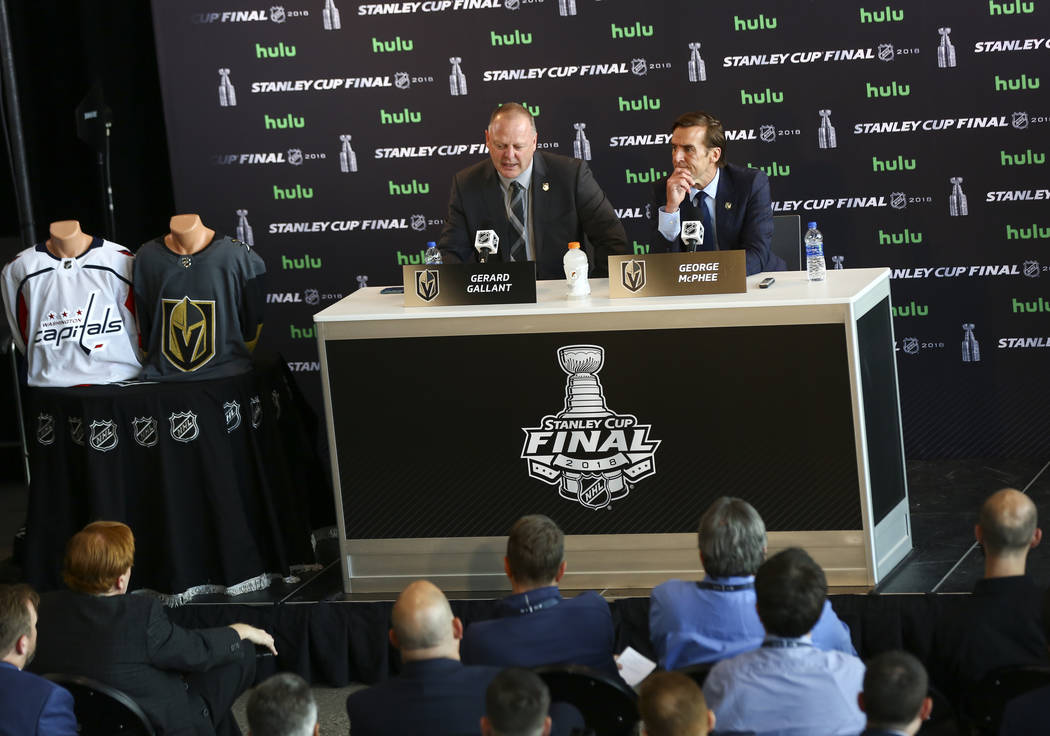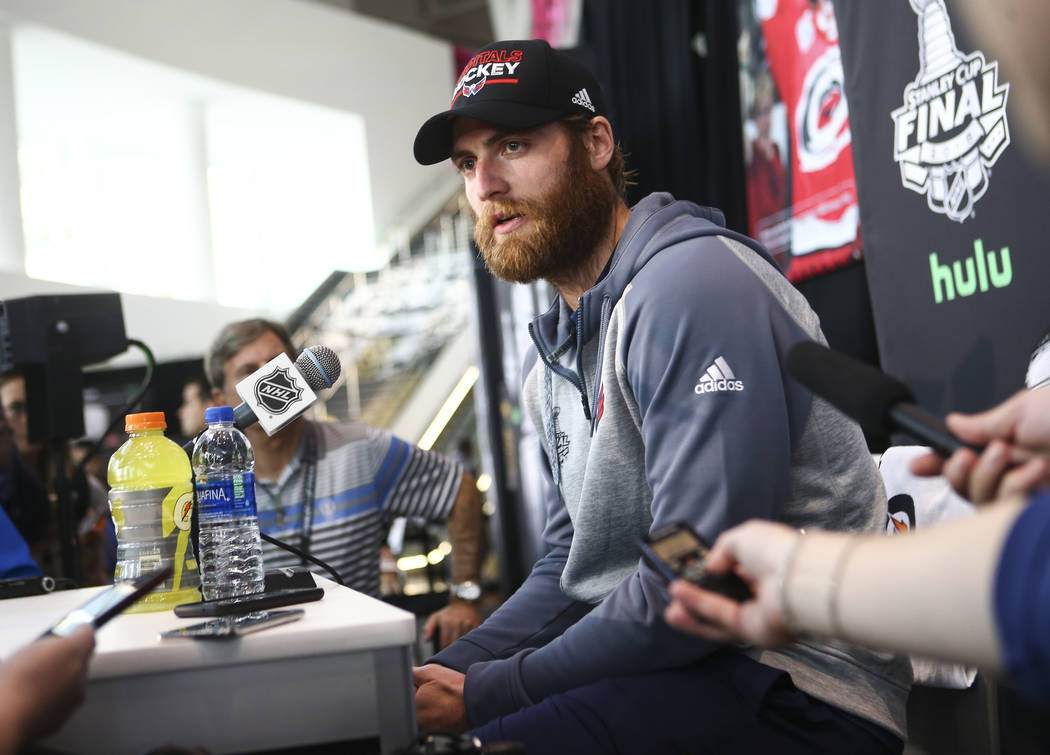 If James Neal can impart one piece of advice on his Golden Knights teammates leading into the Stanley Cup Final, this is it:
"Stay in the moment," he said.
Neal is playing in his second consecutive final after falling short with Nashville last season and is one of two Knights players who knows what it's like to get this far in the postseason. (Three-time champion Marc-Andre Fleury is the other.)
With the series against the Washington Capitals set to begin at 5 p.m. Monday at T-Mobile Arena, the veteran forward has taken on a crucial leadership role for the expansion Knights.
"I do as much as I can, for sure," Neal said Sunday during Media Day at T-Mobile Arena. "Guys have been good. They're very receptive. They're taking everything in, and they've played like they've been here before. I'm proud of them, and I love the way they've handled everything so far."
Neal's experience is rare in a series that features almost exclusively first-timers. Washington defenseman Brooks Orpik is the only player aside from Neal and Fleury to reach this stage of the postseason.
Orpik was Fleury's teammate in 2009 when the Pittsburgh Penguins hoisted the Cup.
The 30-year-old Neal is one of six alternate captains for the Knights and has been one of the most vocal in the locker room throughout the postseason.
"We just keep following our leaders like (Neal)," forward Cody Eakin said. "We have all season, and we're not going to stop now. Watching how he handles himself and reacts to the pressure, his demeanor, his work ethic. Knowing a guy like that has been here before and been in the war of (a final), it all just rubs off on the rest of us."
Rookie forward Alex Tuch has leaned on Neal during the playoffs, watching his every move.
It's valuable experience for the 21-year-old with future leadership aspirations of his own.
"Especially this playoffs, he's been a really big mentor to me," Tuch said. "Honestly, if I have any issues or any questions I'm able to go to him. He's been a huge leader in the locker room. His preparation, his work ethic, how he's come into the practice to games, everything like that. He's really helped me a lot this playoffs."
Neal was hampered by a broken hand during the finals last season with Nashville but will be counted on heavily against the Capitals.
He has four goals and five assists in 15 games this postseason, though he was held largely in check by Winnipeg in the Western Conference Final.
Neal had one goal and one assist in the series, and they both came in the pivotal 4-2 victory in Game 3.
"James has got a big personality," forward Reilly Smith said, "and when times are tough and the games are on the line, he's the player that steps up and makes big, impactful plays."
Neal earned a reputation as a big-game performer throughout his 10-year career. His message to teammates leading into the series has been to avoid getting caught up in the excitement of playing for a championship.
"This is a big deal. You're in the Stanley Cup Finals. But don't let the moment get the best of you," he said.
Neal is in the final year of his contract and is set to become an unrestricted free agent this summer.
He has been in the league long enough to know these opportunities don't come around often, and the near-miss last season adds even more motivation.
"There's nothing better than winning," Neal said. "Besides your family, besides your kids, us being a part of this and us potentially winning is going to probably be the best time of our lives and something we'll remember forever. So, grab a hold of these moments, enjoy them and do everything you can to win."
Contact David Schoen at dschoen@reviewjournal.com or 702-387-5203. Follow
@DavidSchoenLVRJ on Twitter.
Game day
Who: Golden Knights vs. Washington Capitals
What: Game 1, Stanley Cup Final
When: 5 p.m. Monday
Where: T-Mobile Arena
TV: NBC (Cox 3/1003, DirecTV 3, CenturyLink 3/1003, DISH 3/9032)
Radio: KRLV (98.9 FM, 1340 AM); ESPN Deportes (1460 AM)
Line: Knights -150; total 5½ under -120
Three storylines
1. First blood. The Golden Knights are sure to get a boost from the juiced-up crowd at T-Mobile Arena, and getting ahead is key. As long as the Knights have the lead, Washington can't sit back and use its 1-1-3 forecheck to slow down the game.
2. Contain Carlson. A lot has been made of the Capitals' top line of Alex Ovechkin, Evgeny Kuznetsov and Tom Wilson, and rightfully so. But Washington's John Carlson led all defenseman in scoring during the regular season with 68 points and poses a unique threat.
3. Flower vs. Ovi. Goaltender Marc-Andre Fleury was the Capitals' nemesis during his time in Pittsburgh and meets rival Alex Ovechkin on the biggest stage yet. Ovechkin has scored 10 times on 62 shots in 14 postseason games against Fleury.