Golden Knights license plates a winner among Nevada motorists
Updated December 4, 2018 - 7:44 pm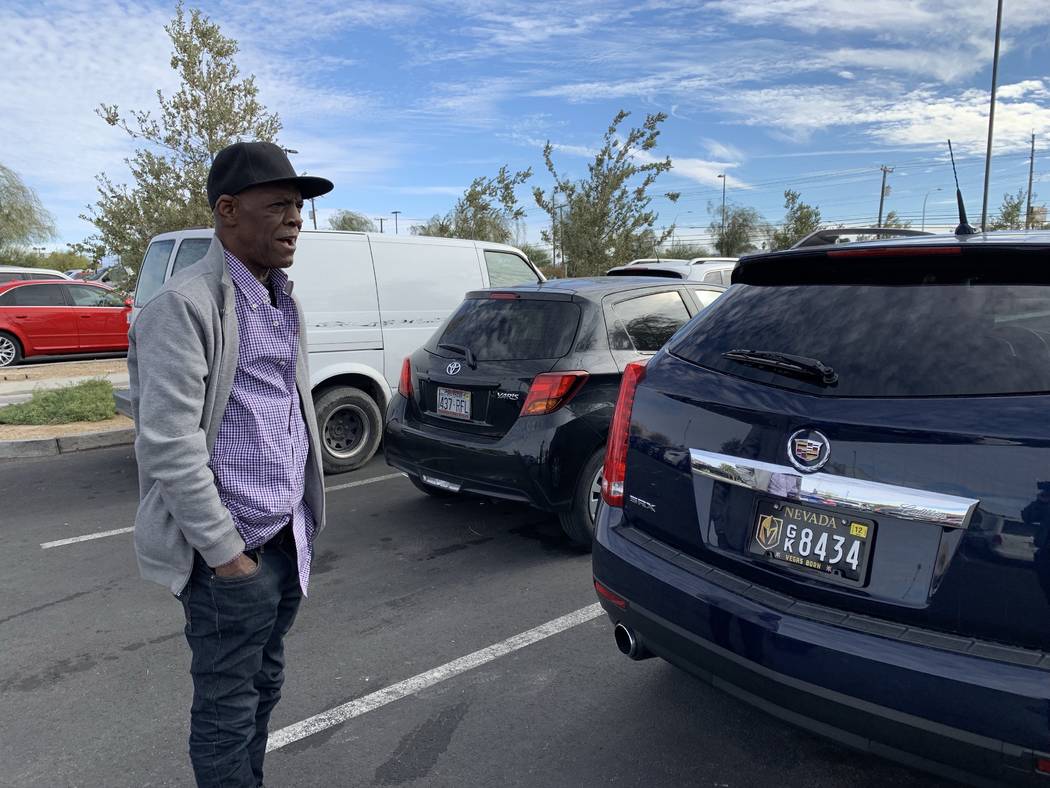 Las Vegas resident Bernard Turner eagerly removed the temporary dealer paper plate from his recently purchased vehicle, looking to do what thousands of other motorists have done over the past couple of months.
Turner, a 25-year resident of Las Vegas, immediately screwed the black "Vegas Born" Golden Knights-themed specialty license plate on his Cadillac SUV Tuesday morning, just after leaving the Department of Motor Vehicles office on east Sahara Avenue.
Like many others in the Las Vegas Valley, Turner became hooked as a fan during the Knights' whirlwind inaugural season, making it an easy decision to register for the plate.
"To support them (Golden Knights)," Turner said. "I love the Golden Knights."
The specialty plate has generated 11,478 orders — 8,738 active registrations and 2,740 personalized plates that have yet to be placed on a vehicle — in the first two months of its availability, officials said.
For a plate to become active, it must be produced, shipped to a DMV office and picked up by the customer, said DMV spokesman Kevin Malone.
The active registrations have made the Vegas Born plate the sixth most popular of the 30 active Nevada specialty plates available, which account for 245,190 active registrations in all.
The Las Vegas 150th anniversary commemorative plate, which became available in 2013, tops the list with 92,883 active registrations, the DMV said.
As the team did last season, the Knights license plate got off to a hot start, with 4,517 sold in its first week. In comparison, the 150th anniversary plate generated 475 registrations in its first week of availability.
The black plate features the team's primary logo on the left and "Vegas Born" at the bottom, flanked on both sides by the team's secondary logo. Fans can order the plate at dmvnv.com or by scheduling an appointment at a DMV office.
A standard "Vegas Born" plate runs $43 for those swapping out their current plates and $72 for those opting for a personalized plate online. The plate also requires an annual fee of $10 for the standard version or $30 for personalized ones, in addition to normal registration fees.
A Raiders Nevada specialty license plate is also in the works. The DMV does not have a time frame for its possible release, other than to say it is expected to be available ahead of the team's first season in Las Vegas in 2020.
Contact Mick Akers at makers@reviewjournal.com or 702-387-2920. Follow @mickakers on Twitter.
Top 10 Nevada Specialty License Plates (by active registrations)
Las Vegas Commemorative: 92,883
Lake Tahoe: 20,813
United We Stand: 18,951
Sesquicentennial: 15,464
UNR: 10,431
Vegas Golden Knights: 8,738 (11,478 once ordered personalized plates are in use.)
Horse Power: 7,805
Rodeo: 6,711
Conserve Wildlife: 6,585
UNLV: 6,412
Source: The Nevada Department of Motor Vehicles