Golden Knights likely to stay at No. 6 in NHL Entry Draft
Updated June 3, 2017 - 7:07 pm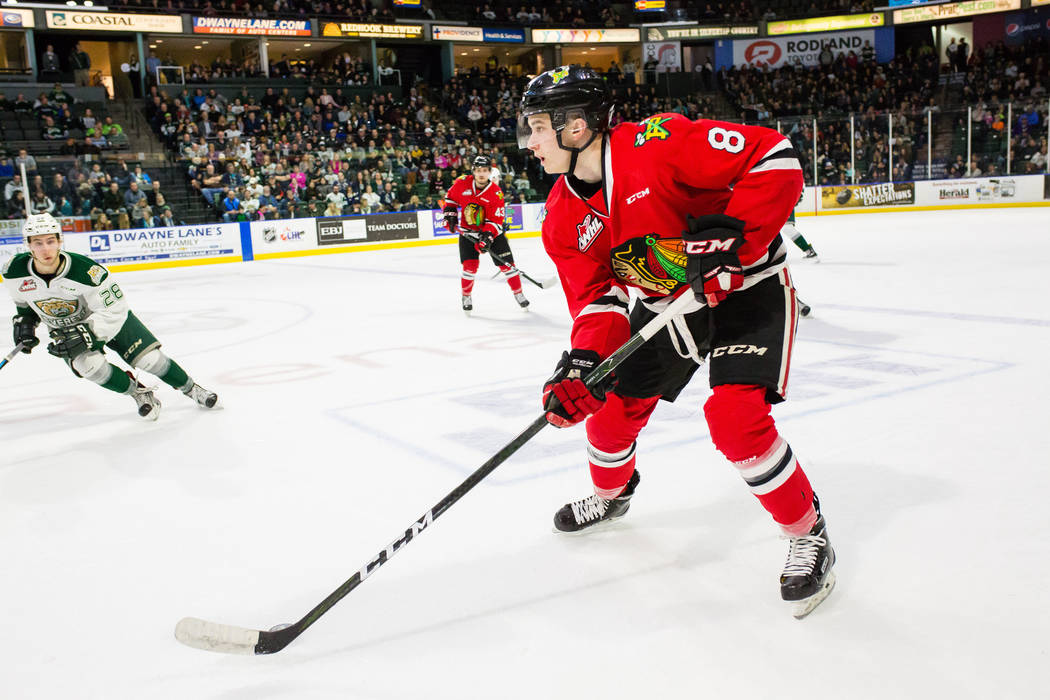 BUFFALO, N.Y. — The most important time of the year is almost here for the Golden Knights.
The June 23 NHL Entry Draft is looming ominously for the NHL expansion franchise. The Knights have been watching games since August. With the NHL Scouting Combine having concluded Saturday at the Harborcenter, it's time to take all the information compiled by the scouting staff in the past 10 months and make some decisions.
A lot will happen between now and June 23 in Chicago. The Knights have the No. 6 pick. Have they found their man? Or could they trade down and still get him? Or does it mean trading up?
"I don't anticipate us moving up or down," Vegas general manager George McPhee said during a break in the testing Saturday. "So far, nobody has approached us about our pick.
"Usually you don't see too much movement in the position we're in. We're confident we're going to get a very good player and a very good person."
McPhee said he trusts the integrity of the Knights' big board. He doesn't see major fluctuation in the rankings the team has assigned the players.
"I'm always amazed at how poised and polite these young men are," McPhee said. "It gets better every year. They're bright. They're polite. They're athletic. They take care of themselves. It's very fortunate we have these kinds of kids coming into the league every year. It's great for the sport.
"We may move someone up a little or down a little, but I don't see any major or dramatic changes at this point."
Assistant general manager Kelly McCrimmon said the team learned a lot in Buffalo.
"You get to know the players as people," he said. "You get to see them react in the various drills, and you get a sense of their compete level and how hard is a player working."
The week was stressful for the players, but they relished the moment.
"The drills were a good test, especially the bike. It was good to have someone yelling at you to help you finish," said Cody Glass, a center with the Portland Winter Hawks of the Western Hockey League who is expected to go in the top six.
Glass interviewed with the Golden Knights, and said he would welcome the chance to play in Las Vegas.
"It would be a unique opportunity to be part of something starting from the beginning and help build something," he said. "I'd be thrilled and honored if they drafted me."
Gabriel Vilardi, a center for the Memorial Cup champion Windsor Spitfires who also is expected to be a top-six pick, interviewed with the Knights, too. He also saw playing for an expansion team as an opportunity to earn playing time quicker.
"There'll be a lot of chances to play, and I enjoyed talking to them," he said. "They told me about all the things that they've got going, and it was very interesting."
McPhee said the Knights probably won't decide on their first-round pick until the night before the draft.
"We're going to have a lot of discussions in the next couple of weeks," he said. "We've got a lot of information we've been collecting since we began last summer, and we feel like we're well prepared for the draft."
The players have done their part, too.
"I'm just going to relax and work out," Glass said. "I'm going to try not to think about the draft."
Contact Steve Carp at scarp@reviewjournal.com or 702-387-2913. Follow @stevecarprj on Twitter.
Combine's top performers
Vertical leap — Joshua Norris, 26.19 inches
Standing long jump — Joshua Norris, 118 inches
Bench press — Dayton Rasmussen, 17 repetitions
Agility test — Joshua Norris, 4.19 seconds
Pull-ups — Nico Hischier, Antoine Morand and Jack Rathbone, 13
Wingate Cycle Ergometer — Shane Bowers, 16.45 seconds
Source: NHL Central Scouting Bureau