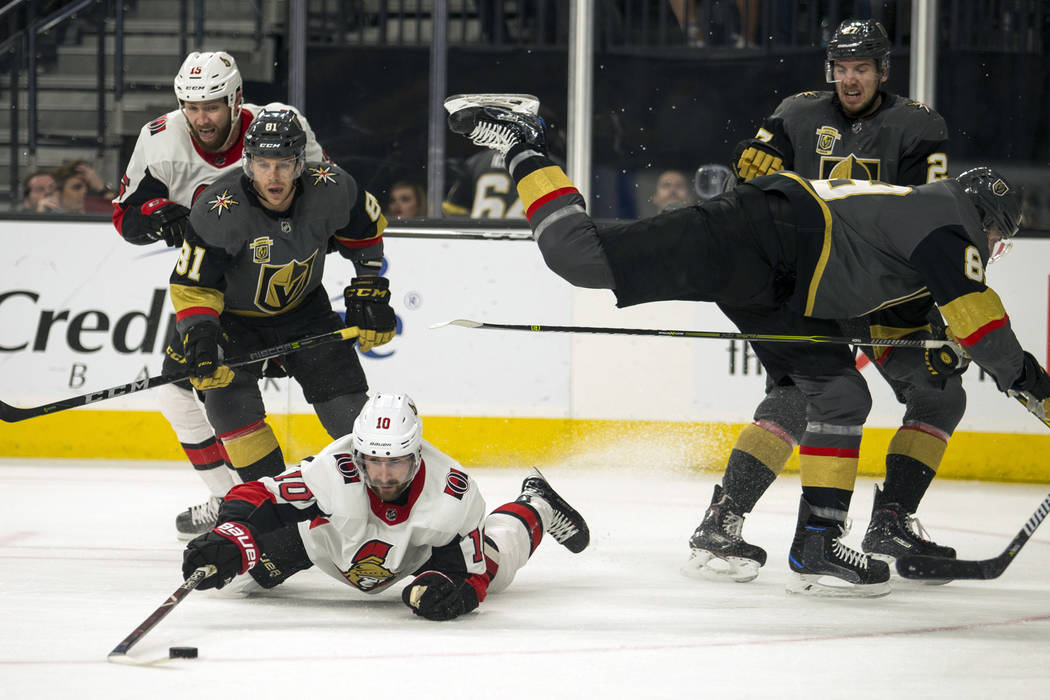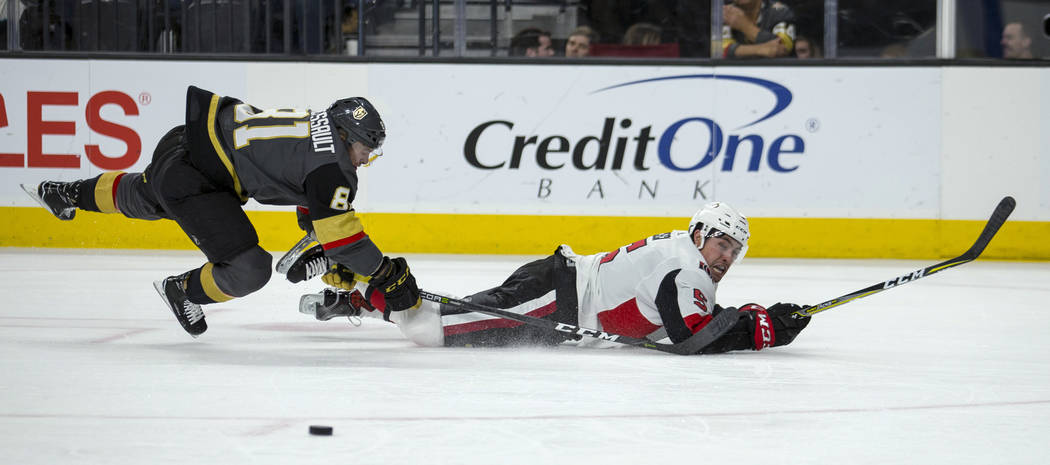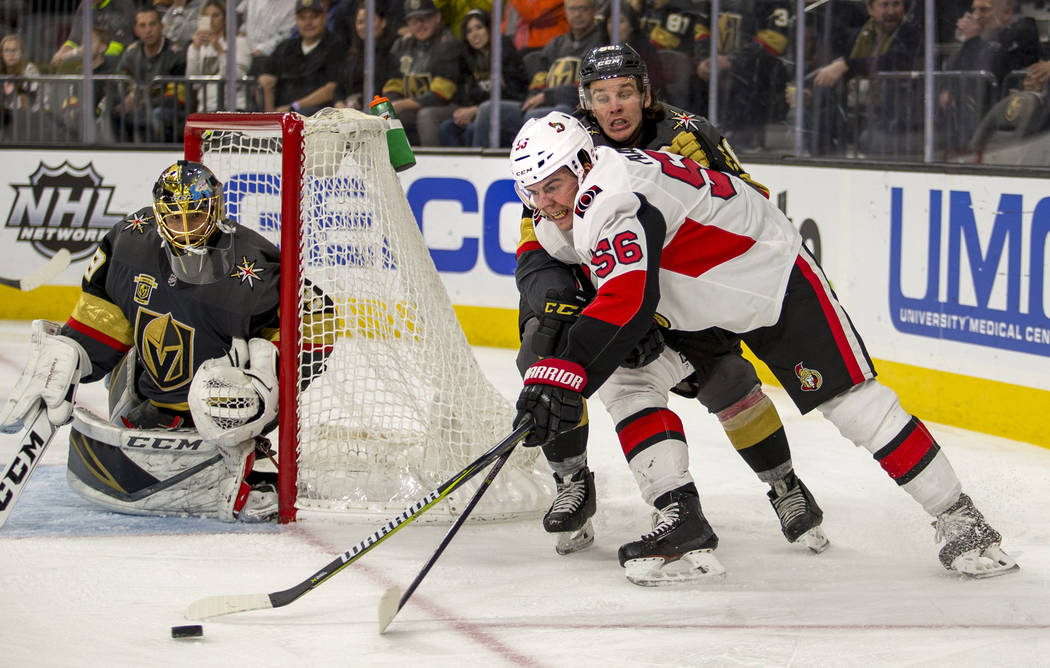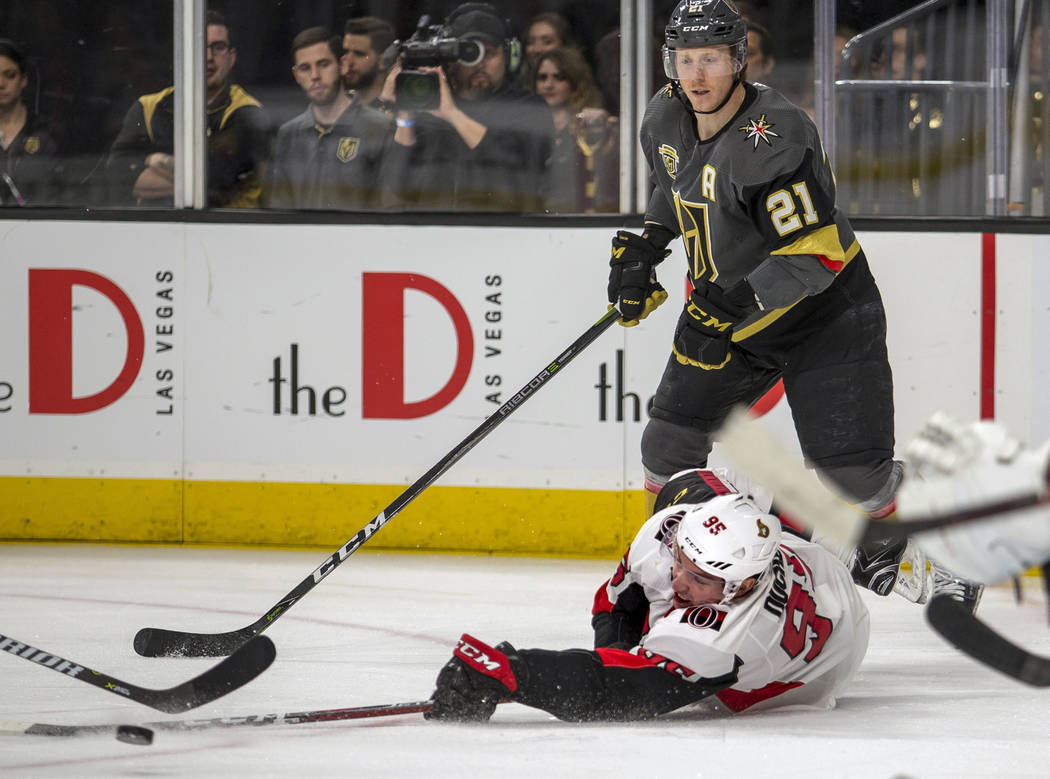 NEWARK, N.J. — The Golden Knights have managed to avoid long losing streaks.
But they are limping into a five-game trip that begins at 2 p.m. Sunday at the Prudential Center against the New Jersey Devils.
The Knights have lost three straight for the third time and are dealing with a rash of injuries. Six regulars — James Neal, Nate Schmidt, Luca Sbisa, Pierre-Edouard Bellemare, Oscar Lindberg and Will Carrier — were not in the lineup for Friday's 5-4 loss to the Ottawa Senators at T-Mobile Arena.
Coach Gerard Gallant noticed the absences.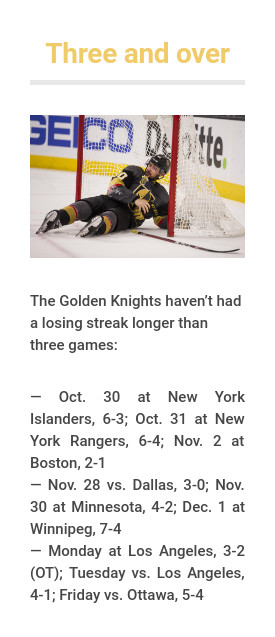 "I'm disappointed with the way a lot of guys played," he said. "We didn't compete hard enough. We didn't battle hard enough, and it doesn't matter if you're missing skilled or talented guys. As long as you compete, you have a chance to win, and we didn't compete."
Neal and Schmidt weren't on the team's flight to Newark on Saturday and won't play Sunday. Bellemare is on the trip but won't play, Gallant said.
Hit the road
Perhaps getting out of town might be what the team needs.
"I hope so," Gallant said. "I hope I don't have to say much before the next game. I hope our guys have enough character and enough pride. We talked about it, and like I said, I don't like to make excuses, but I hate these long homestands. We've been home for 2½ weeks, and I'm pretty excited to go on the road."
Goaltender Marc-Andre Fleury said: "I think we know what went wrong. I think in that case it's always easier to move past it, forget about it. Obviously for the mistakes, look at them from a video standpoint. Just get a good practice and get going on Sunday."
Hot Hall leads Devils
The Devils have lost two consecutive games, both on the road. Entering Saturday's games, New Jersey was the first wild card in the Eastern Conference with 74 points.
Left wing Taylor Hall, who leads the Devils in scoring with 29 goals and 70 points, has registered at least one point in 17 consecutive games since returning from a right thumb injury Jan. 30. He also had a point in seven straight games before the injury Jan. 20, and the last time he went scoreless was Dec. 30 against Washington.
Contact Steve Carp at scarp@reviewjournal.com or 702-387-2913. Follow @stevecarprj on Twitter.