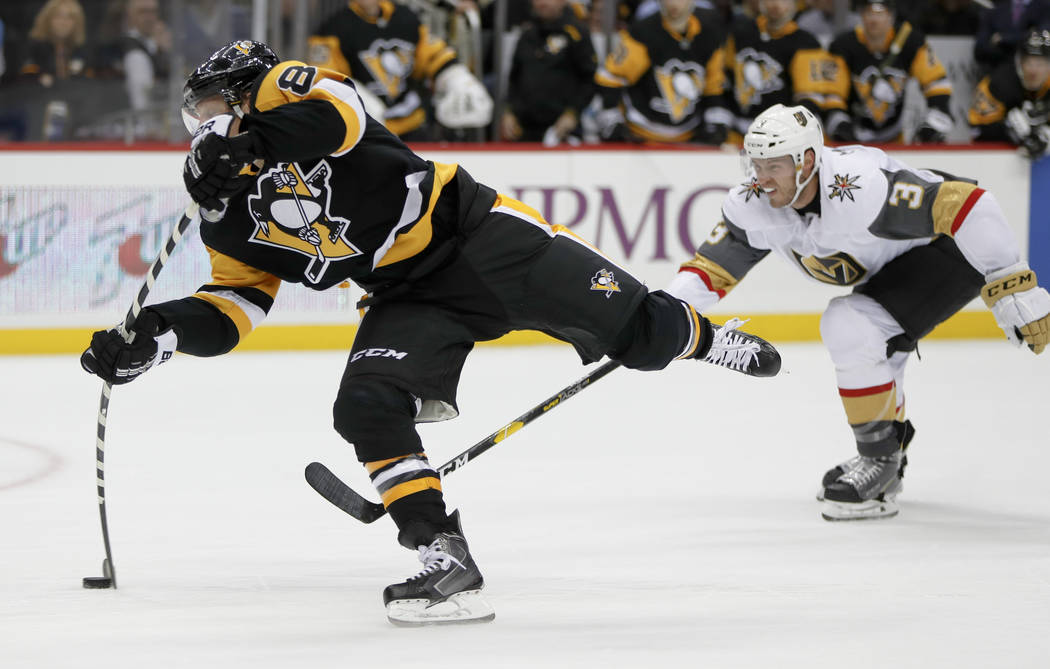 PITTSBURGH — Malcolm Subban had made only four saves in the second period when 6-foot, 202-pound Phil Kessel came barreling alone down the ice.
After dealing with limited action, the Golden Knights' backup goaltender suddenly was one-on-one with the Pittsburgh Penguins' top shooter and needed to make a save to keep the game tied midway through the period.
He couldn't do it.
The breakaway — one of two for Kessel on Thursday night — illustrated the many difficult spots Subban found himself during his first start of the season. He still accepted blame for his team's 4-2 loss in a game where a backup goalie in the opposing net shined.
"It's tough," Subban said. "You don't see shots and then you get a good chance, but you got to try to make a save and keep your team in the game. I didn't do that tonight."
Subban, who was 13-4-2 for the Knights a season ago, made 18 saves against the Penguins. He started because Marc-Andre Fleury played Wednesday against the Washington Capitals and the Knights typically sit their veteran when they play back-to-back games.
The Pittsburgh crowd didn't like seeing Subban in net instead of the ex-Penguin Fleury, and let Subban hear it. The goaltender was serenaded with "Fleu-ry" chants at the end of the second period and cries of "We want Fleury!" at the beginning of the third.
By then Subban had already let in four goals, three to Kessel and another to forward Jake Guentzel. Kessel's first goal came on a shot that weaved through heavy traffic right after a faceoff in the first period and Subban admitted he had trouble tracking the puck.
"It came through bodies," Subban said. "I picked it up at the last second. Maybe if I looked to the short side, maybe I stop it. I was looking to the far side."
Subban then let in three goals on three shots in the second period: two on Kessel's breakaways and one on a try by Guentzel from the top of the left faceoff circle that went in off the left post.
"(Subban) was good," Gallant said. "You'd like to have those saves but Phil Kessel's a pretty good shooter."
Subban's counterpart faced few struggles by comparison. Casey DeSmith made his first start of the season for the Penguins and made 35 saves in relief of injured starter Matt Murray (concussion).
DeSmith stopped a 2-on-0 chance for the Knights when Pierre-Edouard Bellemare and Ryan Reaves skated in alone late in the second period and made an impressive follow-up save on forward William Carrier. He also made two key saves on center William Karlsson during a third period Knights power play to keep it a two-goal game.
"I thought he was the best player on the ice," Penguins coach Mike Sullivan said. "He made some great saves for us, especially in that third period."
The key saves DeSmith made, and the ones Subban didn't, were the difference in a game in which the Knights outshot the Penguins 37-22.
"They put a lot of pucks on net, which was good for me as a goalie to see some pucks early, get into the game and get a little more comfortable there because you know, obviously first action of the season, there's a couple nerves," DeSmith said.
More Golden Knights: Follow all of our Golden Knights coverage online at reviewjournal.com/GoldenKnights and @HockeyinVegas on Twitter.
Contact Ben Gotz at bgotz@reviewjournal.com. Follow @BenSGotz on Twitter.