Golden Knights' Marc-Andre Fleury eager for reunion with Penguins
December 13, 2017 - 4:08 pm
Updated December 13, 2017 - 11:41 pm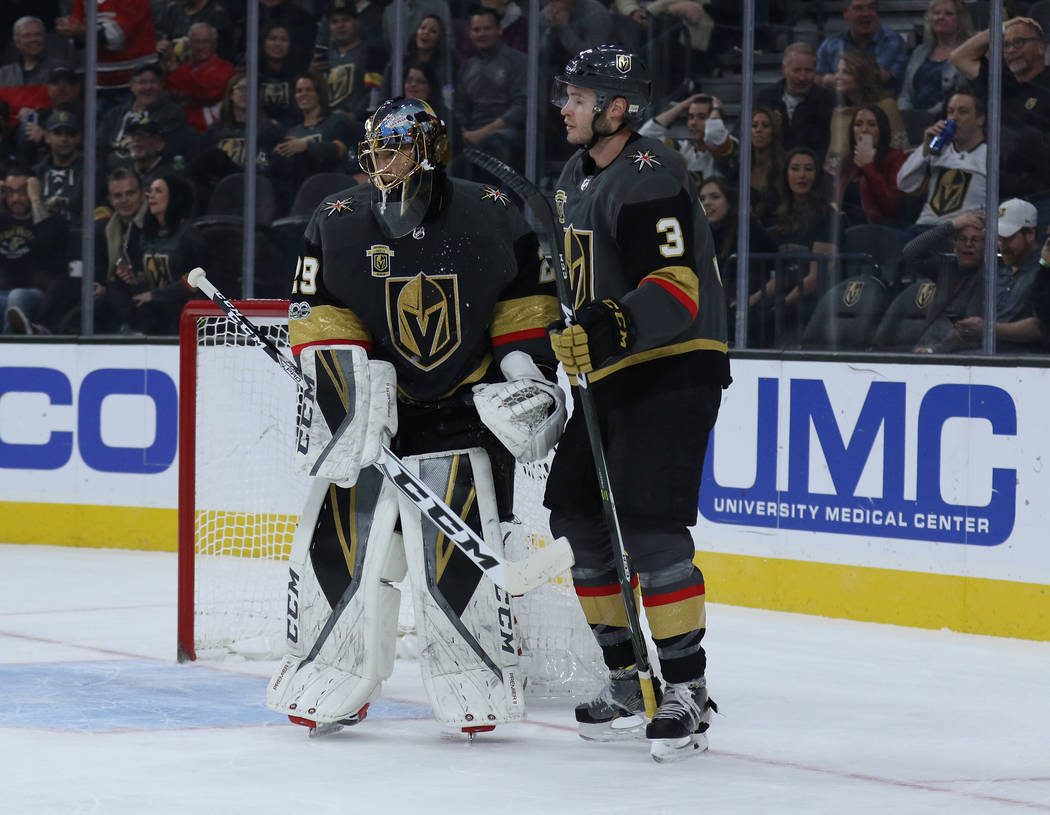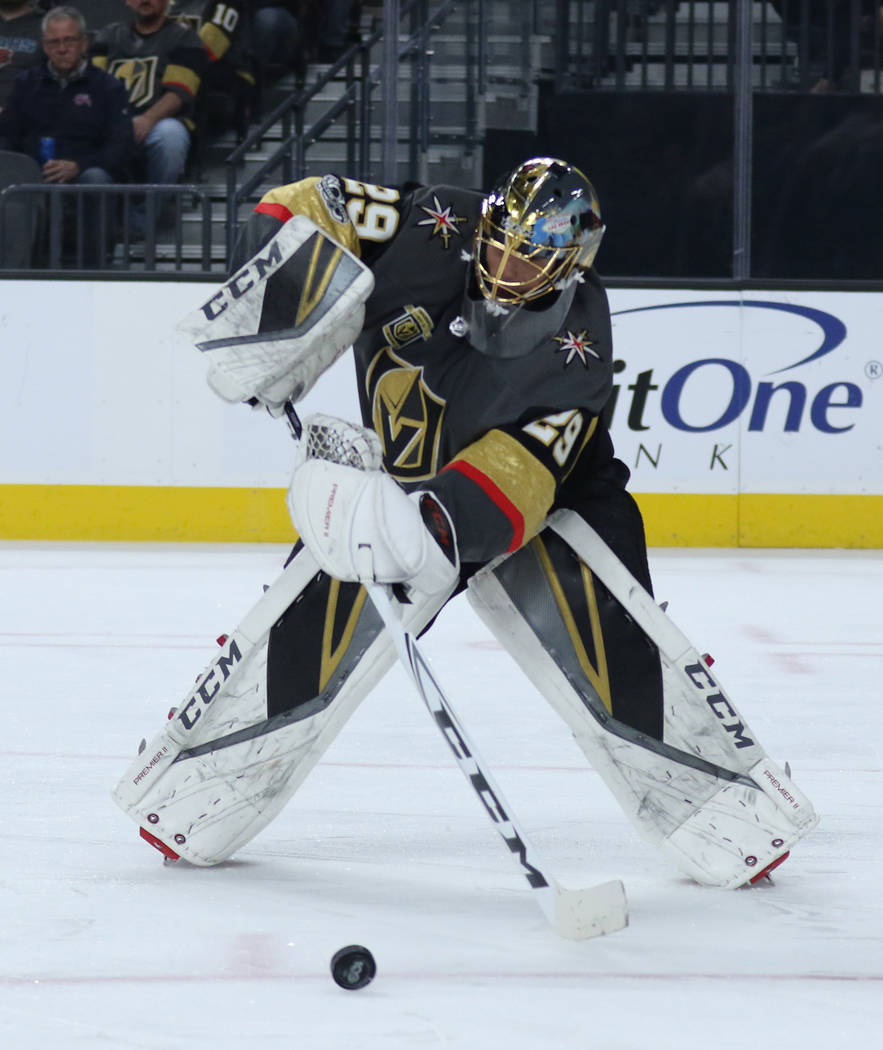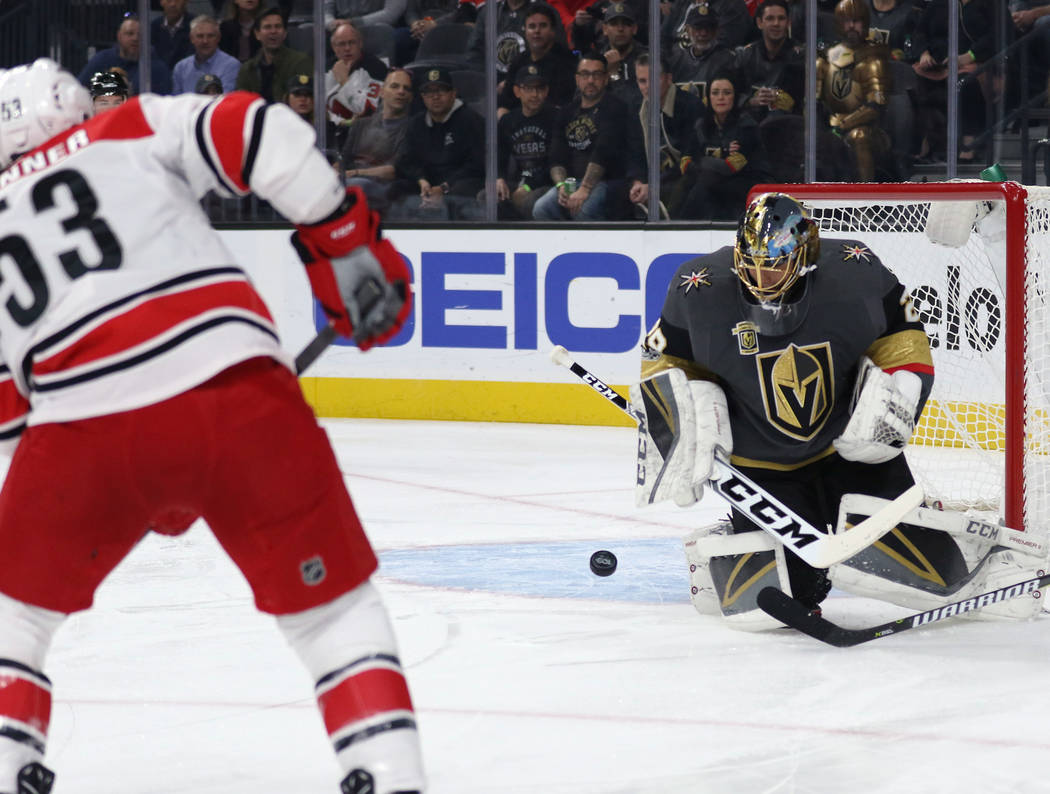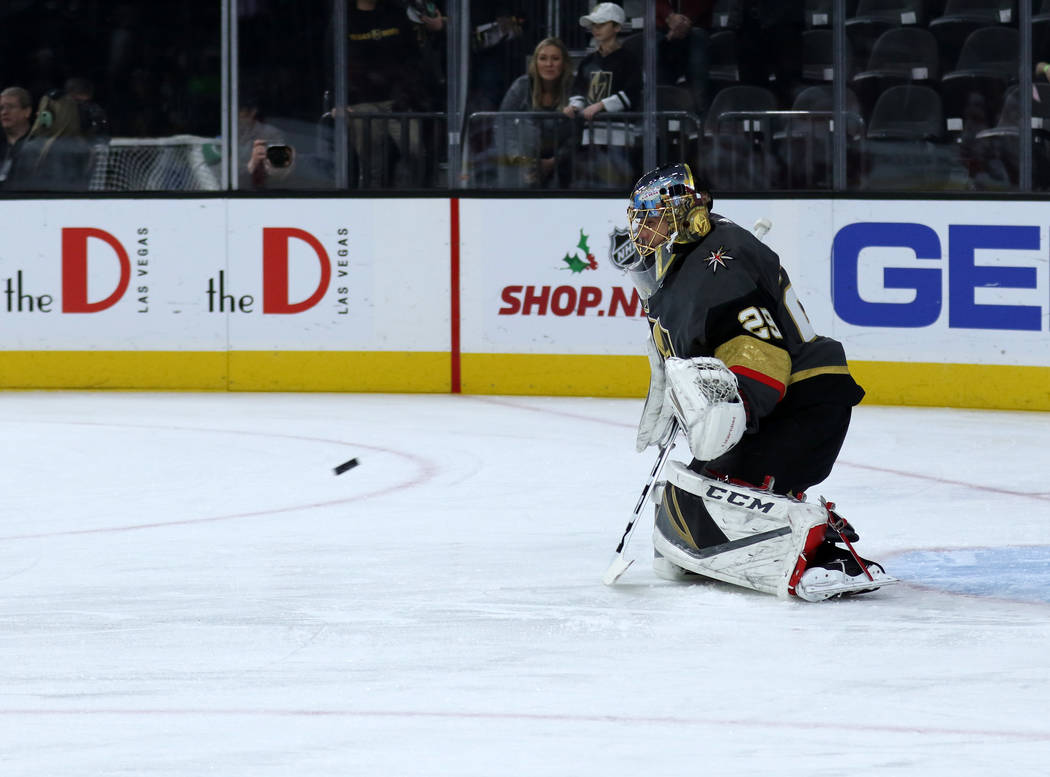 When the NHL schedule was released late in June, every Golden Knights player circled the date when he would play his former team.
In Marc-Andre Fleury's case, those dates were Dec. 14 and Feb. 6.
The Knights' starting goaltender will keep his date Thursday when his current team faces his former team, the Pittsburgh Penguins, at T-Mobile Arena. For a while, it was uncertain whether Fleury would make it; he missed 25 games after suffering a concussion Oct. 13.
He returned to action Tuesday and played well in the Knights' 3-2 shootout loss to Carolina. Now he will face Sidney Crosby, Evgeni Malkin, Phil Kessel, Kris Letang, Matt Murray and the rest of the Penguins.
"It'll feel a little weird, a little surreal," he said of facing his former team. "I was fortunate to play in one place for so long. I had a great time.
"But I was lucky I had a chance to come to a great team and a great organization. The team's doing well. We're winning some games, so I'm happy."
Fleury spent 13 seasons with the Penguins and has three Stanley Cup championship rings (2009, 2016, 2017). Those are obviously the highlights of his time in Pittsburgh. But Fleury said it's also about the friendships that evolved over the years.
"It's the people you see at the rink every day," he said. "It's your teammates. It's the fans. You make a lot of lasting friendships over time. Those are some of my best memories of Pittsburgh."
He will get the chance to reconnect with those fans Feb. 6 when the Knights play at Pittsburgh. Right now, the focus is on Thursday. His former teammates are glad to see him back and said so over the weekend.
As for Fleury's current teammates, they know they need to play better in front of him to defeat the Penguins, who are in a battle for the top spot in the ultra-competitive Metropolitan Division. Pittsburgh is tied for fifth with the New York Rangers with 35 points. The Pens are only four points behind first-place Columbus.
The Knights (19-9-2) are engaged in their own division battle. They are second in the Pacific Division with 40 points, trailing Los Angeles by three points with two games in hand.
"I didn't think any speeches are needed for this game," Knights coach Gerard Gallant said. "It's the defending Stanley Cup champs. It's Crosby. It's Malkin. Kessel is having a great season. We know who we're facing."
Fleury isn't the only Knight facing his former team. Deryk Engelland played for the Penguins from 2009 to 2014, James Neal was a Penguin from 2011 to 2014, and David Perron played in Pittsburgh in 2015 and 2016.
"Yeah, to play against those guys, a couple of the best players in the world, it's always a challenge and fun to play against those guys," Engelland said. "You have to take it like any other game, but it's obviously a little more special with them."
But Fleury is the center of attention and eagerly awaits the reunion.
"If I don't let in seven (goals), I think it will be fun," he said.
Contact Steve Carp at scarp@reviewjournal.com or 702-387-2913. Follow @stevecarprj on Twitter.
Game day
Who: Penguins vs. Golden Knights
When: 7 p.m. Thursday
Where: T-Mobile Arena
TV: AT&T SportsNet (Cox 313/1313, DirecTV 684, CenturyLink 760/1760, U-verse 757/1757)
Radio: KRLV (98.9 FM, 1340 AM); ESPN Deportes (1460 AM)
Line: Golden Knights -110; total 6 even
Three storylines
1. Fleury vs. former team. The much-anticipated meeting of Golden Knights goaltender Marc-Andre Fleury against his former team, the Pittsburgh Penguins, is at hand. Fleury looked good Tuesday in his return after missing 25 games with a concussion. It figures to be an emotional night for both sides.
2. Controlling the Pens. As good as Carolina played Tuesday in a 3-2 shootout win, the Hurricanes aren't the Penguins. Fleury will have to deal with Sidney Crosby, Evgeni Malkin, Phil Kessel and the rest of the Penguins, and he and his Knights teammates will have to raise their game several notches, particularly in their own end, to have a chance.
3. Smith heating up. Reilly Smith is finding his mojo. The left wing, who has nine goals and 23 points in 30 games, has scored in each of his past two games and had the Knights' only goal in the shootout loss to Carolina. He continues to play a complete game, making good plays at both ends of the ice.
Steve Carp Review-Journal