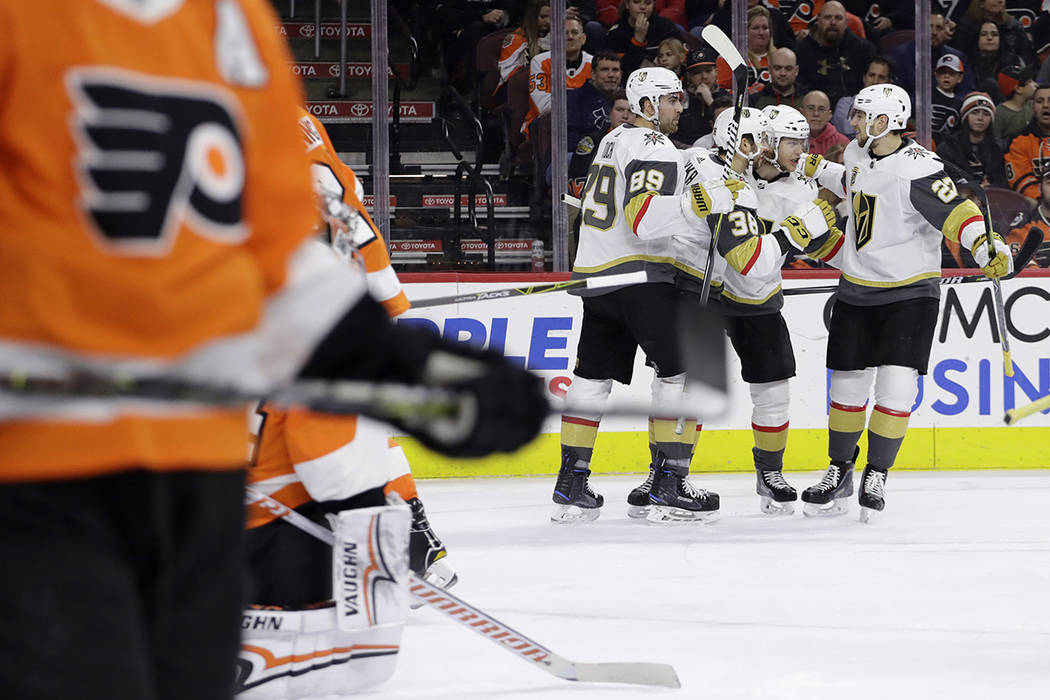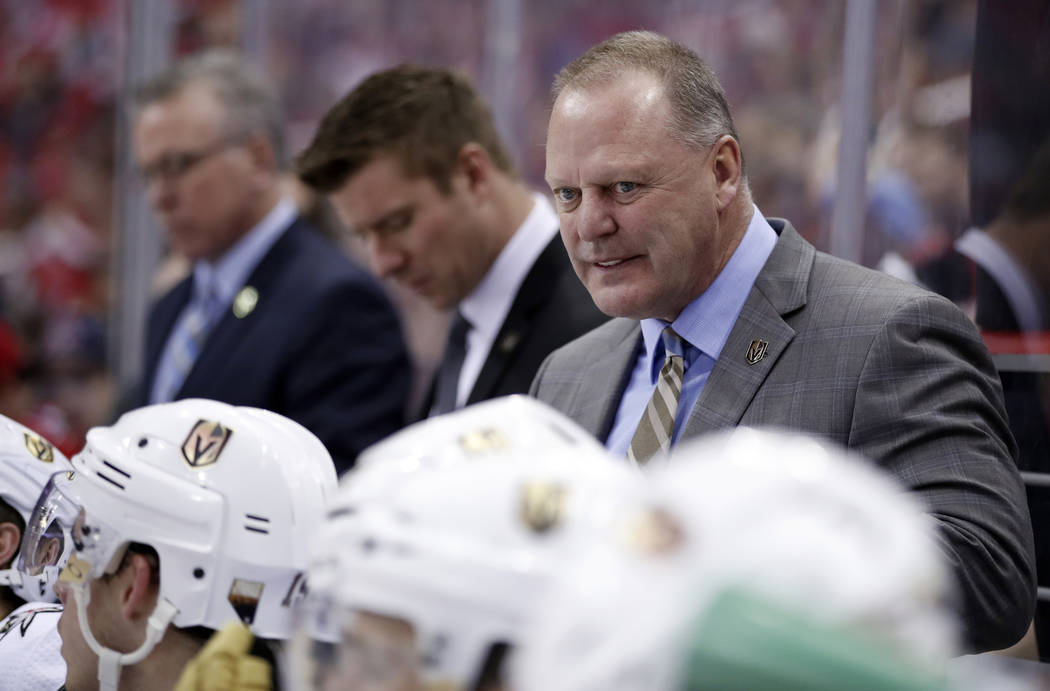 Gerard Gallant made it clear multiple times this season that he doesn't like long homestands. To be more accurate, the Golden Knights coach said he hates them.
The remaining schedule probably is more to his liking.
The Knights open a Gallant-approved, four-game homestand at 7 p.m. Wednesday against the New Jersey Devils and play eight of their next 10 games at T-Mobile Arena to close out the month as they creep closer to clinching a playoff berth.
"It'll be good to go home and rest a bit," Knights goaltender Marc-Andre Fleury said. "When you're on the road for a long time and you're traveling, it's never easy. It's good to sleep in your own bed and get some home-cooked food. It's always fun to play in Vegas."
The Knights (45-19-5, 95 points) stumbled into their recent road trip on a three-game losing streak and their grip on the Pacific Division was beginning to look tenuous.
But the Knights won the final three games of the trip over Detroit, Buffalo and Philadelphia and went 4-1 overall to regain control.
As a result, the Knights' lead in the division swelled from eight points on March 4 to a 12-point cushion with 13 games remaining.
The Knights would join the NBA's 1976-77 Denver Nuggets as the second expansion team from the four North American professional sports leagues to finish first in its division, according to the Elias Sports Bureau. (The Philadelphia Flyers won the NHL's West Division during the 1967-68 season when it was made up entirely of expansion clubs.)
"We're still battling every day for points," Gallant said following Monday's 3-2 victory at Philadelphia. "For us to come on a trip like this and win four out of five games this time of the season — like I said we're short on the bench, we have some key guys out — it's good for our confidence for our group and it's good for the confidence of the player that has to step up."
Based on the standings through Monday's games, the Knights will clinch a playoff spot by surpassing 104 points — the maximum number of points the fourth-place Anaheim Ducks (80 points, 12 games remaining) can accumulate.
The soonest the Knights can reach 105 points is March 22 at San Jose, but that magic number almost assuredly will change during the upcoming homestand.
The Devils (35-26-8, 78 points) are the lone Eastern Conference team remaining on the Knights' schedule, and eight of the Knights' final 13 games are against Pacific Division foes, providing more opportunities for the Knights to lower their magic number.
The Knights are 16-3-2 against the Pacific Division and 27-9-2 versus the Western Conference.
"I think we haven't played our best on this road trip, but we got points and we got great goaltending. Fleury saved us a couple of times," said Knights center William Karlsson, who scored his 36th goal Monday and is tied for fifth in the NHL in goals with Dallas' Tyler Seguin.
"I think everyone's excited to get back to Vegas and keep it going."
Fleury, who Monday became the 13th goaltender in NHL history with 400 career victories, should get a rousing ovation from the home fans if he starts against New Jersey.
"I don't expect anything unusual," Fleury said. "It's always loud in there, so it's another game we want to get."
Contact David Schoen at dschoen@reviewjournal.com or 702-387-5203. Follow @DavidSchoenLVRJ on Twitter.
Game day
— Who: Golden Knights vs. Devils
— When: 7 p.m. Wednesday
— Where: T-Mobile Arena
— TV: AT&T SportsNet (Cox 313/1313, DirecTV 684, CenturyLink 760/1760, U-verse 757/1757)
— Radio: KRLV (98.9 FM, 1340 AM)
— Line: Knights -190; total 5½, over -120
Three storylines
1. Trap game? The first game back after a long road trip is notoriously tough, and that's the scenario the Golden Knights find themselves in against New Jersey. The Knights are 2-1 in the first game following a road trip of four games or more.
2. Right combination. Knights coach Gerard Gallant appeared to hit on the right combination of forwards Monday with Alex Tuch on the top line alongside William Karlsson and Jonathan Marchessault, and Tomas Tatar joining Erik Haula and David Perron on the second line. Should James Neal or Reilly Smith return, it's all back in the blender.
3. We're the Devils. New Jersey is playing the second game of a six-game road trip and had lost four of its past five before Saturday's 3-2 shootout victory at Nashville. The Devils are 17-12-5 on the road. Tampa Bay, Boston and Philadelphia are the only Eastern Conference teams with more road wins.