Golden Knights opponents experiencing 'Vegas Hangover'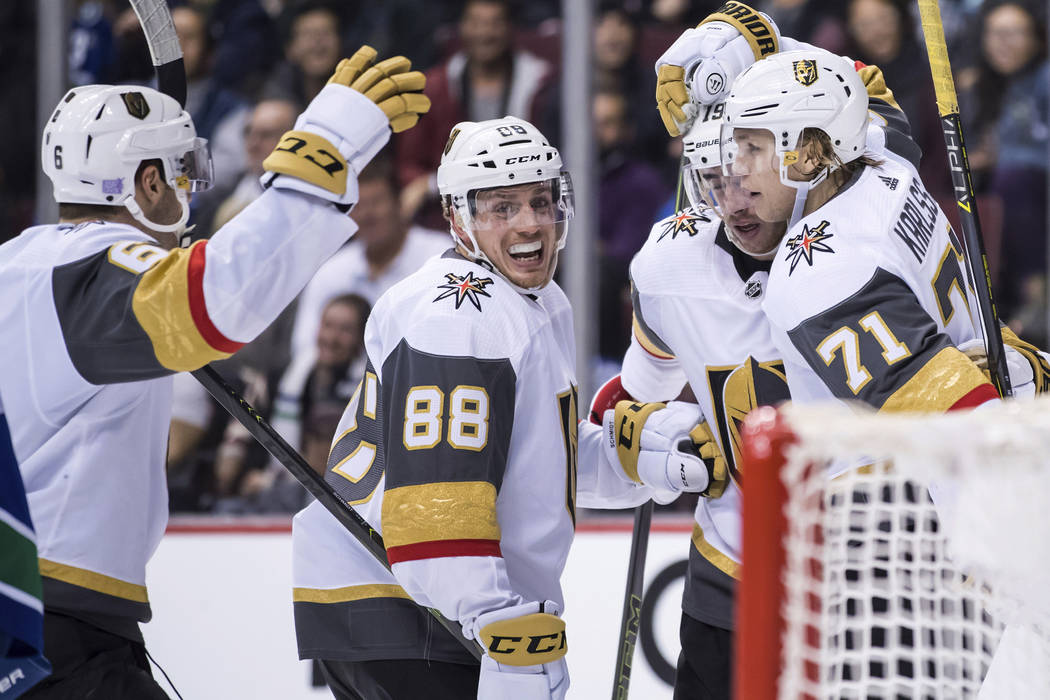 NHL franchises may be learning a lesson tourists have known for years.
It's incredibly difficult to go back to work after a trip to Las Vegas.
A trend is quickly developing of teams struggling mightily after visiting T-Mobile Arena to play the Golden Knights.
Instead of the "Vegas Flu," it may be time to start considering if there is a "Vegas Hangover."
There was a theory last year that at least some of the Knights' success at home could be attributed to visiting players sampling too much of the nightlife as tourists tend to do.
The Knights, however, have played 11 home games this season and have maintained their solid play in their own building, with a 7-3-1 record.
It's the next game where opponents may truly be suffering the ill-effects of all Las Vegas has to offer.
Teams are 1-8-2 in their next game after playing the Knights at T-Mobile Arena. They have been outscored 44-18 in those 11 games, including a 6-1 Calgary victory at Arizona.
It hasn't mattered if teams play a back-to-back the next night or have days off, the losses have been consistent—and ugly:
■ Tampa Bay, one of the league's best teams, was throttled 7-1 in Arizona the night after winning 3-2 at T-Mobile.
■ Buffalo, a surprise team, lost 5-1 at San Jose two nights after dropping a 4-1 decision to the Knights.
■ The Ducks have fallen victim to the trend twice, dropping home games to the Sabres and Maple Leafs the night after playing the Knights in Las Vegas.
Washington is up next to test the theory. The Capitals play the Knights at 7 p.m. Tuesday at T-Mobile Arena before heading to Arizona on Thursday.
The morning skate in Glendale that day may not feature a group of Capitals players scrolling through the pictures on their phone to piece together what happened on their trip to Las Vegas, but Washington will have to overcome a pretty strong trend to come away with a win.
Injury update
Forward Paul Stastny has been seen skating at City National Arena the last few days, but there is no timetable for his return.
"It's good to see him on the ice today, but he's probably still a couple weeks away," coach Gerard Gallant said after practice on Monday.
Gerard Gallant says Paul Stastny is skating, but still a couple weeks away from returning. Also says Erik Haula is out at least the next two months, but doesnt rule him out for the season

— Adam Hill (@AdamHillLVRJ) December 3, 2018
Stastny has been out since sustaining an injury to his lower-body in the season's third game, a 4-2 loss at Buffalo.
It will be even longer before the Knights get Erik Haula back. Gallant said he hadn't received a report on the injured forward since returning from the team's road trip, though he did see Haula walking with crutches in the team's facility on Monday morning.
"It's going to be awhile," Gallant said. "I don't know how long. I wouldn't rule him out (for the season). (His return) is not going to be in the next two months for sure, but after that I don't know."
Haula appeared to suffer a knee injury after taking a hit along the boards in Toronto on Nov. 6. He has seven points in 15 games for the Knights.
Max Pacioretty left practice early on Monday.
Gallant said he simply wasn't feeling well.
Knights to host toy drive
The Knights will host a holiday toy drive during Sunday's home game against the Dallas Stars.
We're holding a Toy Drive at T-Mobile Arena before Sunday's game against Dallas! 🚂

Fans are encouraged to bring an unwrapped toy to the game to donate to help make the holidays a little brighter 🎄https://t.co/5lhXLWnu46

— Vegas Golden Knights (@GoldenKnights) December 3, 2018
Fans are asked to bring a new and unwrapped toy for collection by Golden Knights significant others on Toshiba Plaza before the game. Cash donations also will be accepted. A limited number of Toy Drive posters will be handed out to the first 1,000 fans making a donation.
All toys will be donated to CASA Foundation, a local organization that supports the needs of children in foster care in Clark County.
More Golden Knights: Follow at reviewjournal.com/GoldenKnights and @HockeyinVegas on Twitter.
Contact Adam Hill at ahill@reviewjournal.com or 702-277-8028. Follow @AdamHillLVRJ on Twitter.
Teams that have visited T-Mobile Arena to play the Knights this season with the result of the game and their next game.
Philadelphia Flyers
Oct. 4-won 4-1 at Knights
Oct. 6-lost 5-2 at Avalanche
Buffalo Sabres
Oct. 16-lost 4-1 at Knights
Oct. 18-lost 5-1 at Sharks
Anaheim Ducks
Oct. 20-lost 3-1 at Knights
Oct. 21-lost 4-2 vs. Sabres
Vancouver Canucks
Oct. 24-won 3-2 at Knights (OT)
Oct. 25-lost 4-1 at Coyotes
Tampa Bay Lightning
Oct. 26-won 3-2 at Knights
Oct. 27-lost 7-1 at Coyotes
Ottawa Senators
Oct. 28-lost 4-3 at Knights (OT)
Oct. 30-lost 5-1 at Coyotes
Carolina Hurricanes
Nov. 3-lost 3-0 at Knights
Nov. 6-lost 4-1 at Blues
Anaheim Ducks
Nov. 14-lost 5-0 at Knights
Nov. 16-lost 2-1 vs. Maple Leafs (OT)
St. Louis Blues
Nov. 16-won 4-1 at Knights
Nov. 17-lost 4-0 at Sharks
Calgary Flames
Nov. 23-lost 2-0 at Knights
Nov. 25-won 6-1 at Coyotes
San Jose Sharks
Nov. 24-lost 6-0 at Knights
Nov. 27-lost 3-2 at Sabres (OT)