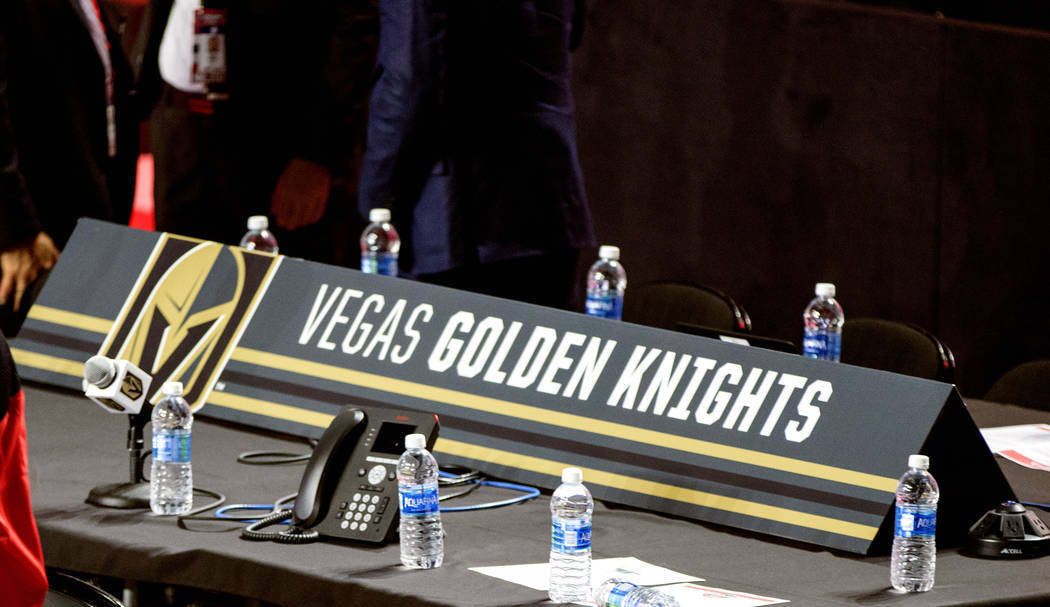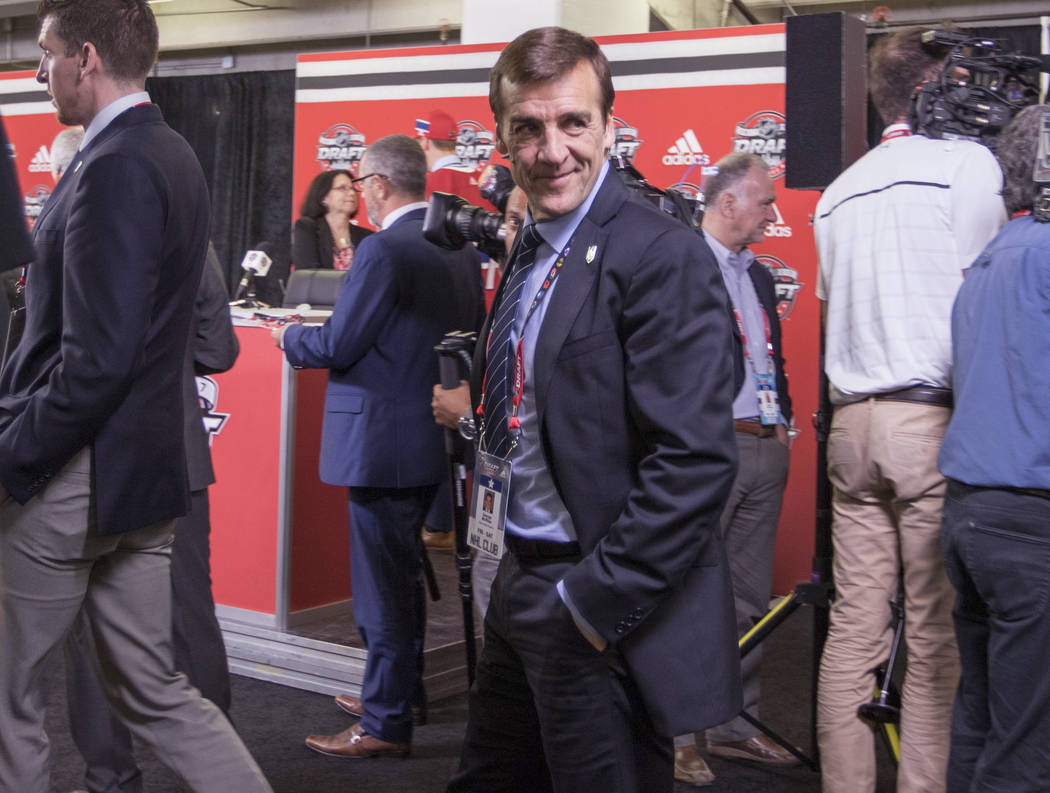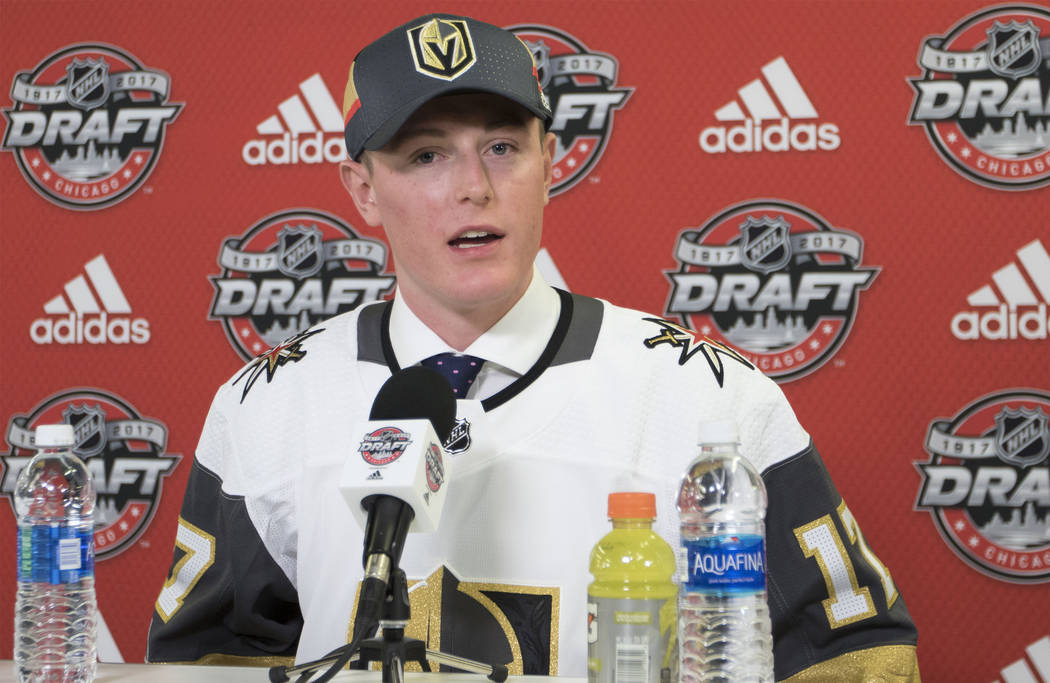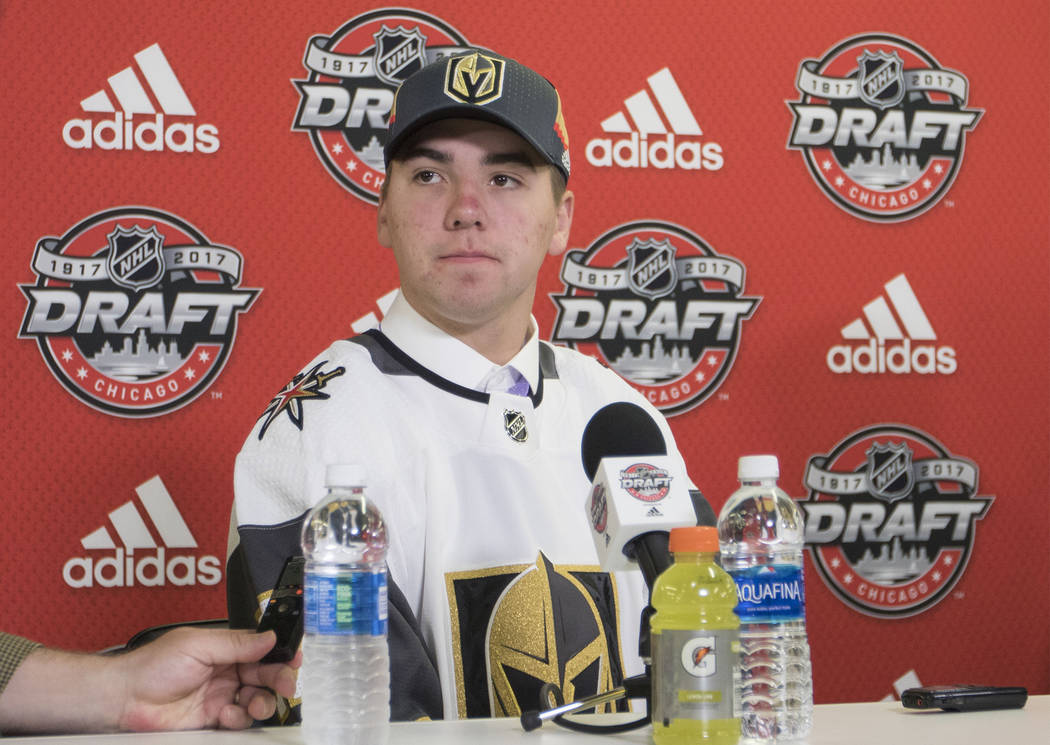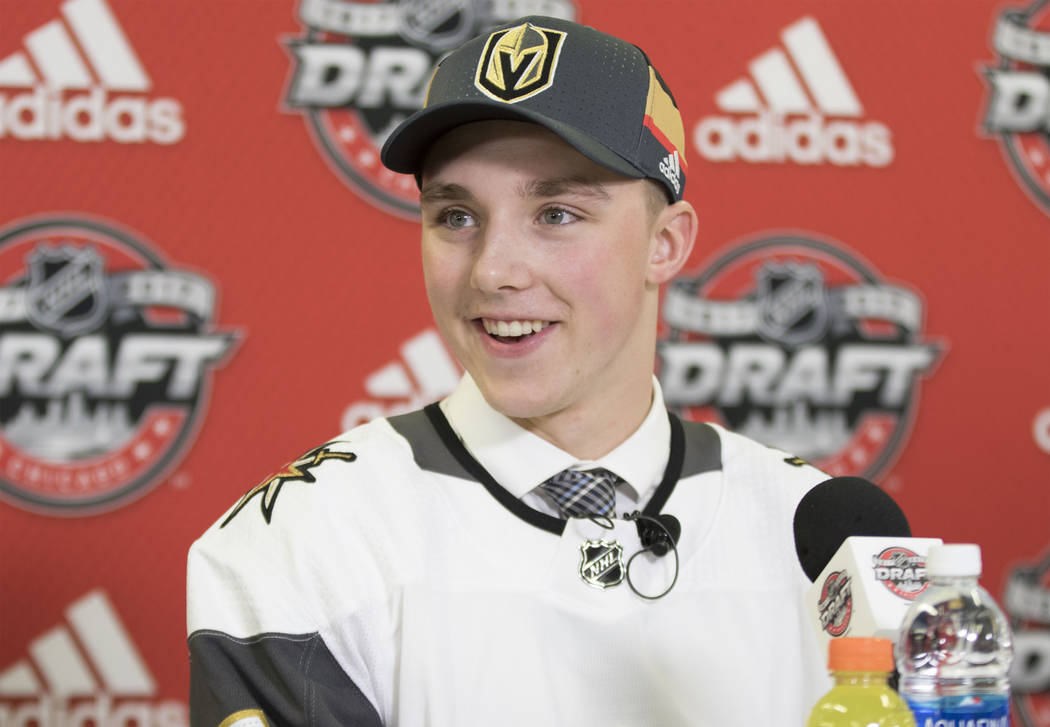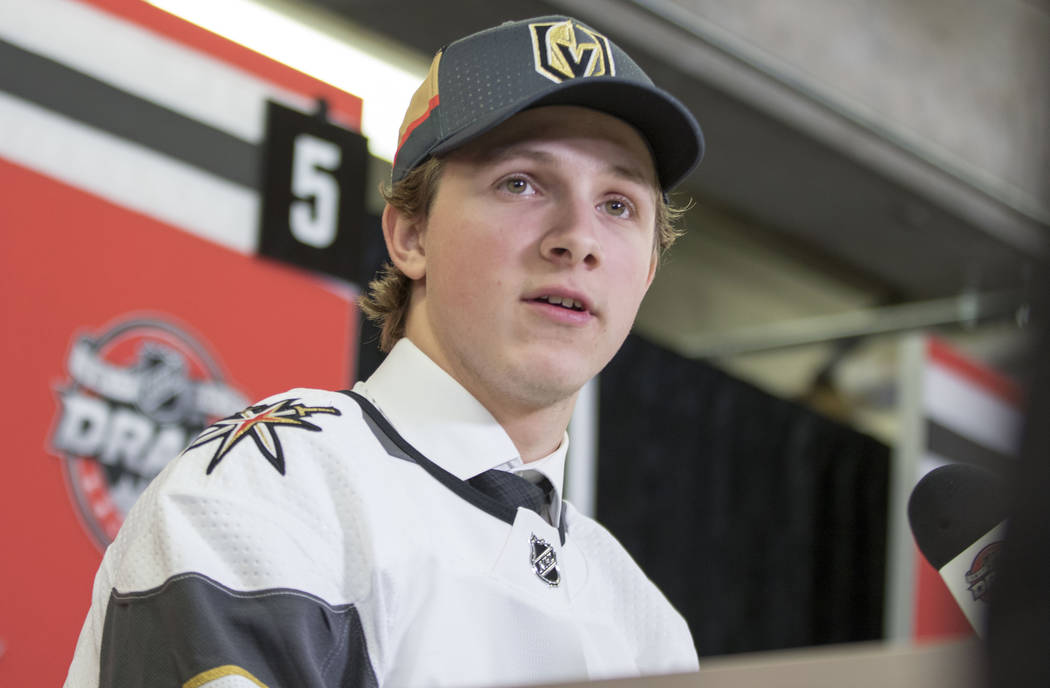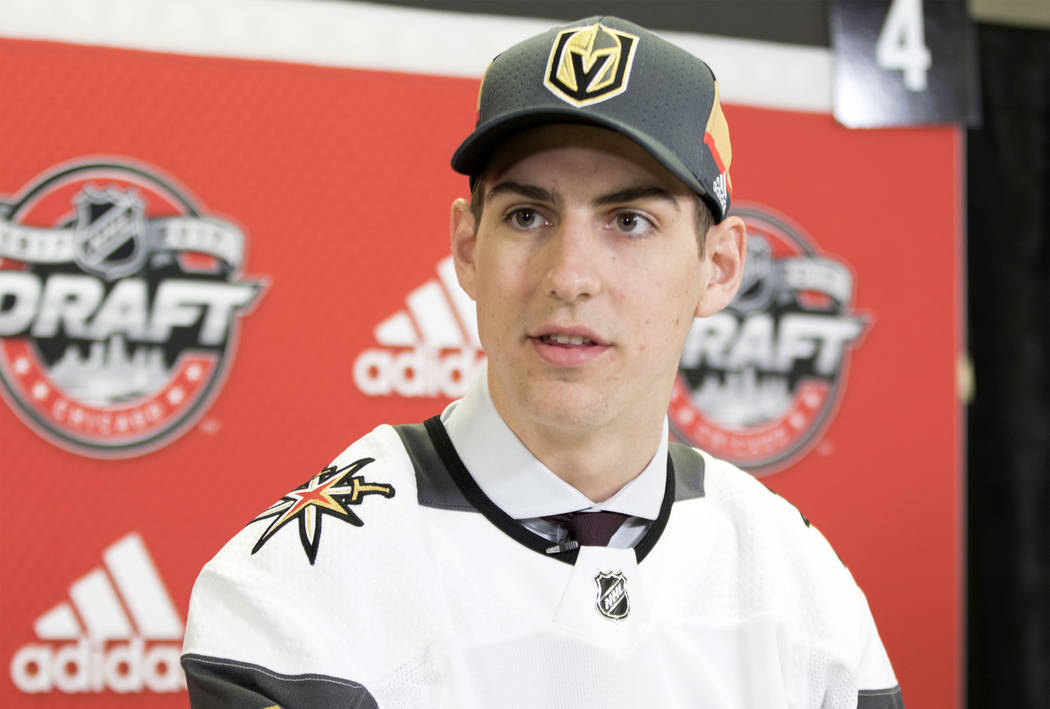 CHICAGO — The Golden Knights were looking for size and strength in the NHL Entry Draft on Saturday at the United Center and found plenty of both.
The Knights had three picks in the second round and set the tone by drafting 6-foot-6-inch defenseman Nicolas Hague with their first pick at No. 34. They traded their second pick, the 45th overall, to Columbus for 6-2 power forward Keegan Kolesar.
"We took a lot of skill in the first round (Friday)," Vegas general manager George McPhee said. "It worked out that we got some size and strength in the second round."
Many expected Hague, who starred with the Mississauga Steelheads of the Ontario Hockey League, to be selected Friday.
"We were very happy to get Hague," McPhee said. "We thought he was a first-round pick."
Hague, 18, said he will use the snub as motivation.
"It's a relief," he said of hearing his name called. "It's going to be great being part of a new organization."
Hague said he thinks he has the kind of game that translates to today's NHL.
"My skating has come along, and I could always shoot the puck," he said. "I try to model my game after the big guys like (Tampa Bay's) Victor Hedman."
Kolesar, 20, probably will start the season with the Chicago Wolves of the American Hockey League. He is a physical player who has a scorer's touch. In 60 games with the Seattle Thunderbirds of the Western Hockey League last year, he had 26 goals and 60 points.
"Yeah, I think I can bring a rugged North-South game," he said. "I've added a scoring element to myself over these last couple of years in junior hockey, and I have a knack for the net.
"When I'm being physical, it creates more room for myself and then I let my natural hockey sense kick in."
The other second-round pick, 18-year-old center Jake Leschyshyn, comes from an NHL pedigree. His father, Curtis, played 16 NHL seasons and won a Stanley Cup with the Colorado Avalanche. Curtis Leschyshyn also played on an expansion team, with the Minnesota Wild in 2000.
"My dad and I talked about that," said Leschyshyn, who played for the Regina Pats of the WHL. "He said I should embrace the opportunity. He enjoyed his expansion experience and told me to enjoy my time with Vegas."
The Knights' third-round pick was 18-year-old right winger Jonas Rondbjerg of Denmark.
He played in Sweden last season, and said he considers himself a smart player but needs to improve defensively.
The Knights waited until the fourth round to draft a goaltender, taking Maxsim Zhukov, a 17-year-old who played for the Green Bay Gamblers of the United States Hockey League.
They also took a goalie in the sixth round — Jiri Patera, 18, from the Czech Republic.
"They were at the top of our list," McPhee said. "Dave Prior, our goaltending director, watched these guys a lot and really was impressed with them."
The Knights spent their fifth-round picks on Lucas Elvenes, a 17-year-old right wing from Sweden, and Jonathan Dugan, an 18-year-old center from Northwood Prep in upstate New York who will be playing for Chicago in the USHL next season and Providence College in 2019.
The other selections were Nick Campoli, an 18-year-old center from Royal York, Ontario, in the sixth round, and Ben Jones, an 18-year-old center from the Niagara Ice Dogs, in the seventh round.
Campoli plans to attend Clarkson University, also nicknamed the Golden Knights.
Jones said he will try to prove that he should have been drafted higher.
"It was tough watching guys I played with and against have their name called," he said. "I'll just use it as motivation."
McPhee said he was happy and relieved as he assessed the Knights' draft.
"We accomplished a lot of things in this draft," he said. "We got some skill, we got some size and we got some goaltending.
"We were well prepared and ready. Our scouts and our hockey staff deserve an A-plus for the job they did, and I don't think we could have done any better.
"Now we have to build these kids properly. Each one needs to be handled individually. We're not going to rush anyone or put them on a fast track. It's better to overcook them than throw them in raw."
Contact Steve Carp at scarp@reviewjournal.com or 702-387-2913. Follow @stevecarprj on Twitter.
Golden Knights draft picks
1. (6) Cody Glass, c, Portland (WHL)
1. (13) Nick Suzuki, c, Owen Sound (OHL)
1. (15) Erik Brannstrom, d, HV 71 (Sweden)
2. (34) Nicolas Hague, d, Mississauga (OHL)
2. (62) Jake Leschyshyn, c, Regina (WHL)
3. (65) Jonas Rondbjerg, rw, Vaxjo Jr. (Sweden)
4. (96) Maksim Zhukov, g, Green Bay (USHL)
5. (127) Lucas Elvenes, C Rw, Rogle Jr. (Sweden)
5. (142) Jonathan Dugan, lw, Northwood (N.Y.) School
6. (158) Nick Campoli, c, North York (OJHL)
6. (161) Jiri Patera, g, C. Budejovice Jr. (Czech Republic)
7. (189) Ben Jones, c, Niagara (OHL)
* Team obtained right wing Keegan Kolesar from Columbus for a second-round pick.