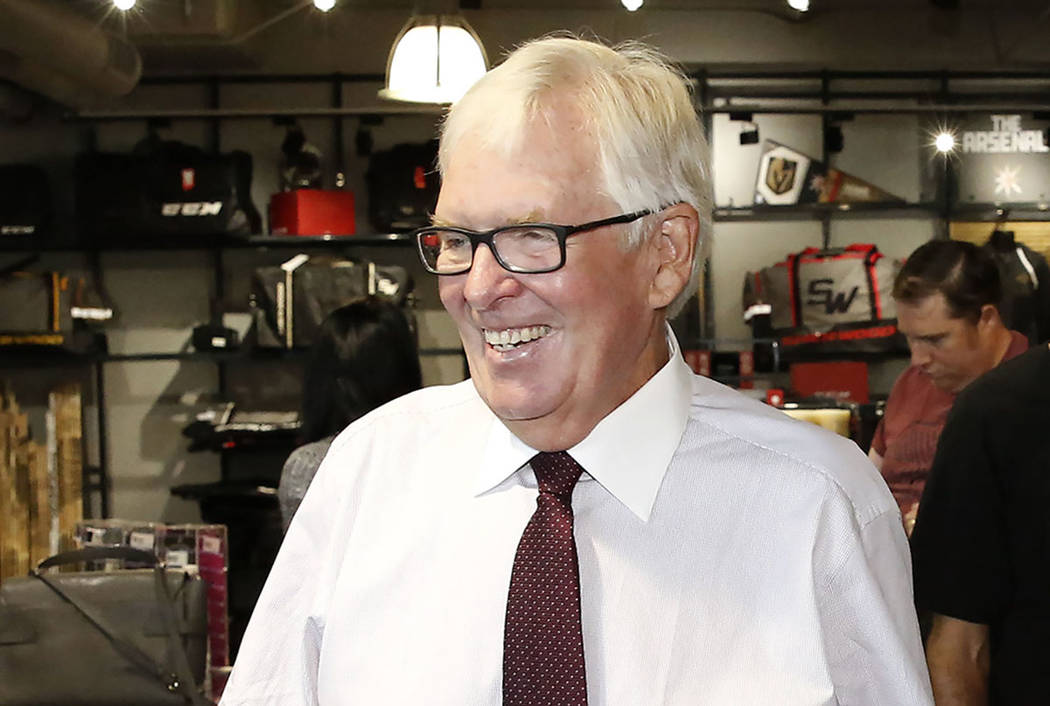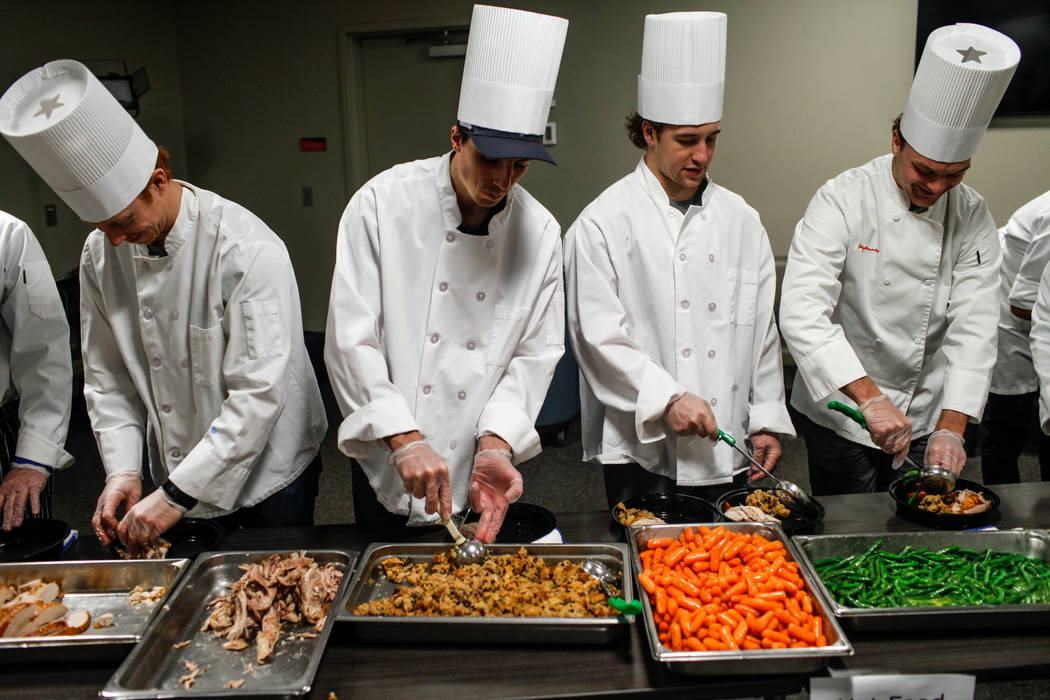 The final minutes were ticking away. Victory was assured. An emotional evening was concluding in a satisfactory manner for the home team.
But there was still one last episode to play itself out.
The sing-song chant began from the upper reaches of T-Mobile Arena and permeated down to the expensive seats by the glass.
'Thank you Foley."
It got louder with each go-round.
'THANK YOU FOLEY."
Bill Foley claims he never heard it, even though he was in the building. He said he was too focused on watching the team he owns, the Golden Knights, put the finishing touches on a 5-2 win over Arizona.
"That was very nice," he said. "I get that a lot. People come up to me and thank me for bringing the Golden Knights to Las Vegas."
Yet on this Thanksgiving Day it is Foley, the billionaire businessman who spent a record $500 million in 2016 to bring major league professional sports to Las Vegas, who has much to be thankful for.
His team has been the talk of the NHL thanks to its successful start. He has an energized fan base that embraced players, coaches and management from the start.
But there's more. Much more.
When the Oct. 1 mass shooting unfolded on the Strip, leaving 58 dead and close to 500 wounded, the Knights organization didn't lose anyone. Earlier that day, the wildfires sweeping through Northern California roared perilously close to Foley's vineyards in Napa and Sonoma. Incredibly, his wineries went unscathed, and of his 600 employees, only one lost his home.
Galvanized by tragic events
Foley said when he looks back on those tragic events and the fact nobody died and he was spared any significant loss property, it makes Thanksgiving that much more meaningful.
"It could have been a hell of a lot worse," he said. "I'm still trying to understand why (the shootings happened). I was already in bed when it started, and after I found out, I wanted to make sure all our people were accounted for.
"When I heard everyone was safe, it was a tremendous relief. But I also knew we were going to have to make some major changes."
Foley was referring to the elaborate pregame celebration that had been planned for the team's home opener Oct. 10. NHL commissioner Gary Bettman was coming. So were local and state officials and a list of celebrities. But Foley knew those plans would have to be shelved.
Instead, the team began planning a different ceremony, one more somber, more muted, more respectful, one that would honor the victims and show appreciation for the first responders and heroes of Oct. 1.
"A lot of people worked really hard to make that happen," Foley said of his staff. "There wasn't a whole lot of time, but they did an amazing job."
The ceremony, which saw players and coaches escort first responders to the ice, included 58 seconds of silence for the victims, whose names were shown on the ice.
It was capped by defenseman Deryk Engelland's stirring, emotional speech that concluded with four simple words — "We are Vegas Strong" — and is already etched in team history.
"I'll always remember Deryk's speech," Foley said when asked to reflect back on Oct. 10. "He did a great job. I know he was really nervous. Who wouldn't be? But he pulled it off.
"And the way our players and coaches interacted with the first responders was so special. I thought the whole evening was perfect."
'We got lucky'
Meanwhile, the wildfires were growing stronger. The firefighters were locked in a deadly battle to contain the flames that were scorching millions of acres and causing billions of dollars in damage. For Foley, who has had a successful venture creating quality vintages that are world renowned, there was major cause for concern.
"We have about 4,000 acres of all our wineries, and it's a miracle we weren't hit by the fires," he said. "It just went around our properties. It missed Chalk Hill by three-quarters of a mile. We got lucky."
Foley said he has friends who weren't so lucky and lost everything. One couple escaped literally seconds before flames engulfed their home, fleeing in their pajamas and driving away.
Through the team's charitable foundations, various jersey auctions and the nightly 51/49 raffle, Foley donated close to $2 million in a five-week span to the Strip shooting victims fund, the Metropolitan Police Foundation and to assist those who were impacted by the Northern California wildfires along with the Folded Flag Foundation.
Joy of winning
When Foley, his family and a small select group of friends sit down for Thanksgiving dinner, they'll also be thankful that his hockey team has started so well.
Expansion is a dicey proposition. And even with the NHL having given Foley's organization every chance to succeed, it was up to them to make it work.
Yes, there were a few hiccups along the way. The team name took a while for some to accept. The jerseys that fans would spend $200 on wouldn't be available until late September. The television deal with AT&T SportsNet Rocky Mountain (formerly ROOT Sports) nearly became a debacle until a 12th-hour deal was struck with Cox Cable just hours before the season opener Oct. 6 in Dallas.
Yet all of that has been trumped by the team's amazing start, which saw it go 8-1 and find itself the talk of the hockey world. The word playoffs has entered the vernacular.
"All credit goes to (general manager George McPhee) and his people, our players and coaches," Foley said. "I really believe in the Knight culture of being noble, fearless, never retreating, and George bought into that culture. We have players of high character who work hard every night and never give up.
"I was hoping we could have some success early and keep our fans happy. But it's more than what I thought it would be."
A superstitious owner
Foley doesn't even watch the home games from his luxurious rinkside suite at T-Mobile Arena. He prefers to observe alongside McPhee and assistant GM Kelly McCrimmon higher up in the building.
"My focus is on every shift," he said. "I can't socialize with people during the game. I'm too involved watching what's going on out on the ice."
His wife Carol is the same way. She doesn't play hostess on game night. She's wrapped up in the game, riding the emotional roller coaster along with 17,000-plus fans.
"I wear the same jacket every game, sit in the same seat next to George and drink the same water every game," Foley said of his superstitious routine.
'Most fun ever'
Foley, the majority owner who has 81 percent of the Knights, kiddingly calls himself "a benevolent dictator." The Maloof family, which has 9 percent of the team, and several minority owners who comprise the remaining 10 percent of ownership, are strictly in the background. They don't travel with the team. You don't see them in the locker room. Only Foley speaks for the group.
"I wouldn't be involved otherwise," he said.
But when Foley attends the NHL Board of Governors meetings, he is the silent one.
"Basically, I sit, keep my mouth shut and listen to what Gary has to say," said Foley, who has attended only one meeting so far.
He saves his enthusiasm and energy for game night. He said he is thrilled for the organization's start and appreciative of the hard work his employees have put in to make the Knights a successful endeavor. But he is most pleased for Las Vegas.
"I'm happiest for the city and the fans," he said. "This isn't about me. It's about giving the city something to get behind, something to root for.
"When I see the fans wearing the jerseys, the kids having fun, the in-game experience we're providing, that's what makes me happy. For me, the games are exhausting. I'm so emotionally involved. But it's the most fun I've ever had."
Contact Steve Carp at scarp@reviewjournal.com or 702-387-2913. Follow @stevecarprj on Twitter.
Giving back
Golden Knights owner Bill Foley made several donations through his Golden Knights Foundation and Foley Family Charitable Trust following the Oct. 1 mass shooting and Northern California wildfires.
Oct. 2 — $300,000 to Strip shooting victims fund
Oct. 24 — $275,000 to Sonoma and Napa Counties for victim relief from Northern California wildfires
Oct. 27 — $1 million to Las Vegas Metropolitan Police Foundation
Nov. 10 — $250,000 to Folded Flag Foundation
Source: Vegas Golden Knights, NHL, Las Vegas Metropolitan Police Foundation