Golden Knights pleased with players' progress at development camp
Updated July 2, 2017 - 12:00 am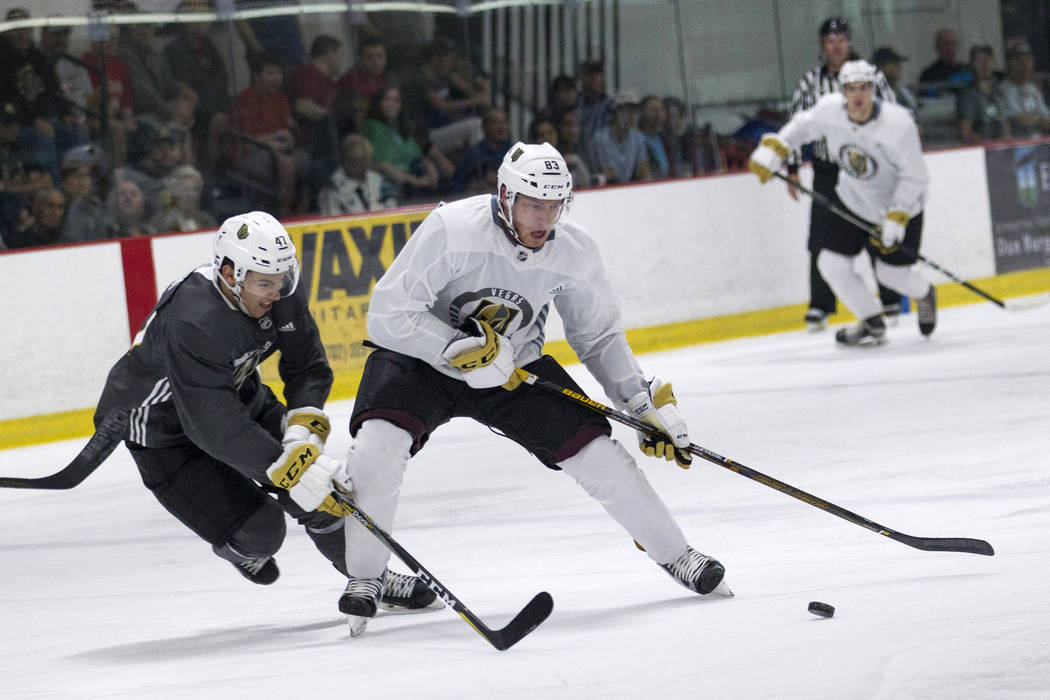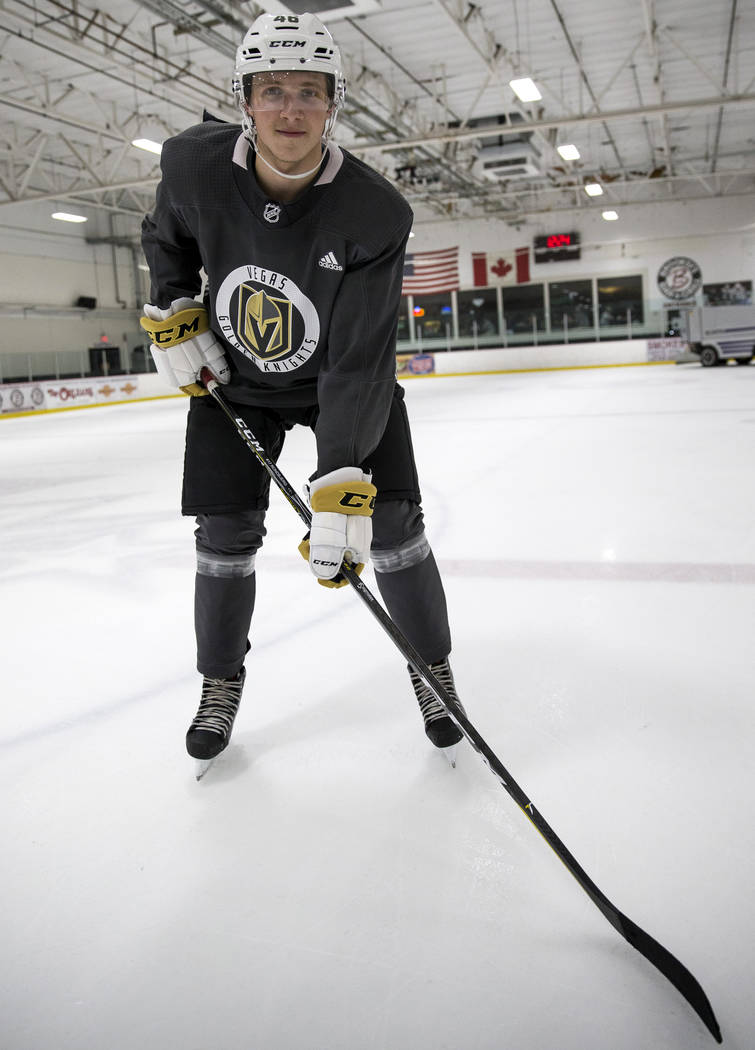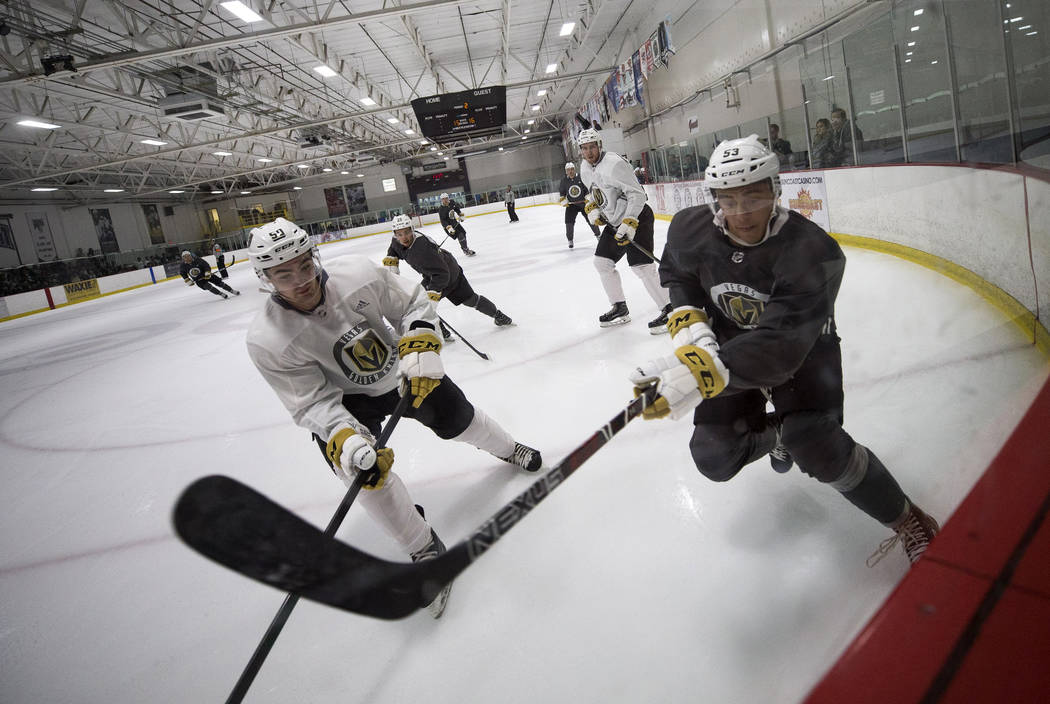 The weary smiles said it all.
For Golden Knights players and staff who participated in the team's first five-day development camp, it had been a good week. Hard at times but good nonetheless.
Everyone got what they wanted out of the five-day camp, which capped a hectic three weeks for general manager George McPhee.
The Knights hockey staff began meeting at the team's Summerlin offices June 14 to prepare for the June 21 NHL Expansion Draft and the league's entry draft June 23 and 24 in Chicago. Right on the heels came the development camp, which meant getting players to Las Vegas within 48 hours and on the ice Tuesday at the Las Vegas Ice Center.
But it got done. McPhee said it went as well as any camp of its kind that he could remember. Players got to taste the professional life and forge friendships with possible future teammates, whether in Las Vegas or Chicago with the Wolves, the Knights' American Hockey League affiliate.
"I loved the way the guys competed," said Will Nichol, the team's director of player development. "I'm really proud of this group of kids. They came in and right away they bought into our culture.
"In terms of on the ice, I was really impressed with how the pace of play and the skills got better. I've been part of seven of these camps, and this was the best of any of them."
Neither McPhee nor Nichol would single out individuals for praise. At some point, however, evaluations must be made. Which free agents are invited back to rookie camp, which begins Sept. 7 at the team's new practice facility in Summerlin? Does the team need to bring in other players who weren't at the camp?
McPhee said there was no rush to make those decisions, and that discussions will take place soon regarding how many players to bring back to training camp.
Some players have committed to playing college hockey. Others are targeted to return to their junior team and probably will go directly to that team's training camp.
The majority of the Knights' draft picks will return to Las Vegas for rookie camp. Some, such as first-rounders Cody Glass, Nick Suzuki and Erik Brannstrom, could stick around for the veterans camp starting Sept. 14.
"I didn't have any goals in mind but to just go out there and perform," said Suzuki, a center who was the team's second first-round pick and 13th overall selection.
Forward Jonas Rondbjerg, the team's third-round pick from Denmark, said he got more comfortable each day.
"I tried not to think too much," he said. "My skating is my strong point, but I hadn't been on the ice for a couple of months so it took a little time to get comfortable in my equipment."
Both said they will spend the summer preparing for rookie training camp.
"I want to get stronger and work on my shot," Rondbjerg said.
Suzuki said: "I want to be more explosive, so I'll be in the gym trying to work on my strength."
Contact Steve Carp at scarp@reviewjournal.com or 702-387-2913. Follow @stevecarprj on Twitter.
Give them high marks
These five players were consistently good from start to finish at the Golden Knights' first development camp, and keep an eye on them when training camp opens for rookies on Sept. 7:
1. Alex Tuch. One of the most experienced players in camp. He led by example and played both ends of the ice. He might have a chance to stick with the Knights this fall.
2. Keegan Kolesar. The burly forward displayed his scoring touch in the scrimmages with three goals and looked good playing alongside No. 1 pick Cody Glass.
3. Reid Duke. The team's first signee showed a knack for always being around the puck.
4. Nick Suzuki. The first-round pick has a quick release on his shot.
5. Erik Brannstrom. The first-round pick from Sweden showed an accurate shot from the point.
Steve Carp Review-Journal