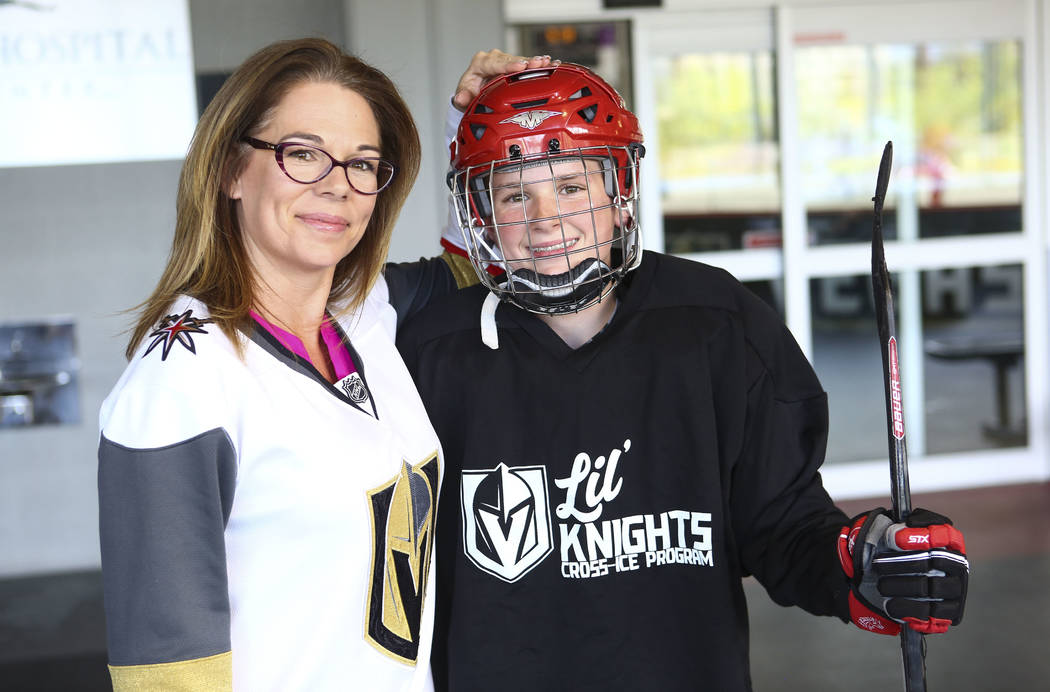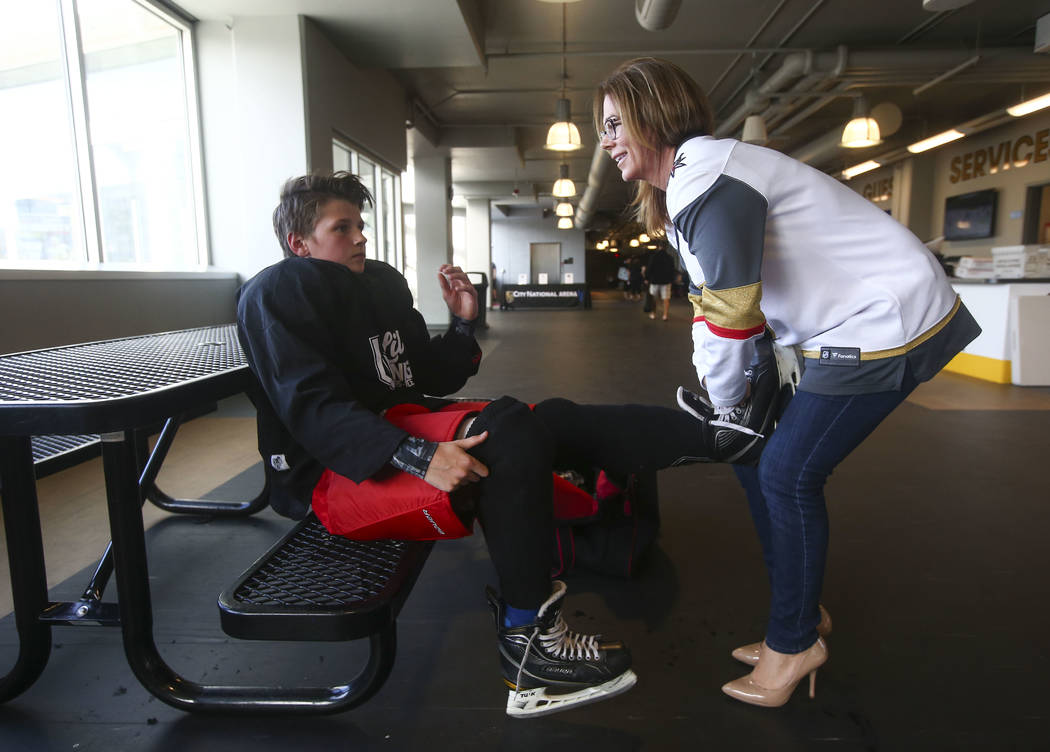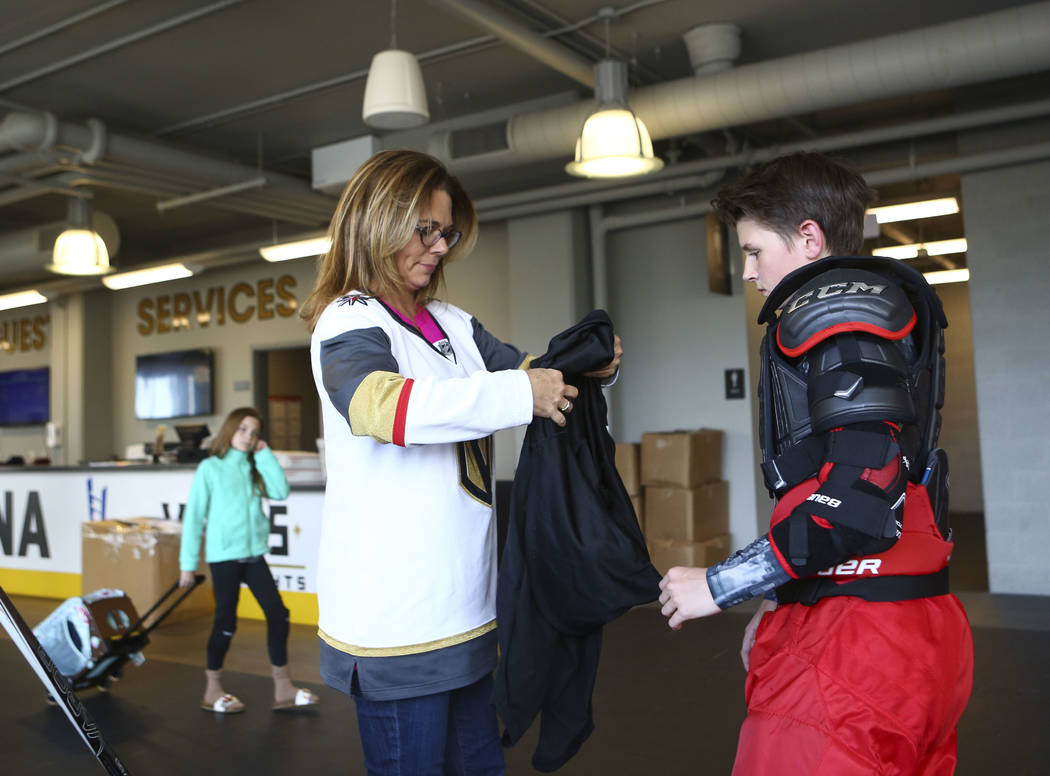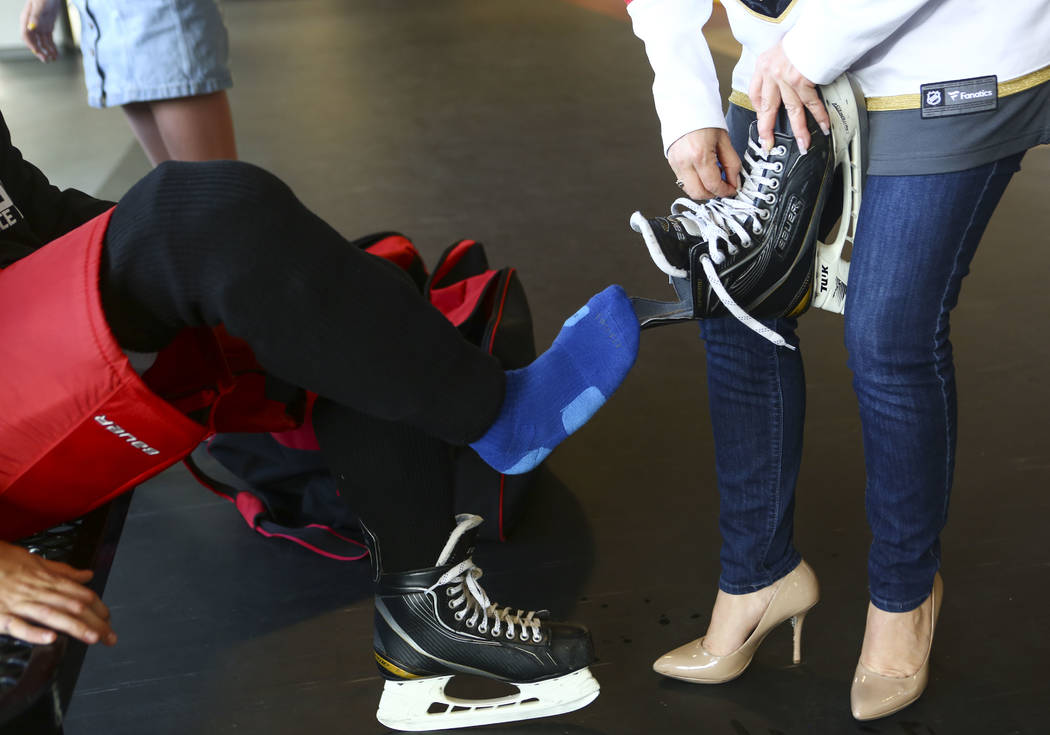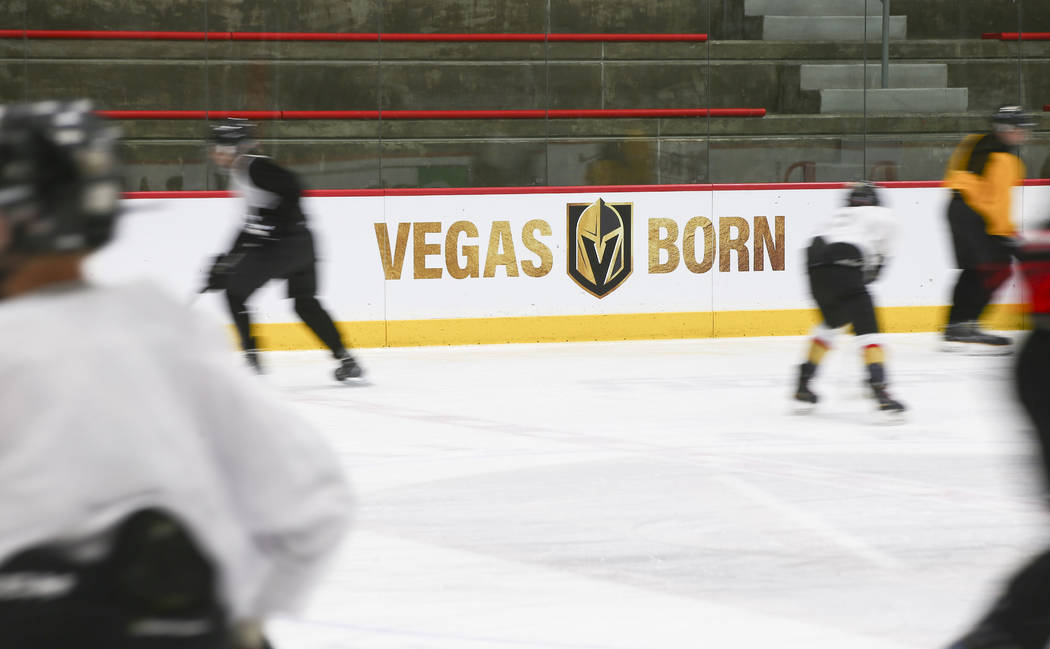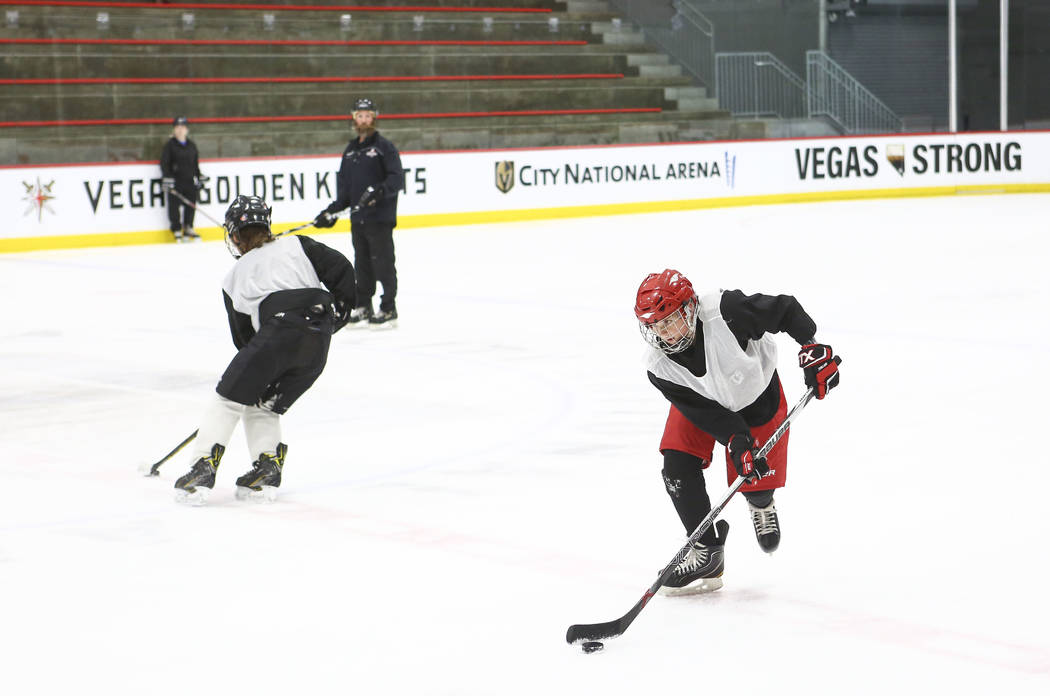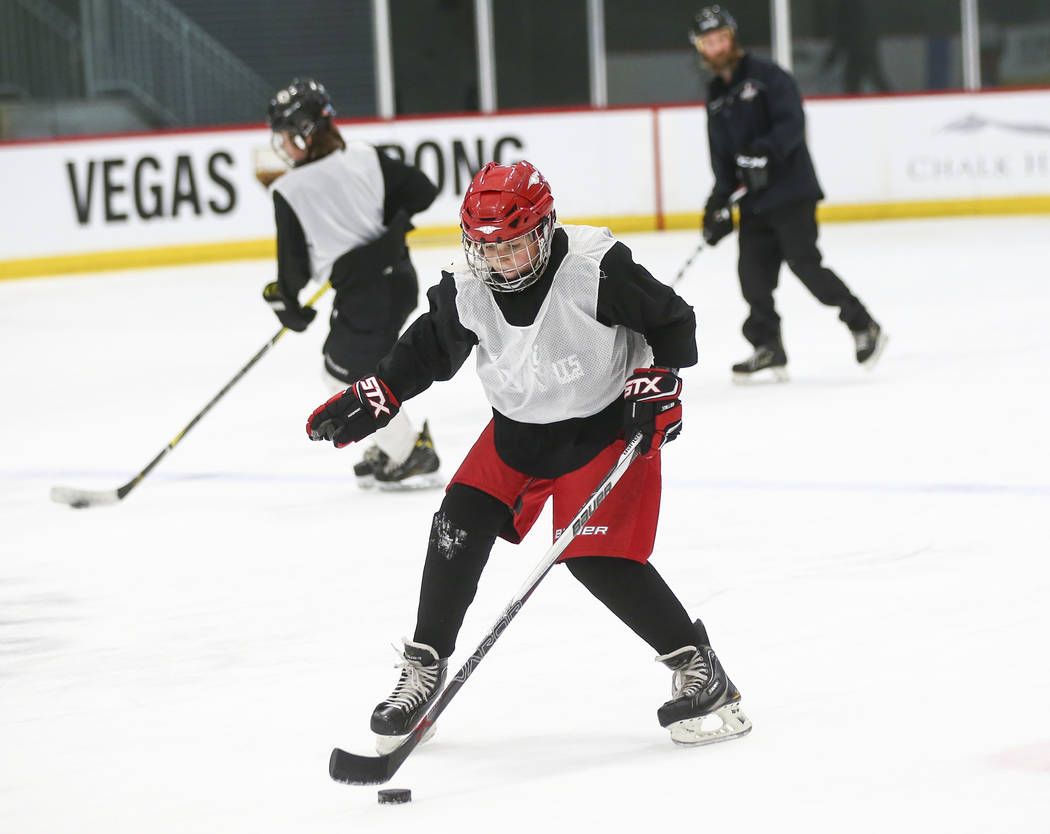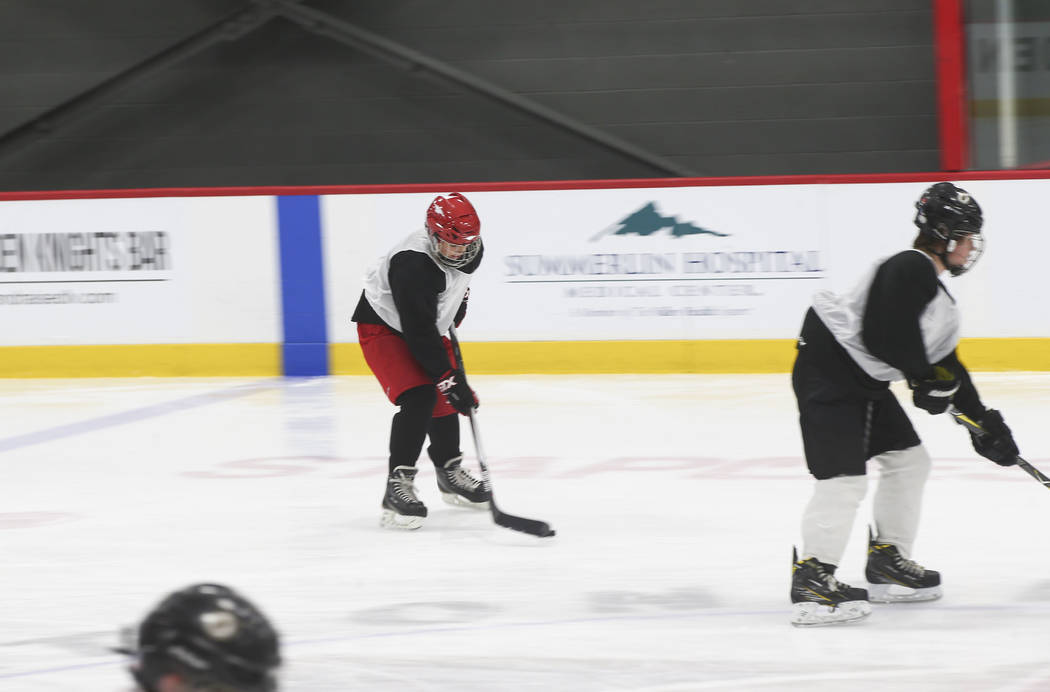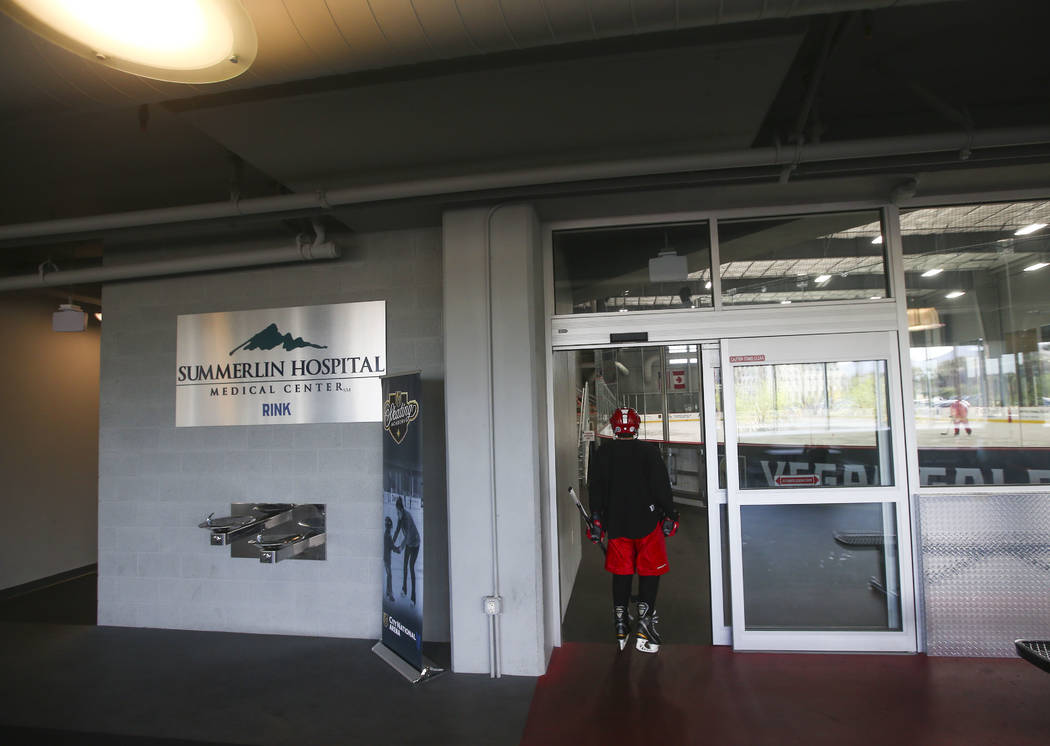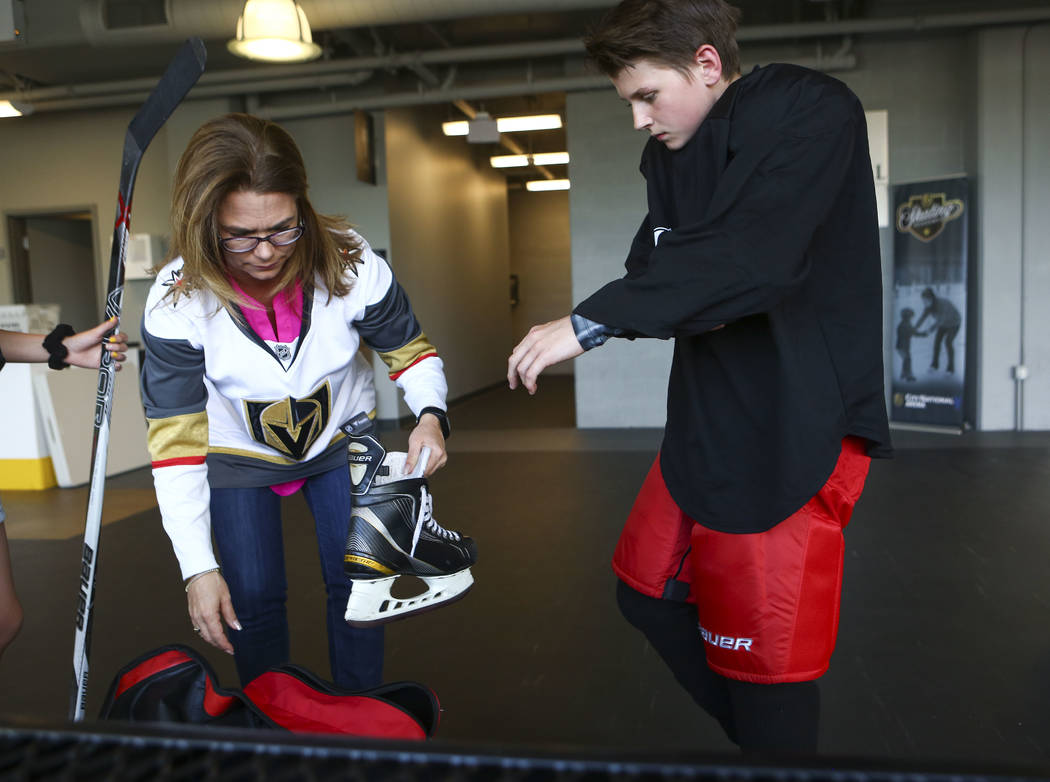 Marco Angioni used to be the odd man out in his own home, just because he wasn't a hockey fanatic.
He didn't exactly dislike hockey . But, as a sports fan who grew up in Las Vegas, he never had a chance to follow his own pro hockey team.
Then came the Vegas Golden Knights, and, like the target of an incantation delivered by a medieval wizard, Marco became — alakazam! — a pro hockey fan.
It's a feat of magic taking place all over the valley, as the NHL's newest team — and Las Vegas' first major league team — creates legions of hockey fans where once there were none.
A family fan
Dana Angioni has watched hockey since she was a kid. Her parents had New York Rangers season tickets, and her brother has been playing hockey since he was 2. But husband Marco? Not so much of a fan.
Then came the Vegas Golden Knights. Marco started following the team with his family and grew to love the game. He's been impressed, too, by how players "do a lot of things that really made me and the rest of the community really love them."
Marco is now as avid a fan of hockey as his wife, his hockey-loving kids and his in-laws. "I have a better appreciation of the game," Marco said, though "I probably drive my brother-in-law crazy. I ask him about every rule: 'What's this mean?' 'How come this is that?' So he's had to explain it to me as the season progressed."
A surprise fan
Donna Wilburn, who has lived in Las Vegas since she was 10, had no frame of reference for appreciating or understanding hockey. Noticing the buzz around the team last fall, she started catching a few games on TV and found that she enjoyed being part of Knightsmania.
"I'm caught up in this wave," said Wiburn. She usually watches games at restaurants "where there are other (fans) who are into it. I want that connection."
She's finding fellow fans in some surprising places. "My granddaughter's elementary school (had) kids wear Knights gear for the last three playoff games, and it's a uniform school," she said."It's a private school, so they're all about the uniforms, but uniforms are out the window."
Now "I have to see how they're doing, and I get happy when they win, and I'm amazed at how much they're winning. All of my friends talk about it. We always talk about it. It's exciting."
The most definitive metric of her newfound fandom: Wilburn has a favorite player (goaltender Marc-Andre Fleury) and admits that "if I ever see any of them in public and I recognize they're hockey players, I'll be, like, starstruck."
A young fan
Cashel Gardner, 21, has spinal muscular atrophy, a genetic disease that affects the nervous system's ability to control muscle movement, which has kept him bedridden since he was a child. While Cashel can't get out much, he enjoys watching Vegas Golden Knights games on TV.
Cashel's mother, Sandy Gardner, said Cashel never has been much of a sports fan. "He won't even watch the Super Bowl," she said, but "he's the first one to have the hockey game on when it's time."
Sandy said the appeal for Cashel is the excitement of the games and the way in which the team embraced the community — and the community embraced the team right back — after the Oct. 1 Route 91 Harvest Festival shooting.
Most of all, Sandy said, Cashel loves that "the whole city, everybody, is crazy about it. I think that's the biggest thing he loves. He loves being part of something like that."
A late-blooming fan
Stephen Miller wasn't a hockey fan, despite being born in a hotbed of hockey, Connecticut. "I love every sport, but just could never get into it."
Then he tuned in the Vegas Golden Knights' home opener, which came just nine days after the Oct. 1 shootings — mostly to see how the team would address it. He was impressed with the pre-game ceremony at which victims were honored, first responders were escorted onto the ice and Deryk Engelland spoke movingly about being a Las Vegan.
Miller also was impressed by the capacity crowd and how much fun the game was to watch. He continued watching on TV, and caught his first game, against the Chicago Blackhawks, at T-Mobile Arena where "the atmosphere was amazing."
Miller now considers himself a Golden Knights fan first — and then a hockey fan — who finds himself increasingly intrigued by the game. "My first loves obviously are baseball and football," he said. "But this is creeping up."
An unexpected fan
Justin Rubenstein is more of a golf guy. The owner and president of VIP Golf Services, which sells golf packages for tourists, was born and raised in Las Vegas. "I never watched ice hockey," he said. "I just didn't really care."
But Rubenstein has a neighbor who "lives and breathes hockey" and watched the team's first-ever, preseason game against the Vancouver Canucks on TV with that neighbor, superfan Jason Griego (whom Vegas Golden Knights fans might recognize as "Wolverine").
"It was unbelievable," Rubenstein said. "We won. It was a 9-to-4 game. It was so fast. I loved watching the community of the players … When they worked together it was almost like an orchestra or something. It was awesome."
"It was the first time I ever felt what everybody else was feeling," he said.
Since then, Rubenstein has seen every game on TV and made it to T-Mobile Arena for four games. He's got Golden Knights shirts and caps and golf ball markers, and he and his kids are eagerly awaiting the release of the next-edition NHL game for PlayStation or XBox.
"We're going to be fighting over who gets to be the Knights."
A hometown fan
"I didn't even know that ice hockey existed," said Stephanie Scott, a born-and-raised Las Vegan who thought of ice rinks mostly as places where "you could throw a party."
So Scott was skeptical when she heard that Las Vegas was getting its own major league hockey team. She even quibbled with the new team's name. "How come it's called the Golden Knights? We're not gold. We're silver," she said. "What's (gold) have to do with Las Vegas?"
When the season began, Scott saw the buzz generated among fans on social media, who gushed about "how exciting it is and how energetic it is and how great this is going to be for the city."
She took a trip to City National Arena, where the Knights practice. She saw some games on TV. "I was blown away by everything that went into this."
Her newfound infatuation with hockey was reinforced by her son, Cole Gould, 13, who "became a hockey fan overnight. He started knowing the players by name and number at the very beginning of the season."
Cole began learning the game and now plays on a youth team. In November, Scott and her son attended their first game.
"We were in T-Mobile Arena and I'm, like, 'Wow this is crazy.' I just had so many questions. And then you learn you have to follow the puck, but I had no idea what I was watching. I remember asking questions to a nice gentleman season ticket holder a few seats away. He started teaching me the game."
Scott continues to learn the game, thanks, in part, to her son.
"I love the energy and the spirit. But I also love the fact that Vegas has its first professional team."
Contact John Przybys at jprzybys@reviewjournal.com or 702-383-0280. Follow @JJPrzybys on Twitter.