Golden Knights second line develops unique chemistry
Updated November 30, 2018 - 8:07 pm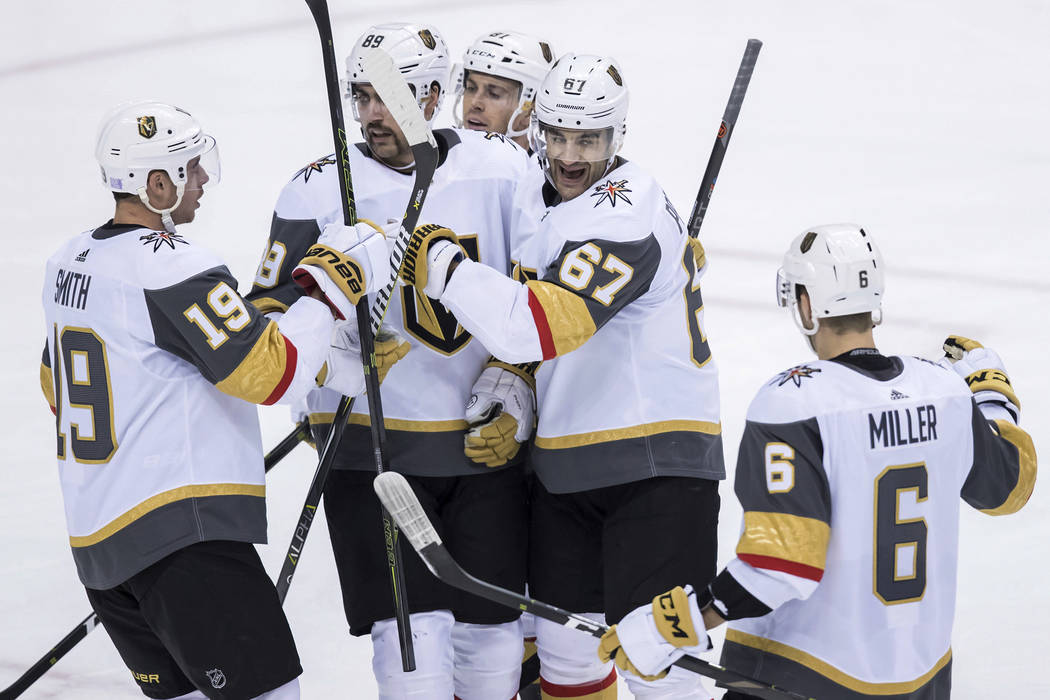 EDMONTON, Alberta — Max Pacioretty and Alex Tuch share an affinity for comedies, and "Step Brothers" is one of their favorites to quote.
It's a fitting selection. After all, the Golden Knights forwards just became best friends.
"I see a lot of characteristics from when I came in similar to Alex, being American and coming from college," Pacioretty said. "We have spent a lot of time together — (Cody Eakin), as well — so I know chemistry off the ice leads to some chemistry on the ice."
Pacioretty and Tuch don't have plans to attend the Catalina Wine Mixer or do karate in the garage, like the characters of Will Ferrell and John C. Reilly in the 2008 film.
But the tight bond formed by the second-line wingers has been evident during the Knights' five-game win streak, which they'll put on the line Saturday against Edmonton at Rogers Place.
"It makes it a lot more fun. You want to see the other guy succeed even more, and it's good, too," Tuch said. "We're able to keep it loose. We're able to just go out, focus and play. Hey, if one guy doesn't make the right play, we're able to tell each other. We don't get mad at each other if someone says something maybe a little bit negative.
"If you have to take it on the chin, you take it on the chin and move forward, and that's what we've been doing. It's been really good, and Cody fits right into the fold, too."
Pacioretty and Tuch were joined by Eakin full time on the second line starting Nov. 8 at Ottawa after Erik Haula suffered a lower-body injury two days earlier against Toronto, and the trio clicked almost immediately.
In 12 games together, Eakin, Pacioretty and Tuch have accounted for more than 40 percent of the team's goals (19 of 47).
Tuch has five goals and 15 points in that span, while Pacioretty has eight goals and 13 points.
Pacioretty notched his third two-goal game since Nov. 21 in Thursday's 4-3 victory at Vancouver.
"They've played great hockey," coach Gerard Gallant said. "They're scoring goals every night, and the chemistry's real good. That's what we need from our group. We need everybody going and playing well, and for the most part we're getting that lately."
Pacioretty has served as a mentor for Tuch, 22, and they have plenty in common beyond their taste in movies.
Pacioretty, 30, hails from New Canaan, Connecticut, and spent one season at Michigan, while Tuch grew up near Syracuse, New York, and attended Boston College.
"I look at him as a leader on this team," Tuch said. "I mean, he's captained the Montreal Canadiens for years, and he's got a lot of experience. He's an unbelievable player, and I look up to him and he helps me out a lot."
Eakin, who moved up from the third line to replace Haula, has elevated his play, too.
Along with his defensive responsibilities as center, Eakin has 12 points in his past 12 games and shares the team lead in goals at 10 with Pacioretty and Jonathan Marchessault. Eakin had 11 goals in 80 games last season.
The line's chemistry was on display Thursday on Pacioretty's second goal against the Canucks.
Tuch muscled past Vancouver's Troy Stecher and one-handed a pass to Eakin in the slot. Rather than shooting, though, Eakin unselfishly set up Pacioretty for an open one-timer.
The trio executed a similar passing sequence that Pacioretty finished off against Arizona on Nov. 21.
"I think sometimes when you get in groove, you tend to put yourself in good spots and not skate yourself out of position," Pacioretty said. "I feel like with the chemistry on my line, I feel like I'm not overworking. I'm putting myself in areas to help my linemates out, and I think our whole line has had great success."
Contact David Schoen at dschoen@reviewjournal.com or 702-387-5203. Follow @DavidSchoenLVRJ on Twitter.
Game day
Who: Golden Knights at Oilers
When: 7 p.m. Saturday
Where: Rogers Place, Edmonton, Alberta
TV: AT&T SportsNet (Cox 313/1313, DirecTV 684, CenturyLink 760/1760, U-verse 757/1757, Dish 414/5414)
Radio: KRLV (98.9 FM, 1340 AM)
Line: Golden Knights -115; total 6
Three storylines
1. Road weary. The Golden Knights finish their three-game trip that took them through three time zones, but can emerge with all six points with a victory over the Oilers. After early struggles, the Knights are 4-1 in their past five road games.
2. Slumpbuster. While the Knights' second line continues to produce, the first line remains rather quiet. During the Knights' five-game win streak, William Karlsson, Jonathan Marchessault and Reilly Smith have produced one goal at 5-on-5 and combined for 11 points.
3. New-look Oilers. Edmonton has undergone a dramatic change since the Knights' last visit here Nov. 18. Ken Hitchcock replaced Todd McLellan as coach two days after the Knights' 6-3 win and the Oilers are 3-1-1 since. Also, Mikko Koskinen has emerged as a reliable starting goaltender.
David Schoen Review-Journal