Golden Knights shake up routine with Cirque du Soleil workout
February 13, 2018 - 6:21 pm
Updated February 13, 2018 - 6:43 pm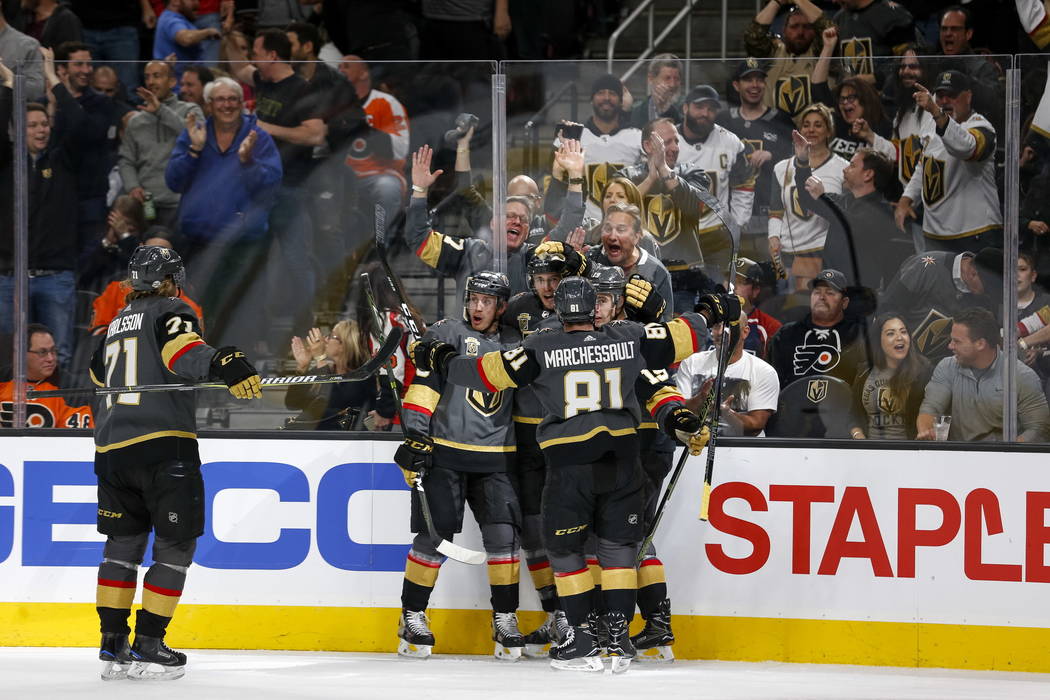 The Golden Knights opted for an off-ice workout Wednesday.
But this won't be just any off-ice workout. The team will join members of Cirque du Soleil for a joint exercise at the MGM Grand as players experience some of what the performers do to stay in shape.
The workout was arranged by Jay Mellette, the team's director of sports performance and trainer. He previously served as Cirque's director of performance medicine prior to joining the Knights.
"We're getting into the grind of the season," Mellette said Tuesday. "We're playing every other day. How you recover is an important part of the process.
"Physically, we want the players to move their body in a different way. Mentally, it's an opportunity to get them out of the rink and it's a chance to have some fun and do something rejuvenating for them."
The players will be led by Cirque coaches and artists and will get the chance to learn gymnastic basics, aerial skills and even try their hand at juggling.
"I've seen the show and it's pretty cool with what they do with the trampoline stuff and strength overall," center William Karlsson said. "They're the real athletes."
Nosek back
Forward Tomas Nosek was back in the lineup for the first time since Jan. 16 after he suffered an upper-body injury in the second period against Nashville.
Nosek, who has three goals and five assists in 41 games, missed 12 games.
Blackhawks down
The Chicago Blackhawks arrived at T-Mobile Arena a struggling team. Chicago has lost six straight and 10 of its last 12 and was in last place in the Central Division. The Blackhawks, who have won three Stanley Cups in the last eight years, are in danger of missing the playoffs for the first time since 2008.
Part of the team's woes has been the absence of goaltender Corey Crawford, who has not played since Dec. 23 and has been suffering from concussion symptoms. Crawford was back practicing Monday and was on the ice Tuesday prior to the Blackhawks' 6-1 loss to Arizona. No date has been set for his return.
"This is probably as tough as I have seen," Blackhawks coach Joel Quenneville said of his team's current slide. "It's not fun.
"Every day we're trying to find a way to get the team enthused. I know it's not easy when you're thinking it's hard to be positive. I think it's almost like we can't accept that this is the way it is and we need to make the effort to change that."
Contact Steve Carp at scarp@reviewjournal.com or 702-387-2913. Follow @stevecarprj on Twitter.