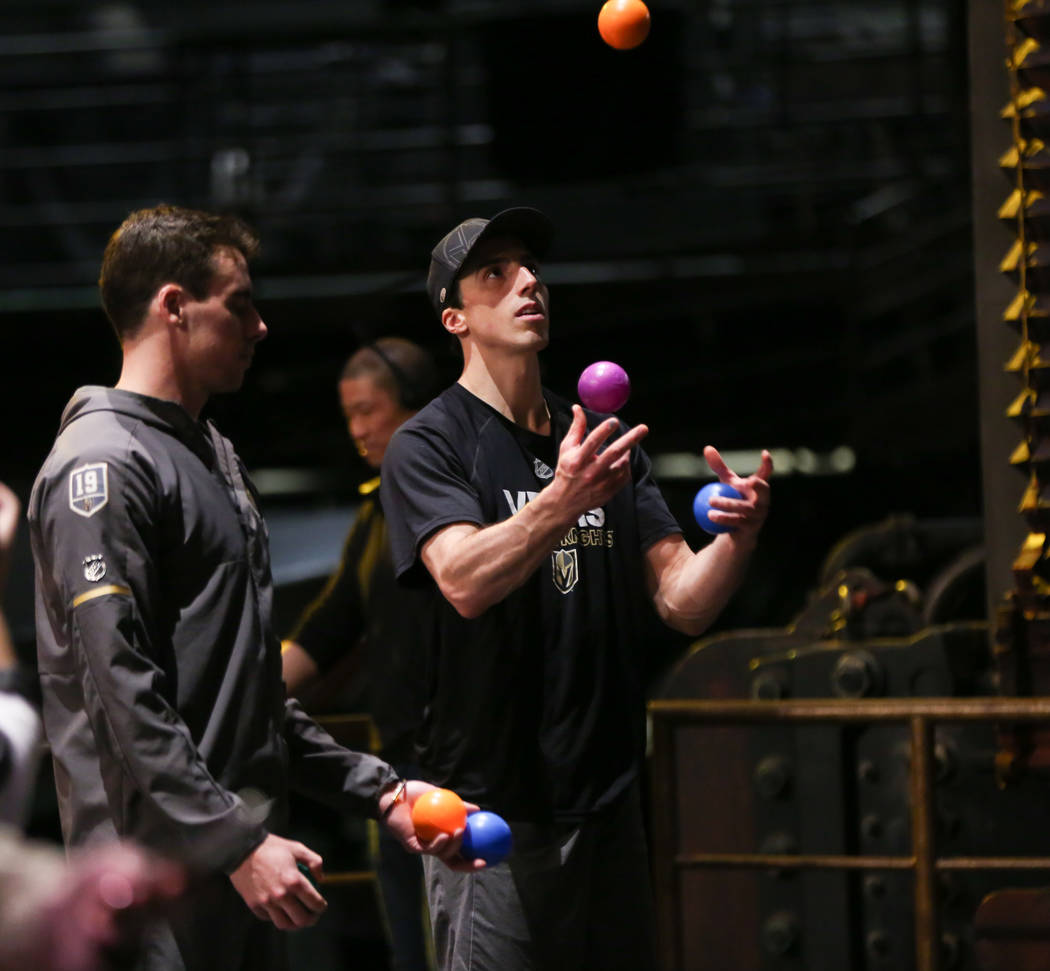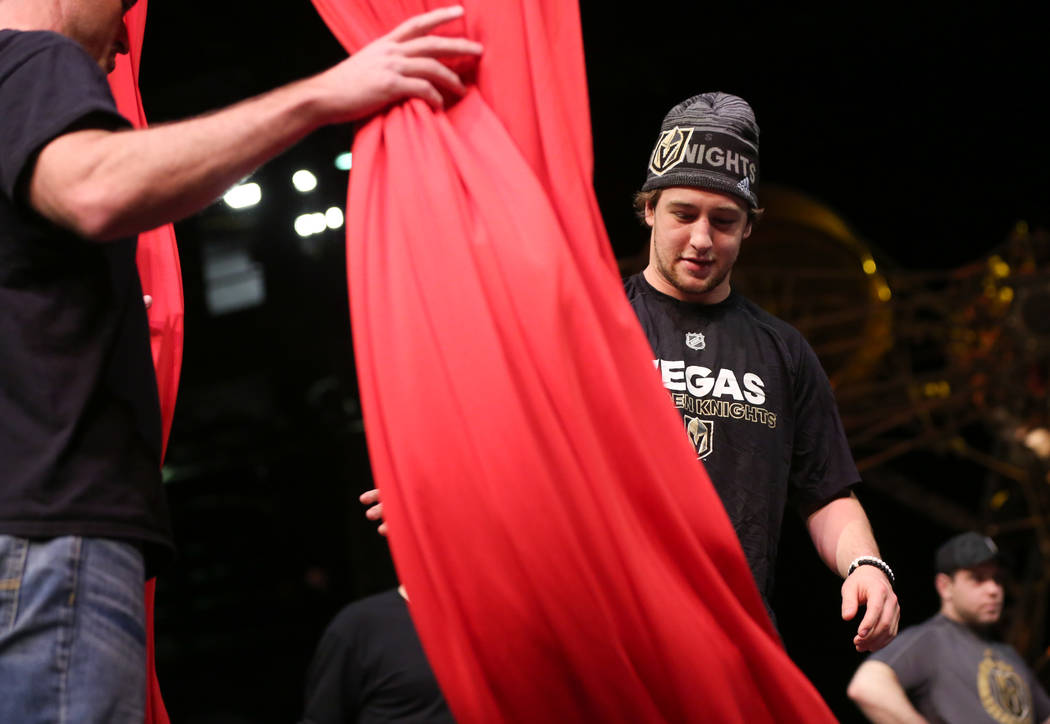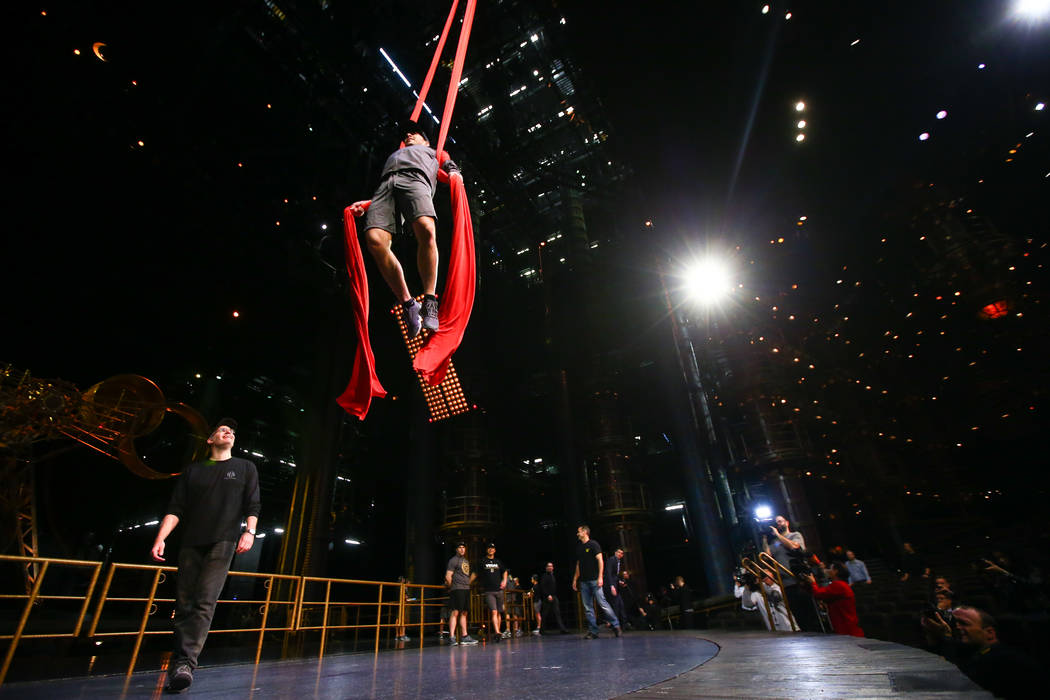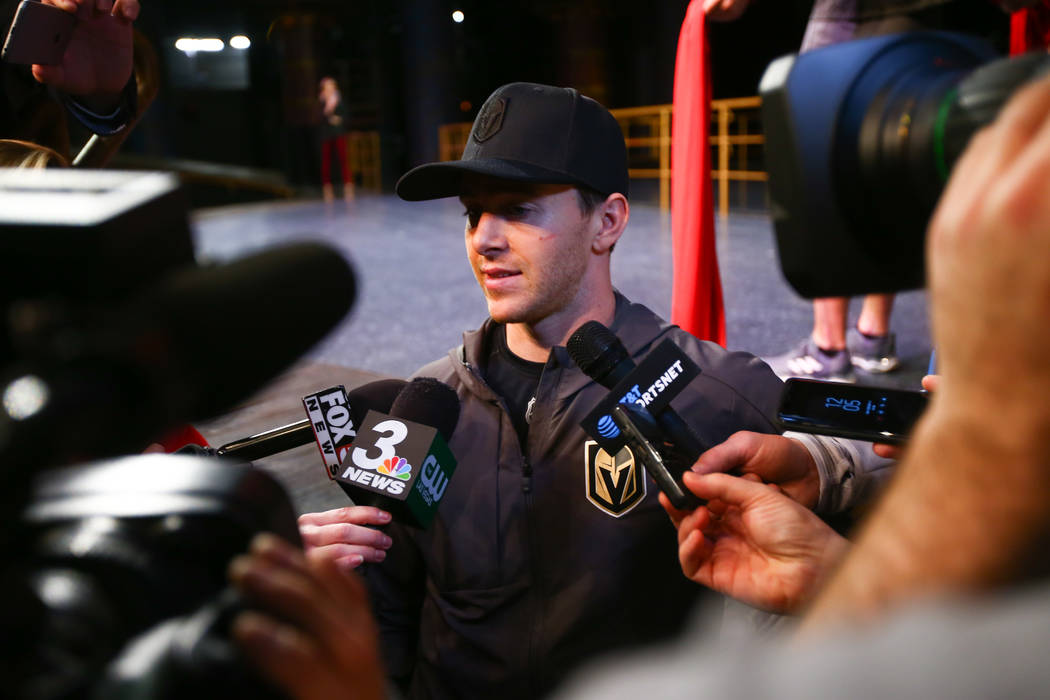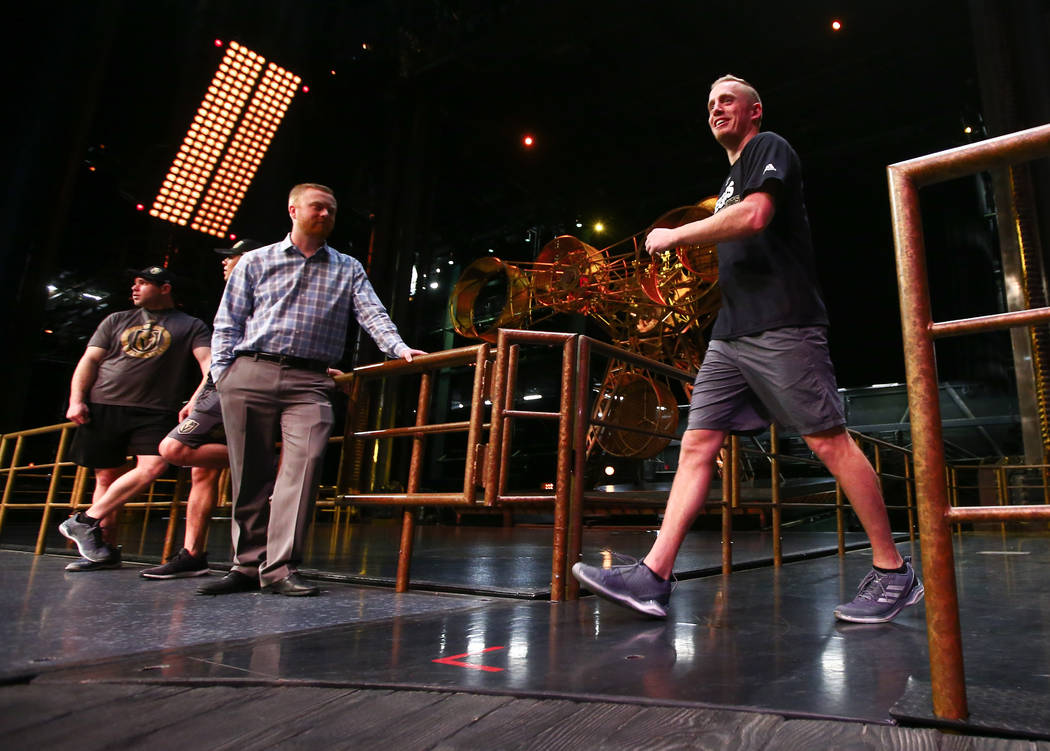 Jonathan Marchessault had more than a little trepidation before two Cirque du Soleil instructors strapped him into the tissue flight apparatus.
But after being lifted nearly 10 feet over the stage at KA Theatre at MGM Grand, the Golden Knights' leading scorer blurted out in language not fit for print that he had nothing to worry about.
Monkeying around with @Cirque🐒 #KA pic.twitter.com/nFfKtY1PPU

— Vegas Golden Knights (@GoldenKnights) February 14, 2018
"We're just getting held by two elastics, so you don't know if it's pretty stable," Marchessault said. "It's definitely a hard technique. It's just fun to feel what they do every day."
With the grind of a long regular season beginning to take its toll, the Knights spent Wednesday's "recovery day" cross training with coaches and performers from Cirque du Soleil.
The outing was organized by Jay Mellette, the Knights director of sports performance and head trainer, who previously worked for Cirque du Soleil.
"We just knew that there's going to be some opportunities in the season to just give the boys something new to do, something fresh," Mellette said. "With the relationship I've had previously with Cirque du Soleil, it just seemed like a natural fit."
The players rotated through several different stations that included juggling, balance exercises, a rope climb, and basic trampoline skills.
Learning lots of new tricks at #KA today 💪🏼 pic.twitter.com/Edsg1yrY9w

— Vegas Golden Knights (@GoldenKnights) February 14, 2018
The tissue flight apparatus, which features two sheets wrapped around the shoulders to create a harness, was a favorite among the players.
Except those who are afraid of heights.
Defenseman Shea Theodore exclaimed, "Good form, right?" during his turn, and defenseman Nate Schmidt joked that he felt like a Jedi from the "Star Wars" series while he drifted across the stage.
"It's a team bonding experience. This is awesome," Schmidt said. "You see other professionals in their line of work, to step inside their world for a little bit, it's pretty incredible and special.
"This is what makes our city special, to be able to go and do these types of things, and especially do it with your team."
Goaltender Marc-Andre Fleury added: "On the ice, I don't like to fly around too much. But it was awesome, though."
Flying Flower. (Marc-Andre Fleury at @Cirque) #VegasBorn pic.twitter.com/mhziDZC9Sx

— David Schoen 📰🗞🏒 (@DavidSchoenLVRJ) February 14, 2018
The "recovery day" was intended to energize the Knights (37-15-4, 78 points), who continue their seven-game homestand against the slumping Edmonton Oilers at 7 p.m. Thursday at T-Mobile Arena. It's the first of seven games in 13 days as the Knights close out February.
The Oilers won both of the previous meetings, including a 3-2 overtime victory Jan. 13 at T-Mobile Arena.
"We have a schedule in which there's going to be a lot of hockey and a lot of practices," center Pierre-Edouard Bellemare said. "And to be able to get off the rink to a different kind of scenery and learn something totally different, your brain is off of hockey for a few hours, it's never a bad thing."
Bellemare actually had an advantage over many of his teammates during Wednesday's workout, though he has never seen a Cirque du Soleil show.
His younger sister, Rose-Eliandre, was a gymnast for the French national team and qualified for the 2008 Olympics.
"I hope I make her proud," he said.
Mellette said Cody Eakin stood out during the workout, and the center's juggling skills were especially evident.
"It's definitely not Nabber," Mellette joked about defenseman Brayden McNabb.
Schmidt enjoyed the experience so much, he even hinted at a career as a Cirque acrobat when his playing days are over.
"All of them tried the exercises and activities, so it was really fun that they got an opportunity," said Dan Niehaus, senior advisor of performance and coaching for Cirque du Soleil. "But I'll brief them at lunch that hockey is definitely their forte."
Contact David Schoen at dschoen@reviewjournal.com or 702-387-5203. Follow @DavidSchoenLVRJ on Twitter.
Game day
■ Who: Golden Knights vs. Oilers
■ When: 7 p.m. Thursday
■ Where: T-Mobile Arena
■ TV: AT&T SportsNet (Cox 313/1313, DirecTV 684, CenturyLink 760/1760, U-verse 757/1757)
■ Radio: KRLV (98.9 FM, 1340 AM)
■ Line: Knights -220; total 6½
Three storylines
1. Corral Connor. The Golden Knights have to figure out a way to slow down Edmonton center Connor McDavid, who's posted five points (two goals, three assists) in the previous two matchups. Easier said than done, of course.
2. Playing the Pacific. The Knights are 13-1-1 vs. the Pacific Division — they've yet to beat the Oilers — and have an opportunity to stretch their lead with four of the next five games against division foes.
3. Blood in the water. This is the second of three straight games against teams at .500 or below. The Knights took care of business against Chicago and can't afford to give away two points before facing struggling Montreal on Saturday.
David Schoen Review-Journal