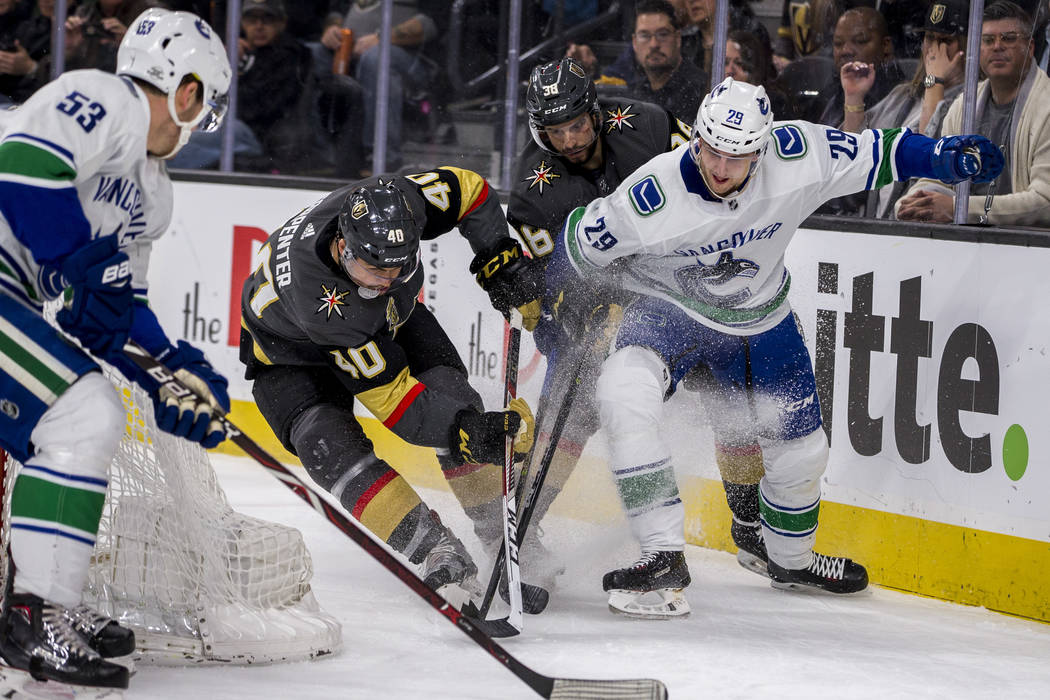 The Golden Knights made a splash at the NHL trade deadline by acquiring wing Tomas Tatar from Detroit. But a quieter deal earlier Monday for defenseman Philip Holm figures to provide a valuable return for the Chicago Wolves.
"It gives them more depth potentially if Vegas needs him," Chicago coach Rocky Thompson said. "But it certainly helps solidify our defense here moving forward, which we feel is a really good group."
The 26-year-old learned of the trade Monday morning while in Colorado with the Canucks. Brendan Leipsic was sent to Vancouver and Holm was assigned to Chicago. He started started his Wolves career with a rare 11 a.m. game on Tuesday.
Holm played in 42 games with the Utica Comets before the trade and led all defensemen with 11 goals and 18 assists. He became Chicago's leading blue-liner once he was added to the roster.
"I'm a two-way defender, I like to skate with the puck and contribute to the offense whenever I can get the shots," Holm said. "With a new team, it's important to get to know the system and get into playing your game right away."
Holm has come a long way from home in the past year. It's his first North American season after three in the Swedish Hockey League, but he already has one special tie to Vegas: he made his NHL debut at T-Mobile Arena when Vancouver played the Knights last Friday.
"I was excited, because I was just there about a week ago playing them, so I know about the atmosphere and the rink," Holm said. "They've got a really good team, and it's fun."
Best offense is good depth
Forwards Stefan Matteau, Tomas Hyka and Paul Thompson have already spent time in Vegas this season — and post-trade deadline more could join the list.
The Golden Knights aren't limited in their number of AHL call-ups going forward, and they could be imminent as the regular season winds down.
But there's no worries in Chicago.
"What it tells us is that both organizations want to win, and they want to cultivate winning here," Rocky Thompson said. "[The Golden Knights] have made some outstanding moves that not only help them, but they've complemented us as well, so we just have to continue to work as hard as we can and get a bit better each day."
TJ Tynan, Brandon Pirri and Teemu Pulkkinen have all surpassed the 40-point mark on the season and have led the scoresheet all year, but the Wolves are also looking to their rookies.
The first Golden Knight, Reid Duke, was sent to Chicago earlier in the month and is still rehabbing his shoulder after surgery, but has skated with the team and could return soon.
Keegan Kolesar, a Vegas prospect, was sent to the ECHL in December but was re-promoted to the Wolves in late February. Since then, he scored his first AHL goal, plus two more and an assist.
"It shows the talent and depth of our team," Pirri said. "When a guy goes down, others are capable of playing offensive minutes or just bigger minutes in general. It's a workload done by committee, but at the same time, it's opportunity, and those are the kind of players you want."
So close, yet so far
Chicago has a .720 winning percentage since Christmas, the second-best mark in the central division. Other teams are starting to slump while the Wolves are finding consistency.
But with 21 games remaining, the playoff field is tightly bunched.
Reigning Calder Cup champion Grand Rapids trails Chicago for second place by just .02 points. Nine points separate Chicago and sixth-place Milwaukee. Only four teams make the playoffs, so it's all the more reason for the Wolves to find a higher gear.
"If you lose two games, you're out of it," Pirri said. "I think we have the men to do it. We've gelled really well, it's just a matter of not getting complacent. We have to work harder every game."
More Golden Knights: Follow all of our Golden Knights coverage online at reviewjournal.com/GoldenKnights and @HockeyinVegas on Twitter.
Contact Emily Polglaze at enpolglaze@gmail.com. Follow @enpolglaze on Twitter