Golden Knights take 3-1 series lead with 3-2 victory over Jets
Updated May 18, 2018 - 11:54 pm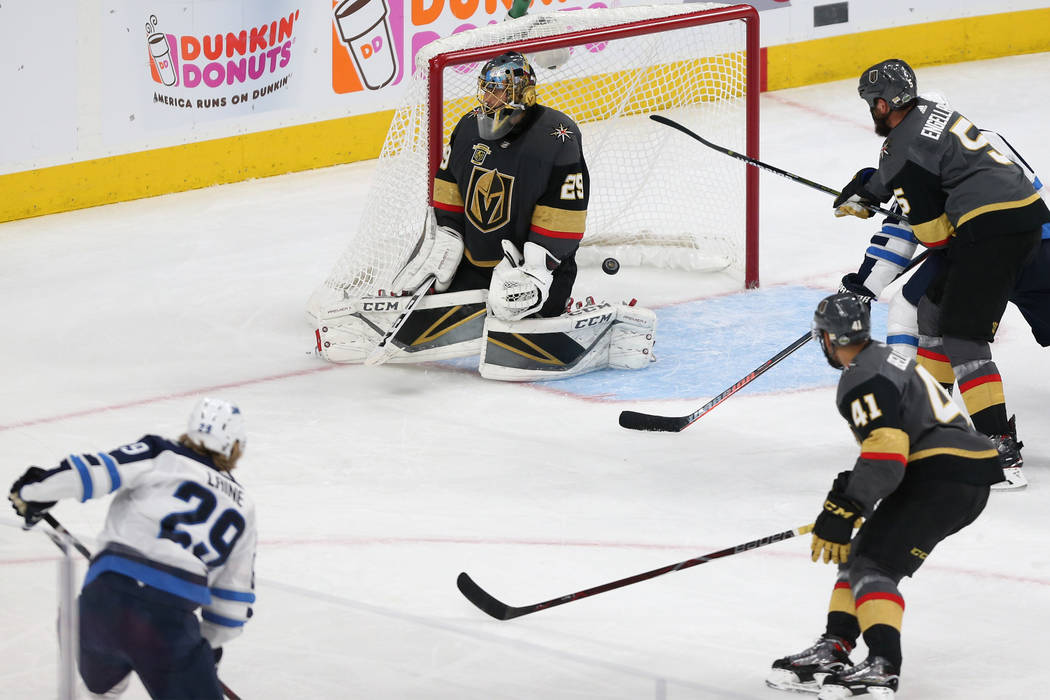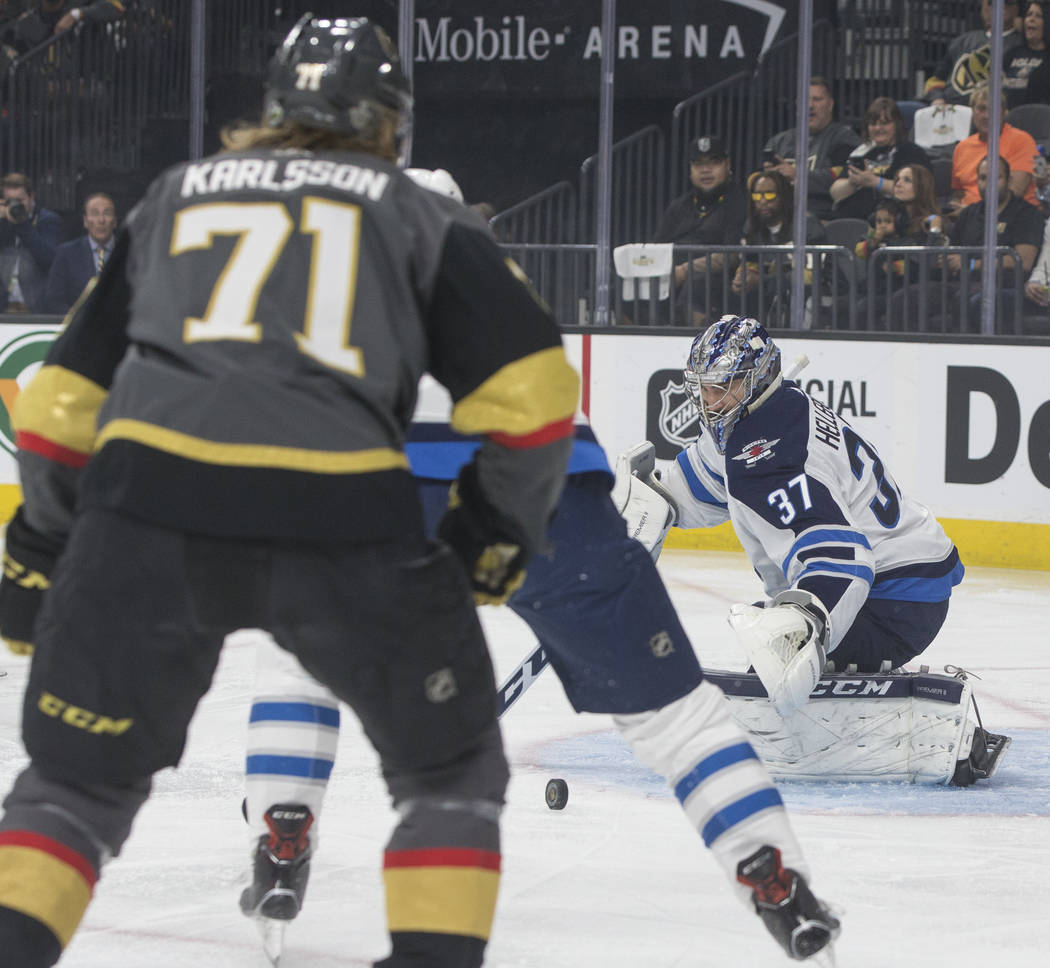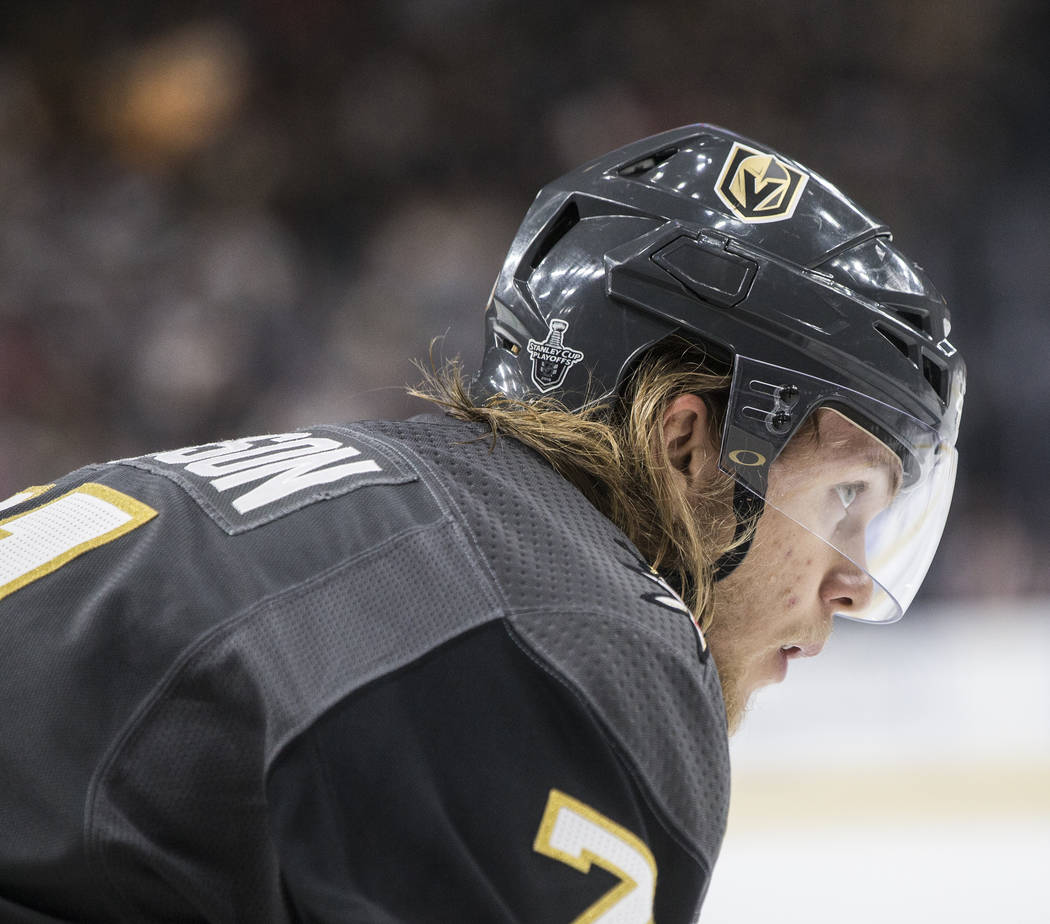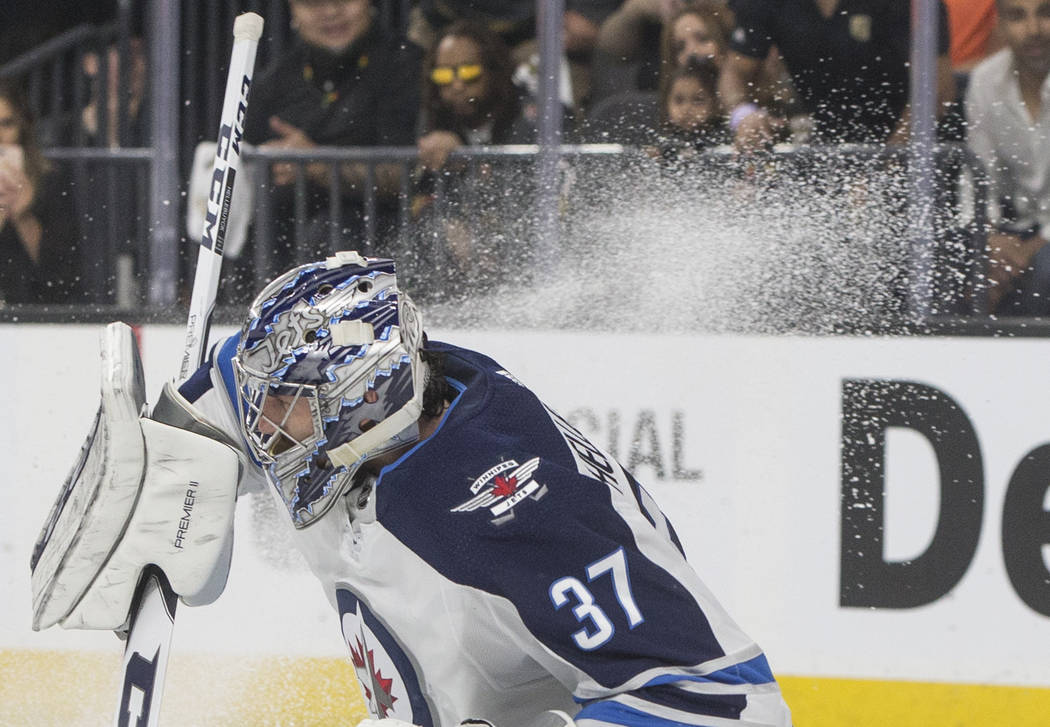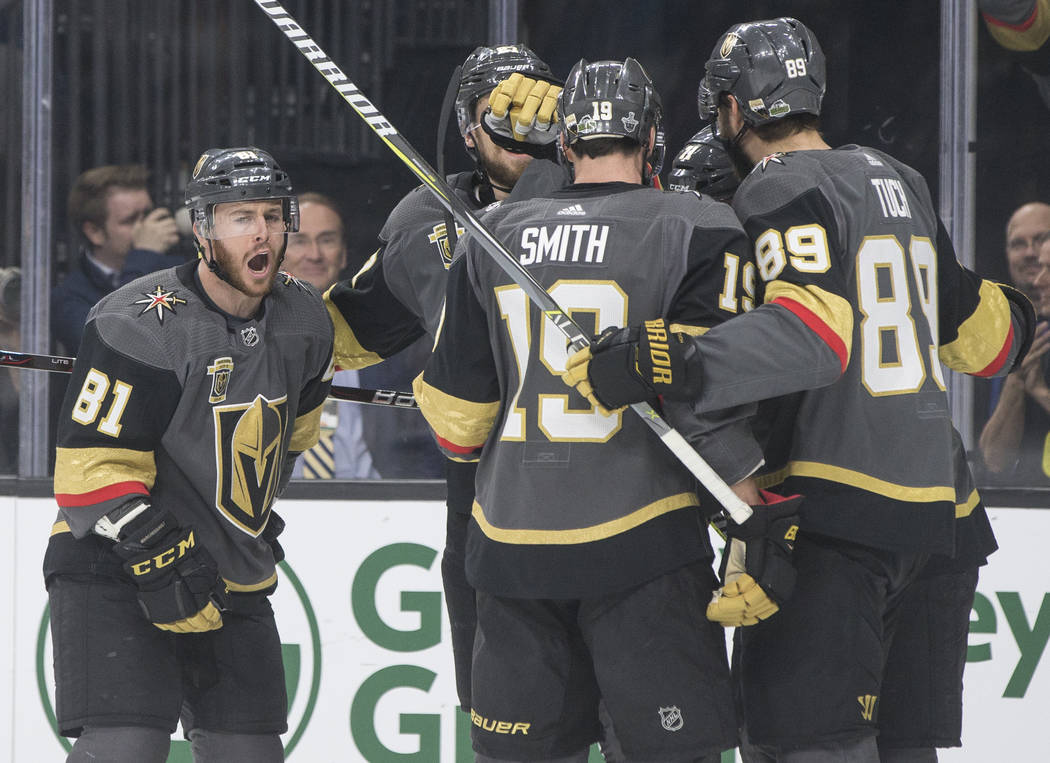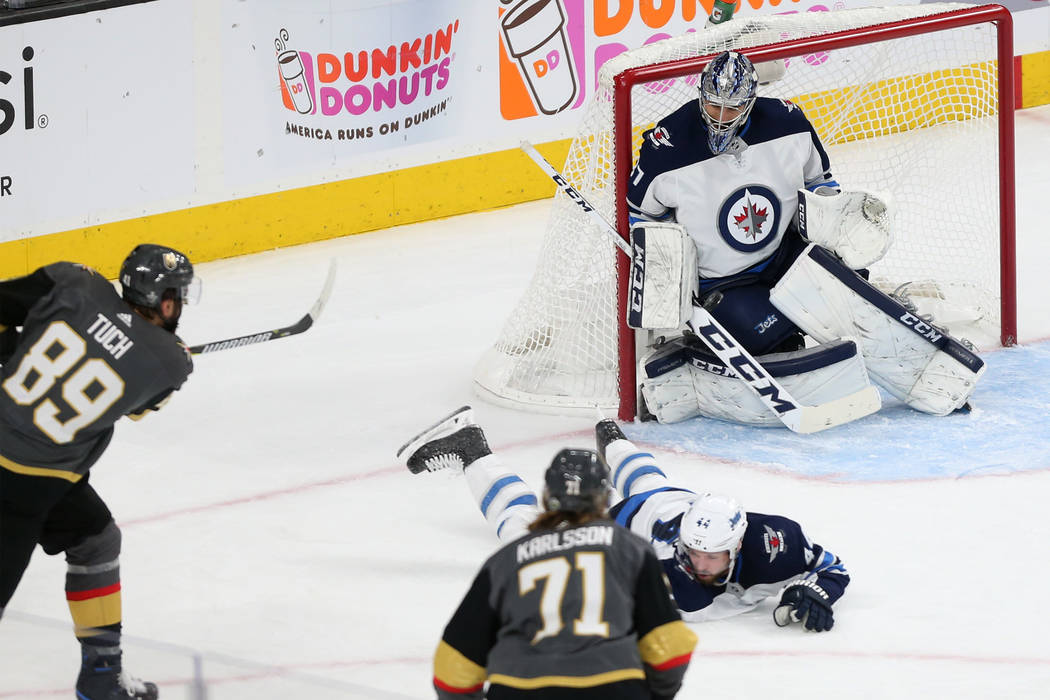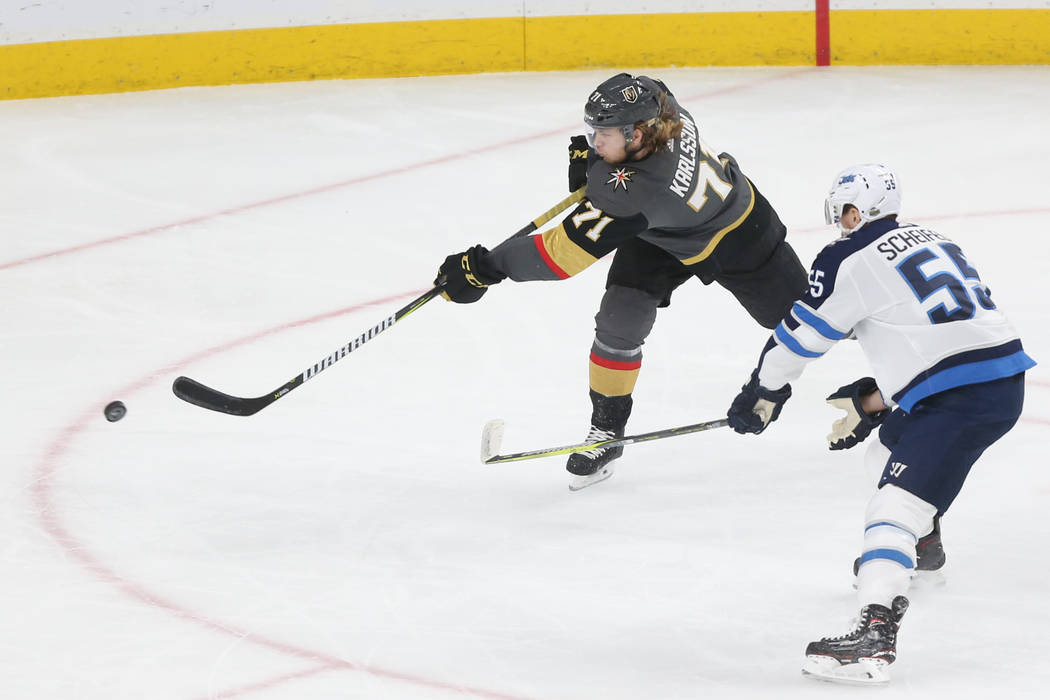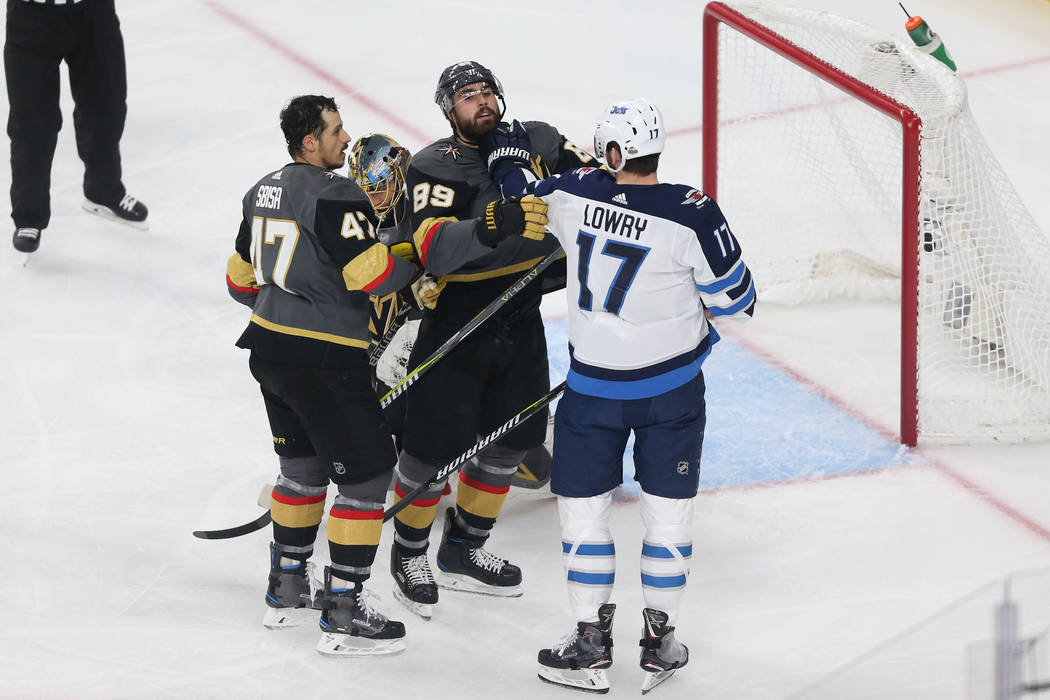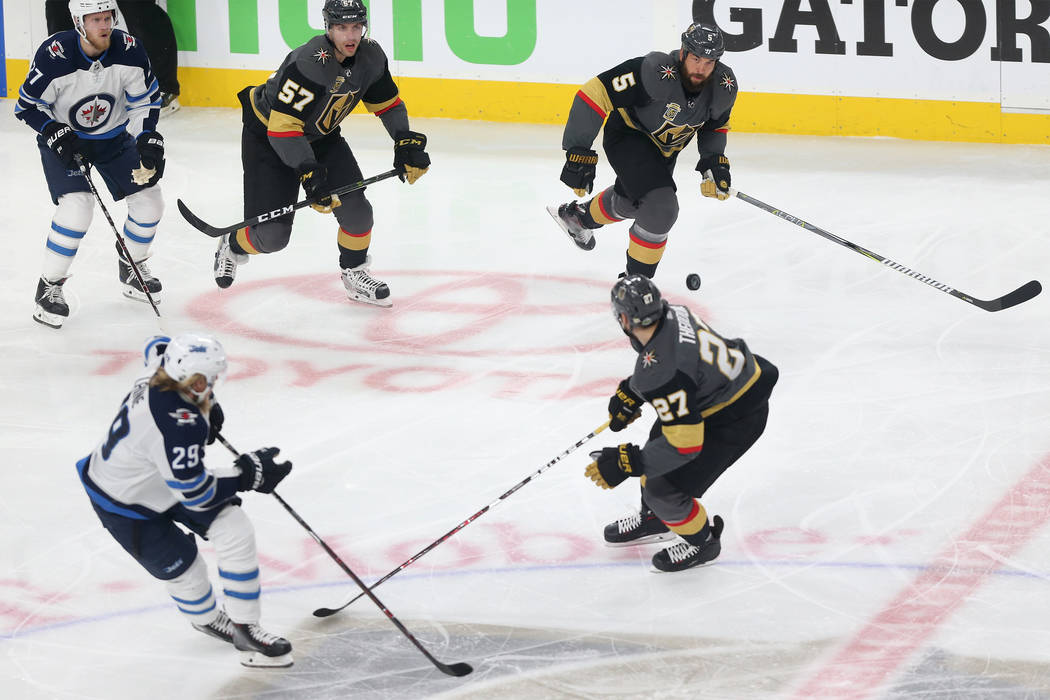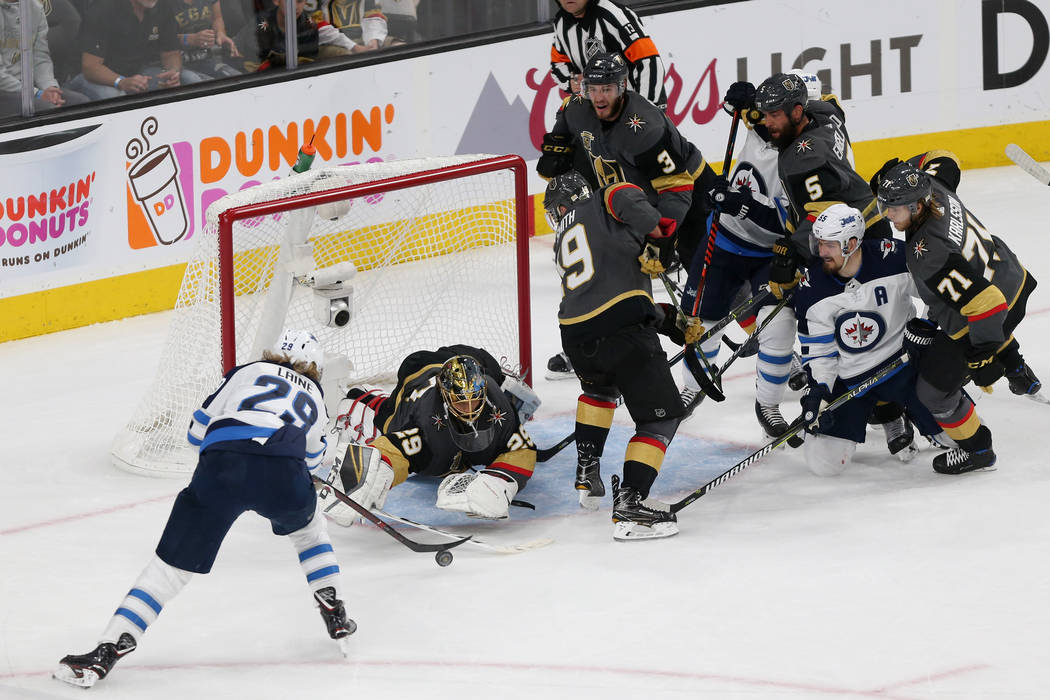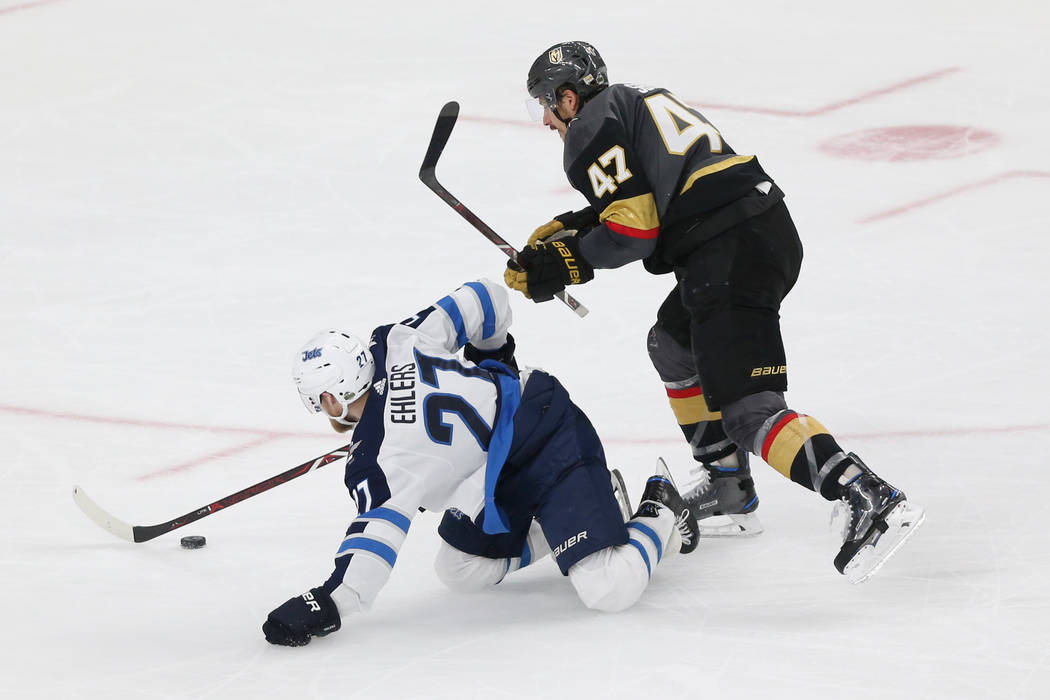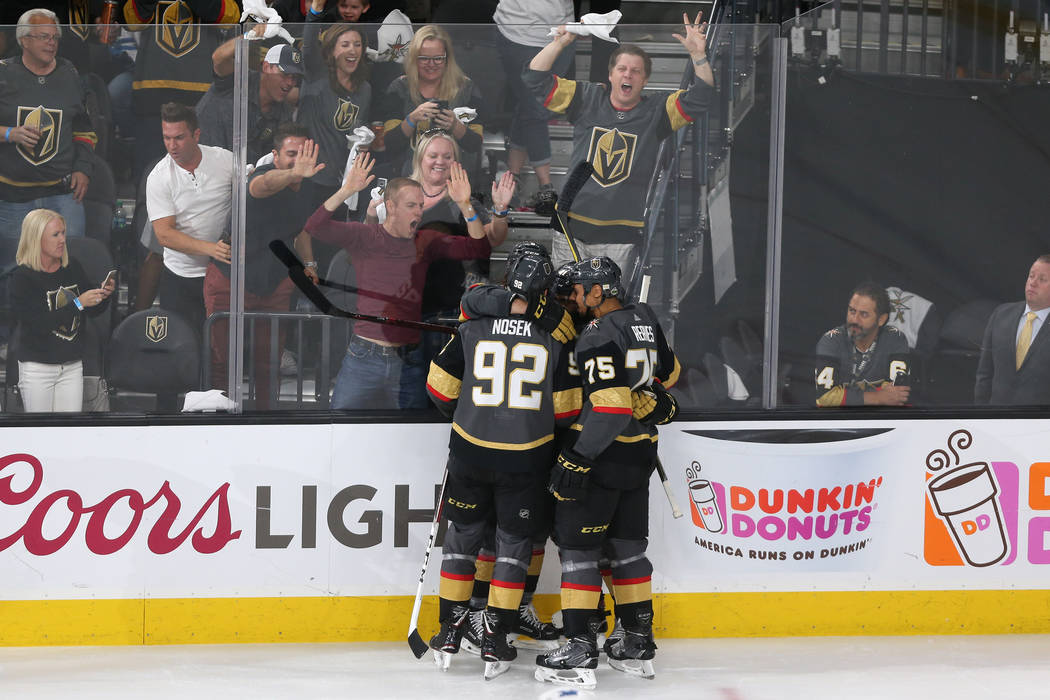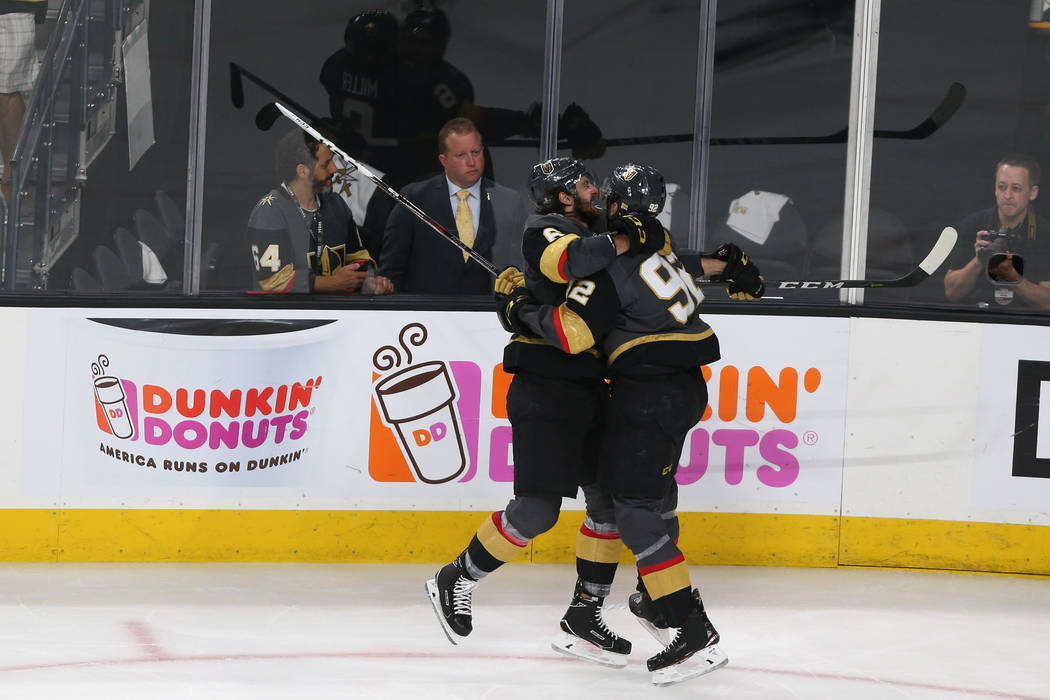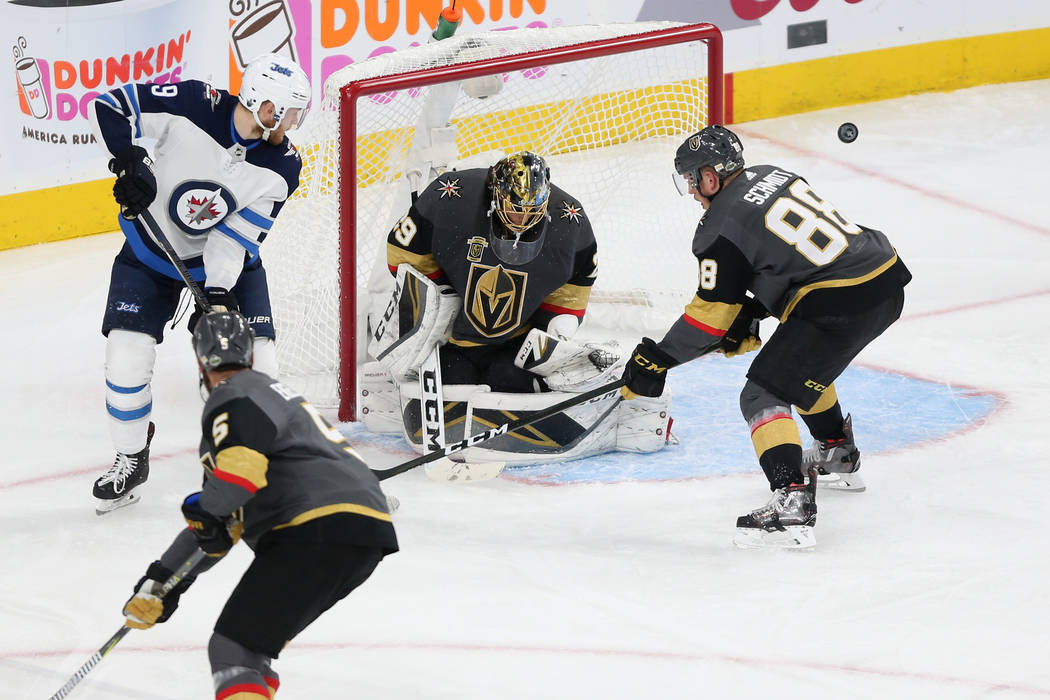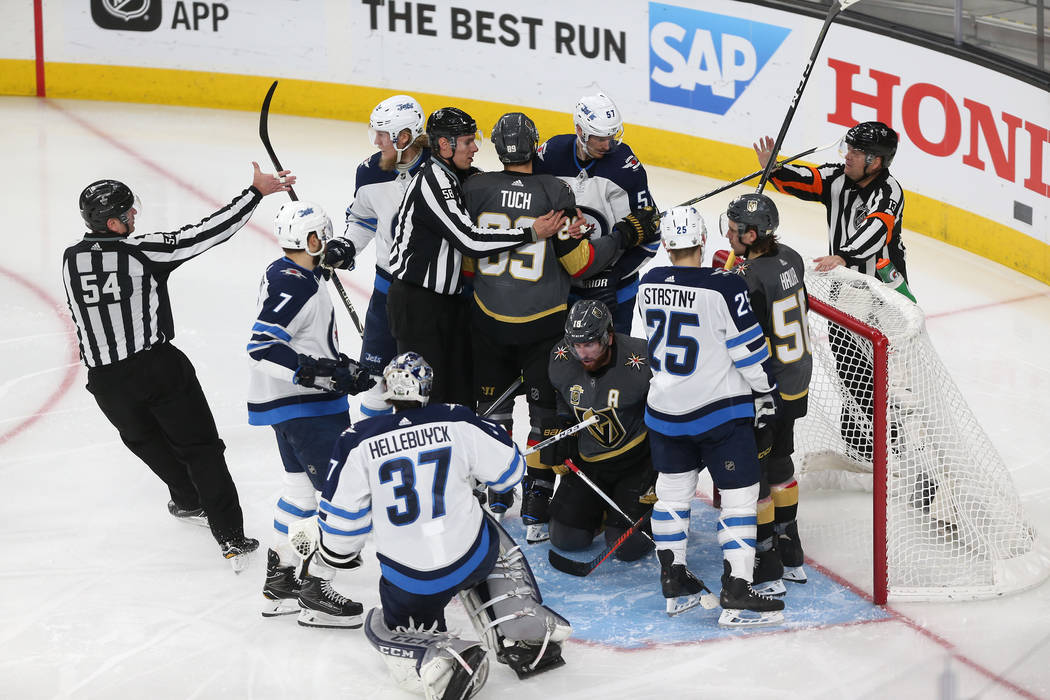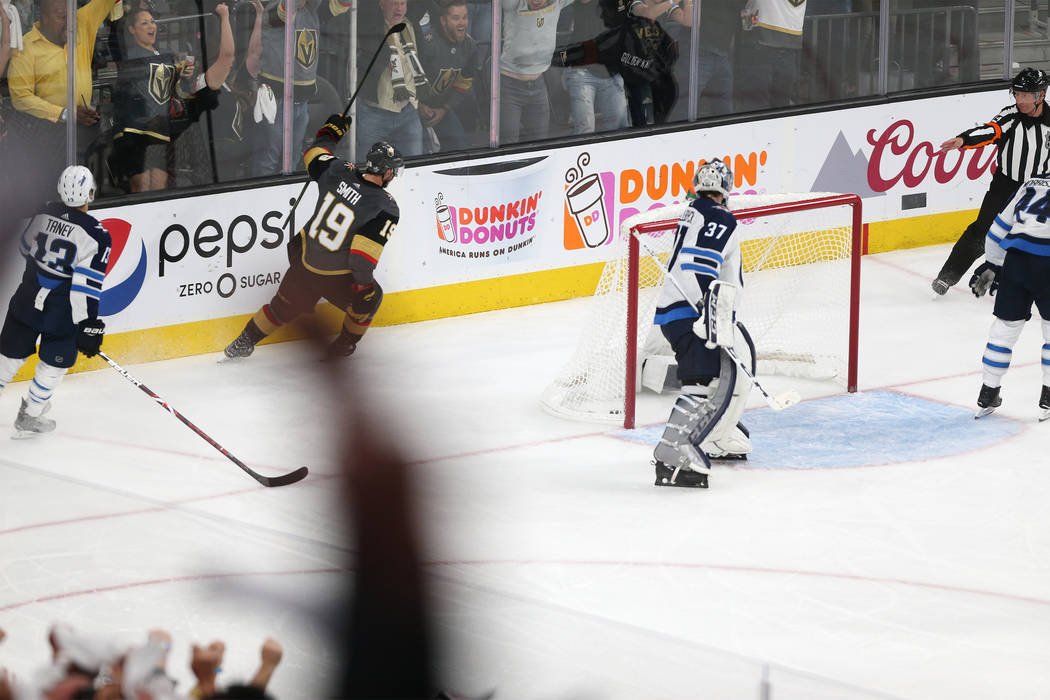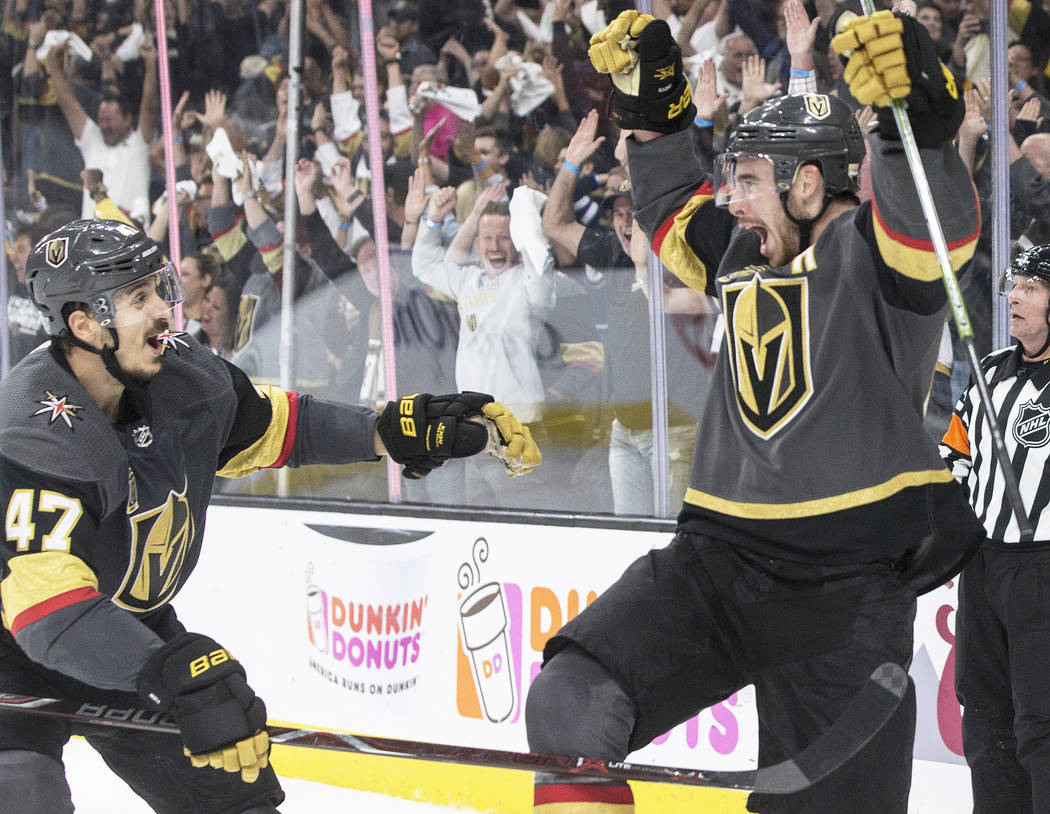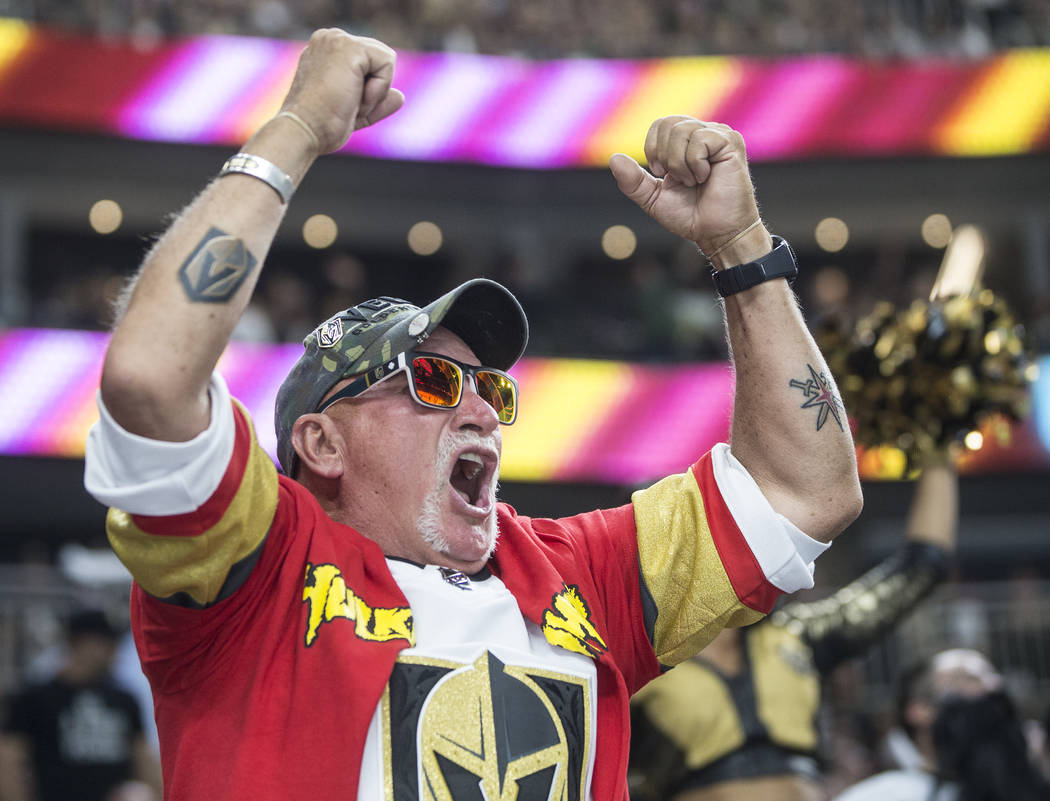 It was an unusual sight considering Reilly Smith is not one of the first Golden Knights players on the ice at practice.
But mired in a goal-scoring slump, Smith was firing shots Thursday at City National Arena a good 10 minutes before the rest of his teammates emerged from the locker room.
"A lot of games when you have those chances and (they don't) go in the back of the net, it just means you're going to the right places," Smith said. "Sooner or later, you're going to find something."
He found it Friday.
Smith pounced on a fortunate bounce and scored with 6:58 remaining in the third period, lifting the Golden Knights to a nail-biting 3-2 victory in Game 4 of the Western Conference Final at T-Mobile Arena.
The Knights, who continue to defy expectations, lead the best-of-seven series 3-1 and are one victory from advancing to the Stanley Cup Final in their inaugural season.
Game 5 is at noon Sunday at Bell MTS Place in Winnipeg.
According to the NHL, teams that take a 3-1 lead in the Conference Final/semifinals (since 1974-75) own an all-time series record of 41-1.
"We got to stay in the moment, don't sit back. We can't take a breath. This is all-in all the time," Knights forward James Neal said. "They're do or die. … Going back to a crazy rink, the fans will be nuts, and they're doing everything they can to stay alive to push another game and get some life. We can't give them anything. We have to continue to do what we've done all year. We're confident in our group, I love the way we're playing."
William Karlsson and Tomas Nosek also scored for the Knights, and goaltender Marc-Andre Fleury finished with 35 saves.
Winnipeg dominated the third period for the second straight game, outshooting the Knights 7-0 in the opening five minutes of the period, before defenseman Tyler Myers ripped a shot through Fleury's legs at the 5:34 mark for a 2-2 tie.
"We're not happy with the last two third periods we've had where they've come out and dominated," Karlsson said. "It took us a goal to realize we've got to step it up."
Just as the season-high announced crowd of 18,697 grew more nervous, the Knights caught a break.
Winnipeg defenseman Dustin Byfuglien fanned on his shot at the point, allowing Smith to storm down the left wing with plenty of room.
"I honestly was like, 'Come on, please. This would be great,' " Knights defenseman Nate Schmidt said. "I think I was almost telling him, 'I'd really appreciate this.' What an unbelievable shot, though."
With Jets forward Brandon Tanev and defenseman Josh Morrissey closing in, Smith ripped a shot past goaltender Connor Hellebuyck high to his stick side. The puck hit the underside of the crossbar and went in for Smith's second goal of the playoffs and first since Game 3 at San Jose on April 30.
"I was just trying to get as much ice as I could before the other defenseman closed in," Smith said. "I pretty much just buried my head and put it on net. Hellebuyck is a big goalie, so it's tough to score on him far side.
"I was hoping I wasn't going to have to eat that puck. (Byfuglien's) got a good shot, but late in the third period, sometimes the ice can throw you some bounces. This game is all about bounces and mistakes and what you can do with them. We were fortunate enough to make something out of that."
The Knights, who improved to 9-1 when scoring first in the playoffs, took advantage of an early power play to grab a 1-0 lead.
Moments after Karlsson's one-timer was smothered by Hellebuyck, Alex Tuch won the ensuing faceoff and the puck eventually made its way to Jonathan Marchessault at the left point.
Marchessault waltzed into the slot and fed Karlsson at the right faceoff circle for another one-timer. Karlsson partially fanned on the shot but got enough on it for his sixth goal of the postseason.
"That's usually those that go in, you know?" Karlsson said. "I didn't really get a clear hit on it, but I'm just happy to see it go in."
Winnipeg evened the score at 9:29 of the second period, as Patrik Laine beat Fleury with a slap shot from the left faceoff circle on a power play. Fleury denied Laine on a similar chance 11 seconds earlier.
But just as they did in Games 2 and 3, the Knights had a quick response, scoring 43 seconds later.
Hellebuyck lost control of Pierre-Edouard Bellemare's shot, and the Knights center hopped on the rebound before finding Nosek for his first career postseason goal.
It was a bit of redemption for Nosek, who was in the penalty box when Laine scored.
"All series long we've been doing it," Fleury said. "I feel like Winnipeg's a team that feeds off that momentum when they get a goal. We've been great at it. They get a goal, but we go at them right back. We've been scoring big goals after that."
More Golden Knights: Follow all of our Golden Knights coverage online at reviewjournal.com/GoldenKnights and @HockeyinVegas on Twitter.
Contact David Schoen at dschoen@reviewjournal.com or 702-387-5203. Follow @DavidSchoenLVRJ on Twitter.