Golden Knights take Peyton Krebs in first round of NHL draft
Updated June 21, 2019 - 10:29 pm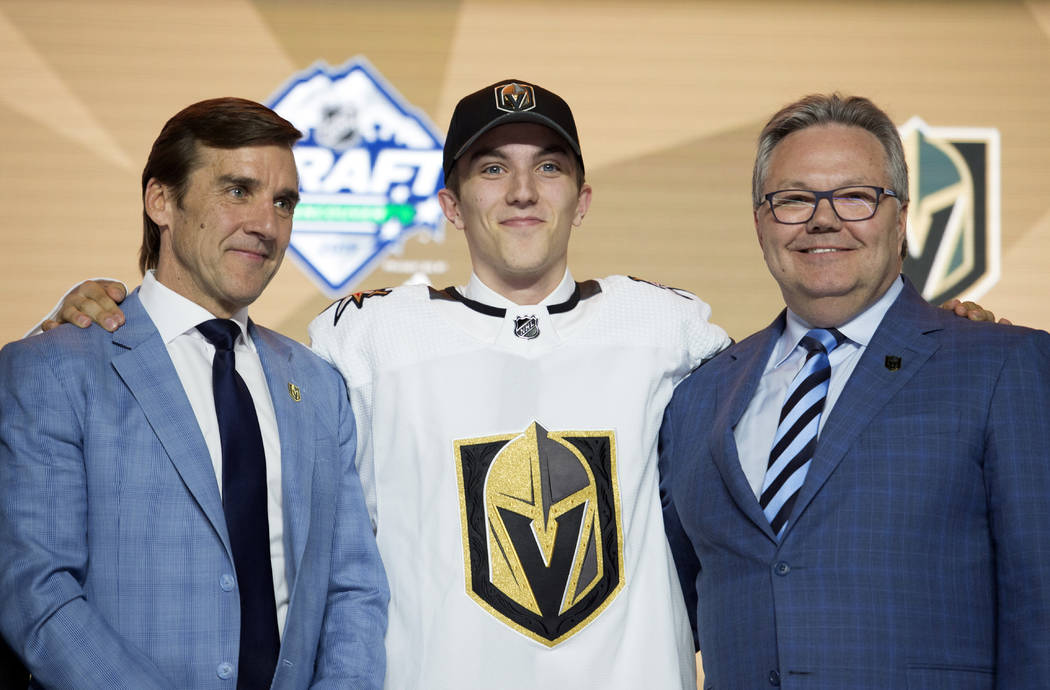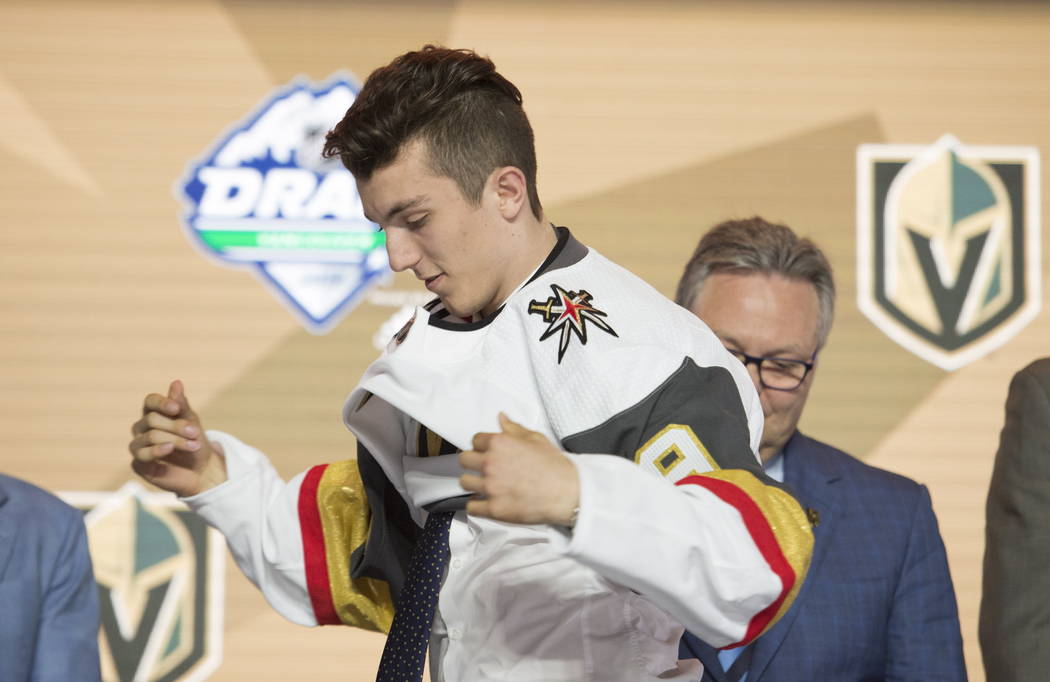 VANCOUVER, British Columbia — Peyton Krebs rose from his seat after hearing his name called Friday and made his way toward the stage at Rogers Arena.
He slowly walked up the stairs and limped toward the Golden Knights' front-office staff waiting to greet him.
"I had my brace on here," Krebs said. "I was not riding that scooter across the stage. That's all I knew. I was walking."
Krebs suffered a partially torn Achilles tendon during training this month, but that didn't prevent the Knights from selecting the playmaking center with the No. 17 pick in the first round of the NHL draft.
The seven-round draft continues Saturday, and the Knights have eight picks from the second through fifth rounds.
"Our staff knew him exceptionally well, and we liked him a lot," Knights incoming general manager Kelly McCrimmon said. "It was real exciting for our organization that he got to our pick. We sure didn't anticipate that going into the first round. We're very pleased that it played out the way that it did."
Krebs finished 10th in the final NHL Central Scouting Bureau's rankings for North American skaters and was projected as a possible top-10 pick by multiple analysts until he was injured June 4 in a freak accident.
According to multiple reports, Krebs was cut by another player's skate blade, and he underwent surgery on his Achilles three days later.
"It's one of those things that you often wonder how's it going to affect him? There's just uncertainly around it," said Cindy Krebs, Peyton's mother. "He's always been just the most tenacious, driven kid. He's a big dreamer. He's worked so hard for everything he does. He will not give up. He's been like that since he was an infant."
McCrimmon did not have a timetable for Krebs' return but said the 18-year-old will attend the club's development camp, which starts Tuesday at City National Arena. He is not expected to participate in rookie camp, which begins Sept. 5.
"My guess is it's going to likely be a little longer term than that," McCrimmon said. "Our medical people have been in contact with the doctor who did the surgery, and we'll probably get a little bit better feel at that time for what lies ahead. Most importantly, we're comfortable that it's not going to be an ongoing issue or anything that haunts him for a long period of time."
Krebs (5-11½, 183 pounds) had 19 goals and 48 assists while serving as captain for Winnipeg (formerly Kootenay) of the Western Hockey League and is regarded as an elite playmaker and leader. He was the No. 1 overall pick in the WHL bantam draft in 2016.
A native of Okotoks, Alberta, Krebs was a member of Team Canada at the Hlinka Gretzky Cup in August and served as captain for Canada during the Under-18 World Championship, where he tied for the team lead in scoring.
"We had him ranked considerably higher than where we selected him," McCrimmon said. "I just really look at him as a really good two-way center. He's creative offensively. He's been a dominant player in his peer group for many years. Fits in really nicely with what we have in our organization. Our organization got better tonight."
Krebs had close to 60 people in attendance, including his older sister, Maddison, a singer-songwriter in Nashville, Tennessee.
They let out a loud ovation after the announcement of the Knights' pick.
"We kind of like to do it Vegas style," Cindy Krebs said. "Big crew."
McCrimmon said the Knights gave little consideration to moving up in the first round and never considered moving down when Krebs was on the board at 17.
"The wait was there for sure, but I knew that I'd get picked and someone really wanted me, and I'm happy to be here," Krebs said. "I think I went right where I was supposed to, and I'm going to make the most of it for sure."
Contact David Schoen at dschoen@reviewjournal.com or 702-387-5203. Follow @DavidSchoenLVRJ on Twitter.
NHL draft
When: 10 a.m. Saturday (rounds 2-7)
Where: Rogers Arena, Vancouver, British Columbia
TV: NHL Network
Radio: KRLV (98.9 FM, 1340 AM)
Golden Knights picks: No. 48 (second round), No. 79 (third round), No. 82 (third round), No. 86 (third round), No. 110 (fourth round), No. 135 (fifth round), No. 139 (fifth round), No. 141 (fifth round)
Peyton Krebs file
Age: 18
Position: Center
Height/weight: 5-11½, 183 pounds
Shoots: Left
Hometown: Okotoks, Alberta
Stats: 19 goals, 48 assists in 64 games for Kootenay (WHL)
Notable: Member of Team Canada at Hlinka Gretzky Cup. … Captain for Team Canada at Under-18 World Championships. … His sister, Maddison, is a singer-songwriter in Nashville, Tenn.