Golden Knights to hire Gerard Gallant as head coach
Updated April 12, 2017 - 11:21 pm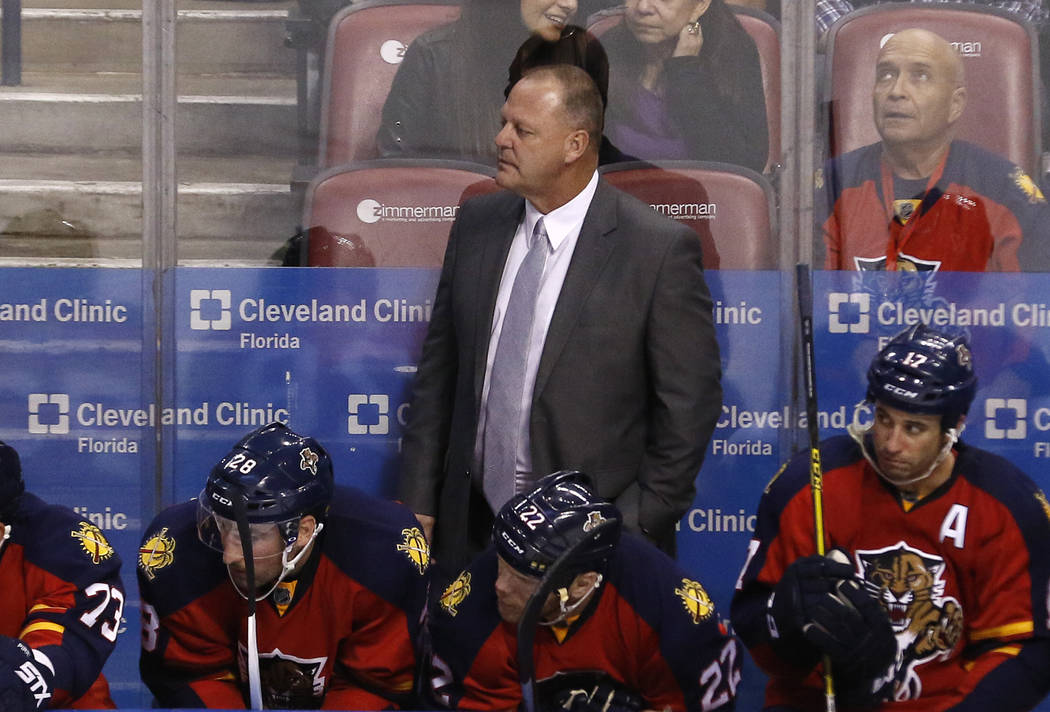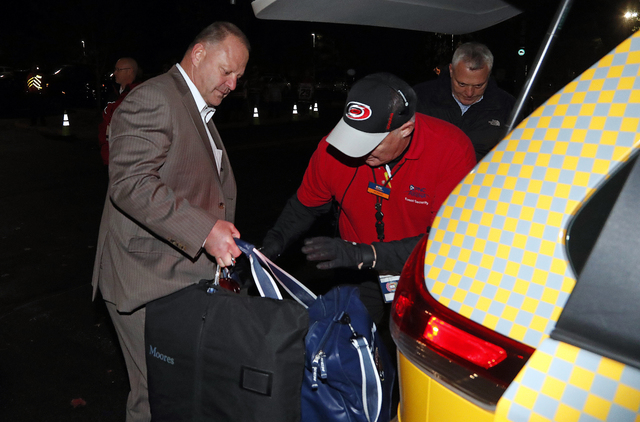 The Golden Knights have found their head coach.
Gerard Gallant, who had spent the past 2 1/2 seasons with the Florida Panthers, will be announced as the NHL expansion team's first coach. A news conference is scheduled for noon Thursday at T-Mobile Arena for the official announcement.
A source close to the process said Wednesday afternoon that Gallant would be hired. Team majority owner Bill Foley would neither confirm nor deny the move.
"I can't comment on that," he said.
Gallant, 53, led the Panthers to the Atlantic Division title in 2016, but was fired Nov. 27 with Florida near the bottom of the division. He was 96-64-25 with the Panthers.
Before that, Gallant went 56-76-4 in three seasons with the Columbus Blue Jackets.
A sixth-round draft pick in 1981 by Detroit, Gallant played 11 NHL seasons as a forward with the Red Wings and Tampa Bay Lightning. He had 211 goals, 480 points and 1,674 penalty minutes.
Gallant was coaching in Montreal as the Canadiens' assistant head coach when Florida general manager Dale Tallon hired him in June 2014. He was 38-29-15 his first season in Florida, finishing with 91 points and sixth place in the Atlantic Division.
The Panthers finished first in the Atlantic with 103 points in his second season, then lost a first-round playoff series to the New York Islanders. Gallant finished second in voting for NHL Coach of the Year.
There were high expectations for the 2016-17 season, but the Panthers started slowly. The team already had made changes to upper management, moving Tallon out of his GM job and leaning more toward analytics to make decisions.
On Nov. 27 in Raleigh, North Carolina, with the Panthers 11-10-1, general manager Tom Rowe fired Gallant. Adding insult to the situation was the well-publicized photo of Gallant getting into a cab to the Raleigh Airport after the transportation the Panthers arranged for him never arrived.
But he immediately became a person of interest for the Golden Knights. General manager George McPhee said there was no rush to hire a coach, but he contacted Gallant shortly after he was fired.
In January, Gallant met with Foley, McPhee and assistant general manager Kelly McCrimmon. Both sides appeared to have hit it off, and it was left that the Knights were interested in signing Gallant. But if there was a better offer, both sides could walk away.
The Islanders interviewed Gallant after they fired coach Jack Capuano on Jan. 10. Gallant, a former Islanders assistant coach, was offered the job but turned it down, knowing he still had an offer from Vegas.
The Dallas Stars, who hired Ken Hitchcock on Wednesday after firing Lindy Ruff on Sunday, showed brief interest in Gallant. At that point, Foley and McPhee made their move to hire Gallant.
Gallant's return to the NHL coincides with Tallon's return as the Panthers' general manager after Rowe was fired as GM and coach following the season. The Panthers managed just 81 points and missed the playoffs.
Contact Steve Carp at scarp@reviewjournal.com or 702-387-2913. Follow @stevecarprj on Twitter.
The Gallant File
Who: Gerard Gallant.
What: Head coach, Golden Knights.
Age: 53.
Hometown: Summerside, Prince Edward Island.
NHL coaching record: 152-140 (Columbus, Florida).
NHL playing career: 11 years with Detroit, Tampa Bay (211 goals, 269 assists, 480 points, 1,674 penalty minutes).
Family: Wife Pam; children Melissa and Jason.
Did you know: Gallant played fast-pitch softball in the offseason while playing in the NHL.
Coaching record
Season Team W L OTL
2003-04 Columbus 16 24 1
2005-06 Columbus 35 43 4
2006-07 Columbus 5 9 1
2014-15 Florida 38 29 15
2015-16 Florida 47 26 9
2016-17 Florida 11 9 1
Totals 152 140 31