Golden Knights to support 'Hockey Is For Everyone' initiative
February 23, 2017 - 4:49 pm
Updated February 23, 2017 - 6:45 pm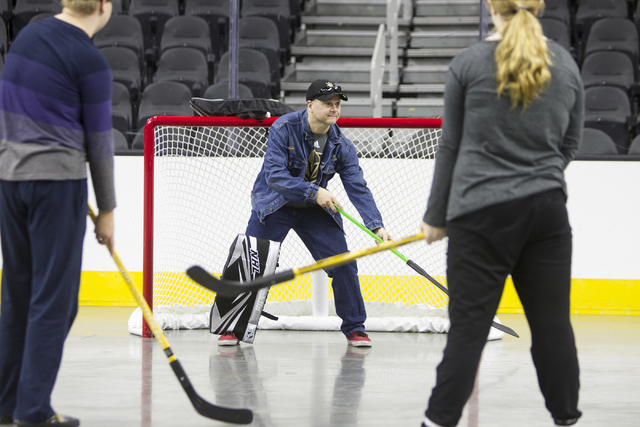 The Golden Knights aren't full members of the NHL yet, but they're still involved in league initiatives.
The Knights will participate in the NHL's "Hockey Is For Everyone" program at 6 p.m. Tuesday at The Center (401 S. Maryland Parkway). There will be interactive activities, including an inflatable shooting cage, and special edition Golden Knights rainbow-themed T-shirts will be given out.
The Center supports the LGBTQ community in Southern Nevada. All NHL teams have been participating in "Hockey Is For Everyone" activities, including naming players as team ambassadors, during February.
The Knights obviously don't have any players yet, but owner Bill Foley still wanted to take part.
"We are proud to have established a welcoming, supportive and inclusive culture right from the beginning of our organization's history," he said. "We truly believe that hockey is for everyone, regardless of one's background, and we are pleased to participate in this important league initiative in our very first year."
HOCKEY FOR FREE
The Knights plan to be active in the youth hockey community and will host an event from 3:30 to 5:45 p.m. Saturday at the Las Vegas Ice Center (9295 W. Flamingo Road). The event is for boys and girls ages 4 to 9 to try the sport.
It is part of USA Hockey's "Try Hockey For Free Day." Participants will receive sticks and jerseys and take part in a clinic conducted by Keith Veronesi, the team's hockey operations assistant. Registration is limited to 80 players. Go to TryHockeyForFree.com to register.
OPEN HOUSE SUCCESS
More than 9,000 fans attended the 24-hour open house at T-Mobile Arena as the team attempted to sell some of its remaining full season tickets while launching its partial season-ticket packages.
"We were overwhelmed with the show of support from our fans throughout the entire 24 hours," team president Kerry Bubolz said Thursday. "The number of people who attended and the number of tickets that were sold significantly surpassed our own expectations. I think it speaks to the level of excitement for hockey that exists here in Las Vegas."
Bubolz declined to say how many tickets were sold during the event, which went from 8 a.m. Tuesday to 8 a.m. Wednesday.
But only a few hundred full season seat locations were available, and during the peak hours, a steady stream of people was lined up to make purchases.
The team will hold back a couple of thousand seats for individual game sales. T-Mobile Arena seats 17,500 for hockey.
TEAM STORE RENOVATION
The Knights' team store at T-Mobile Arena has closed for expansion and renovation It is expected to reopen before the June 21 expansion draft.
The new store, which will feature 1,900 square feet of retail space, will be the team's flagship location, team vice president Nehme E. Abouzeid said.
Contact Steve Carp at scarp@reviewjournal.com or 702-387-2913. Follow @stevecarprj on Twitter.
RELATED
Golden Knights fans purchase season tickets at open house
Golden Knights unlikely to be NHL trade deadline participants