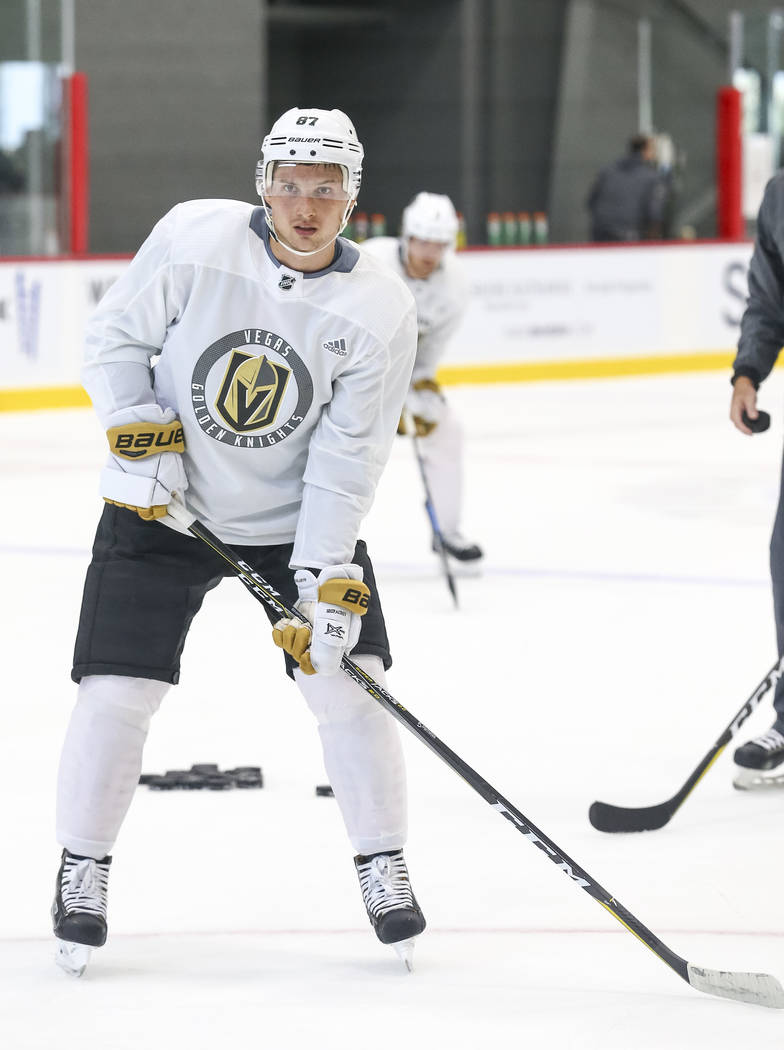 There's the teammates. There's the smaller ice surface. There's the quality of play, the coaching, the officiating.
And don't forget the new city in a new country while trying to learn a new language.
That's a lot of adjusting for Vadim Shipachyov. The 30-year-old center from St. Petersburg, Russia, is continuing his career half a world away in Las Vegas as an NHL rookie with the Golden Knights. He's had a lot thrown at him, but he's proving to be a quick learner.
"It's been good so far," he said through an interpreter. "I'm very happy here. I chose this place because I think I have more opportunity here to play."
Shipachyov won't make the trip to Anaheim on Sunday when the Knights conclude the road portion of their preseason schedule at 5 p.m. against the Ducks. Shipachyov played in last Tuesday's 4-1 win at Colorado and probably will be in the lineup Tuesday for the preseason home opener against the Los Angeles Kings at 7 p.m. at T-Mobile Arena.
Knights coach Gerard Gallant has Shipachyov centering for two NHL veterans — Reilly Smith and Jonathan Marchessault. The two, who played for Gallant in Florida, already have discovered that their linemate is a smart player.
"He knows how to get you the puck," Marchessault said. "He sees the ice very well."
Shipachyov has been impressed with his linemates, too, but said it will take time to develop chemistry.
"Very good players," he said. "They work very hard. I'm enjoying playing with them.
"It was the first game in the preseason. It was a little confusing. It's going to take a few more games to get to know them better."
The three form the Knights' top line, but that could change before the season opener Oct. 6 in Dallas.
Gallant and Shipachyov communicate through the interpreter but also through the universal language of hockey.
"We showed him a tape of a system and he nodded," Gallant said. "He saw the same thing in Russia. He understands.
"I'm sure he's nervous. We just want him to go out there and feel comfortable."
Shipachyov said of Gallant: "He seems like a nice guy. But he doesn't speak Russian, and I don't speak English."
Playing on the smaller ice surface of an NHL rink — 200 by 85 feet compared with 200 by 98 feet in Russia — is another adjustment.
"There is a difference," he said. "The game is faster. There's more contact. But it was my first game, so everything is still unsettled."
Shipachyov said he gets more comfortable with his new surroundings each day. He's even been to the Las Vegas Strip.
"I'm trying to make new friends with my new teammates and socialize more with my bad English," he said. "I'm learning English now, so I'm trying to adjust to life in the U.S. and make life more comfortable for me and my family."
More Golden Knights: Follow all of our Golden Knights coverage online at reviewjournal.com/GoldenKnights and @HockeyinVegas on Twitter.
Contact Steve Carp at scarp@reviewjournal.com or 702-387-2913. Follow @stevecarprj on Twitter.
NHL preseason
Who: Golden Knights vs. Ducks
When: 5 p.m. Sunday
Where: Honda Center, Anaheim, Calif.
TV: Fox Sports Prime Ticket
Radio: KRLV (98.9 FM, 1340 AM)