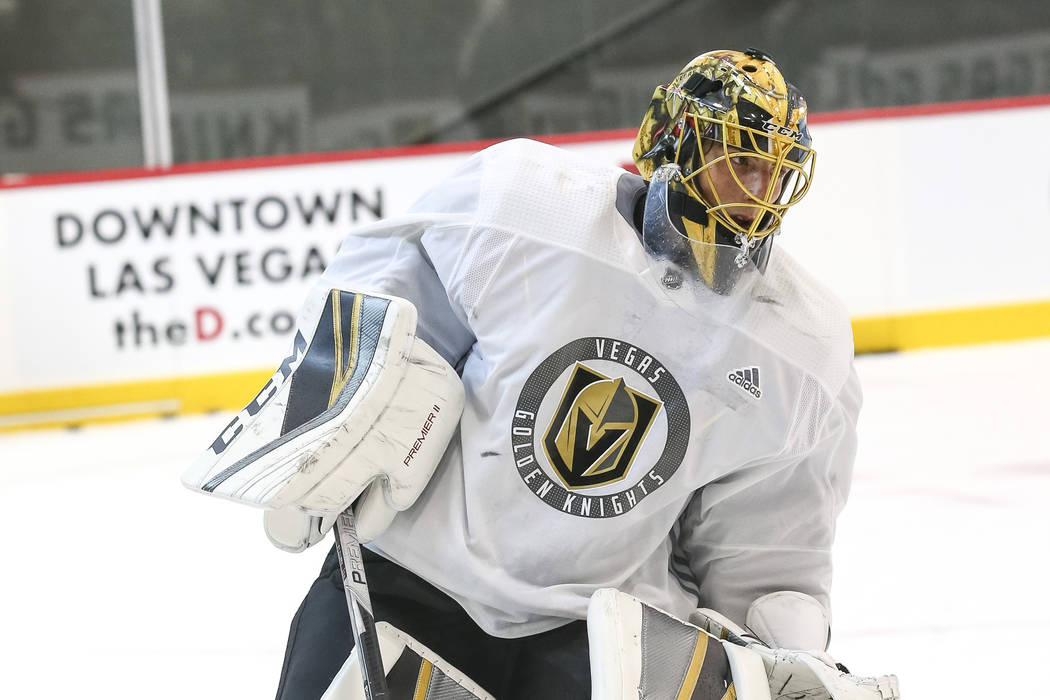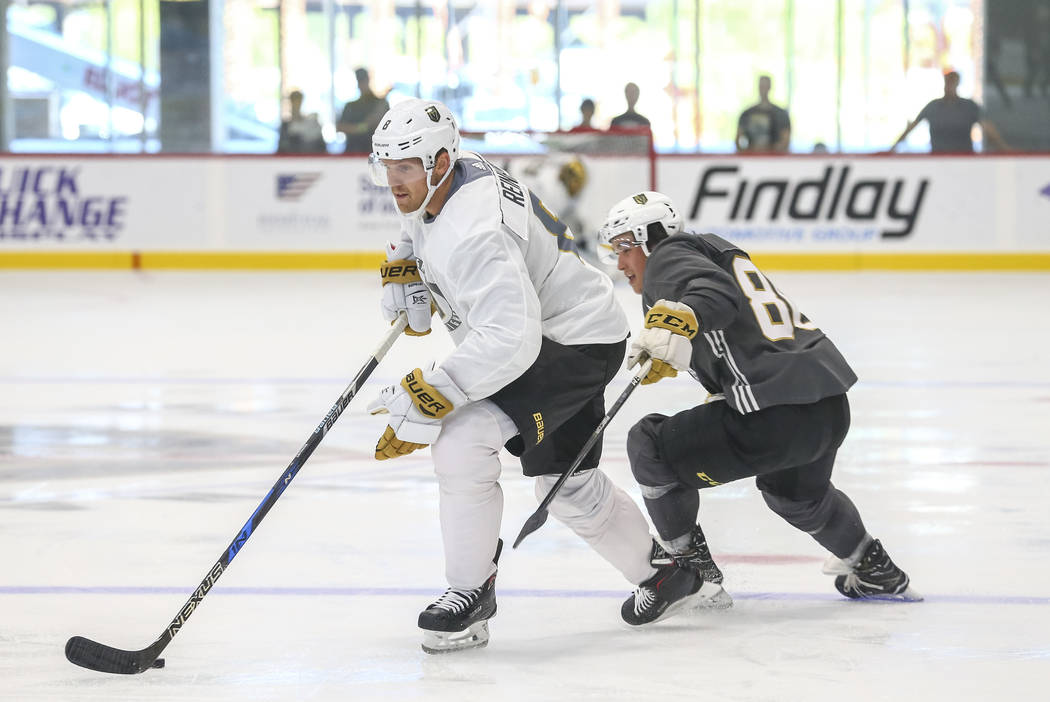 Time waited for no one and neither did coach Gerard Gallant as the Golden Knights skated Friday for the first time together in the franchise's inaugural fall training camp.
Both veterans and rookies worked for two fast-paced hours during two separate sessions at City National Arena. They performed in front of approximately 600 season-ticket holders who attended the morning session.
"Yeah, it was good to finally get out there and play some hockey," goaltender Marc-Andre Fleury said. "It was great to have all the fans come out to watch and there was more energy than normal."
Paul Thompson, who scored the first of the Gray team's three goals against Fleury in his team's 3-1 win in the late-morning scrimmage said everyone had no choice but to go hard.
"You want to play hard and put your best foot forward," said Thompson, 28, a right wing who split his time last year between the Florida Panthers and their American Hockey League affiliate in Springfield, Massachusetts. "There's a lot of talented players here, so you want to try not to look too far ahead and just try and play your game."
Thompson was impressive in the scrimmage, his goal notwithstanding. He was winning battles for loose pucks and using his speed to create space and open ice to make plays.
It was more of the same in the afternoon session, which had a much smaller crowd, as the high tempo was still evident and the White defeated the Gray 3-2 in the second scrimmage as Brad Hunt and Alex Tuch scored 40 seconds apart for the White squad.
Gallant was happy with everything.
"It was what we hoped for on the first day," he said. "Guys going hard, nobody getting hurt and developing some chemistry on the ice."
Gallant said he was pleased to see a high level of play. "The scrimmages were good," he said. "The five-on-five. The four-on-four and three-on-three. They got a good workout in."
With so many young players participating, having them interact with the veterans was an important part of the first day from Gallant's perspective.
"It was good to see the kids with smiles on their faces, skating with the NHL veterans and having fun," he said. "We want this to be a positive experience for them and it was fun to see."
Most of the young players will be making the trip to Vancouver on Sunday for the preseason opener against the Canucks. Gallant didn't announce the roster for the trip, but he said the lineup is set.
"There's not a whole lot of NHL veterans going," he said.
Fleury said he doesn't anticipate it taking long to develop some early chemistry, both on and off the ice. The team held a precamp dinner Thursday night, and the process of bonding as a group is underway.
"I think guys will adjust pretty quick playing together," Fleury said. "It's just a matter of everyone getting comfortable with one another."
Contact Steve Carp at scarp@reviewjournal.com or 702-387-2913. Follow @stevecarprj on Twitter.
Golden Knights training camp schedule
Saturday — Practice 9:30 a.m. and noon, City National Arena
Sunday — Preseason game at Vancouver Canucks, 2 p.m.; practice for non-traveling players, 9:30 a.m., City National Arena
Monday — Practice, 11 a.m., City National Arena