Golden Knights will have to adjust to new goalie pad rules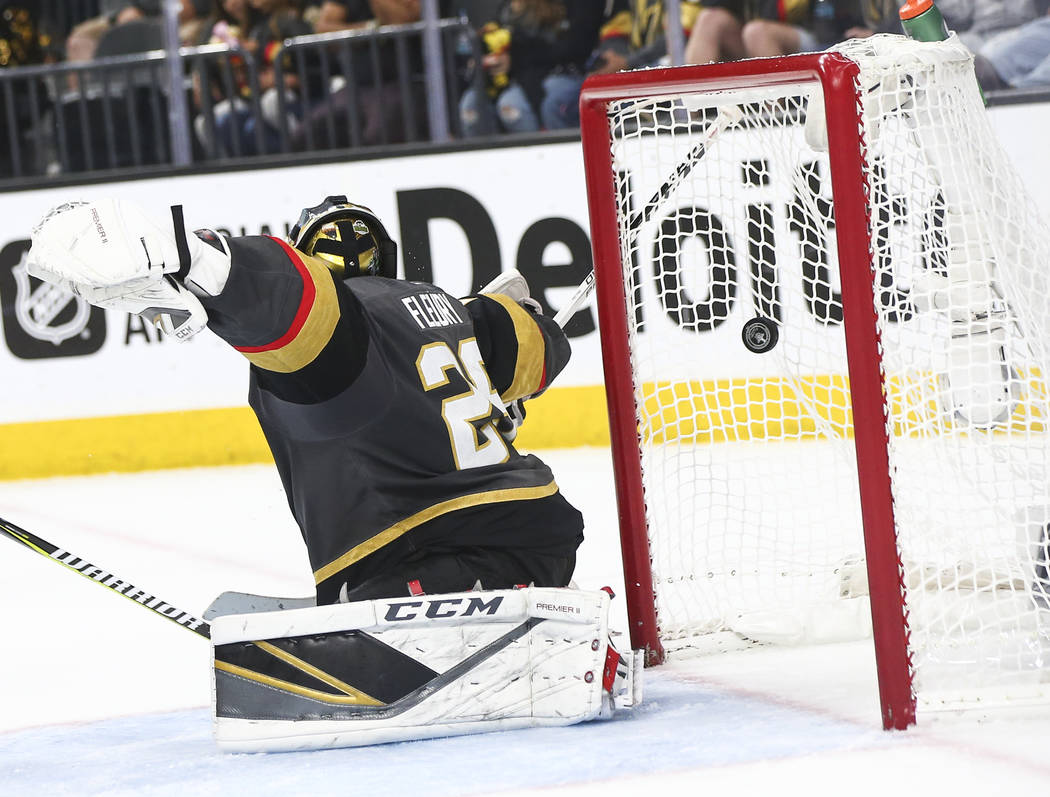 Expect a slimmed-down Marc-Andre Fleury in net for the Golden Knights at training camp, though an offseason diet isn't the reason.
The NHL passed a new rule on goalie pad size this offseason to slim down chest protectors and cut down on unnecessary equipment that takes up a lot of space. The change should continue the league's upward scoring trend but safety concerns already have been raised.
The new rule gives goalies less padding around their shoulders, elbows, biceps and forearms in an attempt to have their pads take a more natural angle around their shoulder. Before, some goalies had pads that took a straight line from their neck or even had a slightly upward angle, giving them a few more inches of equipment to block shots with.
The change is not the only one the NHL has made recently. It restricted the height of goalie leg pads in 2011 and decreased the size of goalie pants in February 2017. In the new goalie pants' full-season debut last year the NHL saw the most goals per game (2.97) since 2005-06 and the lowest leaguewide save percentage (.912) since 2012-13.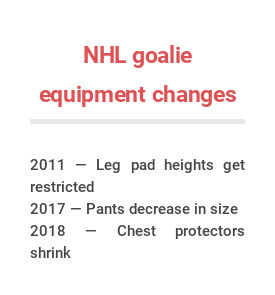 "Entertainment is goals, and fans want to see goals and see chances and red lights and comebacks and all those great things that are associated with scoring," NHL Network analyst Mike Johnson, who had a 13-year playing career, said. "If you can move everyone incrementally up in goals-against that's a good thing for the game."
There's worry the extra offense will come at the expense of more injuries, however. Goaltender Ken Appleby, who played three games with the New Jersey Devils last year, was testing out his new equipment in a shooting drill in July and had to end early after getting hit in the shoulder.
He was not seriously injured, but goalies around the NHL are carrying extra concern about their shoulders, necks and collarbones heading into training camp.
Kay Whitmore, the NHL's vice president of hockey operations and goaltender equipment, told InGoal Magazine he's soliciting feedback from goalies who have tried out their new duds so any necessary changes can be made.
"You don't want them to be put at risk making standard saves because their equipment is not covering up parts of their body that need to be covered up," Johnson said. "Guys shoot the puck a lot harder than they used to and the potential for guys to get hurt is there."
Fleury makes top goalies list
Fleury placed sixth on the NHL Network's list of the Top 10 Goalies Right Now, though he was first on a list compiled by fan voting.
Ahead of him on the NHL Network's list, from fifth to first, were Jonathan Quick (Los Angeles Kings), Connor Hellebuyck (Winnipeg Jets), Andrei Vasilevskiy (Tampa Bay Lightning), Braden Holtby (Washington Capitals) and Sergei Bobrovsky (Columbus Blue Jackets).
"I think he's a sure-shot Hall of Famer," NHL Network analyst Brian Boucher, a 13-year league veteran, said of Fleury. "He had a fantastic year. Let's see if he can back it up as the clock continues to tick on his age."
Contact Ben Gotz at bgotz@reviewjournal.com. Follow @BenSGotz on Twitter.