Golden Knights will not participate in postseason celebration
Updated June 8, 2018 - 4:36 pm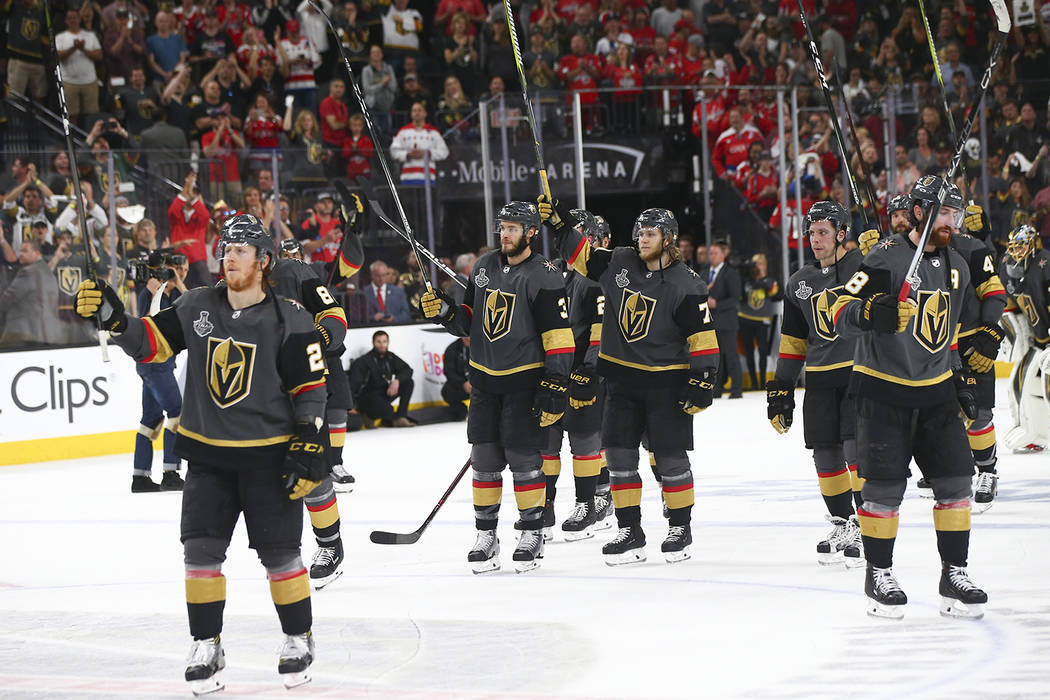 The Golden Knights had an amazing inaugural season, but the team didn't believe it was great enough to warrant a parade or a postseason celebration.
The Knights confirmed Friday they would not take part in any parade or celebration in the wake of losing to the Washington Capitals in the Stanley Cup Final. Both the city of Las Vegas and Clark County were planning parades for the team prior to the Knights' series-ending 4-3 loss Thursday night.
But the Knights quickly distanced themselves from such activity, saying it was not appropriate for the team to have a role in parade planning during the final. And in the aftermath of falling to the Capitals, the team decided celebrating a runner-up finish was not the right thing to do.
"The support from our community has been incredible," team president Kerry Bubolz said in a text message Friday. "But we will not be holding an end-of-season parade. We will reserve that to celebrate a championship."
Time to heal
With the season over, it'll give several Knights players time to address various injuries from late in the regular season through the playoffs.
James Neal played with an injured hand going back to late February. David Perron dealt with a neck issue heading into the playoffs. Malcolm Subban missed the final with a sprained ankle. Colin Miller will have his broken nose from Game 4 fixed and Will Carrier had a lower-body injury that had kept him sidelined for nearly a month during the postseason.
"You typically have three or four guys who need some work," general manager George McPhee said Friday.
Neal was hurt in late February against Los Angeles and said it took him a while to get back to 100 percent.
"My hand was feeling the best come playoff time," he said. "The Kings stuff was tough. I rolled it. I think I tore all my tendons. I was in bad shape after that, but taking the time off, getting rest and then coming back, I felt the best I ever felt in the playoffs. That's all I cared about."
Goaltender Marc-Andre Fleury played every second of the postseason and Subban said it was frustrating not to be available as Fleury's backup.
"Yeah, you want to be there for the team," he said. "I'm going to maybe change up a couple of things and work on being stronger. Maybe not do as much skating."
Not thrilled for Ovechkin
Fleury was denied his fourth Cup ring by Alex Ovechkin and the Capitals. Always the competitor, Fleury told reporters he wasn't thrilled for Ovechkin.
"I can't say I'm happy to see him raise the Cup, 'cause I'm not," he said.
Fleury also clarified the Game 5 pregame interaction between he and Ovechkin in which Fleury hit Ovechkin on his legs with his goaltender's stick.
"I guess we've played our share of games against each other," he said. "We're not like enemies, I don't think.
"I think the last four games when I was warming up he gave me a little tap on the pad, and I said, 'The next time he touches me I'm getting him back.' I did, so I don't know. It was a good season, he's a good hockey player."
Hunt still happy
Defenseman Brad Hunt was the only Golden Knights player not to see action in the playoffs. Yet he was anything but disappointed.
"It was the greatest experience of my life," he said. "To be part of this with this group of guys, it's something I'll remember forever."
More Golden Knights: Follow all of our Golden Knights coverage online at reviewjournal.com/GoldenKnights and @HockeyinVegas on Twitter.
Contact Steve Carp at scarp@reviewjournal.com or 702-387-2913. Follow @stevecarprj on Twitter.