Having failed in Las Vegas, NHL investors ready to try again in Seattle
Updated June 10, 2017 - 5:54 pm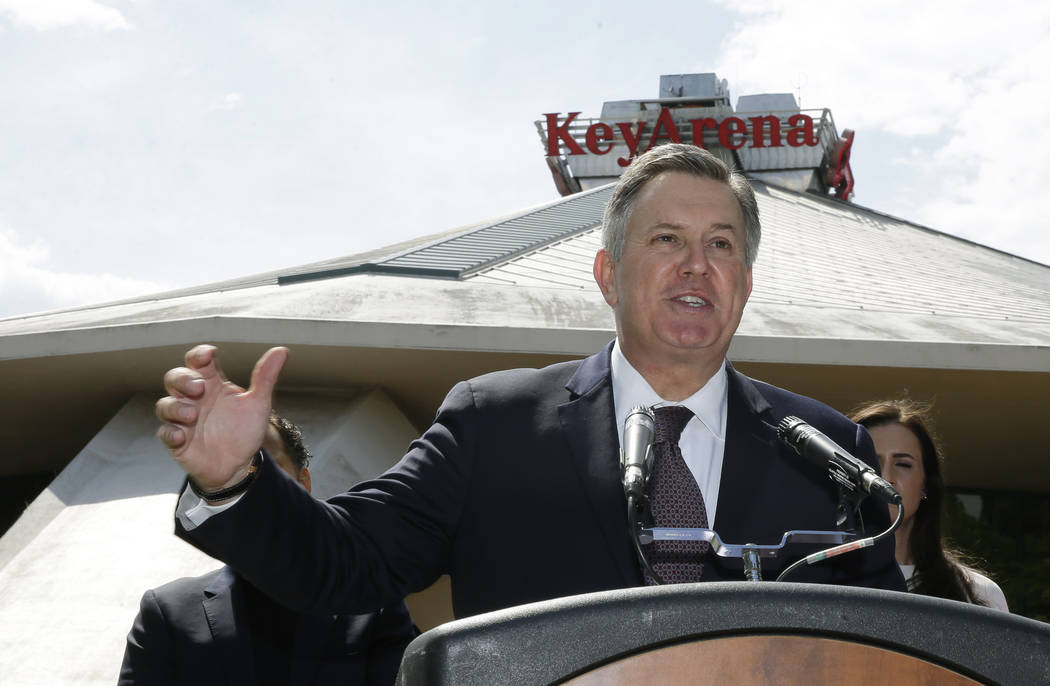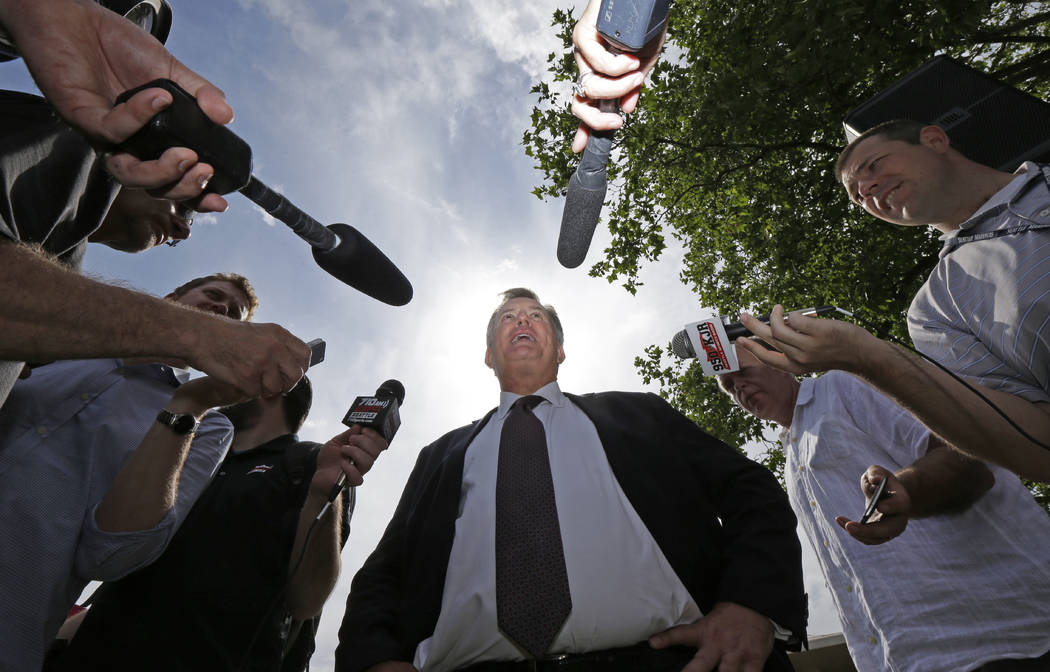 After failing to bring the NHL to Las Vegas in 2007, Jerry Bruckheimer and David Bonderman are teaming again with Tim Leiweke to own a hockey team. It's in Seattle this time.
The city announced Wednesday it is prepared to do business with Oak View Group to renovate KeyArena and make it viable for the NHL and NBA. The city has been without an NBA team since 2008 when the SuperSonics relocated to Oklahoma City.
OVG would spend $564 million to upgrade the facility, originally built as part of the 1962 World's Fair and renovated in 1995.
The project has the support of owners of the Vancouver Canucks and Florida Panthers. Peter Luukko, the Panthers' chairman, is also co-chairman of OVG. Also, Madison Square Garden, which owns the New York Rangers, is a potential investor in the project. Irving Azoff, who has worked closely with Garden owner Jim Dolan on many projects, is on the OVG board.
Leiweke is no stranger to the NHL. He was governor of the Los Angeles Kings from 1996 to 2013 when he was president of Anschutz Entertainment Group. From 2013 to 2015, he was president of the Toronto Maple Leafs when he was with Maple Leaf Sports and Entertainment.
Bonderman, an investment banker whose worth is estimated by Forbes magazine to be $2.5 billion, and Bruckheimer, a movie and TV producer whose worth is estimated at $900 million, would own a potential Seattle NHL franchise.
The two were prepared to invest in an expansion team for Las Vegas in 2007 pending completion of an arena project located on Koval Lane behind Bally's and Paris Las Vegas. Leiweke had partnered with Harrah's Entertainment Inc. to build the arena, which was to cost an estimated $500 million and seat 22,000.
"We have never announced a deal and not built," Leiweke said at the Aug. 23, 2007, news conference announcing the project. "We'll save our bluffing for the tables downstairs."
Then the Great Recession hit in 2008, and the project was dead by 2010.
AEG returned to Las Vegas, this time partnering with MGM Resorts International, to build T-Mobile Arena. Bill Foley and the Maloof brothers submitted their application for an NHL expansion team, and after paying a record $500 million, were granted a franchise June 22, 2016, that begins play this season as the Golden Knights.
The NHL is looking to balance its conferences. There are 16 teams in the East and 15 in the West. The league said it's monitoring the situation in Seattle, but until the arena project is under construction, it is unlikely to reopen discussion on expansion for a 32nd team.
"We have been made aware of Mr. Bonderman's potential interest as part of the Oak View Group's bid to renovate KeyArena," NHL deputy commissioner Bill Daly said. "But we have had no substantive talks with him or anyone else with respect to a potential franchise in Seattle, nor do we have current plans to have such talks. It is not something that is under consideration at this time."
Seattle Mayor Ed Murray told the Seattle Times: "I do think the NHL will be here sooner than the NBA. But I think both of them will be here, and I think this is the arena that will get us here."
Best team ever
The 1984-85 Edmonton Oilers were voted the greatest team in NHL history in a fan poll conducted by the league from April 13 to May 23. More 3.6 million votes were cast.
That Oilers team defeated the Philadelphia Flyers in the Stanley Cup Final to win its second straight championship. The team's roster was stacked with Hall of Famers, including Wayne Gretzky, Mark Messier, Jari Kurri, Paul Coffey and Grant Fuhr.
"This is going to be the most controversial picks that we've ever seen in a sense that there's so many great teams," Gretzky said. "I would have voted for our '87 team. That was me personally. If I couldn't vote for our teams, I probably would have voted for the 1971 Montreal team that was led by a young Ken Dryden and Jean Beliveau and John Ferguson, and upset the Blackhawks in Game 7 and went on to win a Stanley Cup.
"So there's no perfect answer here to what is the best team. We feel proud and privileged as an organization that the fans stepped up and voted for this team of the Edmonton Oilers."
Steve Carp's NHL notebook appears Sundays. Contact him at scarp@reviewjournal.com or 702-387-2913. Follow @stevecarprj on Twitter.
Top 10 NHL teams
Results from a poll taken by the NHL to determine the greatest team in league history. More than 3.6 million votes were cast to determine the winner.
1. 1984-85 Edmonton Oilers
2. 1991-92 Pittsburgh Penguins
3. 1976-77 Montreal Canadiens
4. 1987-88 Edmonton Oilers
5. 1986-87 Edmonton Oilers
6. 1997-98 Detroit Red Wings
7. 1982-83 New York Islanders
8. 1977-78 Montreal Canadiens
9. 1983-84 Edmonton Oilers
10. 2001-02 Detroit Red Wings