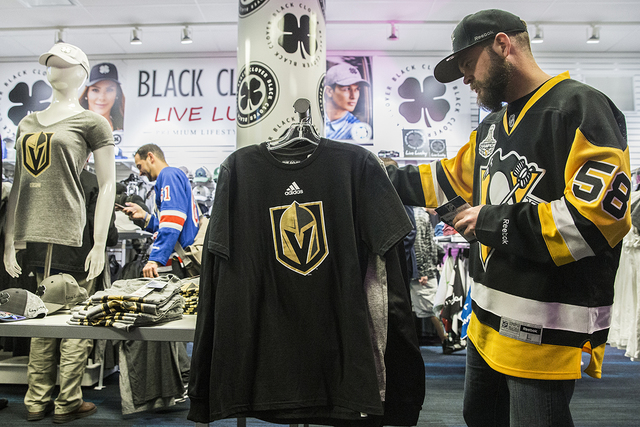 Bill Foley had better hope his use of "Golden" for his team nickname the Vegas Golden Knights doesn't turn out like two previous attempts did in pro hockey.
Older fans will remember when Charles O. Finley purchased the California Seals in 1970 and immediately rebranded the team the Golden Seals, in an attempt to embrace more of the state. The Golden Seals were outfitted in green and gold, similar to Finley's baseball team, the Oakland Athletics.
But Finley added one other color to the scheme — white skates — and that left the players feeling emasculated, not to mention making the Golden Seals the laughingstock of the NHL.
The Golden Seals eventually were sold by Finley and moved to Cleveland in 1976, where they became the Barons. That team ultimately merged with the Minnesota North Stars in 1979. It was split in 1991 to help form the San Jose Sharks and was relocated to Dallas in 1994.
The Golden Seals never made the postseason and had a cumulative record of 117-283-73 in the six seasons they used the word "Golden" in their nickname.
But they were trumped by a team which was far more ignominious. The New York Golden Blades played less than one season in the World Hockey Association in 1973-74 after being the Raiders in their inaugural season. Like the Golden Seals, the Golden Blades tried to be "innovative" with their skates, painting theirs white while using gold-plated blades instead of the traditional steel color.
With the team failing miserably on and off the ice, the Golden Blades left New York after just 20 games. The team relocated to Cherry Hill, New Jersey and became the Jersey Knights.
The Golden Blades/Knights finished last in the WHA Eastern Division with a 32-42-4 record. They would move to San Diego the following season.
Teams using Knights in their nickname in the minor leagues had more success. The Omaha Knights played in the Central Hockey League from 1959-1975. The Atlanta Knights played in the International Hockey League from 1992-1998 and won the Turner Cup in 1994.
Even in junior hockey, the Knights nickname has had success. The London (Ontario) Knights won the Memorial Cup, Canada's junior championship, last May. Ironically, Foley's attempt to use Knights by itself was thwarted because London Knights owner Dale Hunter would not give him permission to use the name when Las Vegas played in Canada, where the nickname was already copyrighted by the junior team.

NHL in Vegas
Complete coverage of hockey in Las Vegas
Want to keep up with all the hockey updates? Follow our Twitter: @HockeyinVegas