Hockey fans ponder what's in a name?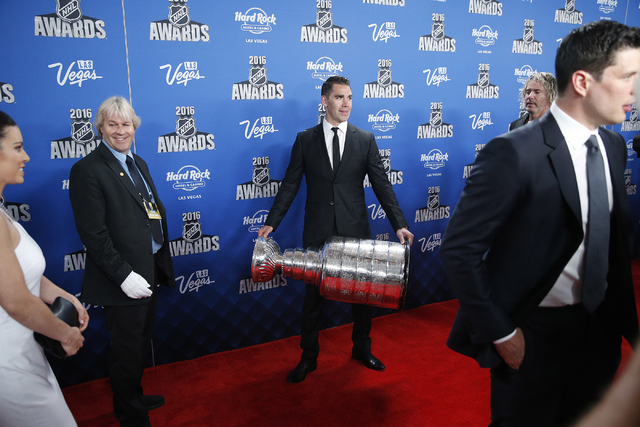 What should be the name of the new NHL team in Las Vegas — and what would be its best choices for jersey colors?
Word on the street has it billionaire Bill Foley, the man we can thank for making this NHL expansion happen, is fond of the name Black Knights, in the vein of the Army West Point NCAA teams.
However, dozens of fans and athletes at Wednesday's NHL Awards in the Hard Rock Hotel told me they don't like "Black Knights."
"Not the Black Knights. It's like they're doing an Excalibur-themed name," said Eric Kleker, a Las Vegan who hopes for black, red and white jerseys for the "Las Vegas Wranglers," the name of our former East Coast Hockey League team.
If Vegas' NHL team is to be the people's team, what did the people suggest on day one after the NHL expansion team announcement?
"Scorpions" was very popular.
"The Scorpions' tail is the (hockey) stick," said Doug Douglas, who self-identified as "the bitchin' dude from Las Vegas-KOMP-92.3" radio.
"Think of the logos. It will be the No. 1-selling jersey for five-and-a-half years, guaranteed," said Douglas, who wants black and gold uniforms.
"Las Vegas Diamonds" was the suggestion of Jessica Harshell of Pittsburgh, who flew to Vegas to stand at the front of the red carpet for the NHL Awards.
Chris Gilbert, who flew to the awards from Spokane, Washington, said he'd like to keep flying here to see his Chicago Blackhawks take on the Las Vegas Sin hockey team in black, red and silver jerseys, although there's already a female Las Vegas Sins football team.
Las Vegan Connie Salopek is a Pittsburgh native who's hoping to wear a jersey with her beloved Penguins on the front and the "Las Vegas Road Runners" in black, red and silver on the back.
Not everybody hated Black Knights. Debra Bieniek, a Las Vegan, said it is "OK."
"I don't want the Scorpions, though," Bieniek added. "I'm not wearing what I have to kill every day."
Angela Rojo liked "Aces or Knights." David Berg, a Las Vegan by way of Minnesota, brought us back to Scorpions.
"We have scorpions in the desert. You've gotta have something Las Vegas-y," Berg said. "Black Knights doesn't have anything to do with Las Vegas."
Ian Preece, from Baltimore, wanted "something scarier" than Knights.
Others independently said "Fury," "Venom," "Vengeance," "Vipers" and "Aces."
Celebrities and athletes weren't much help.
"Vegas Bandits?" actor Jason Priestley said.
"Scorpions would be a possibility," said Tampa Bay Lightning star Ben Bishop after I mentioned Scorpions and Black Knights.
"The Knights (sound) like the Kings. I don't know about the Knights," Bishop said, then fielded the jerseys colors question: "I like blue because my eyes are blue," he joked.
Matt Martin, from the New York Islanders, said he and teammates discussed the name but have no idea, although he made a joke about colors, too: "I think blue looks best on me."
There were a lot of Vegas-humor jokes at the red carpet.
Brittney Cason, of KOMP-FM 92.3, wants blood-red-and-black jerseys for the "Vegas Burros," because of the built-in nickname.
"So you can say, 'Go Vegas Asses,' because per ratio, Vegas has the nicest asses," she said.
And her KOMP-FM comrade, Matt Sparks, gave a nod for jerseys in "Jackson Pollock splatter paint."
"Just every color. It's representative of Las Vegas. It encompasses the entire rainbow," he explained comically and added that if there's blood on the ice, "You won't even notice."
$7,000 BUBBLY POURED INTO STANLEY CUP
Three liters ($7,000 worth) of Moet Imperial Gold Limited Edition Champagne was poured into the Stanley Cup trophy Tuesday night at Caesars Palace's Fizz lounge (the one run partly by Elton John husband David Furnish).
The pourers: Sidney Crosby of the championship Pittsburgh Penguins, and former Penguin Pascal Dupuis.
If you're unaware, the Stanley Cup is the only major trophy that gets passed around from player to player, city to city, as it receives, scientifically speaking, solids, liquids and gases, as NHL victors carry their spoils.
In other words, the Stanley Cup is sort of like a garden gnome on permanent vacation, or the Wienermobile.
SIGHTINGS
Dennis Rodman, the 1990s superhuman rebounder, pounded vodka, beer and Jagermeister at Cabo Wabo Cantina in Planet Hollywood resort Tuesday night, posing with fans for selfies.
Montreal Canadiens' Pernell Karl "P.K." Subban and retired goaltender Kevin Weekes ate at La Cave Wine & Food Hideaway in the Wynn resort.
Doug Elfman can be reached at delfman@reviewjournal.com. He blogs at reviewjournal.com/elfman. On Twitter: @VegasAnonymous.