James Neal proves golden twice for Knights in historic win
October 6, 2017 - 10:35 pm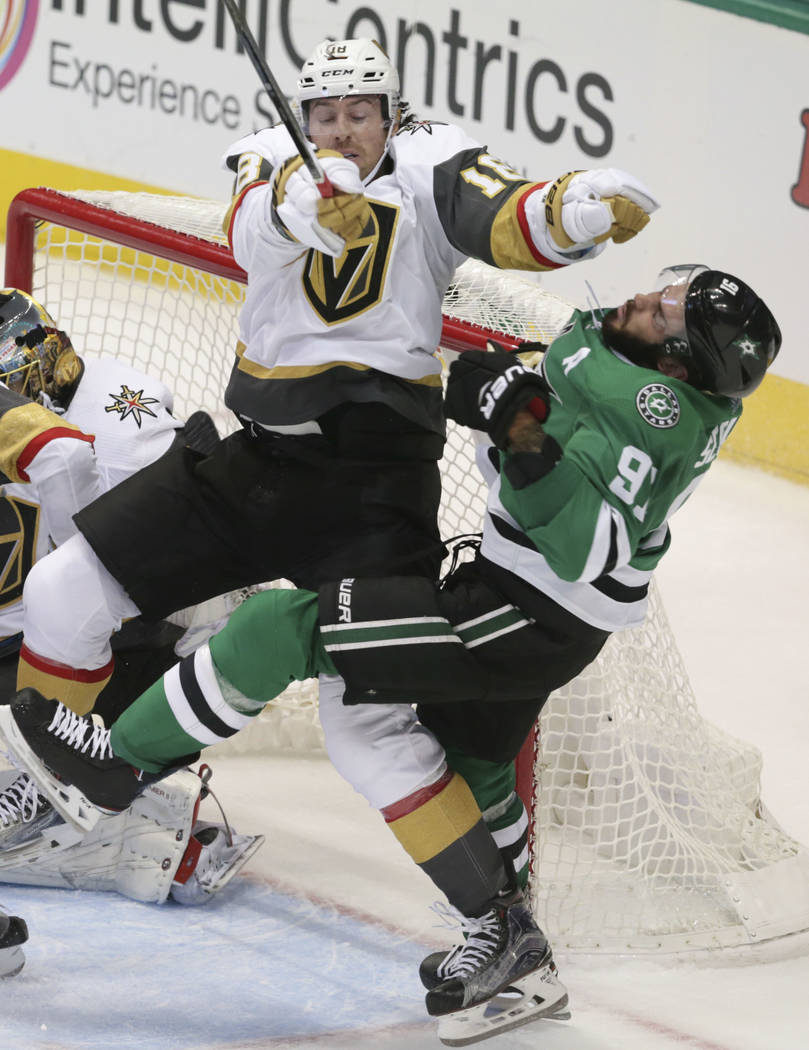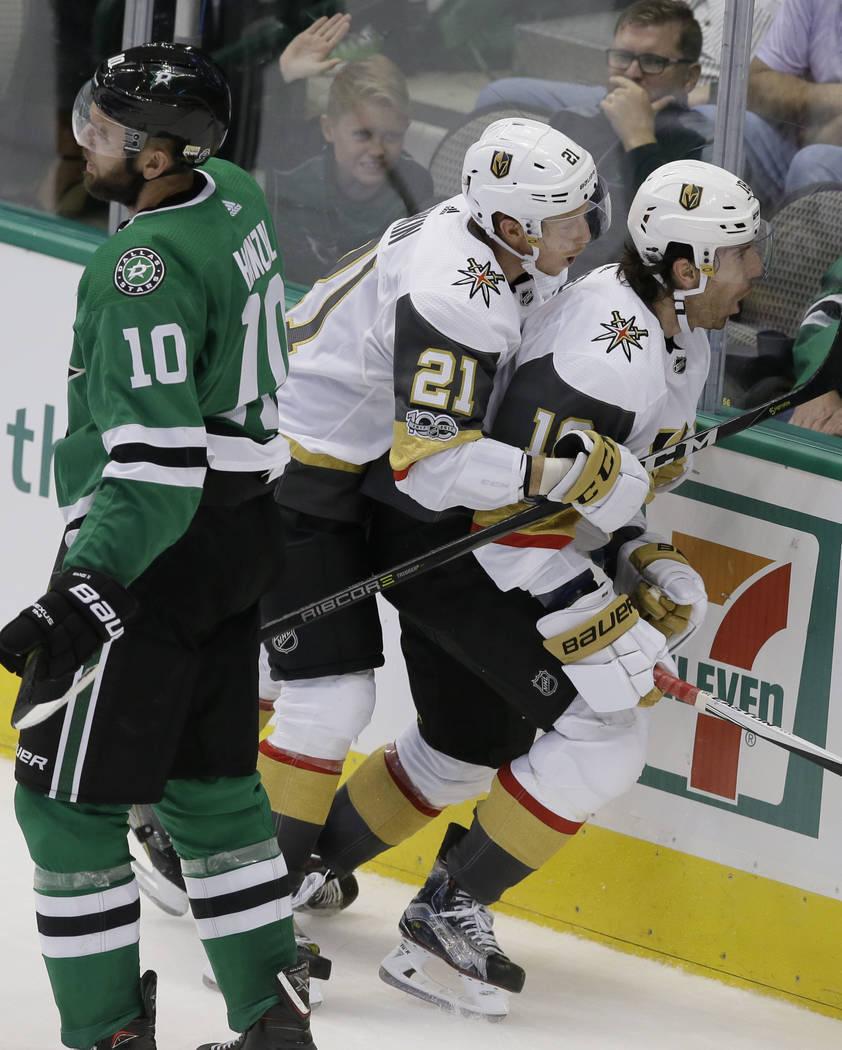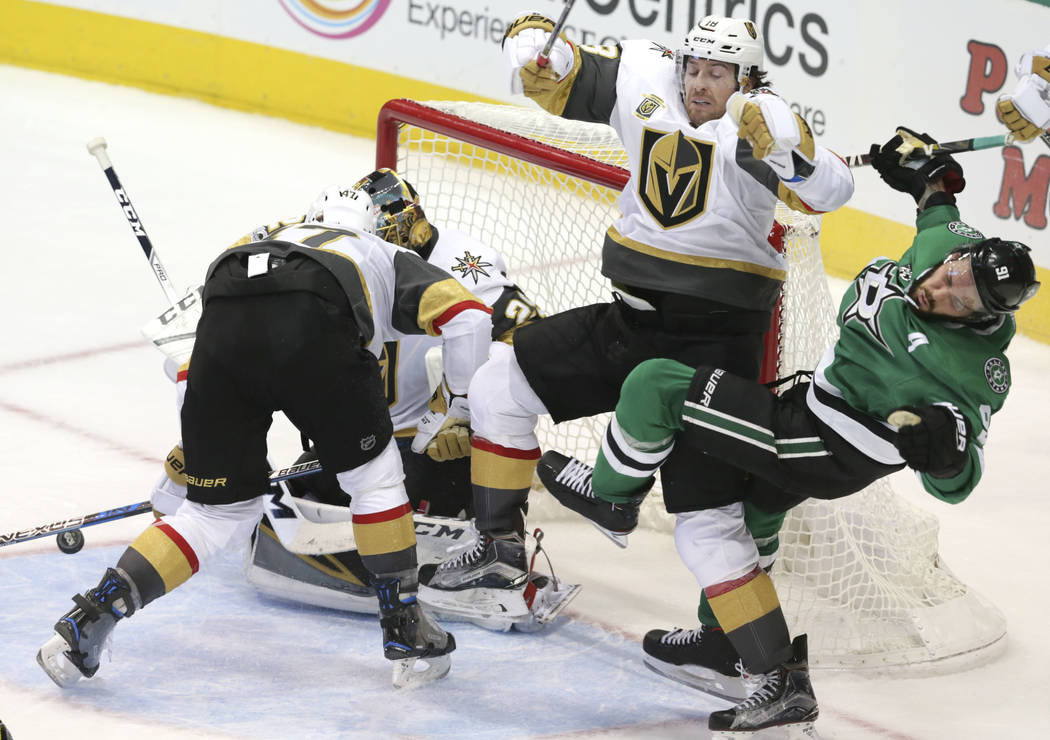 DALLAS — When you and your friends order another round in the coming years and someone suggests a game of Trivial Pursuit All-Star Sports, remember the name James Neal.
He just became an answer.
A few weeks ago, the guy wasn't even skating. A few days ago, it was uncertain he would dress for the season opener of the Golden Knights.
Now, he's the man who forever etched his likeness into the pages of the NHL expansion team's record book.
Neal scored both third-period goals in a 2-1 win against Dallas at American Airlines Center on Friday night, allowing the Knights to depart the franchise's inaugural game victorious.
"To see how happy the guys were to start the season with a new team and a fresh start, we all have an opportunity," Neal said. "I started my career here in Dallas, so it was funny coming back here."
There was no laughing heard from the Stars' locker room.
Neal was an expansion draft pick of the Knights from Nashville, but he had wrist surgery in late July and didn't believe he could recover in time to be on the ice Friday.
But he began practicing this past week, and as the game drew closer, it became more evident he would play. He started on the same line as Cody Eakin and David Perron, and more than anyone else took advantage when Dallas goalie Ben Bishop had to leave in the third period after being struck in the face mask by a puck.
Neal's first goal was off a wrist shot from the top of the circle and tied the game at 1, but his game-winner will be remembered a long while.
Eakin fed Neal off a 2-on-1, and the latter while sliding toward the goal flicked the puck over backup Kari Lehtonen.
Less than three minutes later, the Knights had their first win.
"(Neal) is a goal scorer who played a real good game," Knights coach Gerard Gallant said. "He's probably going to be really tired in the morning, but he capitalized on those chances."
The Knights are going to need more of the same from Neal to compete most nights, a team lacking much firepower and one that could find itself in countless close, low-scoring games.
He was drafted 33rd overall by the Stars in 2005 and also played for the Penguins and Predators.
Now, he's the answer to a trivia question.
"You can't (script this)," Neal said. "Having the surgery so late, I just wanted to do everything I could to be part of the first game. It was a tough, short summer. I didn't feel as though I was handling it all that well."
There is a group of teammates and coaches and fans that would vehemently disagree.
Contact columnist Ed Graney at egraney@reviewjournal.com or 702-383-4618. He can be heard on "The Press Box," ESPN Radio 100.9 FM and 1100 AM from 11 a.m. to 2 p.m. Monday through Friday. Follow @edgraney on Twitter.
Healed just in time
Late July: James Neal undergoes wrist surgery.
Last week: Hits ice for first time with Golden Knights.
Friday: Scores twice in 2-1 victory at Dallas.