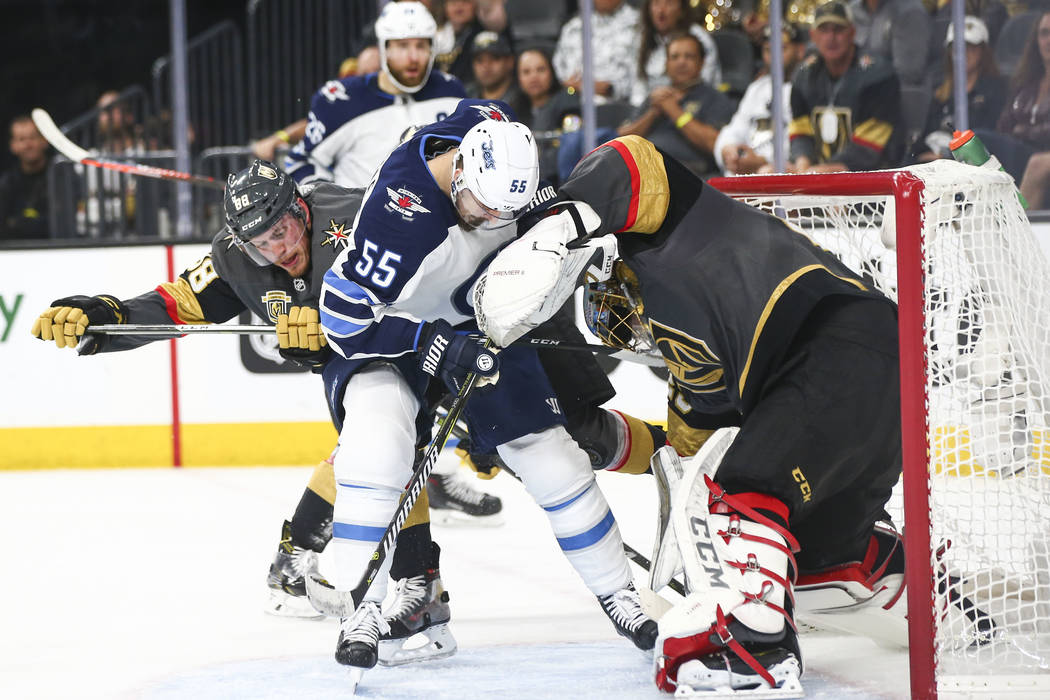 Winnipeg finally found a way to put a puck past Marc-Andre Fleury in the second period after a dominant start by the Golden Knights.
The celebration was short-lived.
The Knights again responded with a momentum-stealing goal, scoring just 12 seconds later en route to a 4-2 win in Game 3 Wednesday night and a 2-1 lead in the Western Conference Final.
"It's a perfect example of momentum," Jets coach Paul Maurice said. "It's up for grabs every single time the puck drops and we had it and they certainly seized it right back."
Vegas tacked on another goal less than three minutes later and then survived a Winnipeg onslaught mostly due to some great saves by Marc-Andre Fleury.
The quick goal by the Knights was reminiscent of the third goal of Game 2, when Jonathan Marchessault helped deflate the frenzied crowd at Bell MTS Place in Winnipeg just after the Jets had cut their deficit to 2-1 in the third period.
It was James Neal's turn on Wednesday. He tapped in a pass from Erik Haula from behind the net just 12 seconds after Mark Scheifele had tied the game by tipping a puck between his legs and past Fleury.
"It's too bad," Winnipeg captain Blake Wheeler said. "You take the momentum away from them there and you'd like to sustain it for a little bit."
The Neal goal marked the shortest time between goals by two playoff teams since the Kings and Rangers scored 11 seconds apart in the 2014 Stanley Cup Final.
Hellebuyck lamented his misplay of the puck behind the net as his pass was knocked down by Haula before the feed to Neal.
"The guy knocked it down in midair," Hellebuyck said. "He made a good play on it. I've been doing that all year long. It's unlucky he knocked it down. I don't even think he was looking. He might have just swung his stick at it, but good play by him. I'm going to obviously clean that up. I haven't given it away too many times this year.
"We've just got to put that one behind us."
Scheifele, who set an NHL record with 11 road goals in a single postseason by scoring twice on Wednesday, hasn't been surprised with the Knights' ability to respond to big Winnipeg goals.
"They've been doing that all year," he said. "They're a resilient team. They're a team that is on you every single shift. You can't have a shift off because they will make you pay. They showed us that tonight."
Now it's the Jets turn to try to respond. Winnipeg finds itself trailing a series for the first time this postseason and will look to avoid falling in a huge hole with Game 4 on Friday night at 5 p.m.
"That's an important challenge," Maurice said. "You're going to have to be able to handle that. We want to make sure we deal with our loss, don't carry it to heavily and then come out with our finest game of the postseason."
The Jets can take some solace in a big push late in Game 3. Winnipeg overwhelmed the Knights, but couldn't find the equalizer after scoring seconds into the third period.
"They have a pretty good goalie," Wheeler said. "He made some nice stops tonight. I don't know if we can play that third period any differently or ask for any more. We had chance after chance right in front of him. You have to tip your cap sometimes. The guy made some incredible saves. Good for him.
"We started playing our game and not playing scared of making a mistake," Wheeler said. "We just didn't have it off the start and you can't get behind like that. You put yourself in a tough position when you get down a couple goals on the road in a tough environment against a good team. The onus is on us to get off to a good start."
More Golden Knights: Follow all of our Golden Knights coverage online at reviewjournal.com/GoldenKnights and @HockeyinVegas on Twitter.
Contact Adam Hill at ahill@reviewjournal.com or 702-277-8028. Follow @AdamHillLVRJ on Twitter.