Jets jump on Knights early behind defenseman Dustin Byfuglien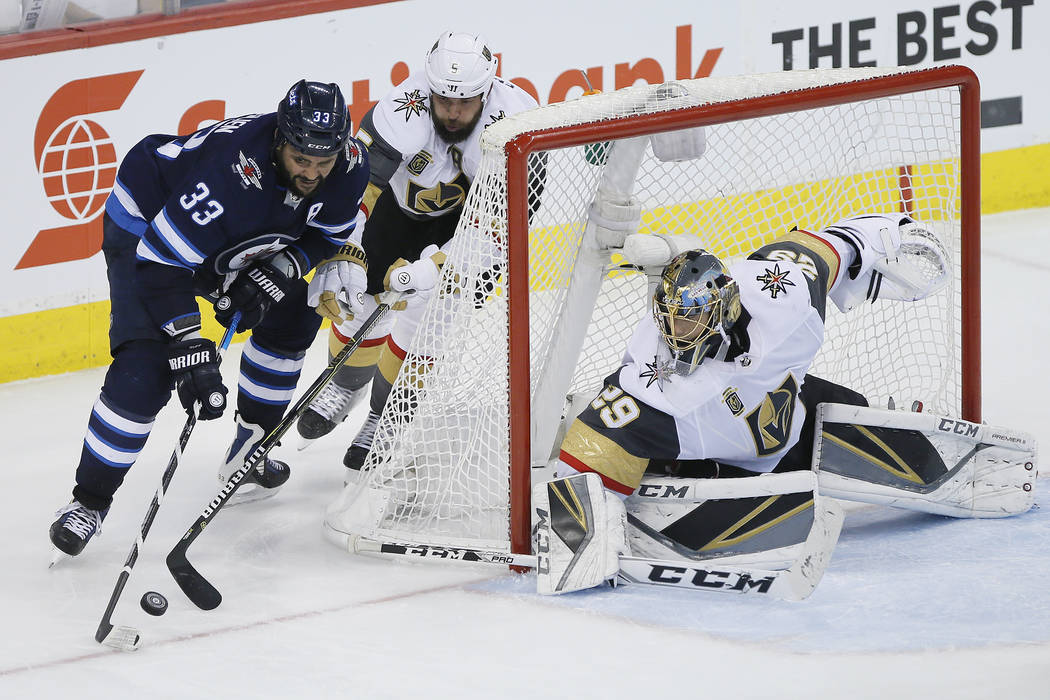 WINNIPEG, Manitoba — Jets defenseman Dustin Byfuglien set the tone for a 4-2 victory with a blast from between the top of the faceoff circles just 1:05 into Game 1 of the Western Conference Final.
It's not like the Golden Knights weren't prepared for it.
"You try to cut the ice in half," Knights defenseman Nate Schmidt said prior to the game of not letting Byfuglien find his comfort zone. "You've to make sure you keep him to one side. He's a dangerous guy and he's got a great shot from up there. You've got to have a big set of stones when you're in front of the net. That's the reality of it. If he gets his shots through, you've got to make sure the second layer is ready to clear out some rebounds."
There was no chance of a rebound on his goal.
Mark Scheifele skated in the zone on a rush and dropped it to Byfuglien, who drifted just right of center and fired a 94 mph slap shot past Marc-Andre Fleury to ignite a three-goal barrage in the first 7:35.
"He's awesome and he's been awesome for us all playoffs," Scheifele said of Byfuglien. "He does it all for us, he kills penalties, he's on the power play, he does so many good things each and every shift that a lot people don't notice. He's key for us."
He certainly was on Saturday.
Byfuglien, who led the team in shifts and minutes played in Game 1 while recording three takeaways and two blocked shots, lunged to keep a puck in the zone on a Jets' power play, leading to the Jets' second goal when Patrik Laine one-timed a perfect pass from Blake Wheeler past Fleury.
The Jets' fourth goal came on another scenario the Knights hoped to avoid.
Byfuglien, a 33-year-old Minnesota native, fired a straightaway blast from the blue line on the power play that took a deflection off Scheifele's stick in traffic and trickled past Fleury.
"He's a guy who shoots from dead-center ice, you just gotta try to clear the front of the net," Knights defenseman Luca Sbisa said of Byfuglien. "Give the goalie a chance. If you just stack up people in front of it, you might get a lucky floater that goes through. Our goalie has no chance to react. You have to give the goalie somewhat of a view of the puck."
Byfuglien figures to play a key role throughout the series. Knights coach Gerard Gallant knows his team must do a better job containing him.
"(Byfuglien's) an impact in every game he plays," Gallant said. "He's been in the NHL a long time. He's a big, key player for them. He's a strong guy. He plays a good two-way game and in the playoffs, he ramps it up another notch."
Before the game, Byfuglien, who won a Stanley Cup with Chicago in 2010, said the plan to get to Fleury was simple.
"Get it behind him," he said. "Shoot pucks and hopefully they go in."
It worked, and now the Jets have the Knights behind in a playoff series for the first time.
More Golden Knights: Follow all of our Golden Knights coverage online at reviewjournal.com/GoldenKnights and @HockeyinVegas on Twitter.
Contact Adam Hill at ahill@reviewjournal.com or 702-277-8028. Follow @AdamHillLVRJ on Twitter.