Jr. Golden Knights youth teams thriving with support from NHL team
December 10, 2017 - 5:01 pm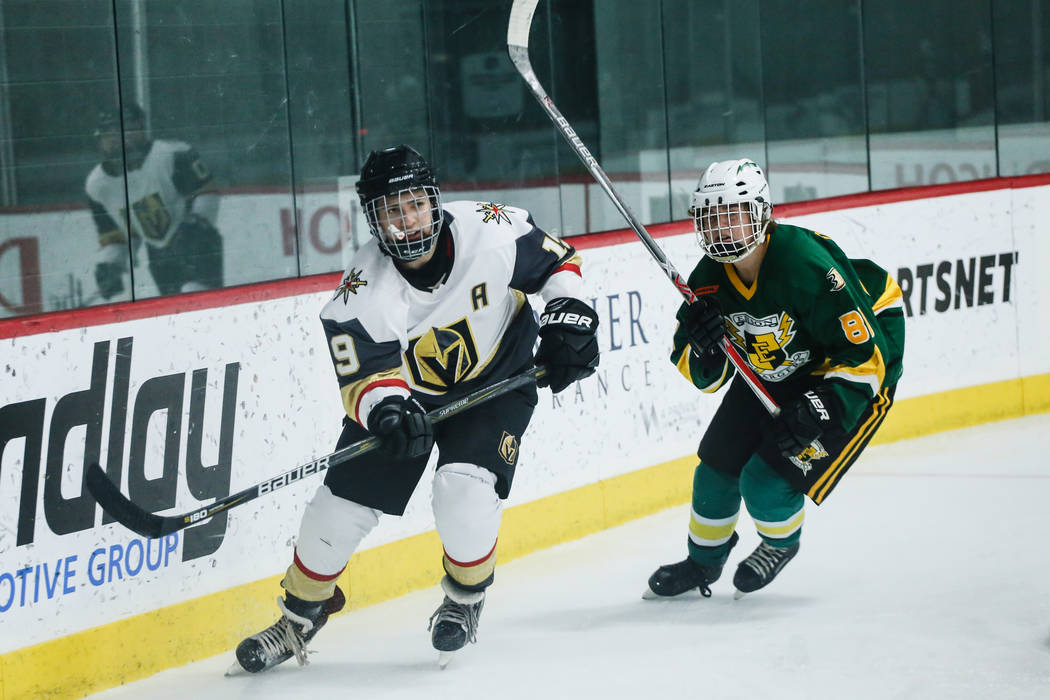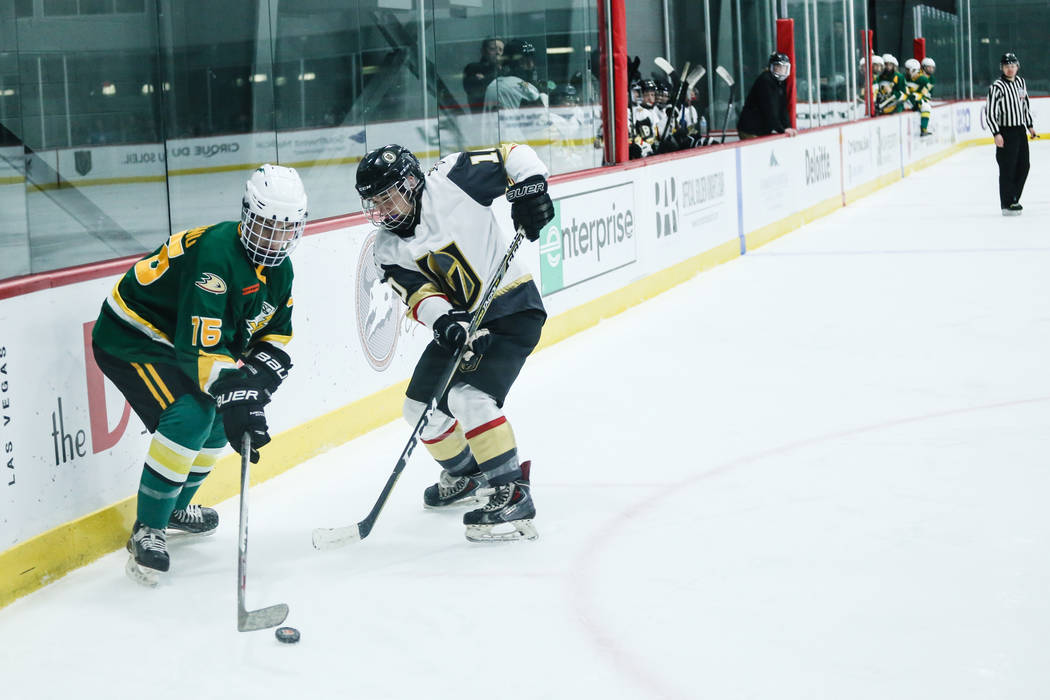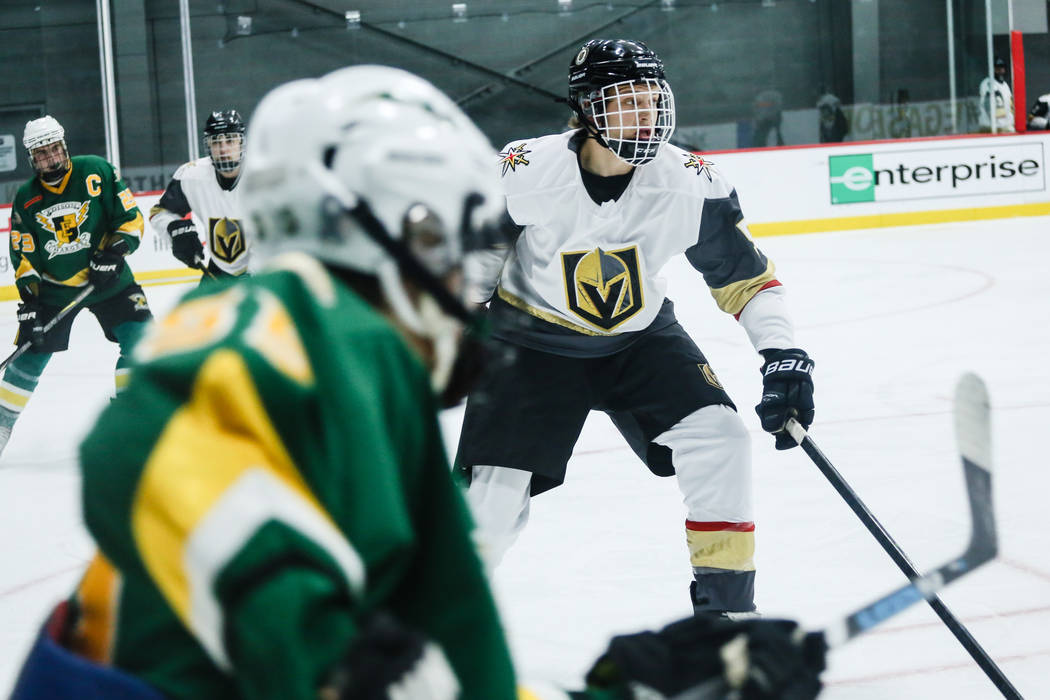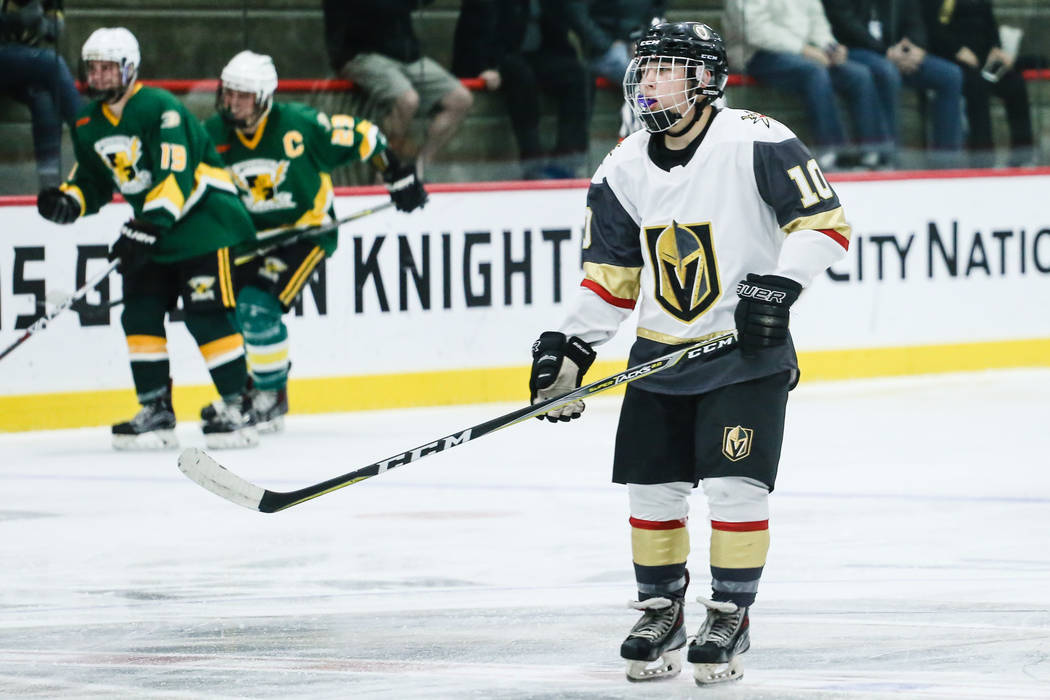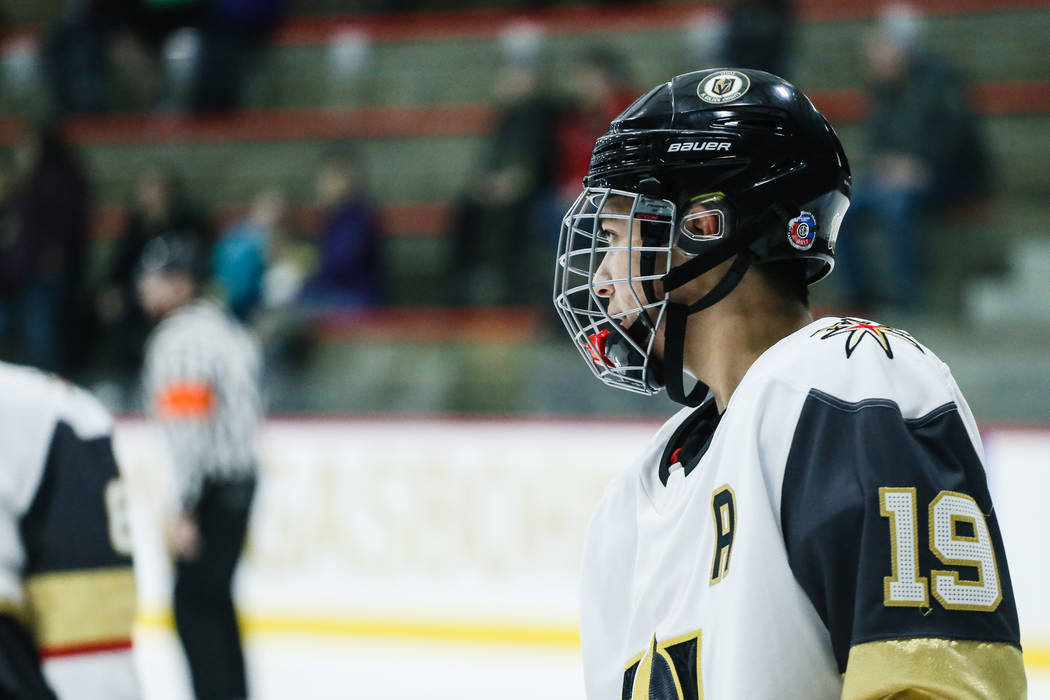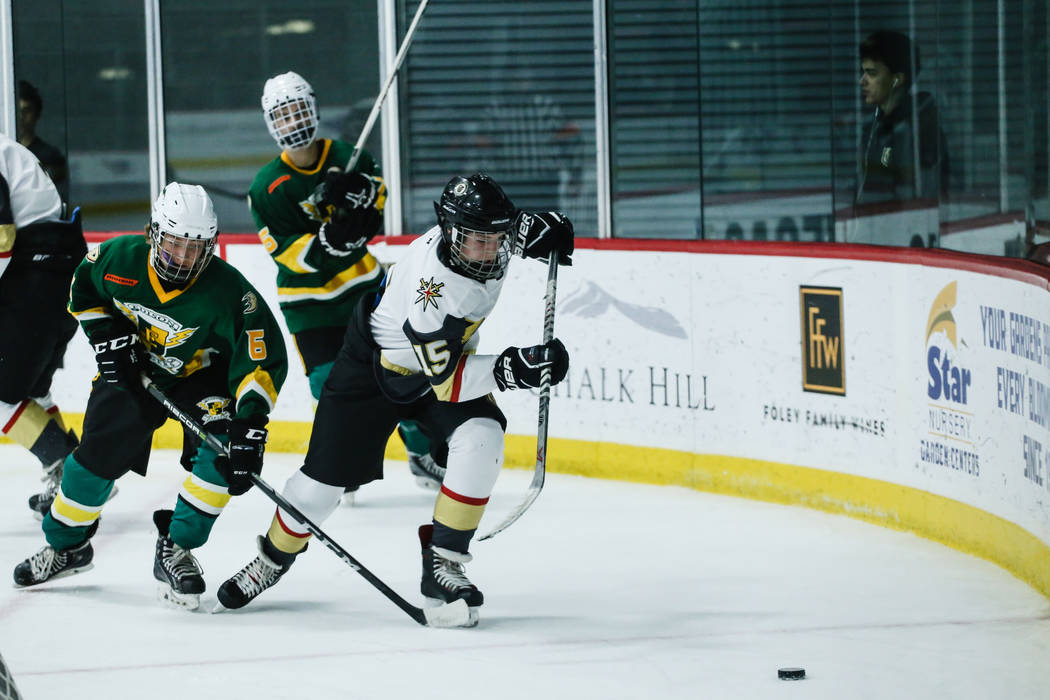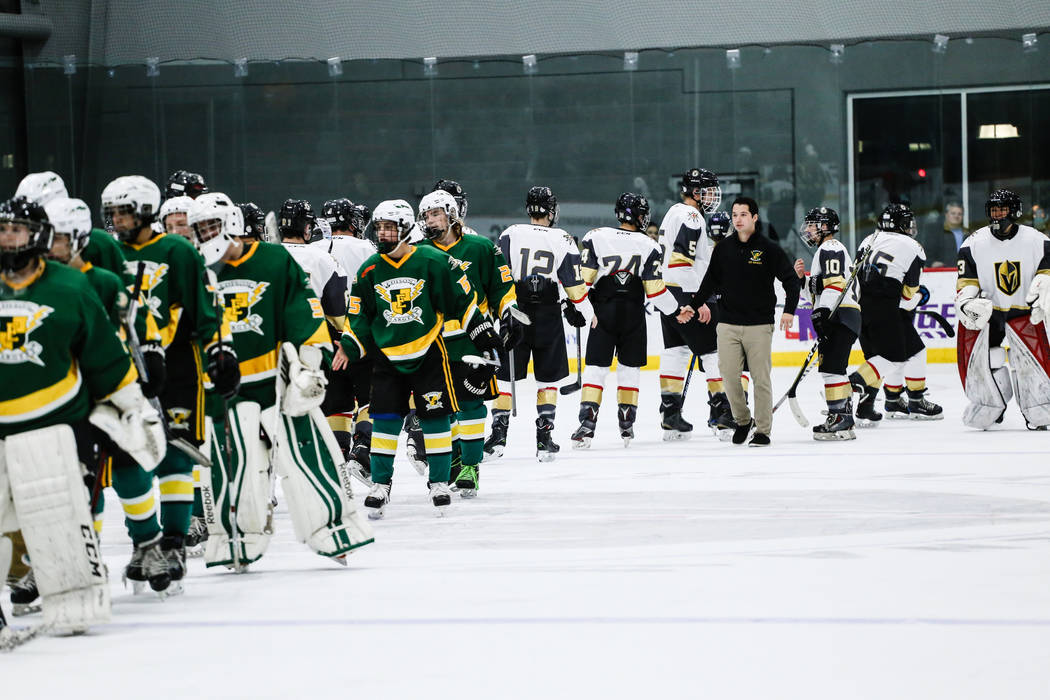 For the past two years, they traveled to Southern California, competed in their blue and silver jerseys and then returned home.
In the Anaheim Ducks High School Hockey League, they were known as the Las Vegas Storm. These days, the same team is more recognizable thanks to the uniforms they wear.
The Vegas Jr. Golden Knights are no longer incognito. They wear the same sweater the NHL expansion team does and there are almost 300 kids in six age groups playing on the 13 travel teams being sponsored.
"We feel we're representing the NHL team," said defenseman Emily Kline, an 11th-grader from Odyssey High School who plays on the Jr. Knights Varsity D3 team, one of two that competes in the Ducks' league. "I think it's a little bit crucial for us to do well. There's some pressure that comes with wearing that jersey."
They still travel, but this past weekend the Varsity D3, which is comprised of players from 17 local high schools, got to play at home at City National Arena, sleep in their own beds and allow their friends and classmates to watch them compete. They lost to Edison High 8-4 on Friday but defeated Woodbridge High 7-4 on Saturday as the league held its Showcase in Las Vegas.
The Las Vegas United, which plays in the Ducks' league in Division 2 and is comprised mainly of ninth- and 10th-graders with a few 11th-graders sprinkled in, also won Saturday, defeating Pacific Ridge School 4-2.
Pyramid for success
Like John Wooden had during his Hall of Fame tenure coaching basketball at UCLA, the Jr. Knights are employing a pyramid blueprint to achieve long-term success. It starts with the most basic of skills — learning to skate. From there, it's learning to use a hockey stick and a puck and getting comfortable wearing equipment in the Lil' Knights program. It evolves into skills clinics to house league to the Jr. Golden Knights' travel teams.
"Obviously, you don't all of a sudden make hockey players. It takes time," Knights senior vice president Murray Craven said. "It's a process, a step-by-step process."
Thanks to grass-roots programs from the NHL and USA Hockey, kids as young as 4 years old are learning how to skate and try hockey. The Knights have also had Sticks for Kids, a successful endeavor in which the team went into various neighborhoods and introduced hundreds of kids to floor hockey.
In the coming weeks, the team will announce a joint partnership with the Clark County School District to expose students to the sport.
Winning breeds interest
The Knights' fast start has spiked interest at the youth level. For the team, it's their responsibility to seize upon that interest.
"When you see kids at the games wearing that jersey, you're trying to figure out how to get them to that next level," said Kim Frank, the Knights' vice president of marketing who is involved with the grass-roots effort to grow the game in the community. "But it's not just kids. We want their parents to be involved and learn about the game and enjoy it, too."
The recent launch of VGK University, which teaches the game to adults, sold out in less than two days. The Knights have also begun a women's adult hockey program which had 17 women sign up to play.
"You want the parents to know the game and then they can get their kids involved," Frank said of VGK University, which has had two sessions and will have three more.
Parents pleased
For the parents who have been involved with youth hockey, the Golden Knights' involvement has been well-received.
"We never have any issues with ice anymore," said April Buck, whose son Antonio plays for the Varsity D3 Jr. Knights. "Fundraising is easier. When we were the Storm, no one knew who we were. Now the community is getting behind us more."
At the Dec. 3 home game against Arizona at T-Mobile Arena, the team's 51/49 raffle raised over $20,000 for the Jr. Knights program. Craven said when you have 17,000 to 18,000 potential donors, it's a lot easier than trying to put on a golf tournament to raise that kind of money in a day.
Robert Purdy, a local attorney who has a couple of kids in the Jr. Knights program, said having the NHL brand makes a world of difference.
"The support has been tremendous," said Purdy, who also plays in an adult men's league. "Every team wears the same jersey and you can see the pride everyone has. I get thrilled just washing my sons' jerseys.
Future is bright
According to statistics from USA Hockey, there were 455 youth hockey players registered in Nevada for 2016-17. This year's numbers have not been made available but Craven and Frank believe over the next couple of years, the number of boys and girls playing hockey will grow significantly. And the Knights are ready to help facilitate that growth.
"The interest is unbelievable," said Frank. "It's been so much fun to see the involvement so far."
Craven said: "We're only three months into this. We're laying the foundation for long-term success.
"I don't want to project numbers. I project growth and we're focusing right now on getting kids to skate. The rest of it will follow naturally."
Jeff Bruckner, who has been the coach of the Jr. Knights varsity D3 high school team since its inception three years ago, said he sees a commitment on the NHL team's part.
"There was a time where the perception in the Southwest and Southern California of youth hockey in Las Vegas was that we were a goon program and there was little to no skill," he said. "That has all changed the last few years and it's all about skills now."
Contact Steve Carp at scarp@reviewjournal.com or 702-387-2913. Follow @stevecarprj on Twitter.
Growing the game
Since late last spring, the Golden Knights have implemented a number of programs designed to introduce hockey to Southern Nevada. Here is a list of some of the projects the team has had:
— "Sticks for Kids." The team went to local youth centers and gave participants free hockey sticks after attending a ball hockey clinic.
— "Try Hockey For Free." Boys and girls ages 4 to 9 who signed up were given a complete hockey uniform, including skates, helmet and stick at no charge and participated in three clinics
— "Spring Break Street Hockey Tour." The team traveled throughout the Valley from April 10-13 setting up makeshift rinks for kids to play.
— Open house skating at City National Arena. Boys and girls who wanted to try ice skating could do so at the team's practice facility.
— "Jr. Golden Knights" program. The team is sponsoring travel teams in six age groups. There is also a house league for players who are new to the game.
Source: Vegas Golden Knights