Kings were last to rally from 3-0 to win NHL playoff series
LOS ANGELES — The Kings know they are facing a historic climb to overcome a 3-0 deficit in their Western Conference quarterfinal series against the Golden Knights.
They also know as well as anyone that it's not impossible.
Eleven players remain on the current roster who were part of the team that rallied from 3-0 down to beat San Jose four years ago as part of the Kings' last Stanley Cup title run. It happened in the first round, too.
The message they have for their teammates is that there is no secret to pulling it off.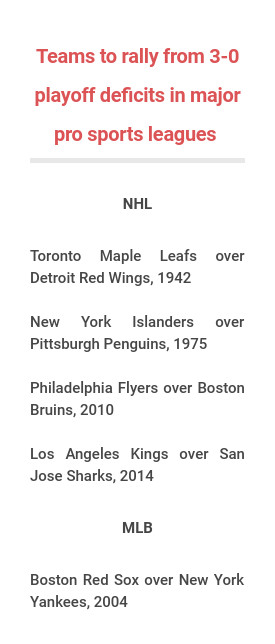 "You can't look ahead," defenseman Drew Doughty said Monday after practice at the team's facility in El Segundo. "We know we have to win four in a row, but you can't think like that. It really is just one game at a time. You never know what can happen. There's so many momentum swings in a series and if we can get that on our side, you just never know. That's our main goal. We're just going to go out there and play our best game and we expect the same from them."
Forward Tyler Toffoli was also part of that 2014 team. He said the team hasn't even broached the subject of winning four straight games. Even though they pulled it off once, he acknowledges the feat still seems rather daunting.
"I mean, it's only been done four times ever, right?" he said. "It's not something that's common. I think if we do talk about it, it will probably be joked about more than anything. That's just the group we have. But I think we just have to focus on winning one game and then once you do that, you can look at the next one."
His knowledge of history is correct. Four NHL teams have rallied to win a best-of-seven series after dropping the first three games. It has happened once in major league baseball. Never in the NBA.
The Kings hope to become the first franchise to turn the trick twice.
They know they will have to maintain confidence and not get overwhelmed by the odds stacked against them.
"Believing is so big," defenseman Jake Muzzin said. "Believe and trust in our team and our plan. Keep working extremely hard and if you believe and trust it … you can accomplish some pretty great things."
They must also find a way to score goals.
Los Angeles has gotten just four pucks past goaltender Marc-Andre Fleury and have lamented their inability to make things difficult on him.
If they can finally find a way to do that, and Jonathan Quick plays like he had before the third period of Game 3, then anything can happen.
Muzzin said it was after the second of four straight wins over San Jose where things really started to come together in that 2014 comeback.
"We didn't really talk about it, but you kind of sensed it around the room after we won that second one," he said. "We were like, 'OK, we've kind of got these guys on the ropes here and we can finish them if we just keep playing the right way.' Then, we were able to."
Kings coach John Stevens has been on both sides of a 3-0 series. He believes teams with the lead in that case also face a challenge of keeping the focus on the next game and not getting complacent.
"I think the teams that can stay in the moment is the one that will have the most success in that situation," he said "I think our group does a really good job when there's still time on the clock with a chance to win. There's lots of time on the clock in my opinion. This group can handle adversity. They've shown it this year and they've certainly shown it in the past."
The present is what matters now.
More Golden Knights: Follow all of our Golden Knights coverage online at reviewjournal.com/GoldenKnights and @HockeyinVegas on Twitter.
Contact Adam Hill at ahill@reviewjournal.com or 702-277-8028. Follow @AdamHillLVRJ on Twitter.
Doughty not sorry
Drew Doughty wasn't about to apologize for his antics after drawing a high-sticking penalty on Jonathan Marchessault during Game 3.
"I'm happy I did that," the Kings' all-star said of the taunting. "He literally tried to decapitate me with his stick. It's kind of screwed up that he did that. It probably doesn't look great that I did what I did, but whatever."
It's the latest villainous move by the player who has quickly become a chief antagonist to the Golden Knights.
"I don't like a lot of those guys on that team and I'm pretty sure almost every guy on that team doesn't like me," Doughty said. "It's just part of the playoffs. You'll do anything to win and then when the series is over, you shake their hands and everything's all good after that until the next season whey you get back out there and hate each other again. It's great creating a rivalry with these guys."
Adam Hill Las Vegas Review Journal