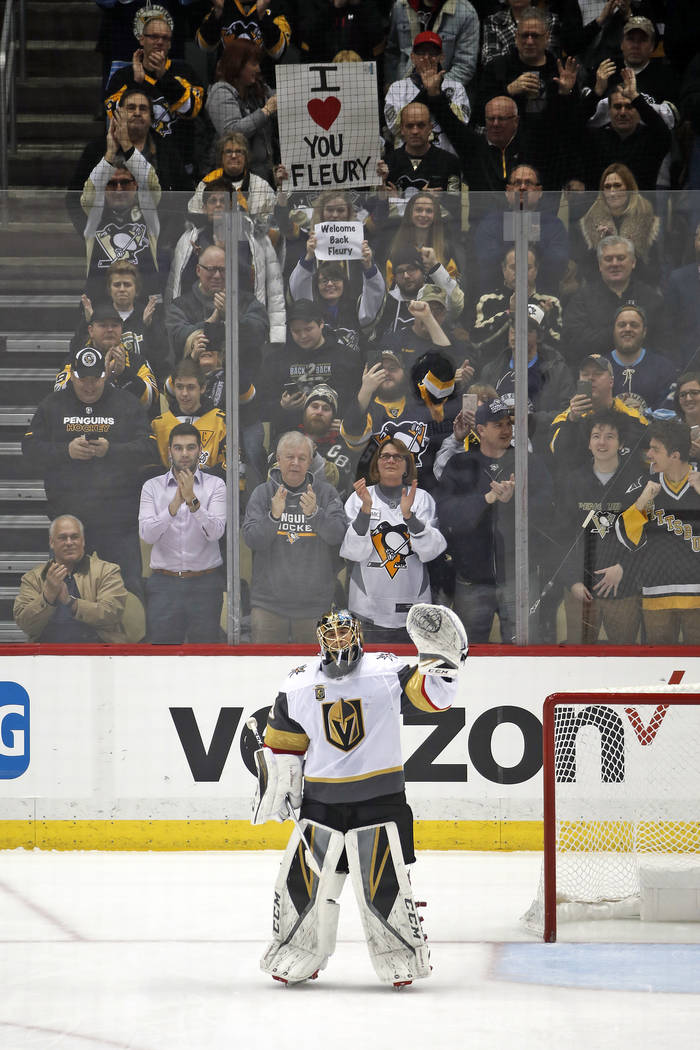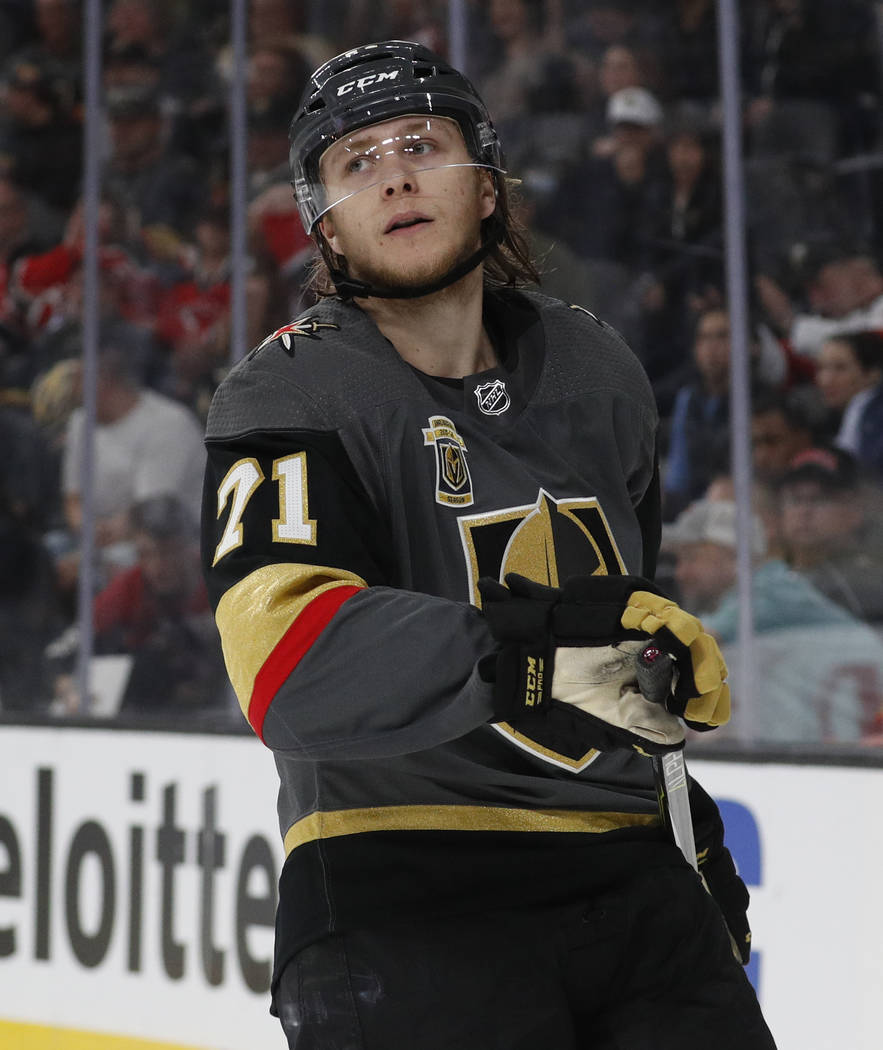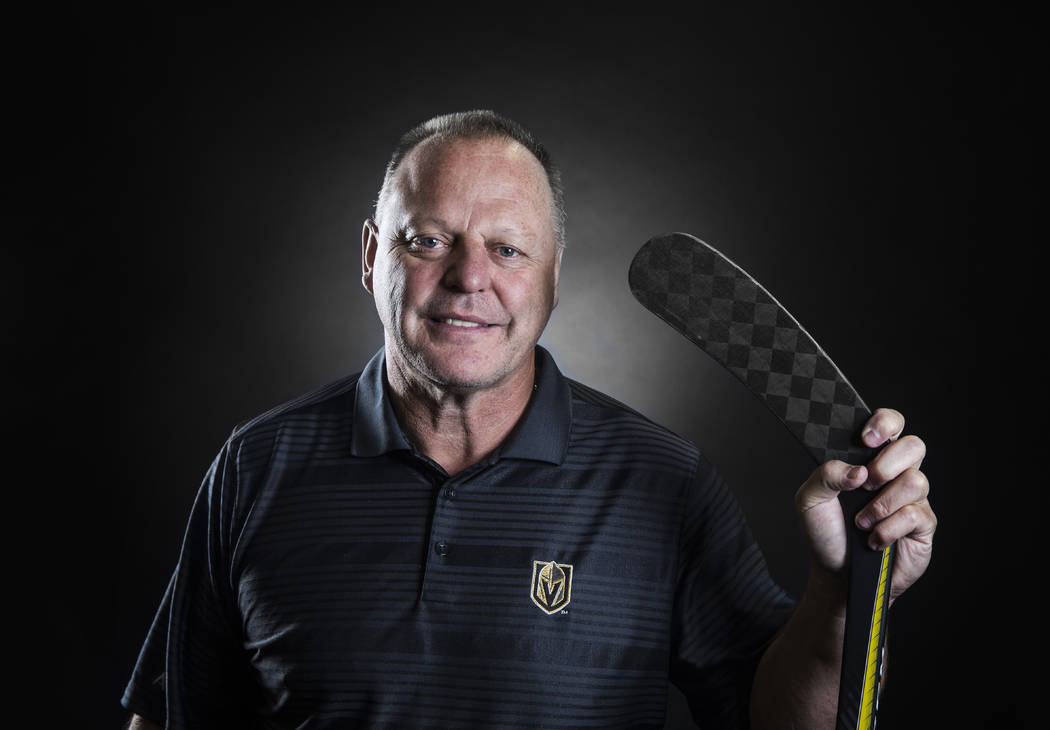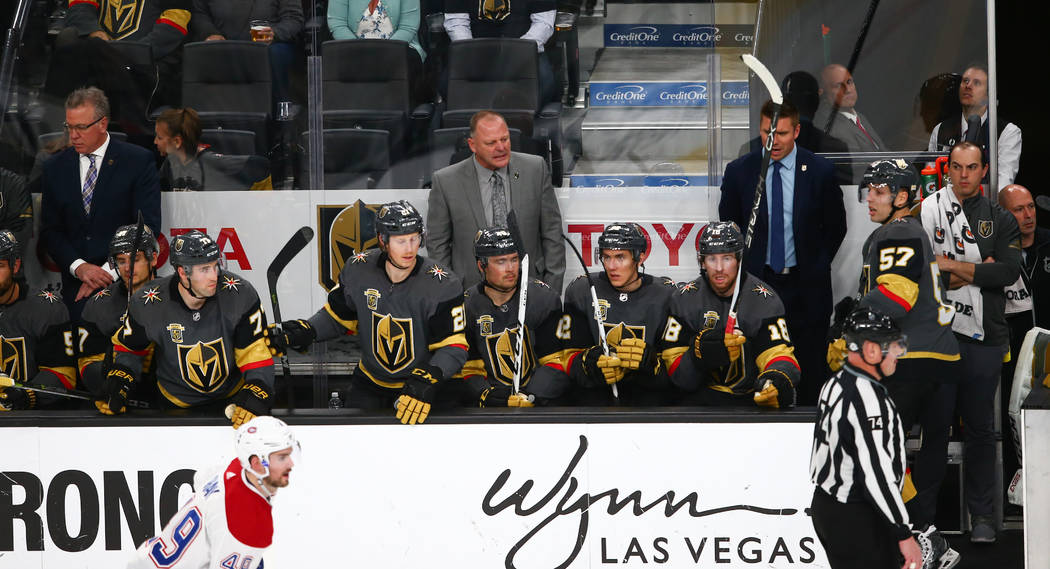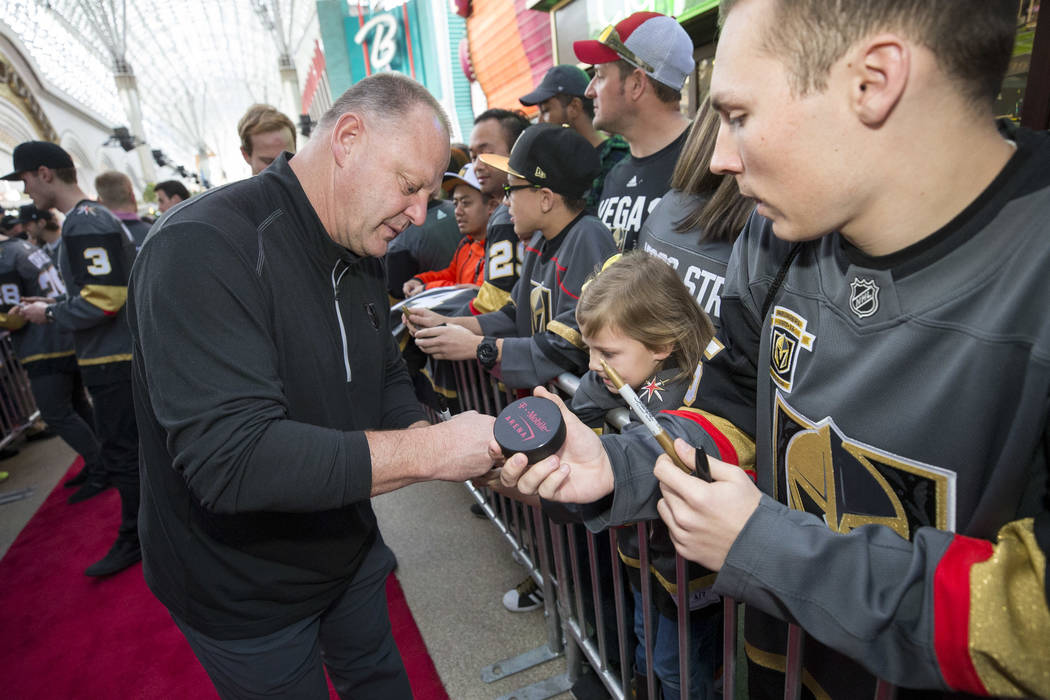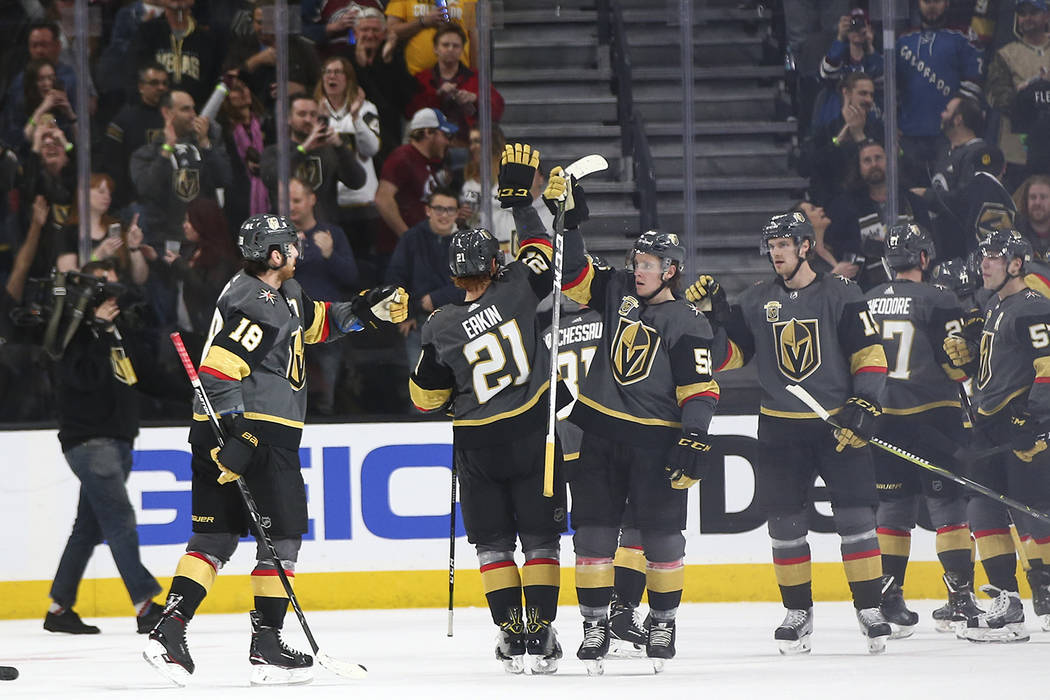 It could have gone wrong in a number of ways. That's the risk you take when trying something different.
"If you miss," Jonathan Marchessault said, "you look a little stupid."
William Karlsson didn't miss. And neither did the Golden Knights.
In a season full of miraculous moments, none served as a better metaphor for the surprising Knights than Karlsson's between-the-legs, breakaway goal March 31 against San Jose to clinch the Pacific Division title.
.@WKarlsson71 JUST DID THAT. pic.twitter.com/pvcKL1PiyL

— NHL GIFs (@NHLGIFs) April 1, 2018
It was bold.
It was creative.
And, much like owner Bill Foley's decision to put an expansion team in Las Vegas, it took a large dose of chutzpah to pull off.
"I was really happy it went in, and then I realized the way he put it in, that was awesome," Knights goaltender Marc-Andre Fleury said. "I think it just sums up his season a bit, how great he's been for us, how consistent he's been for us, and very clutch, also. It was a great goal and fun to watch."
Karlsson's success this season paralleled that of his team, as both entered with modest expectations.
Karlsson produced 15 goals and 45 points the previous two seasons combined while playing a defensive role for Columbus. He was projected as no more than a top-nine forward and penalty killer for the Knights, who were picked by many to finish below .500.
But after he failed to score in four preseason games and the first six games of the regular season, Karlsson moved to center between Marchessault and Reilly Smith to form one of the NHL's best forward lines.
"That line is really good," coach Gerard Gallant said. "It's every night that these guys are making good plays, and that's what's important for our team. We need that. When these guys are hot … it makes your team go."
Karlsson finished with 43 goals, good for third in the league overall, and his short-hander against the Sharks in the final home game of the regular season will live in Knights lore.
"He's got a lot of confidence," Gallant said. "It's an unbelievable move. It's an unbelievable goal and it comes from a confident player."
Beyond locking up the division, Karlsson's sensational goal displayed all the qualities that endeared the Knights to their fan base.
Intelligence, to intercept the pass by San Jose's Joe Pavelski and poke it forward.
Speed, to blow past Sharks defenseman Brent Burns at the blue line and create the 1-on-1 chance.
And moxie, to tuck his stick between his legs and flip a shot over goaltender Martin Jones with 11:25 remaining in the third period of a 2-2 game. (Ironically, San Jose's Tomas Hertl pulled off the same move against the New York Rangers on Oct. 8, 2013, to cap a four-goal game.)
"I kind of had that angle, so I kind of decided right away to do it," Karlsson said. "It's been a few years since I did that. That was what I was hoping for. It was pretty cool to see it go in."
"Yeah, I probably shouldn't have poked," Jones said. "Nice move."
For a few moments afterward, a "did-he-just-do-that?" buzz circulated through T-Mobile Arena.
When confirmation came in the form of a replay on the video scoreboard, the season-high crowd of 18,458 exploded with excitement.
Even Karlsson admitted he looked up to watch.
"It looked good," he said with a smile.
The Knights struggled for consistency throughout March but became the first team to clinch their division with the victory over the Sharks.
They are the first modern-era expansion team from any of the four North American professional sports leagues to win in its division in its inaugural season (excluding mergers and all-expansion divisions).
All courtesy of a player who, like his team, surpassed all expectations.
"To do it on a special night like this," Karlsson said, "it was just good timing."
—David Schoen
————
Gerard Gallant will never admit it.
But out of everyone in the Golden Knights organization with a chip on his shoulder — from the general manager down to the players — the coach's might have been the largest of all.
Cast aside at the start of last season by the Florida Panthers, Gallant led the expansion Knights to the Pacific Division title and is the overwhelming favorite to win the Jack Adams Award as NHL coach of the year.
"From the very beginning, we became a big family because we came from everywhere else … we became a team and it showed," Knights defenseman Brad Hunt said. "Such a great character group. Gerard just wants everybody to have fun and he said that from day one. He said we'd have fun at practice, get better every day and compete hard in the games."
Gallant led Florida to the Atlantic Division title in 2016 and finished second in the voting for the Jack Adams after helping turn around the downtrodden franchise.
But with the Panthers off to an 11-10-1 start the following season and a philosophical divide between the coach and front office, Gallant was fired. A photo of Gallant waiting for a taxi after his dismissal went viral soon after.
Gerard Gallant awaits taxi outside PNC, AP photo. pic.twitter.com/pWBQvIP2SH

— Luke DeCock (@LukeDeCock) November 28, 2016
The Knights hired Gallant last April, and his coaching style and personality have been a perfect fit with the expansion team.
"Oh my gosh. I don't have enough time to compliment Turk," Tampa Bay Lightning coach Jon Cooper said of Gallant during All-Star Weekend. "It's not a fluke what's going on with Vegas. Yeah, they've got good players and they've got a good goaltender and stuff like that. Somebody has got to make the ship go, and that's what Turk does."
Gallant saw after the expansion draft that the Knights featured several quick, but undersized, forwards and sought to take advantage of the team's overall speed.
He implemented an aggressive 1-2-2 forecheck and encouraged the Knights to push the pace.
The Knights are third in the league in goals for (267) and goals per game (3.30).
"I think Turk's done a fabulous job," Washington coach Barry Trotz said. "The biggest thing, for me, is he got a bunch of players quickly, from different organizations, to buy in. .. But what they've done and how he got them to believe and they've seamlessly got a group to play very quick systematically and compete on a day in and day out basis. They're having fun, and they're creating history."
Under Gallant, the Knights jumped to an 8-1 record and won the Pacific Division title going away, becoming the first modern-era expansion team from any of the four North American professional sports leagues to finish first in its division in its inaugural season (excluding mergers and all-expansion divisions).
Gallant earned his 200th career victory when the Knights defeated Colorado on March 26 to clinch a playoff spot.
"Early in the season I went home many a nights and said, 'You know what? What's going on here? We're a good hockey team, we're winning every night and we're playing well,'" Gallant said. "Now, it's I come to the rink and I expect our team to play well and expect our team to win. That's what changed over the first 20 or 30 games.
"We wanted to compete every night and play hard, but we're winning a lot of hockey games, and like I said, we got a good group. We got a good team and they battle hard and they like each other, so it's been fun."
—David Schoen
————
Nothing about Game No. 73 for the Golden Knights appeared out of the ordinary after the opening 20 minutes.
The Knights led the Canucks 3-0 on goals from Jonathan Marchessault, Cody Eakin and Pierre-Edouard Bellemare and were on the way to their 47th victory of the season.
And then, goaltender Marc-Andre Fleury didn't come out for the start of the second period.
Uh oh.
Fleury's ghosting turned out to be much ado about nothing, and the all-star returned in time to help lead the Knights to the Pacific Division title in their inaugural season.
"For him, I think coming in here he had a lot to prove, and he wanted to show everyone what kind of goalie he was, what kind of goalie he is," Knights forward James Neal said. "And he's been exactly what we expected and what I've seen him do in the past. He's maybe playing the best hockey that he's played."
Fleury was a workhorse for the Knights in the second half of the season with backup Malcolm Subban sidelined due to a broken finger, starting 21 of 22 games during one stretch.
But midway through the first period against Vancouver on March 20, Fleury was hit on the side of his mask by a shot from Brandon Sutter.
Fleury remained in the game, only to be replaced by Subban at the start of the second period and missed the Knights' 2-1 overtime loss at San Jose on March 22.
When he returned to practice the next day in Denver, Fleury was greeted by a bear hug from Bellemare.
I was in net and I just realized that 'Days of Our Lives' was coming on. I said, 'Oh, jeez, I didn't DVR it.
"I didn't see him when we were getting on gear and I saw him on the ice and he was, like, skating like crazy, making moves. And you could tell he was happy to be back on the ice," Bellemare said.
"It's the biggest example we have. He's been in the league for so long and he won so much. And he's still the first one there working hard and showing by example and be humble. It's good to have him back in the room."
Fleury missed 25 games due to a concussion suffered Oct. 13 against Detroit, and many feared the worst when he went out against the Canucks.
Fleury never revealed the details of his injury and said he simply wanted to catch up on his favorite soap opera before Sami Brady returned to Salem.
"I was in net and I just realized that 'Days of Our Lives' was coming on. I said, 'Oh, jeez, I didn't DVR it,'" Fleury said with a smile. "So I had to get undressed and rushed home. My DVR wasn't working, so I stayed a couple days at home to make sure I wasn't missing any of it."
Fleury enjoyed one of the best seasons of his career at age 33 after he lost the starting job in Pittsburgh and was left unprotected in the expansion draft.
Despite missing two months, he set career bests in save percentage (.931)update and goals-against average (2.14)update, finishing first and secondupdate, respectively, in the league in those categories.
Fleury also won his 400th game on March 11 at Philadelphia and was honored with a gold stick after the final home game at T-Mobile Arena.
"I don't know who would question Fleury, but they probably don't know a lot about hockey if they question Fleury," coach Gerard Gallant said. "He is a great goaltender."
— David Schoen
————
There were no lack of firsts for the Golden Knights in their inaugural season.
They were the first modern-era expansion team from any of the four North American professional sports leagues to win its division in its inaugural season.
The Knights pulled off the feat on March 31 when they defeated San Jose and clinched the Pacific Division title. Yet there has been some debate as to whether the Knights became the first NHL expansion team to make the playoffs in their first season.
The 1967-68 St. Louis Blues, Philadelphia Flyers, Minnesota North Stars and Los Angeles Kings — along with the 1979-80 Edmonton Oilers and Hartford Whalers — all made the postseason in their first year in the NHL.
"There's no official record," said Gary Meagher, the NHL's vice president of communications. "The 1968 teams were guaranteed their spot and the expansion with the WHA teams wasn't a true expansion. Edmonton got to keep (Wayne) Gretzky. So you almost have to put an asterisk there with those teams."
With the Knights, no asterisk is necessary. However, here's a hockey expansion lesson that bolsters the Knights' place in history.
In 1968, the Blues, Flyers, Kings and North Stars were part of the West Division, and as members of the "Expansion Six," four of the six teams were guaranteed a spot in the Stanley Cup playoffs regardless of record (Oakland and Pittsburgh did not make the playoffs).
The 1980 Oilers and Whalers were already established teams, having joined the NHL after the merger with the World Hockey Association.
However, both teams were forced to rebuild their rosters, retaining just two skaters and two goaltenders while the NHL had a reclamation draft allowing the NHL teams to bring back the WHA players to the teams which held their rights.
There was an expansion draft that year for the four WHA teams (Edmonton, Hartford, Winnipeg and Quebec). But it was not like the one in 1967 or the Golden Knights' in 2017.
The Knights were bound to a far different set of rules and circumstances. Theirs would be more in line with the recent expansions from the early 1990s and the 2000 expansion that added Minnesota and Columbus.
No guaranteed playoff spot. No merger. Just a team that was built from scratch and paved its own way to make history.
"You'd have to put Vegas at the top of the pyramid," Meagher said.
— Steve Carp
Read Ron Kantowski's wrapup column, "Golden Knights help prove NHL hockey can thrive in the desert," or go back to Part III: Golden Knights go all-in with playoff hopes.
More Golden Knights: Follow all of our Golden Knights coverage online at reviewjournal.com/GoldenKnights and @HockeyinVegas on Twitter.
Contact David Schoen at dschoen@reviewjournal.com or 702-387-5203. Follow @DavidSchoenLVRJ on Twitter. Contact Steve Carp at scarp@reviewjournal.com or 702-387-2913. Follow @stevecarprj on Twitter.