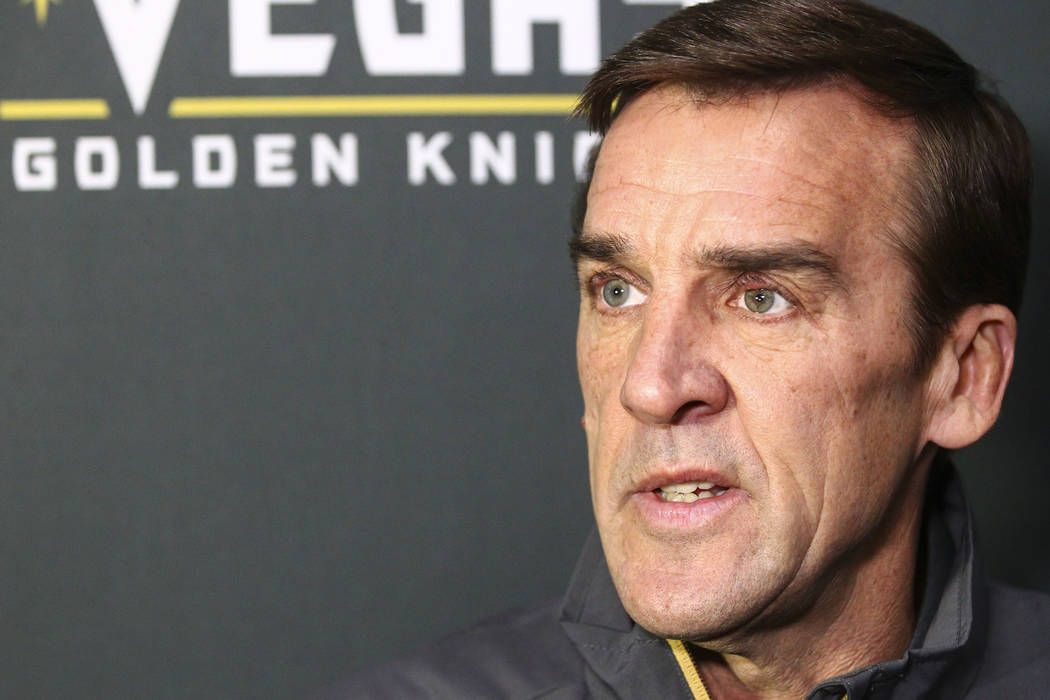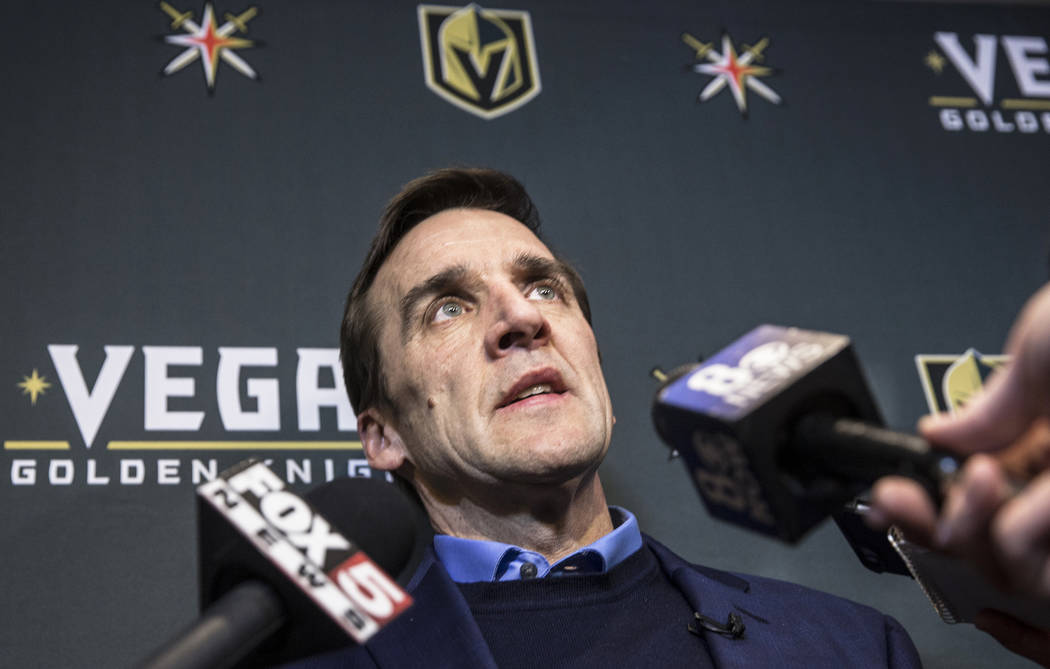 George McPhee had a plan.
The Golden Knights general manager drafted several veterans who were going to become unrestricted free agents at the end of the 2017-18 season. And when the Feb. 26 NHL trade deadline rolled around, James Neal, David Perron and Luca Sbisa were probably going to be leaving Las Vegas. In return, McPhee would look to acquire draft picks and continue his building through the draft.
But the Knights began their inaugural season winning nine of their first 10 games. And they kept on winning. They were in first place in the Pacific Division and for a couple of days had the best record in all of hockey.
McPhee's plans suddenly changed.
Neal and Perron had a big role in the team's success. Sbisa, despite constantly being hurt, was a top-four defenseman. In addition, Marc-Andre Fleury was healthy after missing 25 games with a concussion and was playing some of the best hockey of his career.
And as they set record after record, the Knights, who were heading to the postseason, were now being thought of as Stanley Cup contenders in their first season.
McPhee was no longer thinking sell. Instead, he became a buyer. But he was a cautious buyer. He wanted to make the team better, but not at the expense of messing with the the team's chemistry. The players truly liked each other and they liked playing for coach Gerard Gallant.
He had a chance to pull off a blockbuster deal and acquire Ottawa Senators defenseman Erik Karlsson, considered one of the game's top players at his position. But McPhee opted not to do it as Ottawa wanted prospects, draft picks and players from the Knights' roster in return along with the Knights taking on forward Bobby Ryan's contract, which had five years remaining at $7.25 million per year.
Instead, he went for toughness; Ryan Reaves was acquired from Pittsburgh. He also wanted more scoring and traded for Detroit's Tomas Tatar, sending the Red Wings three draft picks (a first-rounder in 2018, a second-rounder in 2019 and a third-round pick in 2021). Tatar essentially replaced Brendan Leipsic, who was struggling offensively and was shipped to Vancouver for minor league defenseman Philip Holm.
"We went into the deadline to improve our team and we did," McPhee said. "We had surplus picks and cap space and we still have surplus picks and cap space.
"We added depth and skill and we kept our group together."
In doing so, McPhee sent a message to his players he believed in them and their ability to make a deep run in the postseason. He also was all in with this group.
"I didn't want to give up any of our young players and take anyone out of our lineup," McPhee said. "We didn't want to take any rental players."
By not trading Neal and Perron, McPhee had his rentals for the stretch run and postseason. Both are unrestricted free agents after the season so their immediate futures were secure.
"We're trying to win now," McPhee said. But it took Reaves and Tatar time to fit in. And the Knights struggled early on, losing back-to-back games to Los Angeles. A loss at home to Ottawa followed. Reaves ended up in the penalty box several times after trying to make a positive impression while Tatar was unable to find the back of the net.
There was talk the team's chemistry had been disrupted.
But Reaves settled down, stayed away from penalties. He had just two assists in his first 15 games, but he played smarter and his big bodycheck on Calgary's T.J. Brodie on March 18 gave the team a big lift in what would ultimately be a 4-0 victory.
Tatar scored the game-winner against New Jersey on March 4 and had goals against Vancouver on March 20 and San Jose on March 22, putting himself on the verge of scoring 20 goals for the fourth straight season.
What would have happened had McPhee acquired Karlsson and perhaps Bobby Ryan from the Senators?
How would the team's chemistry been affected with that deal?
We'll never know.
But McPhee's maneuvering and willingness to adjust set the stage for a magical run to the Pacific Divsion title and Stanley Cup Playoffs.
—Steve Carp
————
The Golden Knights handled losing better than any previous NHL expansion team.
They also did a good job handling injuries.
The Knights did not lose more than three straight games all season. About the only serious swoon came during a four-game home losing streak in late February into mid-March. And during a 22-game stretch that covered Feb. 1 through March 16, the team went 12-10.
They were riding high as January wrapped up, leading the Western Conference and in command of the Pacific Division.
But despite going 4-2 on an early February road trip — which saw them play six games in 10 days in four different time zones and two countries — it took its toll on the team. The Knights suffered a rash of injuries that impacted them as they headed to the playoffs.
It started Feb. 1 in Winnipeg.
Defenseman Deryk Engelland blocked a puck with his hand and missed the next game at Minnesota. Engelland returned for the Feb. 4 game against the Washington Capitals.
Forward Will Carrier wasn't as fortunate. Carrier suffered a shoulder injury against the Capitals and didn't return.
Goaltender Malcolm Subban injured his hand in the morning skate Feb. 8 at San Jose and missed 19 games.
Playing at T-Mobile Arena didn't serve as an antidote for the injury bug.
Forward Pierre-Edouard Bellemare suffered an upper-body injury Feb. 17 against Montreal and missed eight games. Defenseman Luca Sbisa hurt his right hand Feb. 27 against Los Angeles; it was the fourth time Sbisa missed extended time during the season. Fellow defenseman Nate Schmidt missed over a week after getting time off to heal from various bumps and bruises after leaving that same against the Kings late in the third period.
Forward Oscar Lindberg suffered a concussion Feb. 26 at Los Angeles and returned to the lineup March 28 after missing 14 games. Forward James Neal had the flu, then injured his hand against that night the Kings and missed a couple of weeks.
Finally, Reilly Smith was checked hard March 6 against Columbus and missed 14 games.
Coach Gerard Gallant said injuries are part of the game and the Knights' mentality was "Next man up."
"Every team has to deal with injuries," Gallant said. "We're not going to make any excuses."
Still, from Feb. 2 through March 16, the Knights struggled — by their own newly set standards, anyway. Their dominance had created a big enough cushion to maintain the Pacific Division lead, but they had been caught in the conference race by the scorching Nashville Predators.
Yet, despite their lineup missing key pieces, the Knights got through a critical early-March road trip with a 4-1 record, beating New Jersey, Detroit, Buffalo and Philadelphia while losing only to Columbus.
Goaltender Marc-Andre Fleury, who had his own injury issues back in mid-October when he suffered a concussion and missed 25 games, did the heavy lifting in the Knights' net, starting 20 of the 22 games from early February through mid-March.
—Steve Carp
————
Where would the Golden Knights be without Reilly Smith?
Probably not Pacific Division champions and maybe scrambling to have made the playoffs.
The veteran forward was arguably the expansion team's most valuable player, making plays at both ends of the ice and being part of one of the NHL's best lines, working with William Karlsson and Jonathan Marchessault. His spirited play, timely offense and tenacious defense made him one of the team's leaders.
That was never more evident than in February.
The 26-year-old forward had a great month, scoring eight goals and picking up 12 assists in 14 games. The NHL selected Smith as its third star for the month.
"They're doing a really good job finding me in spots and the puck's going in," he said during his hot streak, which saw the Knights go 8-5-1 during February.
On the flip side, Smith continued to excel in his defensive half of the ice. And when it came time to killing penalties, he was Gerard Gallant's go-to guy. Gallant, who also coached Smith with the Florida Panthers, said he may be the team's MVP.
"He's always been reliable," Gallant said. "When you talk about a 200-foot player, Reilly Smith meets that description. He doesn't have to score to contribute and he never stops working."
Marchessault was more definitive when he said of Smith: "He's our best all-around player."
Smith said good offense is usually the by-product of good defense. He was plus-32 through February. Plus-minus is a statistic assigned to players who are on the ice when a goal is scored in a 5-on-5 situation. Score a goal, you get a plus. Get scored on, it's a minus point.
"Every game is different," he said. "Sometimes, you get bounces. Sometimes, you don't. I just want to help us win. Growing up, I was taught how important it was to be an all-around player."
Going into 2018, Smith had just seven goals. In January, he started to get some of that puck luck going his way.
He had four goals in the month including a pair of game-winners. And when the calendar turned, things really picked up. He had a pair of goals in a 4-3 win over Washington on Feb. 4. He scored the game-winner in a 5-2 victory over Chicago Feb. 13. He had two more in a 6-3 win over Montreal Feb. 17.
He would register at least one point in seven straight games and he had 22 goals and 60 points when he was injured March 6 at Columbus, but his left wrist healed in time for April and the playoffs.
He was definitely missed and Gallant tried a number of players in Smith's left wing spot with Marchessault and Karlsson. Nobody came close to replicating Smith's skill set and work ethic, and his return to the lineup for the postseason was huge.
"No question we missed him," Gallant said. "He does so many things well for us."
—Steve Carp
————-
Expansion teams aren't supposed to have a winning record in their inaugural season, let alone win their division and emerge as a favorite to win the Stanley Cup.

But the Golden Knights checked off all those boxes during a magical 2017-18 regular season that saw them stake their claim as arguably the greatest expansion team in sports history.
While nobody could've predicted that Las Vegas' first major pro sports team would beat long odds and deal a blow to the city's sports books, countless bettors wagered that it would.
200-1 to win division
The Knights cashed a pile of tickets up to 200-1 odds when they clinched the Pacific Division crown and would cost William Hill sports book alone more than $1 million if they won the Stanley Cup.
"They definitely played them at high odds before the season started," Sunset Station sports book director Chuck Esposito said. "Some guests may have bought those tickets as souvenirs and now they're sitting there with an opportunity to win some money."
From 500-1 to Stanley Cup favorite
We're guessing the Westgate bettor who wagered $400 to win $120,000 on the Knights to win the Stanley Cup at 300-1 odds will settle for a copy of his winning ticket if they shock the hockey world.
"During the preseason, when they were struggling, we bumped them up as high as 500-1," Westgate sports book manager Jeff Sherman said. "We had some small tickets at that price."
William Hill had the Knights as high as 200-1 to win the Cup on Sept. 30 and took a $100 wager to win $20,000 at that price. It took 350 bets on the Knights to win it all at 100-1 or greater and CG Technology sports book took a $500 wager to win $50,000 at 100-1.
The Knights moved to 35-1 on Oct. 27 after they opened the season with an 8-1 record and their odds were in single digits throughout 2018. They were 7-1 on Jan. 3, the day after they won their eighth straight game to improve to 27-9-2. And they were installed as the 4-1 favorites to win the Cup in late February following a 5-1 stretch that ran their record to 41-16-4.
William Hill took a $7,100 futures bet to win $46,150 on the Knights on Jan. 25.
Division title costs books six figures
The Westgate and William Hill each lost six figures when the Knights won their division. A Westgate bettor won $20,000 on a $200 futures bet on the Knights at 100-1 to win the division. William Hill took 29 wagers at 125-1, including a $75 bet that paid $9,375.
Reader John Anderson from Henderson placed a $50 futures wager on the Knights to win the division at 30-1 odds in October that paid $1,500. He also has a total of $45 to win $8,000 on the Knights to win the Cup.
"They continue to surprise me. They started strong and I was kind of waiting for a collapse but it never happened," Anderson said. "It's kind of amazing. Maybe it is just destiny."
$100 bettor up $1,600
If you wagered $100 on the Knights in every game this season — $100 when they were underdogs and to win $100 as favorites — you would've been up $1,605 heading into Saturday's finale.
"It's been a beating all year long with the Vegas Golden Knights," William Hill sports book director Nick Bogdanovich said.
William Hill took a $400 wager to win $20,000 on the Knights to win the Western Conference at 50-1 odds. The Knights are currently the 14-5 second choice to win the Western Conference and 6-1 fourth choice to win the Stanley Cup.
Hockey handle soars
Despite losing on the Knights this season, the books have seen a big boost in their hockey betting handle and atmosphere and excitement because of Las Vegas' home team. In fact, the Knights game against the Chicago Blackhawks early this season generated more action at Station Casinos than the Miami Dolphins-New York Jets game the same week.
"We weren't sure how hockey in the desert would play out, but every single game generates so much interest and handle," Esposito said. "We have a full page of props for every game and people are always asking to put the Golden Knights game on the biggest screen with the sound. They've really captivated the whole community."
— Todd Dewey
Read Part IV: Golden Knights are Pacific champs, or go back to Part II: Winning streak sparks hot run for Golden Knights.
More Golden Knights: Follow all of our Golden Knights coverage online at reviewjournal.com/GoldenKnights and @HockeyinVegas on Twitter.
Contact Steve Carp at scarp@reviewjournal.com or 702-387-2913. Follow @stevecarprj on Twitter. Contact reporter Todd Dewey at tdewey@reviewjournal.com. Follow @tdewey33 on Twitter.