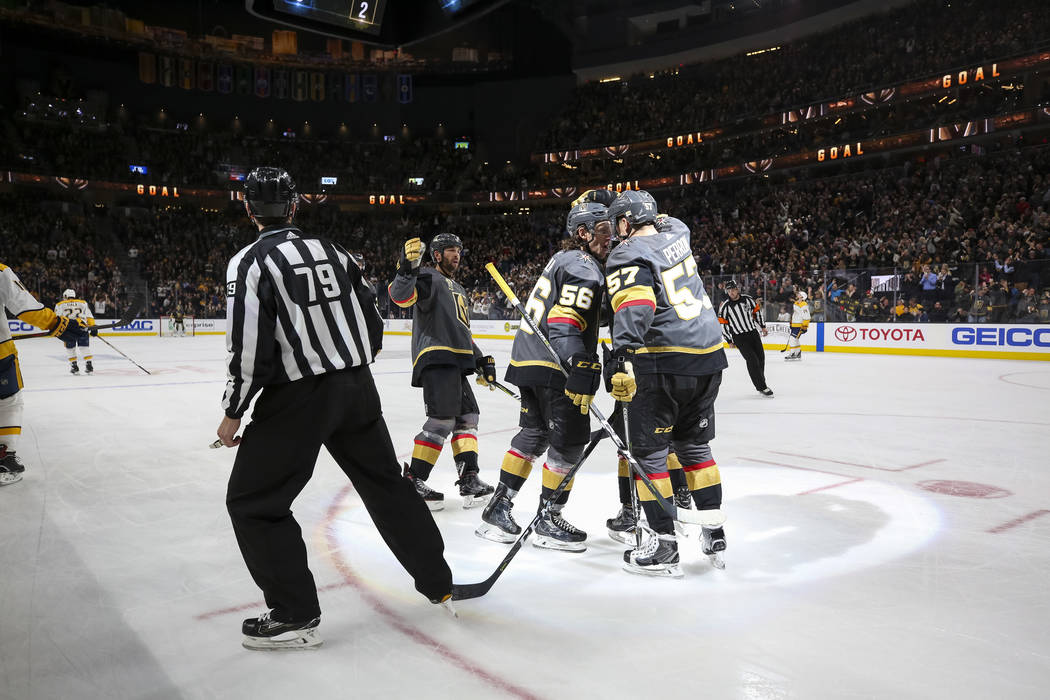 Marc-Andre Fleury couldn't help himself.
The Golden Knights goaltender stepped on the ice Dec. 6 at City National Arena for his first practice in nearly two months and saw forward Stefan Matteau skating past him.
Fleury casually clipped the recent call-up and sent him tumbling to the ice before Fleury leaped on top of his latest victim.
With their starting goaltender — and resident prankster — fully recovered from the concussion that sidelined him for 25 games, the Knights went on a record-setting win streak starting in mid-December that served as a springboard to the Pacific Division title.
"It was a frustrating time. It was long two months," Fleury said. "When I came back, I was just really looking forward to getting back on the ice and playing with the guys again."
The Knights won eight consecutive games from Dec. 14 to Jan. 2, the longest streak by an NHL team in its inaugural season, according to the Elias Sports Bureau.
The previous record was five games, held by the 1926-27 New York Rangers and 1979-80 Edmonton Oilers and tied twice previously by the Knights (Oct. 15 to 27 and Nov. 16 to 25).
Their 13-game point streak (12-0-1) from Dec. 3 to Jan. 2 also set an NHL record, shattering the previous mark of nine games (5-0-4) set by Florida in 1993-94.
"I remember all December that we were on fire," center William Karlsson said.
The historic win streak began Dec. 14 with an emotional 2-1 victory over Pittsburgh, where Fleury spent the past 13 seasons and won three Stanley Cups.
Fleury made 24 saves in his second game back, and defenseman Jon Merrill scored the winner at 8:17 of the third period, which turned out to be the first of several memorable goals during the Knights' record run.
Five days later, the Knights registered their most significant victory to date in a thrilling matchup against league-leading Tampa Bay.
After almost 60 minutes of back-and-forth action, defenseman Shea Theodore scored on a one-timer with 2.3 seconds remaining in the third period to cap the Knights' 4-3 win before a raucous gathering of 17,813 at T-Mobile Arena.
"That was a huge game against the Lightning," Karlsson said. "Obviously, it was good for the confidence and morale. It's good to know that we can beat the best teams, too. It was a good game to win."
The Knights took over first place in the Pacific Division on Dec. 27 with their 4-1 win at Anaheim and never relinquished the top spot.
Karlsson ended 2017 with a flourish, as he notched the first hat trick in franchise history on New Year's Eve in a 6-3 win against Toronto.
I don't think I've ever skated that fast in my life actually.
Karlsson capped his three-goal performance, and the Knights' seventh straight win, with a diving effort to swat the puck into an empty net.
"I don't think I've ever skated that fast in my life actually," Karlsson said. "I really wanted it and I just threw myself with it and saw (Maple Leafs defenseman Morgan Riellycq) doing the same and luckily I hit it first. It's a good feeling seeing it going in the net."
Fleury went 5-0 with a 1.18 goals-against average, a .959 save percentage and two shutouts during the win streak, which ended Jan. 4 in St. Louis with a 2-1 loss.
But the Knights continued their solid play in January (7-3-2 record), highlighted by Karlsson's two-goal effort against Columbus, his former team, in a 6-3 home win on Jan. 23.
By the time Fleury, wing James Neal and coach Gerard Gallant represented the team at the All-Star Game in late January, the Knights stood atop the Western Conference standings.
And they were one victory from matching Anaheim and Florida for the most victories by an expansion team in its inaugural season.
"We started off the season strong," Theodore said. "To continue that into the new year, it's good for a team's confidence to know that you can play that style and that you can win those games."
————
William Karlsson nearly had three hat tricks in the opening two months of the season but couldn't finish the job.
When the Golden Knights center finally completed the feat on New Year's Eve, he did so in electrifying fashion.
Karlsson closed out 2017 with a sensational diving effort for his third goal — and 20th of the season — to put the finishing touches on the Knights' 6-3 victory over the Toronto Maple Leafs on the afternoon of Dec. 31.
"It was the first hat trick for me, the first hat trick for the Golden Knights, too, so that was pretty incredible," Karlsson said. "On a day like New Year's Eve, too, against an Original Six team. It was a pretty incredible day."
Karlsson scored during the Knights' three-goal first period and added another at 8:26 of the second to give the Knights a 4-1 advantage. The previous month, Karlsson had two-goal games against Winnipeg (Nov. 10), Los Angeles (Nov. 19) and San Jose (Nov. 24) and was unable to complete the hat trick.
But against the Maple Leafs, Karlsson couldn't be denied.
It was the first hat trick for me, the first hat trick for the Golden Knights, too.
"He made an unbelievable effort to get that third goal," coach Gerard Gallant said. "He dove at the puck and it was the perfect ending. He had a good night. He played real well, and it's nice to see a guy get a hat trick in our building."
With the Knights leading 5-3 late in the third period and Toronto's goaltender off for an extra attacker, Maple Leafs defenseman Morgan Riellycq threw a shot at the net that was blocked by Knights defenseman Brayden McNabb.
The puck deflected to forward Reilly Smith, and he backhanded it off the boards and out of the Knights' zone.
That's when Karlsson exploded up the ice.
Skating stride for stride with Reilly across the Toronto blue line, both players dived at the skidding puck near the top of the right faceoff circle.
But, with one hand on his stick, Karlsson was able to swat the puck past Rielly and into the empty net with 1:36 remaining to clinch the Knights' seventh straight victory.
"I remember the shot got blocked, I think, and I remember Reilly (Smith) chipped it out," Karlsson said. "I was determined to reach it first, and it was a good race there with the (defenseman) from the Leafs. But I managed to get the puck first, and it was pretty incredible to see it go in there."
With the announced crowd of 18,118 already in a party mood, dozens of hats were tossed onto the ice at T-Mobile Arena in celebration.
🎩we found the hats 🎩 pic.twitter.com/CrGOLPQElz

— y – Vegas Golden Knights (@GoldenKnights) December 31, 2017
Karlsson started a postgame hat trick tradition of posing for a picture while wearing one of the hats that were thrown onto the ice.
And in the aftermath of Karlsson's accomplishment, the team also announced plans to build a display for the hats from every future Knights hat trick.
"Twitter blew up, obviously. I think they liked it and appreciate it," Karlsson said. "It was pretty cool to watch all the mentions I got on Twitter. They were for sure happy for me."
—————
The first month of Shea Theodore's career with the Golden Knights was filled with peaks and valleys.
But the unquestioned high point for the young defenseman came Dec. 19.
Theodore blasted in the winner goal with 2.3 seconds remaining and had a hand in every Knights goal during the breakthrough 4-3 win over league-leading Tampa Bay.
"When you're playing a team like that and they're up there in the standings and you're fighting for first in the league, it's a good match to play a top team in the (Eastern Conference)," Theodore said. "I feel like that game was big, and it was a fun game to be a part of."
Theodore struggled to solidify his spot in the lineup after being recalled from the American Hockey League in late October and committed a glaring turnover in the third period Dec. 8 at Nashville.
Theodore was a healthy scratch the following night in Dallas, but returned to the lineup on Dec. 12 vs. Carolina and produced a career-high four points a week later against Tampa Bay.
"I thought he was outstanding," coach Gerard Gallant said after the victory over the Lightning. "That's what we talked about when he got called back up. It's all about confidence for him and playing better defense. I think we're seeing real good results right now."
With the Knights on a late power play, David Perron kicked the puck free to Erik Haula after a long battle along the wall.
Haula found Jonathan Marchessault open near the blue line, and he moved the puck to Theodore at the right point for a one-timer past Lightning goaltender Andrei Vasilevskiy that sent the crowd at T-Mobile Arena into a frenzy.
Theodore, who added three assists, helped the Knights finish the game 4-for-5 on the power play.
"Just kind of waiting in the slot and having the puck pop out and come across, it couldn't have worked out any more perfect," Theodore said. "It was fun for me to be that guy."
————-
When the Golden Knights selected Jonathan Marchessault in the expansion draft, they weren't sure whether he could replicate his success following a breakout season with Florida.
By the start of 2018, the answer was obvious.
Marchessault signed a six-year, $30 million contract extension on Jan. 3, as general manager George McPhee moved to lock up the Knights' core players to long-term deals.
"It's been fun. It's definitely a long year and tough mentally, but I mean, it's always fun that I was able to set myself up here with the Golden Knights, and I'm happy to be here for a while with my teammates and the staff," Marchessault said. "The whole organization's been amazing to me, so I just wanted to stay here."
Marchessault, who spent four seasons in the minors before breaking into the NHL, had 30 goals and 51 points for the Panthers in 2016-17.
But the 5-foot-9-inch native of Cap-Rouge, Quebec, was left unprotected by Florida despite his $750,000 salary and snagged by the Knights with the hope he could be a top-six forward and produce on the power play.
Marchessault combined with center William Karlsson and wing Reilly Smith to give the Knights one of the league's most potent lines during 5-on-5 play.
McPhee could have traded the 27-year-old, who was set to become an unrestricted free agent in the summer, for draft picks or prospects to a team in need of offense.
But with the team leading the Western Conference, McPhee made a statement that he intended to keep the Knights intact for a run at the playoffs this season and beyond.
"Players develop at different levels and different rates at times," McPhee said. "Some blossom early, some blossom late. The good news is we have him now as he's just entering his prime and should get a lot of very good, productive years from him."
At the time of his contract extension, Marchessault led the team in scoring with 37 points in 35 games.
"It's hard to be a top-six player in the league," Marchessault said. "I had people who doubted me after one good year and I was able to come back and prove that I'm a top six. I'm just happy to be in that situation."
Read Part III: Golden Knights go all-in with playoff hopes, or go back to Part I: Golden Knights are Vegas Born.
More Golden Knights: Follow all of our Golden Knights coverage online at reviewjournal.com/GoldenKnights and @HockeyinVegas on Twitter.
Contact David Schoen at dschoen@reviewjournal.com or 702-387-5203. Follow @DavidSchoenLVRJ on Twitter.