Knights make Jets pay for 3 costly mistakes as series slips away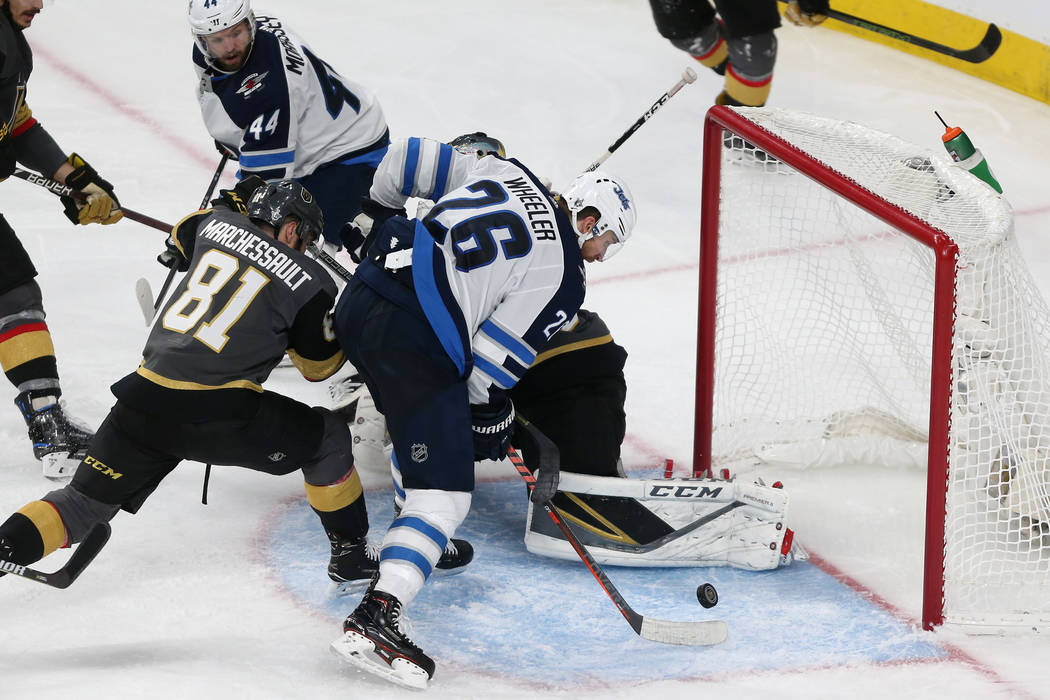 Three costly errors by Winnipeg led to all three Golden Knight goals Friday night in a Game 4 the Jets believed they still should have won.
Winnipeg coach Paul Maurice isn't about to dwell on those crucial mistakes. But the Jets know they're running out of time to correct them after falling 3-2, a third consecutive loss that put them behind 3-1 in the best-of-seven Western Conference Final.
Tyler Myers was called for interference when he took down Ryan Carpenter right in front of the referee when the puck was headed harmlessly for the corner less than two minutes into the game. The Golden Knights scored on the ensuing power play.
After the Jets tied the game in the second period, Connor Hellebuyck couldn't close his glove on the puck and Pierre-Edouard Bellemare swooped in to take possession. He fed it back in front of the net to Tomas Nosek for a goal.
Reilly Smith's game-winner came on a semi-breakaway after Dustin Byfuglien whiffed on a shot from the blue line with just seven minutes remaining.
"We don't own the penalty but we own the goal," Maurice said of the first Knights score. "The next two, you're looking at two players who have been spectacular for us to get us to the final of the conference. I'm not going to change anybody's body position or keep an extra guy high in case something like that happens.
"We won't talk about them. This will be the last time they're talked about."
The mistakes may be thought about for an entire offseason if the Jets can't rally to win three straight in this series.
Myers had certainly been pondering the penalty whistled on him early in the game.
"It was a (expletive) weak call," the defenseman said. "They were whistle-happy at the start and then they put them away at the end. It's tough to know how they're going to call it on any given night. It's tough to figure out which way they're going to call it."
The mistakes helped deny Winnipeg a chance to even the series in a game they believed they were clearly the better team.
"I liked a lot of that game tonight," forward Blake Wheeler said. "We win that game nine times out of 10. Tonight was the one. We had some looks where their goalie made some extraordinary saves. You've got to sometimes take your hat off to a good player sealing a game.
"You hate to take credit from the other team. They did a good job, cashed in on their opportunities and made one more play than we did."
That was Smith's goal after he raced down the left wing when Byfuglien fanned on a shot.
"It's just a bounce," Wheeler said. "That puck's a funny shape, the ice is chippy, third period. Just takes a crazy hop. They're opportunistic over there. Their guys find a way to get in alone and get in on those two-on-ones and make you pay."
Knights defenseman Nate Schmidt was ecstatic with the goal, but empathized with Byfuglien.
"I know that feeling," Schmidt said. "It's not a great feeling. Because you want to lay into it. You feel like you're walking into a slapshot. You're all excited. But you know you're committed already – and you can't really turn back from there because he's already loaded up. And then it takes, whatever kind of a bounce, whatever kind of a wobble.
"It's tough. That's a tough play. As a defenseman, you know that feeling."
The feeling in the Jets locker room may border on desperation, but they insist they won't panic.
Winnipeg lost three in a row twice in the regular season. Neither streak reached four, and in March a three-game losing streak was followed by six consecutive wins.
"I wouldn't say it's deflating," Hellebuyck said. "I think it's bad luck. Their goal was just a product of the puck bouncing the wrong way. Guy misses the shot and hits the post. The stars are aligning for them.
"But it's not going to stay that way."
The Jets are running out of time to turn it around.
More Golden Knights: Follow all of our Golden Knights coverage online at reviewjournal.com/GoldenKnights and @HockeyinVegas on Twitter.
Contact Adam Hill at ahill@reviewjournal.com or 702-277-8028. Follow @AdamHillLVRJ on Twitter.