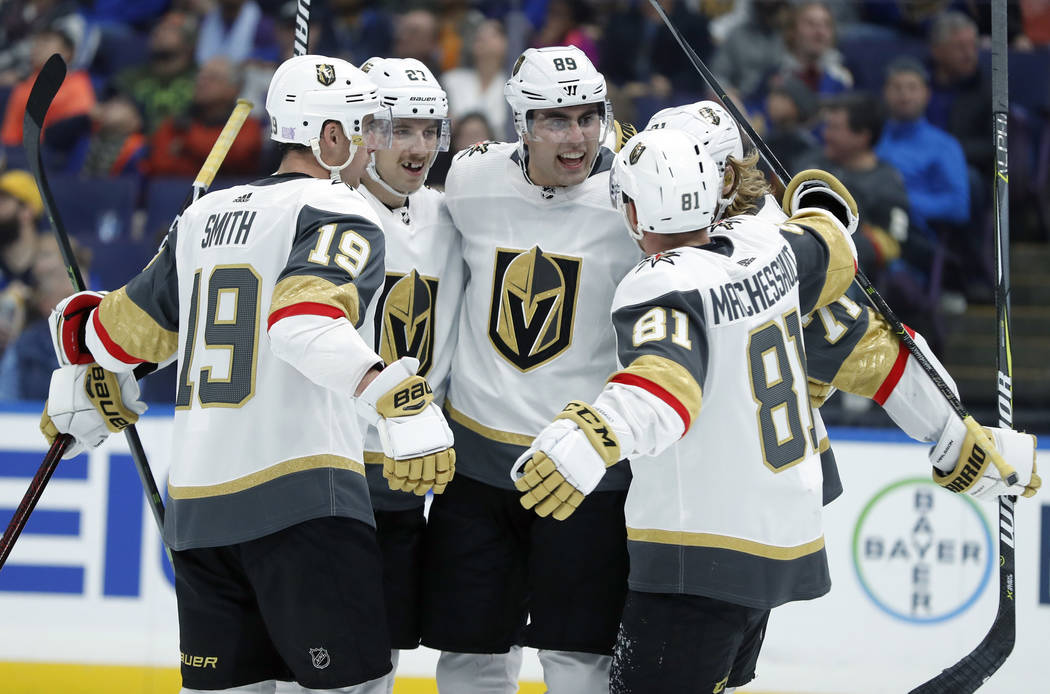 Wing Alex Tuch is all in on coach Gerard Gallant's philosophy of not thinking too far ahead. One game, one period, one shift at a time, the coach often says.
"Since I was probably 5 years old, my dad has literally driven into my mind to play shift by shift and game by game," Tuch said Tuesday on the Review-Journal's Golden Edge podcast. "You have a bad game, think about it for five or 10 minutes, move on and worry about the next one."
The wisdom has proven beneficial for Tuch, who has been one of the bright spots in the Knights' disappointing start.
Tuch, 22, was rewarded with a lucrative long-term deal early this season and has four goals and nine points in 10 games since returning from an injury that delayed his start. He's tied with Jonathan Marchessault for the team lead with a plus-3 rating.
"Signing that big deal gives me security, but it also allows me to think about team success first over my own," Tuch said.
The Knights are still waiting on that, but Tuch believes they have the right attitude.
"It's still positive," he said. "But I think we are holding each other accountable, and that's what you need to do to have success. If you're not playing well, you need to maybe change something up. You need to maybe dig a little deeper, maybe change your pregame routine. Honestly, that's what happens in hockey."
The same leadership group that helped show Tuch the ropes last season is still largely in place and Tuch feels that will help spark a turnaround.
"For me coming in as a rookie and the youngest guy last year, they made me feel really comfortable," he said. "They allowed me to express anything I needed to express, and at the same time, they knew when to tell me to shut up. Seriously, that's good. It's a really good dynamic we have that starts with our veteran group and with (general manager George McPhee), who put together a group of guys that called ourselves misfits and we were able to come together."
Reaves doesn't sense panic
Forward Ryan Reaves has seen frustration doom a team before, but he doesn't see it creeping in to the Knights' locker room.
Reaves played for the 2013-14 St. Louis Blues, a team that was competing for the President's Trophy until it lost its last six games. Irritation spilled over into the playoffs, where the Blues lost to the Blackhawks in the first round.
"When you let frustration creep into your game, it can spread quick and it's tough to stop," Reaves said. "I don't see it in this room right now. I see the frustration in not getting wins, but I don't think it's translating on the ice yet. As long as we keep it off the ice I think we'll be OK."
Live from Las Vegas
NBC Sports Network will tape its show "NHL Live" outside of T-Mobile Arena at 4 p.m. Wednesday with host Kathryn Tappen, insider Darren Dreger and analysts Jeremy Roenick and Keith Jones.
More Golden Knights: Follow online at reviewjournal.com/GoldenKnights and @HockeyinVegas on Twitter.
Contact Ben Gotz at bgotz@reviewjournal.com. Follow @BenSGotz on Twitter. Contact Adam Hill at ahill@reviewjournal.com or 702-277-8028. Follow @AdamHillLVRJ on Twitter.