Knights' successful inaugural season boosts Las Vegas branding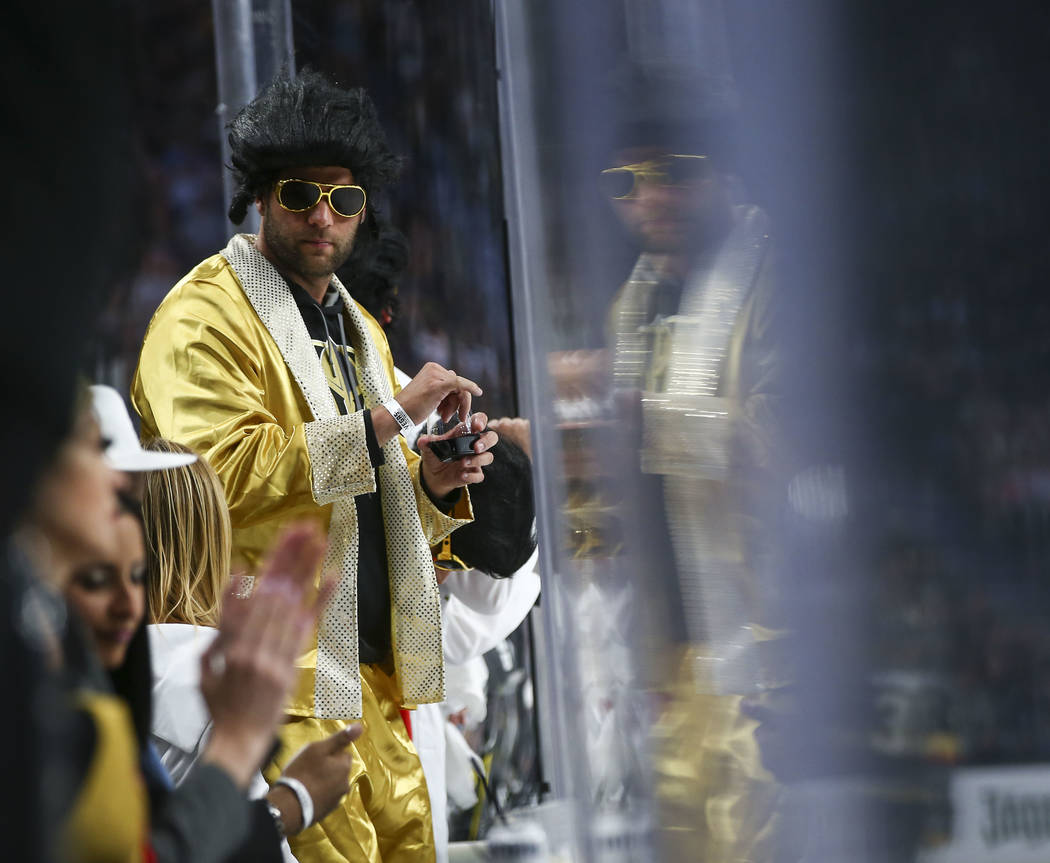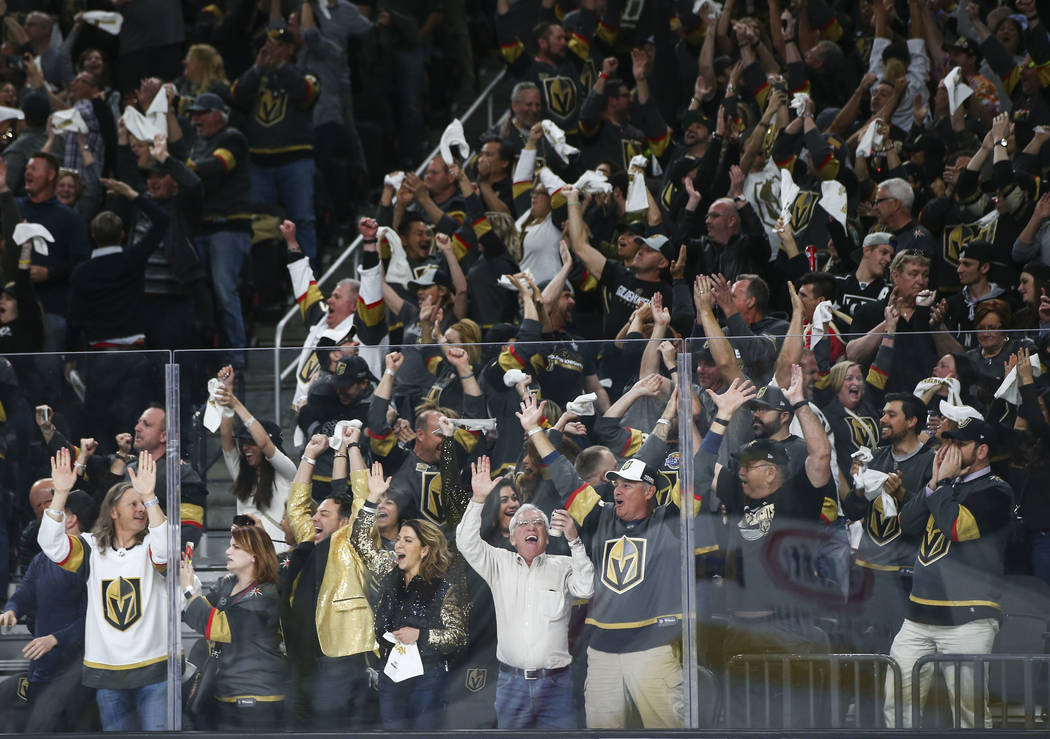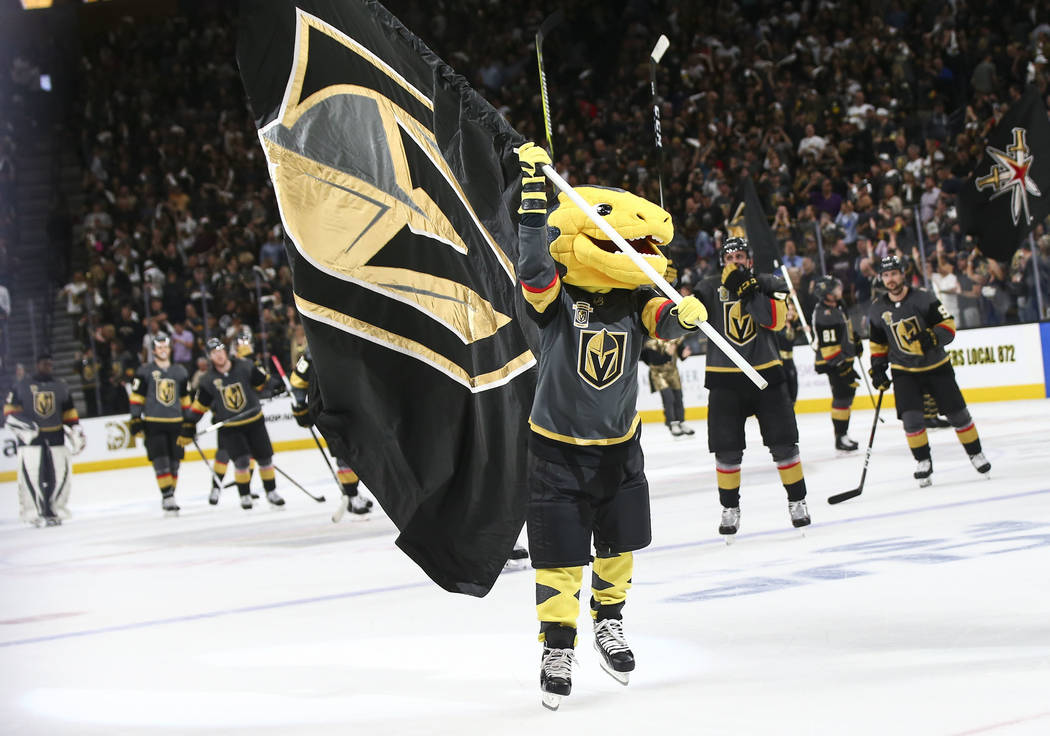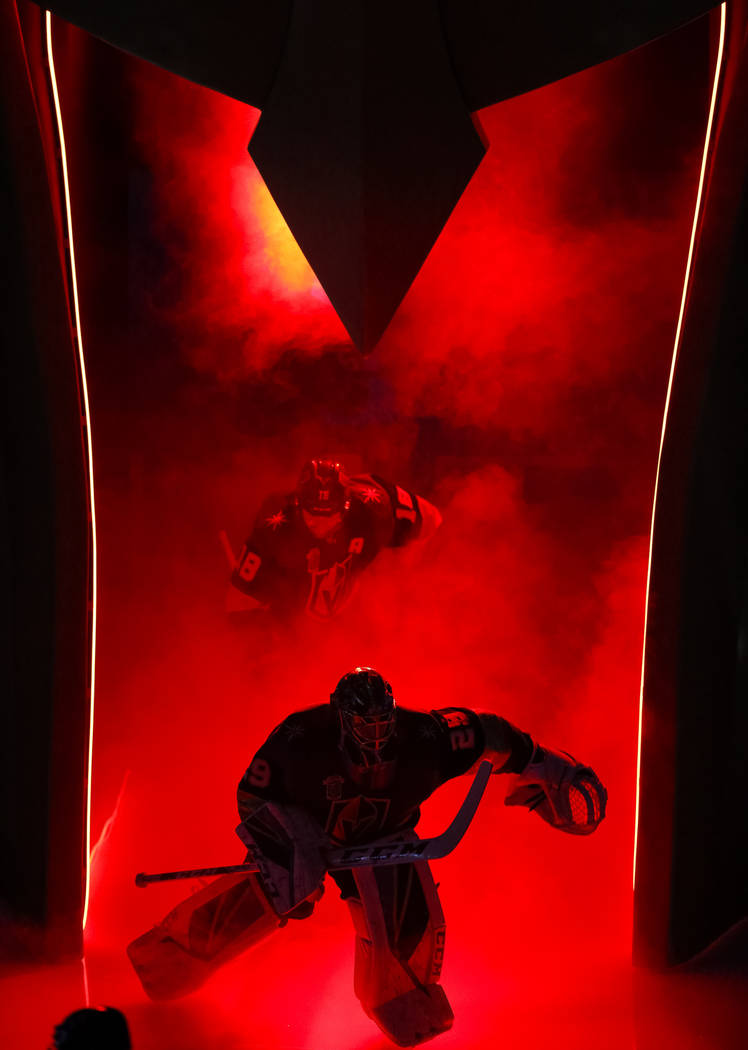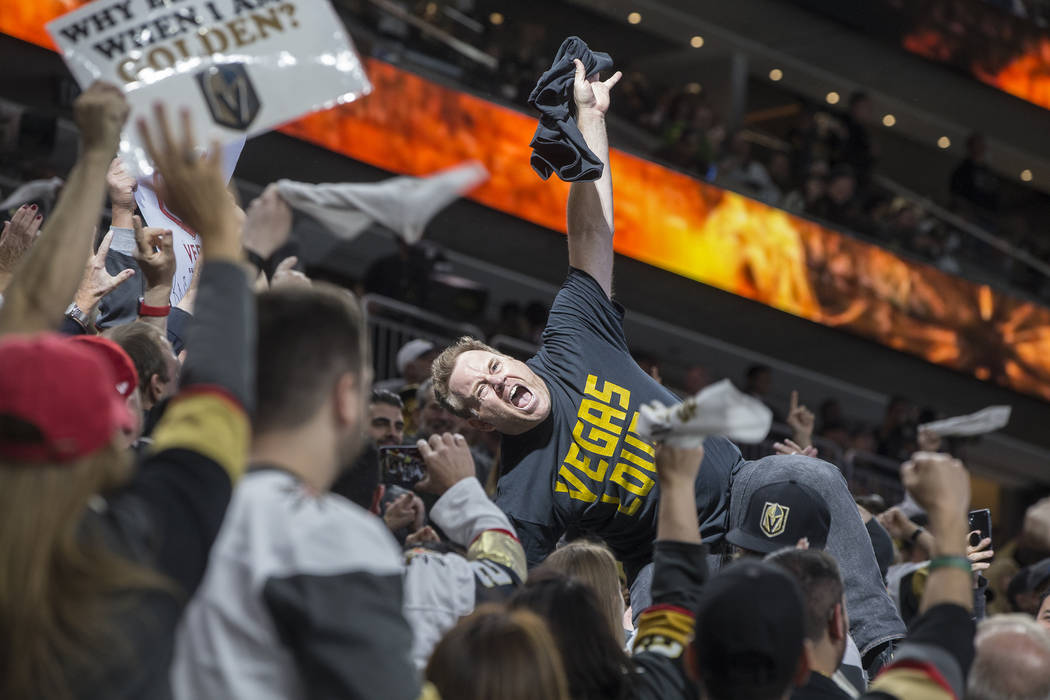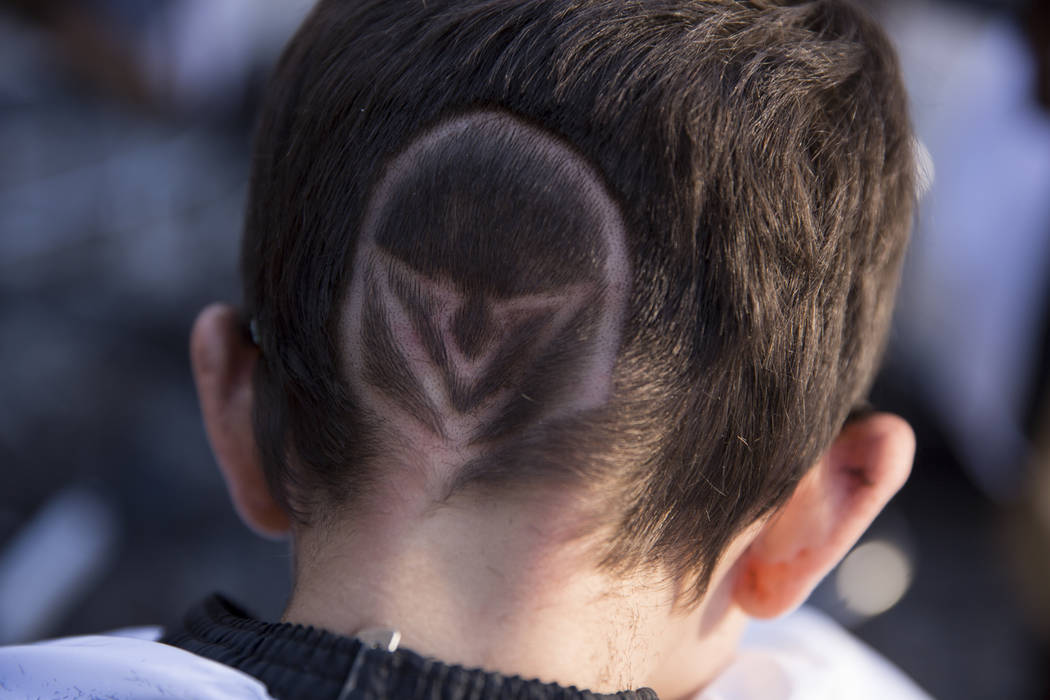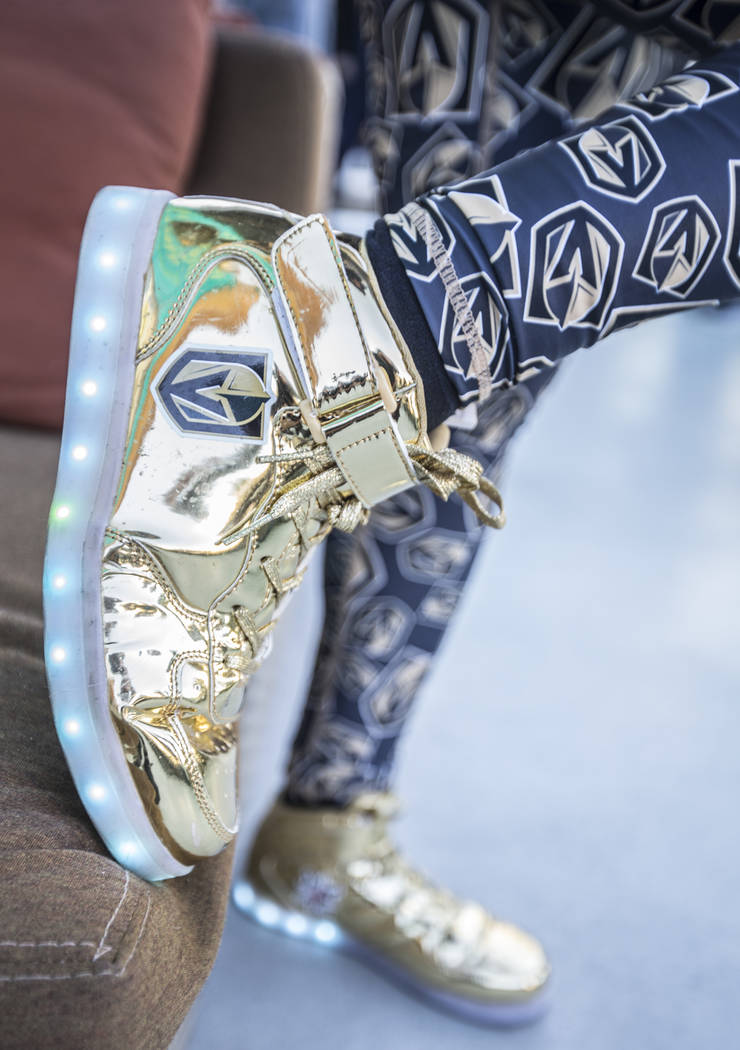 Forgive the Vegas Golden Knights and all of their Southern Nevada fans for wanting to ban Lisa Motley from T-Mobile Arena during the National Hockey League playoffs.
Motley, the director of sports marketing and special events for the Las Vegas Convention and Visitors Authority and a big fan of the team, attended eight Golden Knights games in their historic inaugural season.
And in those games, the team went 1-7.
That means Motley was in the building seven of the only 10 times the team lost at home in a season that has united the Las Vegas community and made hockey fans across the county take notice.
Better yet, the Knights' success and current Stanley Cup Playoff run has resulted in a marketing marriage with Las Vegas that has been far more successful than just about anyone could have imagined.
It will take time to determine a return on investment for affiliations made with pro sports and how much publicity was generated for Las Vegas on sports pages across the country. Currently, the LVCVA spends $4.8 million on sports marketing and some return on investment has been calculated.
For example, last month's NASCAR race brought 93,000 people to the city with an estimated economic impact of $179 million. How much branding efforts with the Knights have helped the city has yet to be calculated.
'Measured approach'
"You have to take a very measured approach and everybody wanted to be assured of the likelihood of success before doubling down on the strategy of embracing sports tourism," said David Carter, executive director of the University of Southern California's Marshall Sports Business Institute.
"It probably was wise to do that, because for a very long time, teams and leagues were cautious about going into Las Vegas," he said.
Professional sports have been a staple for Las Vegas for decades with championship boxing matches, PGA golf tour events and the National Finals Rodeo consistently on the calendar.
But major-league team sports, specifically the National Hockey League, the National Basketball Association, Major League Baseball and the National Football League, is a completely different animal.
Big-league teams kept their distance from Nevada, especially the NFL, which for years banned Las Vegas from advertising during football broadcasts, because there was always a lingering fear that sports gambling would somehow influence the outcome of games.
Evolving landscape
Today, the U.S. Supreme Court is on the verge of potentially striking down the law that makes most sports betting illegal. The NFL's Oakland Raiders have committed to relocating to Las Vegas in 2020 and are building a 65,000-seat, $1.8 billion indoor football stadium that they'll share with UNLV.
And, the Vegas Golden Knights will play their third Stanley Cup Playoff game Sunday, their first on the road, against the Los Angeles Kings.
Carter believes the seismic shift is about a societal change in the perception of gambling as well as Las Vegas evolving into a big-league city.
"Las Vegas stands for something much more extensive and expansive now than what it once did," Carter said. "It is shedding that moniker of being simply all about gambling. Now, it's all about entertainment and you can also participate in gambling. Now, it's all about entertainment and you can consume sports. It's not a repositioning. It's an outgrowth of how Las Vegas has evolved as an entertainment mecca well beyond gambling in the last decade."
People who have lived in Las Vegas a long time, like Rossi Ralenkotter, who has been with the LVCVA for 45 years and is its CEO, relentlessly stress the importance of branding Las Vegas as a destination. Ralenkotter has taken every opportunity to tell the story, whether through his multiple associations with national and international tourism organizations or with the award-winning "What happens here, stays here" advertising campaign.
New LVCVA mission
The LVCVA hired Motley in early 2017 from the Las Vegas Motor Speedway where she had her own front-row seat to how professional sports — in her case, NASCAR racing — could move the tourism needle. Her new challenge would be to find ways to blend the LVCVA mission of putting heads in beds with the arriving sports teams.
"We always had the big conventions in town and we had high occupancy on the weekends and we were trying to find sports events that could either go midweek or during times of the year that we needed assistance in hotel occupancy," Motley said.
The LVCVA had a connection with sports with its association with minor-league baseball, serving for years as the landlord to the Las Vegas Stars at Cashman Field. Baseball helped give local executives a taste of what playing with the majors could do through sponsorships of "Big League Weekend," Major League Baseball spring training games played at Cashman that featured the popular big-league players. Most games were broadcast to the respective home cities of the competing teams giving Las Vegas a platform to advertise the destination.
Nearly a decade ago, Las Vegas connected with the NHL, with the LVCVA guiding efforts to host the league's awards presentations. The red-carpet treatment and the city's pizzaz left an impression on the NHL that eventually led to the awarding of the Knights franchise to owner Bill Foley.
Other teams, events follow
It wasn't long before other sports caught on. In a succession of announcements, NASCAR announced a second race series in Las Vegas in the fall, the Raiders officially announced their relocation, the United Soccer League, a minor-league operation, announced the formation of the Las Vegas Lights and MGM Resorts International, a staunch supporter of the LVCVA, relocated the WNBA San Antonio Stars to Las Vegas and renamed them the Aces. Play will begin in May at Mandalay Bay and head coach Bill Laimbeer, a former NBA star, made a brief presentation to LVCVA board members last week.
The NBA Summer League has flourished in Las Vegas and this year will include participation by every NBA team.
"We've always had professional sports here, we've just never had our own franchise," Motley said. "The Knights, in my mind, really put the exclamation point that we're the sports capital of the world, not only what they've done on the ice in this historic season but how they brought the community together. For the LVCVA, it's great because they drive tourism, they bring in out-of-market teams, especially the Canadian and colder markets, because why not come to Vegas and watch a hockey game?"
That's not the way it usually goes, according to Irving Rein, a professor of communications studies at the Northwestern University School of Communication and the author of "The Elusive Fan: Reinventing Sports in a Crowded Marketplace."
"To some, there's an expectation that a sports team is going to bring in a lot of people but that usually isn't the case," Rein said. "Las Vegas is an anomaly, mostly because it's someplace people want to travel to for other reasons."
Two things happened that changed the entire dynamic: the horrific Oct. 1 shooting incident and the Knights' inexplicably great season.
"I was lecturing in my classrooms about what Las Vegas was doing with its advertising strategy after the shooting," Rein said.
The Knights have played an integral role in helping the community recover with tributes to victims and first responders at games and playing an active role in the community.
'Vegas' in the box scores
Rein said the country took notice because they were seeing "Vegas" in the headlines and in box scores of newspapers and on ESPN broadcasts.
"I think we get so much more media attention nationally and internationally as a result of how well the team has done," Motley said. "The great thing about having professional sports here is that you've got people watching from out of market on television. We've got people who come to Las Vegas for a hockey game and maybe a show or some fine dining. It just adds to the overall experience of Las Vegas and it becomes a bucket list destination to come visit for a sporting event."
There are some down sides. At times, there are more hockey sweaters representing the visiting team at T-Mobile Arena than fans in Knights gear. That's likely something the Raiders will be watching closely as they make their transition from Oakland to Las Vegas.
"Where the issues come is in secondary ticketing," Carter said. "Sometimes even the most loyal hometown fans give up their tickets and you walk into a venue with the jersey of the other team. That's just how the market works these days. These teams and leagues have minimal control of who ultimately is going to be sitting in those seats. The out-of-town tourism component for Las Vegas certainly is greater than in other markets, but it's existing everywhere now because of secondary ticketing."
Motley believes that as sports marketing and the branding of Las Vegas evolves, the arrival of the Raiders and the stadium will pay big dividends.
"The sky's the limit," she said. "That new stadium is absolutely a game-changer for us. We can start to entertain hosting the likes of a Super Bowl or an NFL draft and hopefully, eventually, an NCAA Final Four or at least a regional."
And, with any luck, Lisa Motley won't have to worry about the home team losing games if she shows up.
Contact Richard N. Velotta at rvelotta@reviewjournal.com or 702-477-3893. Follow @RickVelotta on Twitter.